A Conversation with 2023 Poetry Out Loud National Champion Sreepadaarchana Munjuluri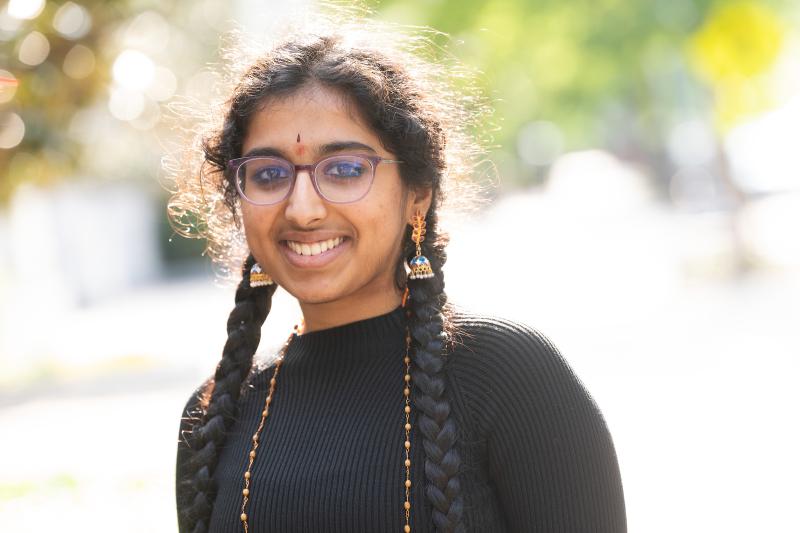 This spring, for the first time in three years, the Poetry Out Loud National Finals were held live in-person in Washington, DC. Students from all 50 states and four U.S. territories converged on the nation's capital for two days of competition, and at the end of it all, Sreepadaarchana Munjuluri from Indiana was named our 2023 Poetry Out Loud National Champion!
In addition to the national title, Munjuluri, a rising senior at Columbus North High School, will receive a $20,000 prize. Munjuluri earned the top spot after reciting poems by Emily Jungmin Yoon, Emma Lazarus, and Garrett Hongo (check out her recitation Lazarus's "The New Colossus" at the end of this post).
We spoke to Munjuluri via video conference about her Poetry Out Loud experience shortly after she returned home to Columbus from the finals. Below, she discusses the skills she's gained, what it was like to meet other students from all over the country, and advice she has for anyone considering competing.
NEA: How did it feel in the moment you found out that you were this year's national champion?
SREEPADAARCHANA MUNJULURI: It was pretty surreal, just absolutely shocking.
NEA: And what was it like being in DC for the finals in person?
MUNJULURI: It was amazing. I didn't know the level of importance of that stage [at the George Washington University Lisner Auditorium] until we went backstage, and there were framed portraits of past presidents speaking on that stage. It was really moving to be surrounded by such historically important buildings, and it created a different atmosphere.
NEA: How was it getting to know all the other state champions?
MUNJULURI: I loved that. That was probably my favorite part of the experience. After the competition we went back [to the hotel], and we had an impromptu slam where people shared some of their own poetry and pieces that they'd written or read for other competitions. You got to meet these people in a completely different way, and making those connections was really impactful and inspiring.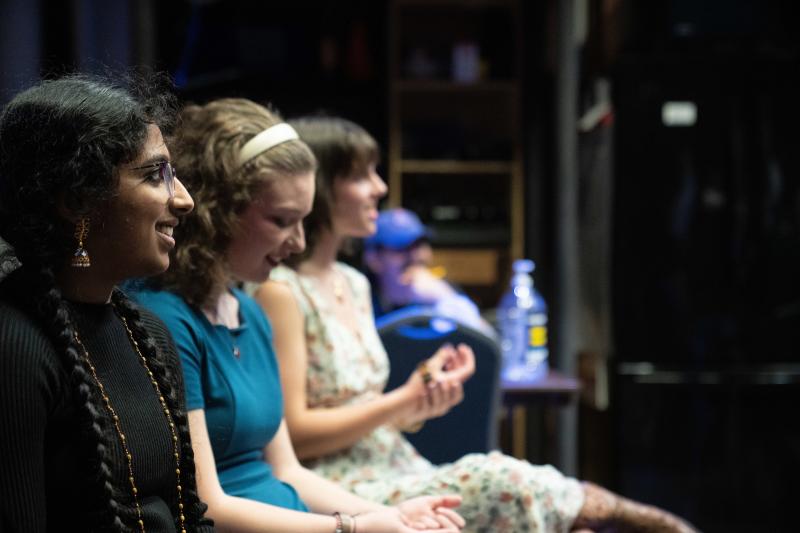 NEA: Do you feel like you learned anything from watching them perform or getting to know your fellow champions?
MUNJULURI: What's really unique about this competition is that people are not just going up and reading a poem and leaving it on stage. They're actually sharing a part of their identity, and it's pretty clear from the poems that people choose, they always represent a facet of who they are. As they're performing you get to essentially meet these people and get to know a little bit more about what they believe and what's important to them, and I think that's beautiful. People are coming up and sharing their passions and identity through art on the stage.
It's pretty awesome to see people trying to explore global issues that they care about, such as racism and power dynamics within society, through art. That's definitely something all students and all young people should start trying to do, because the power of your voice is pretty underrated.
NEA: You mentioned in your video interview after the semifinals that personal connections is something that you considered when choosing your poems. Do you have a favorite poem that you recited?
MUNJULURI: I would say "Say Grace" by Emily Jungmin Yoon was my favorite. I relate to it a lot because of the religion that my family and I practice. We're a minority in this country, especially where I live in the Midwest. Emily Jungmin Yoon highlights the impacts of colonization and religious oppression, both of which play a role in my native country's (India's) history. I could really relate a lot to that poem, and the usage of unique literary tools to make such continuously bold statements in that poem [makes it] one of my favorites of all time.
NEA: Do you have any other favorite poets? Anyone who really inspires you or you enjoy reading?
MUNJULURI: I think one of the first people that really got me into enjoying poetry was Maya Angelou. She just brings that empowering spirit into everything she writes. As a young person of color in this country, those words really mean a lot more to you.
I've been reading a lot of Emily Jungmin's work recently. It's really fascinating. She tackles some very, very important but also heavy topics, such as genocide, oppression, and sexual violence, through graceful words, which is such a stark contrast. I really love both her writing style and purpose.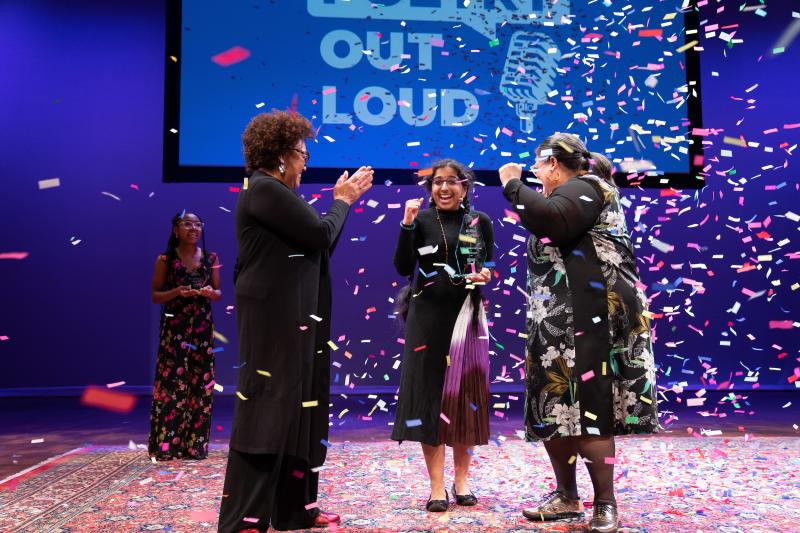 NEA: Were you a big fan of poetry before Poetry Out Loud?
MUNJULURI: I wouldn't say I was actively writing my own poetry, but I've been involved in literature ever since I was a kid. My mom and dad always encouraged me to read from a young age, so I just grew up around books, and  through that, poetry has also been a part of that experience.
My mom actually found Poetry Out Loud last year. She was looking for opportunities related to public speaking online. I'm really involved in public speaking because I do debate, so she was looking for stuff like that. She found Poetry Out Loud and was like, "This sounds really interesting. You can combine public speaking and literature to have a really fun experience."
NEA: Do you feel like you've gained any different skills from what your debate experience has taught you?
MUNJULURI: Oh, for sure. I think debate teaches you a lot more mechanical type skills, but Poetry Out Loud, it helps you explore some of the more intangible skills.
I've been working with an amazing coach with Indiana Humanities since after the first round, Dr. [Adam] Henze. He's a poet and a performer himself. He always says that the best performance that you can deliver really comes out when you are your most authentic and natural self on stage rather than giving a performance. It sounds the best when you sound like you, so just trying to reach that stage was a journey.
NEA: Is there anything from this experience specifically that you'll take with you in the future?
MUNJULURI: When I first came into this competition I [thought] "Oh, it's just a fun slam-type competition." Then as it progressed and we went to nationals, meeting that community of people who believe in the power of voice and the power of poetry as a tool to spark discourse over important topics really inspired me to carry literature with me through whatever I do and pursue it in the future.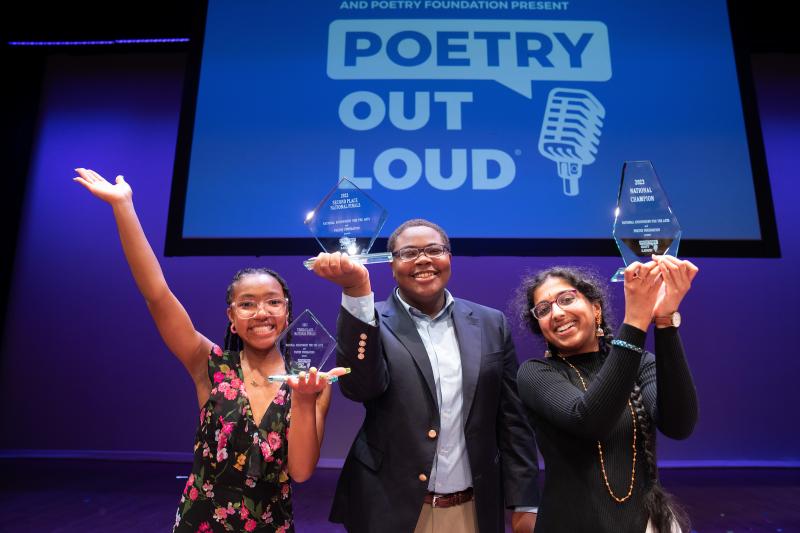 NEA: What advice do you have for anybody who's looking to compete in Poetry Out Loud?
MUNJULURI: In the future, I'm planning to pursue a field that's not entirely poetry-focused. I think I want to go into global health or public policy, so I want students to know that a single field doesn't have to define you and what you do. Throughout high school and college, being a well-rounded person is going to give you a better experience in life. If you're heavily a medicine person or someone who's really into math, that doesn't mean you can't explore poetry and like get in touch with your artistic self as well.
NEA: Do you have any other creative pursuits that you enjoy besides poetry?
MUNJULURI: I play violin. I've been playing since I was five, and I really enjoy it. Performing a solo is fun but performing with a group of people, oh, my god. It just makes you feel human in a way that you can't really describe. There's a certain level of happiness that comes with that.
I also do Indian classical dance, and the form that I practice is Bharatanatyam. It's pretty interesting because it's similar to Poetry Out Loud in a way that the dance involves a lot of expression and storytelling through physicality.
NEA: Lastly, what three words would you use to describe your Poetry Out Loud experience?
MUNJULURI: Inspiring, community, and sharing.
Watch Munjuluri's recitation of Emma Lazarus's "The New Colossus" below!