A Conversation with Fiber Artist: Consuelo Jimenez Underwood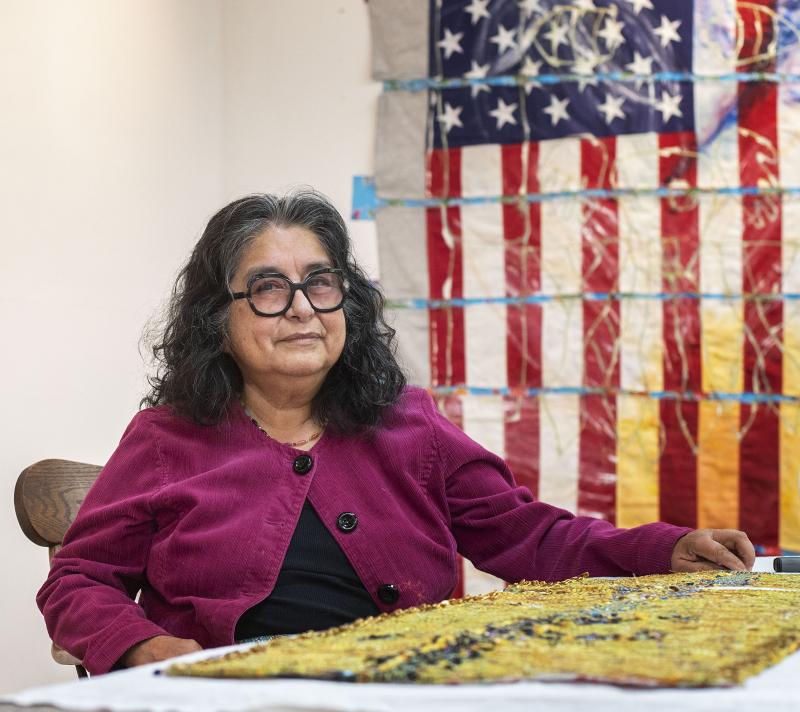 In 1949, in Sacramento, California, fiber artist Consuelo Jimenez Underwood was born to agricultural field workers—a Chicana mother and a father of Huichol Indian descent—inheriting a heritage woven with rich multi-cultural threads and resilience. Growing up, Underwood worked alongside her family in the California fields. Immigration and Naturalization Service raids threatened their unity, with her father's uncertain legal status causing his deportation. Throughout Underwood's childhood, her family lived in the Calexico, California, and Mexicali, Mexico borderlands, spending winter months picking onions and garlic. By the time Underwood turned fifteen, her mother owned properties on both sides of the border, allowing Underwood to sleep overnight in Mexicali, and cross the border to attend school in Calexico. From late winter to early spring, the family would make their annual journey to the northern area of Sacramento, California to pick peaches, apricots, and plums at various ranches.
Underwood reflected upon her experiences and said "The worst part of the migrant agricultural world was late enrollment and early withdrawal from school. I realized that mostly all the kids had a more stable environment, yet had difficulty in learning facts and applying knowledge—but it was easy for me despite missing so much class time. Accruing knowledge was necessary for me to overcome and infiltrate society. Experiencing personally the horrors of forcible removal of the undocumented essential workers from Mexico, I vowed I would grow up...and speak out against an arbitrary 500-year-old line negotiated by Spain and England, that was still bringing forth ecological and social distress to the continent and its indigenous population."
Underwood was the first person in her family to earn a high school diploma. She went on to receive a BA (1981) and MA (1985) in art from San Diego State University, and in 1987, she received an MFA in art from San José State University. For over two decades, Underwood served as a professor and director of the fiber area at San José State University. Underwood was awarded the 2022 Latinx Artist Fellowship, an inaugural initiative—administered by the U.S. Latinx Art Forum in collaboration with the New York Foundation for the Arts—that recognizes 15 of the most groundbreaking Latinx visual artists working in the nation today. Underwood's work is showcased in several permanent collections across the country, including the Smithsonian American Art Museum, the Los Angeles County Museum of Art, the National Museum of Mexican Art in Chicago, Illinois, and the Museum of Arts and Design in New York, New York.
We spoke with Underwood about finding her artistic voice, the ancestral roots that inform her work, and her hope for the next generation of artists.
NEA: Can you share a story from your childhood that played a pivotal role in your artwork?
CONSUELO JIMENEZ UNDERWOOD: At a very early age, my mother, Francisa Cruz Jimenez, introduced me to a crochet hook and thread. A momentous moment, for it felt like I was seeing myself and congruently telling myself how to do it. It was my father, Ismael Aguirre Jimenez, that introduced me to the frame loom. In the rainy season when there was no work, he would hide in the garage and weave me dresses and tell me tales of time, space, and the natural world. His songs and stories complemented the world of the mundane. The maternal and paternal introductory thread experience brought me to a liminal space where time was suspended, and it seemed that anything, including dreams, could be imagined, stitched, and realized.
As an undergrad in the late seventies, I challenged the notion that fiber art was at best, decorative. The incredible threadwork stitched overtime by anonymous women, the idea of [Vincent] Van Gogh leaving home to live with the poorest of the poor (weavers), empowered my artistic trek. My true and authentic artistic voice was the needle and thread. It was challenging to weave a canvas imbued with the image, as opposed to creating the image by applying pigment to the canvas surface.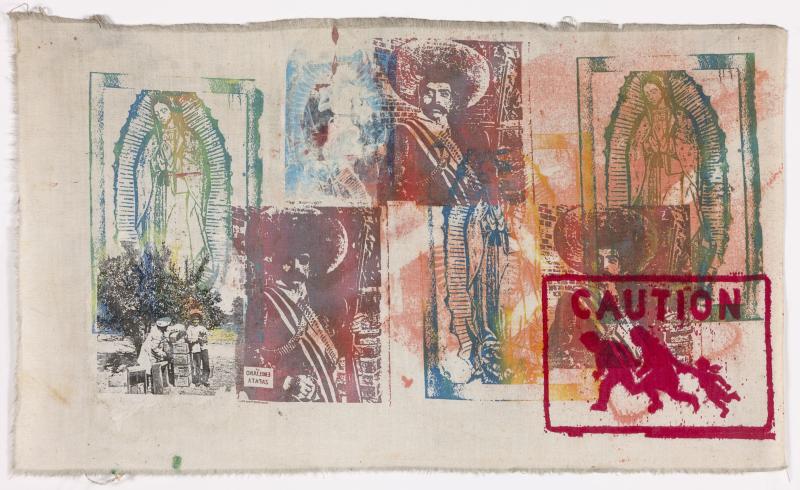 NEA: Can you share a snapshot of your creative process?
UNDERWOOD: The work is ignited by a deep inner voice that impels me to create a visual statement that reflects the quiet rage that has permeated this land for half of a century. I wander to my thread vault, seeing if a yarn, wire, thread jumps out at me and says "Select me! I can do it!" I gather three to five contenders and then I reflect and self-discuss in a liminal space with various entities that are related in some way to the issue at hand. Soon after the weaving process is underway, I can hardly wait till the process is over, so I can begin the next one!
NEA: What are some of the materials that you work with and how do you blend traditional craft techniques with modern concepts in your creations?
UNDERWOOD: I feel I can weave any element. My first love is the Earth's hair—linen, silk, cotton, each imbued with innate contextual history. I enjoy the resistance and memory of fine wire. Material has inherent characteristics and contextual history as well. Since my work is based on form, inherent quality of material enhances the statement in a visceral visual manner. For example, I come from the borderlands, so I use barbed wire.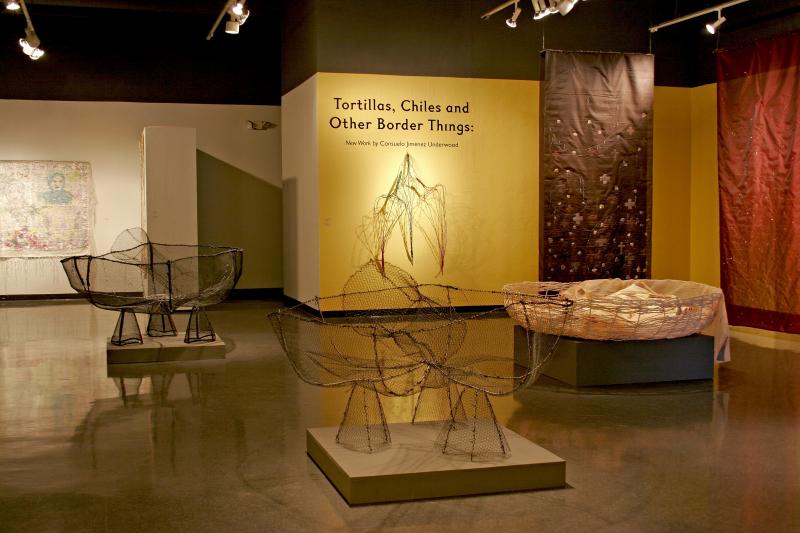 NEA: From your portfolio—what are your two favorite exhibits and why?
UNDERWOOD: Tortillas, Chiles, and Other Border Things, at MACLA [Movimiento de Arte y Cultura Latino Americana] in 2006 was pivotal in that I pushed dimensionality, scale, materials, painting, and weaving. The exhibition successfully expressed visually my personal and cultural context. The 2023 New York Armory solo presentation of my work by the Ruiz-Healy Gallery strengthened my resolve to continue my art trek. I was surprised at how many historians and curators, and museum directors, were familiar with my work. The experience has further fueled my desire to keep creating important and beautiful new statements.
NEA: Your piece Run, Jane, Run! was acquired by the Smithsonian American Art Museum as part of the Renwick Gallery's 50th Anniversary Campaign. Can you tell us about the inspiration behind this particular artwork?
UNDERWOOD: In the early 1990s, the CAUTION sign [Yellow and black California highway safety sign warning motorists to avoid undocumented immigrants darting across the road. It depicted a man, woman, and girl with pigtails running.] went up, and in 2018, the last one was removed. I immediately pounced on this image (word included) as an artistic element in my work. When I first saw the sign, I knew a generation of young and old folk would now accept the undocumented family as victims and somewhat problematic. Worse, I identified with the child. I needed to exaggerate the horrific significance, and it needed to be constructed by the authentic voice of the maternal indigenous woman, the thread. So, I exaggerated by scale and barbed wired the weaving process, a soft format to complement the cruelness of this social act.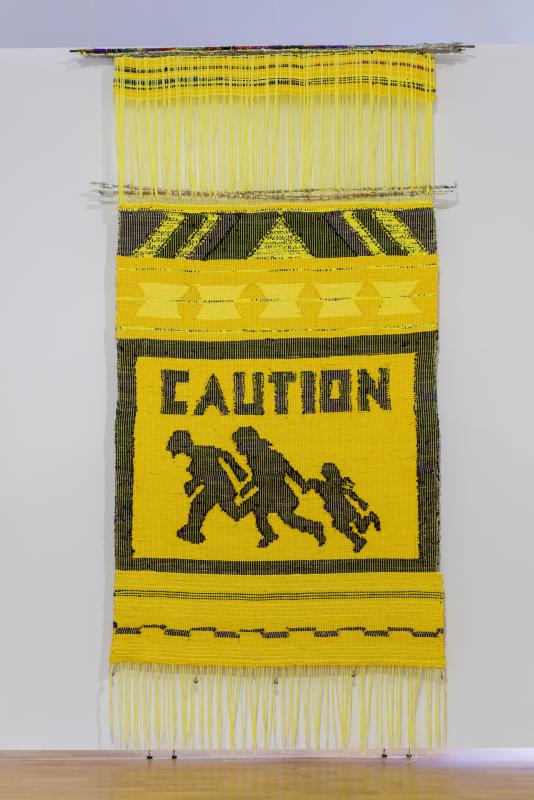 NEA: What do you hope people take away from viewing your artwork?
UNDERWOOD: I like to say, "A good artwork brings you to the edge of the cliff; a great artwork makes you leap!" I invite the viewer to feel our reality and see the luminous nature of the mundane. With this lens I provide, maybe one can understand that border lines are everywhere, dividing us from one another.
NEA: Looking ahead, how do you see your artwork evolving?
UNDERWOOD: I'm uncertain at this point. There is still the need to voice the glory and the angst of the everyday. My work will continue to speak to the universal viewer, who lives beyond my lifetime. My work will continue to embrace beauty, land, and the liminal. Will I ever stop using barbed wire? Sure, when the border comes down.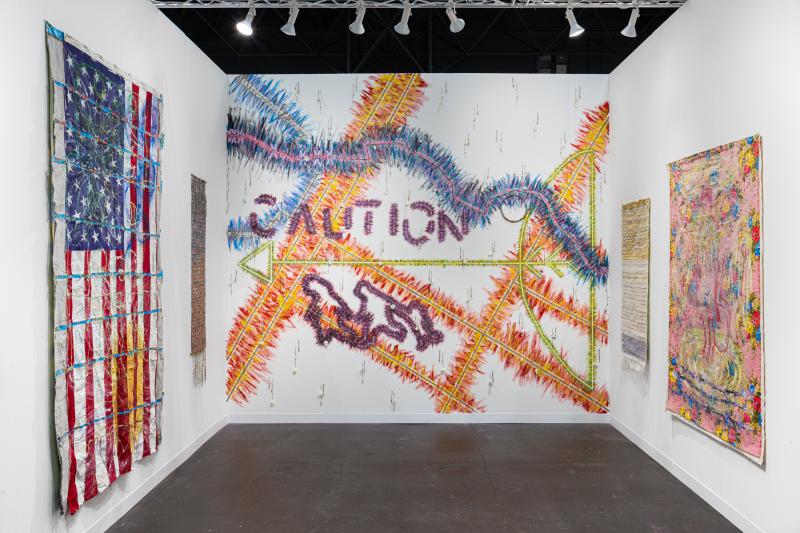 NEA: Is there anything else that you would like to add?
UNDERWOOD: I feel there is an emptiness that is injecting itself into the visionaries of our time. The young'uns believe in form, some embrace context, but few seem to define or express new or unique content. Authentic voice is necessary for powerful, effective art. Authentic voice is the most difficult challenge for the artist. Once identified, the next challenge is to sustain and nourish that authenticity. I would like for my work to empower new voices to shout out the ways and means to steer our planet to maintain its course as it spins into the future.