A Conversation with Trinity Simons Wagner on the Mayors' Institute on City Design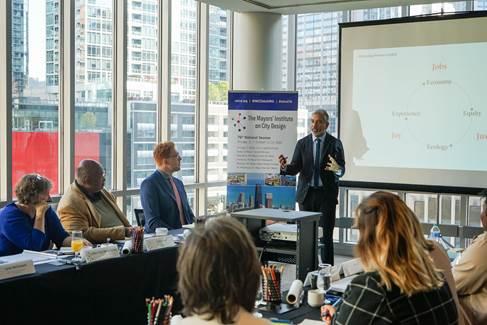 With a belief in the power of city design to transform communities, the Mayors' Institute on City Design (MICD) educates mayors to be the chief urban designers of their cities. MICD is a leadership initiative of the National Endowment for the Arts in partnership with the United States Conference of Mayors. Since 1986, MICD has offered collaborative learning programs and resources to mayors in order to make a purposeful, positive impact on America.
Trinity Simons Wagner has served as the executive director of MICD since 2012. In this role, she works with mayors across the country on the nation's most pressing urban planning and design challenges. She is also on the leadership team at the United States Conference of Mayors, and frequently speaks about the intersection of design and politics at universities, events, and symposia across the country. We spoke with Simons to learn more about MICD's impact on mayors and communities across the U.S.
NEA: MICD's focus is on equipping mayors to be the chief urban designers of their cities. Why should mayors focus on gaining a better understanding of how to guide design in their cities?
SIMONS WAGNER: We believe that design is fundamental to shaping resilient, equitable, and thriving communities. Design impacts far more than how a city looks: it impacts the way it runs, lives, feels, and grows. And design is more than aesthetics: it's a problem-solving tool. It's a way to put people first and improve their lives.
We often hear from mayors that our programs help them reconnect with the reasons they ran for mayor in the first place: to make their communities stronger, more livable, more equitable, and to improve the lives of their residents.
NEA: How has the MICD program evolved since it began in 1986? What has changed? What has stayed the same?
SIMONS WAGNER: MICD is still going strong after 37 years and over 1,200 alumni mayors because our core program, the MICD Institute Session, simply works. We bring a small group of mayors together with a small group of design and development professionals to workshop what the mayor considers to be their most pressing city design challenge. The atmosphere is candid, collaborative, and productive. You could say it's a hybrid technical assistance/leadership development program. Mayors get very concrete ideas on the challenges they are facing, but they also tell us that after attending MICD, they are better equipped to lead their cities, to ask good questions, and to bring the right people to the table. This program will always be our signature program.
But even before the pandemic, we were exploring ways that we could support mayors at a deeper level, and better connect design strategies to the myriad of challenges that are facing cities: affordable housing, public safety, neighborhoods that have been severely underinvested, safe street design. The pandemic accelerated these efforts, and now we offer a suite of programs, from additional targeted technical assistance, to virtual seminars for mayors, to a new fellowship program for mayors centered around achieving justice in the built environment. Through these programs, we are able to put our values more clearly into practice, and continue to be an indispensable resource to mayors as they're making decisions that will impact their cities for decades to come. Our new website, www.micd.org, highlights these programs and our impact.
 NEA: Can you share a bit more about the new MICD Just City Mayoral Fellowship?
SIMONS WAGNER: Yes! We are exceptionally proud of this program, and honored that mayors have trusted us to guide them through a rapidly changing and volatile time. The MICD Just City Mayoral Fellowship is a program of MICD in partnership with the Just City Lab at the Harvard Graduate School of Design.
Our third cohort will begin their fellowship in February 2023. The 11-week hybrid in-person and virtual course helps mayors develop and strengthen approaches to embedding justice and equity goals within government policy and practices. It also helps mayors design strategies for achieving more just and equitable outcomes within their communities. This year's cohort of mayors will be introduced to the concepts of social impact and justice-centered design, equity framework measurement tools, and innovative design practices that increase just and equitable outcomes in housing, mobility, governance, and the public realm. Building from past fellowships, the program will continue to explore ways to create lasting, transformational impacts from new federal funding streams such as the Infrastructure Investment and Jobs Act and the American Rescue Plan Act. The program will feature dynamic presentations and dialogues with experts in the fields of architecture, landscape architecture, urban planning, art activism, housing, and public policy. Classes are under the fearless leadership of Toni L. Griffin, Professor in Practice of Urban Planning at the Harvard Graduate School of Design and founder of The Just City Lab.
NEA: What trends are you observing among mayors at this moment? How does design serve their agendas?  
SIMONS WAGNER: The pace of change over the last few years has been nothing short of astonishing. Being mayor was once seen as the best job in politics – mayors are rarely "politicians" and almost always run for office to improve their communities. We still think it's the best job, but the level of mayoral turnover in the last few years has been exceptionally high. Mayors have been called upon to lead through unprecedented challenge after unprecedented challenge.
On the other hand, funds directed to cities from the American Rescue Plan Act and new programs in the Infrastructure Investment and Jobs Act lend a renewed sense of optimism and possibility. Nearly every mayor I've worked with over the last decade has talked about their own version of a "tale of two cities," and for the first time in a very long time, mayors are optimistic about the opportunity for transformational change and addressing long-standing inequities in their communities.
I would say, along with this, we have seen a shift away from mayors seeing themselves as the "chief problem solver" and toward a role of being the "chief collaborator." The best ideas in communities often come from within, from people and groups who have been working on the ground for a very long time. Uplifting those voices, providing resources and a bully-pulpit, will go a long way toward achieving that transformational change. Mayors are also starting to understand – in no small part due to the leadership of the National Endowment for the Arts – the full potential of arts and cultural strategies to help advance justice, facilitate community engagement processes, and help communities imagine a bolder and more joyous future.
 Jennifer Hughes serves as the senior advisor to the NEA Chair for Partnerships, Expansion, and Innovation. Since 2011, she has held multiple roles at the NEA, most recently serving as director of Design and Creative Placemaking.