Grant Spotlight: Friends of the Orphan Signs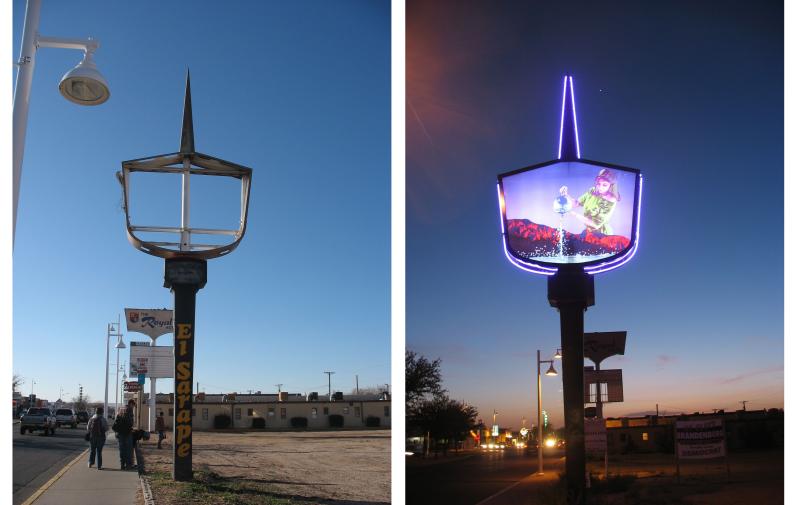 When Lindsey Fromm moved to Albuquerque in 2010 to pursue a graduate degree in fine art and arts education at the University of New Mexico (UNM), she didn't have any family or close friends in the city. A sign, spotted from the window of a bus, made her feel more connected. It was a simple reader board with movable plastic letters that read, "I clap for you in my head all the time."
"I started asking around, 'What is this? Who's doing this? I want to be a part of it,'" Fromm told the National Endowment for the Arts. "And I found Ellen. She happened to be teaching in the UNM program, and she started mentoring me."
Ellen Babcock is the founder of Friends of the Orphan Signs (FOS), a small non-profit that takes abandoned or unused road signs and creates permanent and temporary public art installations, primarily along historic Route 66 in Albuquerque. Fromm is now transitioning from the organization's project director to executive director.
Babcock started FOS in 2009, the same year she became an associate professor of sculpture at UNM and moved to Albuquerque. In an effort to get to know the city better, she asked her students to join her on a walking tour of East Central Avenue, the stretch of Route 66 that runs through the center of town.
Between the building of an interstate further north and the Great Recession, many of the former businesses, in particular motels, had closed down along the route, leaving the historic, mid-century signage empty or abandoned. On the tour, Babcock took a picture of one of the skeletal signs lining the street and started to think that they might work as sites for public art.
"There was a playful spirit in the design of the signs that you see vestiges of here," Babcock said. "Then also the decay of that particular stretch of Route 66 is so evident that I think working with these signs was something the community welcomed — it was an investment in a part of the city that seemed to be deteriorating."
As a newcomer to Albuquerque, Babcock didn't feel she should determine what went up on the signs. Instead, she started an after-school art club at one of the local high schools, Highland High, and decided to pitch the students' design to the City of Albuquerque Public Art program. The city funded the project, called Revivir, and it went on to win an Americans for the Arts 2013 Year in Review award.
Today, Babcock and Fromm continue to see collaboration as fundamental to FOS's mission. Last year, the organization received a $10,000 NEA Challenge America grant to install artwork and poetry pieces created by artists and local students in low-income areas. A future project involves collecting phrases or words that provide hope or comfort from medical translators at UNM hospital, which Fromm hopes will also elevate the often-invisible labor of these frontline workers.
Language is another important aspect of FOS's work, and they have created pieces in both English and Spanish. Babcock recalled one piece that involved an idiomatic translation, something she said is common in New Mexico. One side of the sign read, "cayendo agua," or falling water. The other, as if in conversation with the opposite side, said, "Eddie, the word is lluvia," the Spanish word for rain. The project, called Slant/Desvio, was led by artist Sara Daniele Rivera.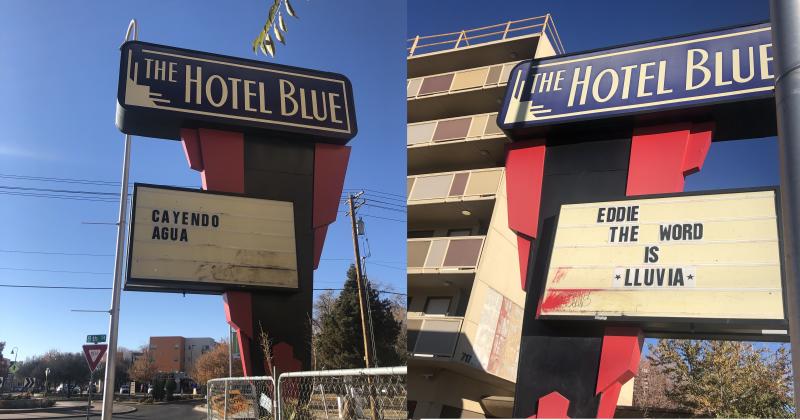 "We do this sort of mysterious and almost intimate use of language on these very public pieces of architecture," Fromm said of FOS's projects.
The organization does not tend to advertise its involvement on a particular piece, which Fromm said invites additional curiosity and deeper engagement from the community.
"I think a lot of the city of Albuquerque has been impacted by and has interfaced with our signage. They just may not be able to put the organization's name to what they're seeing," Fromm said. "In some ways that's the point. We want the work to be mysterious because we're trying to disengage that space of signage from the capitalist project. We're taking what is typically a piece of real estate that's very expensive. Imagine if you're putting a billboard up for one month, we've priced that out to something like $1,500, and we're giving that back to community members who want to see themselves in that space."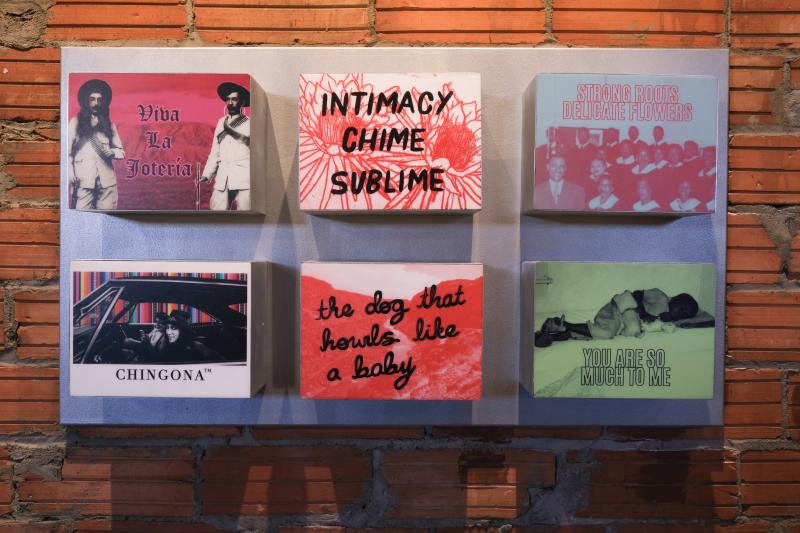 The city recently asked the organization to do an inventory of Route 66 signs in anticipation of the centennial in 2026; FOS cataloged more than 100 signs on that single street. Fromm said she's excited to see what the future holds, and she is looking to artists to expand the possibilities for these sites.
"How can we interact with these signs for the next 10 years? Or even just five years?" she said. "It's not all coming from us. We want to be the catalyst for filling this space that Albuquerque is always going to have with beauty and innovation, mystery and intimacy."