Making Museum Memories: A Military Family's Story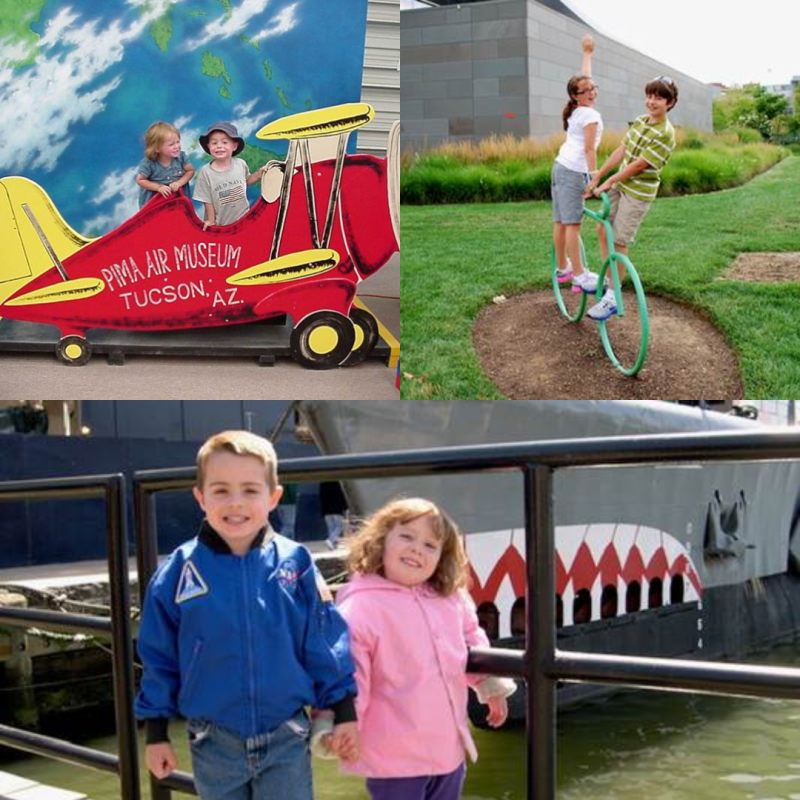 Summer for military families used to just signal PCS (permanent change of station) season, which meant houses were packed up, kids/dogs/fish/parents packed into cars, and families departed to yet another new place to call home. Now, summer also means that it's Blue Star Museum season. My husband is an active duty Army soldier and we raised our two children on or near military installations from Germany to Texas. Museums have always played an important part in the life of our military family and my children's love of museums started with a simple offer from a local museum.
The summer of 2005, before Blue Star Museums even existed, we were living at Fort Campbell, Kentucky, and my husband was deployed overseas. Back home in Kentucky, after exactly two weeks of summer vacation, my newly-minted first grader and kindergartener were officially bored. The pool had already lost its allure and it was miserably hot outside. Just when I thought I couldn't bear another game of Candy Land, the Customs House Museum and Cultural Center in nearby Clarksville, Tennessee, announced they were offering free admission to military families with a deployed service member.
I'm probably exaggerating when I say we were the very first people in the door the following day, but it is not far from the truth. The staff of the museum welcomed us, gave us the lay of the land, and let us off to explore on our own. Right away, I realized that two small kids probably needed a class in museum manners—no touching—so we instituted the "hold 'em or fold 'em" rule (either hold my hand or fold your own hands) as we browsed through the more formal galleries that featured rotating art exhibitions. 
For my kids, the real magic was on the lower floors of the museum. We discovered the largest model train exhibit we'd ever seen. Perfectly at kid level, my son and daughter could even press buttons to make things move in this tiny, intricate world. Down the corridor from the trains, we encountered a log cabin and they could imagine what life was like if we all had to share one room and cook over an open hearth.
Finally, even deeper into the museum was the children's section, where you most certainly did not have to "hold 'em or fold 'em." Touching was encouraged! This part of the museum had a bubble room, a pretend grocery store, ball racing ramps, and more. As a mom, I was thankful for a place to sit and rest while they spent the better part of our visit popping from play area to play area. Little did they realize they were learning about physics and nutrition as they played.
Needless to say, we became museum regulars that summer and continued to take advantage of both the free admission and opportunities to participate in art-making activities. We learned about the history of our community and about different types of art made by people in the area. Most importantly, the generosity of the Customs House Museum helped launch both my kids on paths to incorporate arts and culture into their daily lives through love of books, music, theater, and yes, museums.
My kids aren't so little anymore, but that summer was so impactful that my 24-year-old son can still describe the inside of the Customs House Museum in minute detail, reminding me of things gone fuzzy in my own memory. "Don't forget the log cabin, Mom," he said. As a teen, he applied to volunteer at the Smithsonian's National Air and Space Museum, and was proud to sport his blue Visitor Services vest when he left for his shift. He's now an electrical engineer, inspired by the artifacts and stories told in the museum. My almost 23-year-old daughter double-majored in art history and art conservation in college and is now in a graduate program studying art conservation with plans to become an objects conservator. She always did want to touch the art and now she can! She's also active in her university's comedy club and student theater organizations.
Thank you to the Customs House Museum and Cultural Center and all the other Blue Star Museums for opening your doors to inquisitive military kids and grateful parents again this summer. You help break down barriers between the military and local communities by welcoming in people that may only live in your area for a short time. You cannot put a price on the memories that will be made in your museums and the impact you'll have on the military community—and the wider community—that will continue to manifest for years to come.