Quiz: How Well Do You Know the Authors at the 2023 National Book Festival?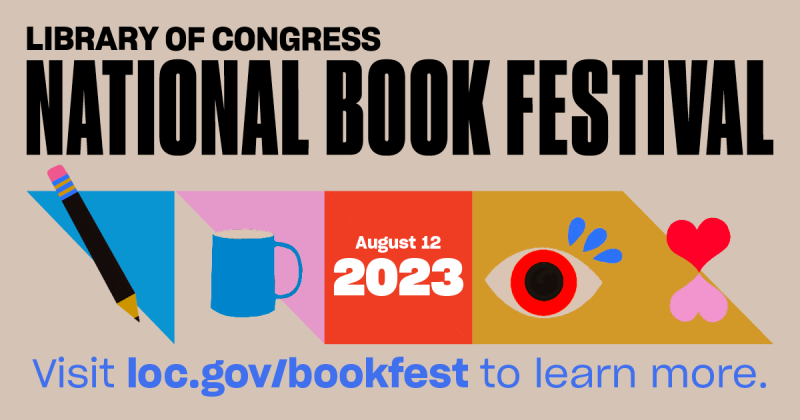 Book lovers rejoice, the Library of Congress National Book Festival is upon us once again! This Saturday, August 12, writers and readers will fill the halls of the Walter E. Washington Convention Center in Washington, DC, for a day of author talks, panels, signings, and lots of literary fun for visitors of all ages.
Continuing its longstanding support for the festival, the National Endowment for the Arts is sponsoring the "Understanding" stage this year. We are familiar with a few of the authors featured on the stage from our Literature Fellowships and NEA Big Read program, but how well do you know them? Test your knowledge with this quiz, and be sure to check out the related content below if you're interested in learning more.
The answer key is at the end of the quiz – good luck!
1. 9:30 a.m. ET – NEA Literature Rebecca Makkai will be discussing her new novel, I Have Some Questions for You. Which of the following was her debut novel?
A) The Hundred-Year House
B) The Borrower
C) The Great Believers
D) Music for Wartime
2. 10:45 a.m. – Nick Brooks will talk about his new young adult mystery that follows three teens of color accused of their principal's murder; they must investigate the crime themselves to clear their names. What is the title?
A) One of Us is Back
B) One of Us is Lying
C) Ace of Spades
D) Promise Boys
3. 12:00 p.m. – Jesmyn Ward, the 2022 Library of Congress Prize for American Fiction Winner, will be in conversation with Library of Congress Director Carla Hayden. She also won this other prestigious literary award…twice!
A) National Book Award for Fiction
B) Pulitzer Prize for Fiction
C) Women's Prize for Fiction
D) The Booker Prize
4. 1:00 p.m. – S.A. Cosby is known for his "Southern noir" mysteries. Cosby is from which Southern state, which is also the setting for his latest novel, All the Sinners Bleed?
A) Alabama
B) North Carolina
C) Georgia
D) Virginia
5. 2:00 p.m. – NEA Literature Fellows Shane McCrae and Nicole Sealey will be in conversation Saturday afternoon. Both poets have impressive resumes – McCrae teaches at Columbia University and Sealey is the Executive Director of this nonprofit that supports Black poets…
A) Kundiman
B) Lambda Literary
C) Cave Canem
D) Zoeglossia
6.3:15 p.m. – NEA Big Read author Kevin Wilson will discuss his latest novel Now Is Not the Time to Panic. His second novel, which is part of the NEA Big Read program, is titled…
A) Nothing to Do Here
B) Look Over There
C) Nothing to See Here
D) Look Over Here
7. 4:30 p.m. – Shelby Van Pelt, who will be in conversation with Henry Hoke, is the author of the New York Times bestselling novel Remarkably Bright Creatures, which follows the connection between a grieving woman and this animal…
A) Chimpanzee
B) Octopus
C) Elephant
D) Parrot
8. 5:45 p.m. – The "Understanding" stage will wrap up with science fiction writer John Scalzi, who will discuss his novel The Kaiju Preservation Society with NPR's Linda Holmes. Scalzi won this sci-fi/fantasy award for his novel Redshirts in 2013...
A) Christy Award
B) Edgar Award
C) RITA Award
D) Hugo Award
Make sure to check out the Library of Congress's website for more information on the full festival line-up, including which programs will be live-streamed.
1. B
2. D
3. A
4. D
5. C
6. C
7. B
8. D