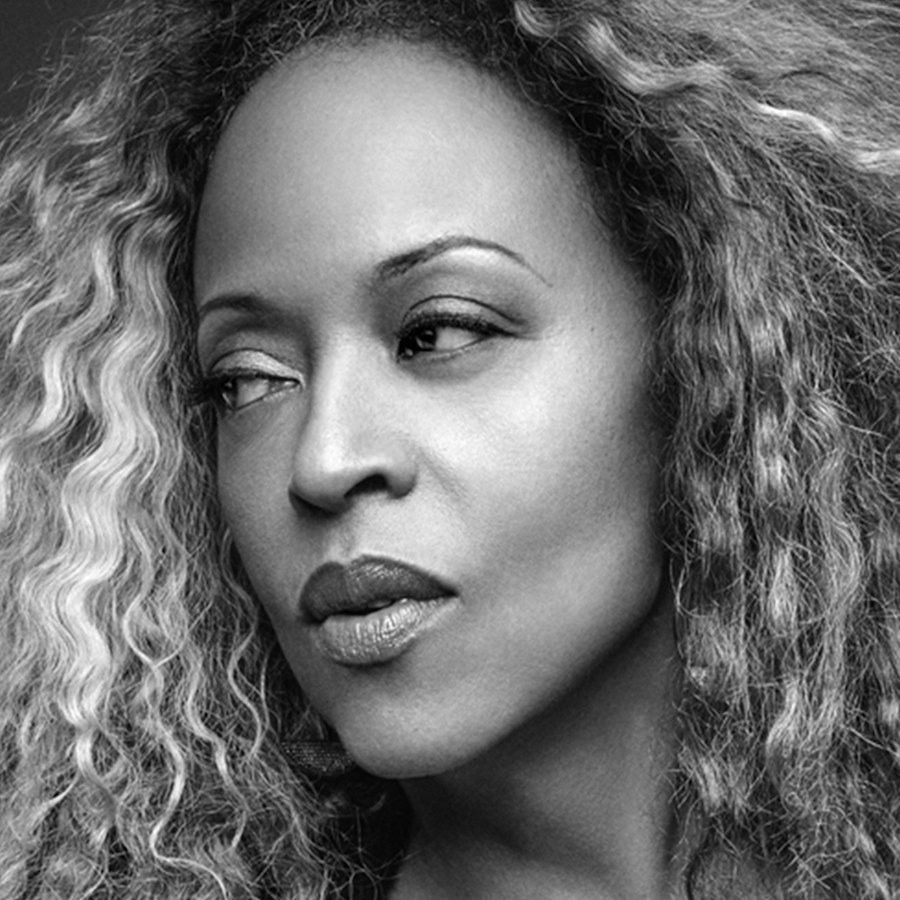 Music Credits:
"I Am Waiting," from the album Point of View, written by Cassandra Wilson, performed by Cassandra Wilson and M-Base.
"I'm Old-Fashioned," from the album Blue Skies, written by Jerome Kern and Johnny Mercer, performed by Cassandra Wilson with Terri Lyne Carrington, Mulgrew Miller, and Lonnie Plaxico.
"Hellhound on my Trail" from the album, Blue Light 'Til Dawn, written by Robert Johnson, performed by Cassandra Wilson.
"Darkness on the Delta," from the album, Belly of the Sun, written by Jay Livingston, Al J. Neiburg, Marty Symes, performed by Cassandra Wilson with Boogaloo Ames
"NY" written and performed by Kosta T from the cd Soul Sand. Used courtesy of the Free Music Archive.
Jo Reed: You're listening to 2022 NEA Jazz Master Cassandra Wilson singing a song she wrote called "I am Waiting."  From the National Endowment for the Arts, this is Art Works. I'm Josephine Reed. Singer, songwriter, musician and producer Cassandra Wilson by incorporating blues, country, and folk into her singing and songwriting, created a rich body of work that has expanded the definition of jazz.  With her distinctive voice and singular approach to singing, she has recorded more than 20 releases as a leader and has been featured on recordings by musicians like Terence Blanchard, Bill Frisell, Charlie Haden, Wynton Marsalis, Terri Lyne Carrington, and Luther Vandross.
Born into a musical family in Jackson Mississippi, Cassandra Wilson combines artistic depth with musical adventurousness in interpreting and reinventing songs from blues to Afro-Cuban to folk. Her albums are well-received by critics, the public, and musicians. In fact, the musicians she gathers to record with her are among the best people playing jazz—like Jason Moran, Pat Methany, Lonnie Plaxico, Dave Holland, and Terri Lyne Carrington.
Before being named a 2022 NEA Jazz Master, Wilson had won many honors and awards including two Grammy Awards, Downbeat magazine's Female Jazz Vocalist of the Year award multiple times, the Miles Davis Prize at Montreal International Jazz Festival and Time magazine named her America's Best Singer in 2001. I don't have time to list all of her accolades—but I have to mention the Mississippi Governor's Award for Artistic Excellence in Music and her marker on the Mississippi Blues Trail—these last two are particularly meaningful since Mississippi's rich musical history has been an early and deep influence on Cassandra Wilson and her approach to music.
Cassandra Wilson: I was born in Jackson, Mississippi. It's a town that's known for many things. It's known as a gathering of educators. My parents were educators. They went to Jackson College, which is now Jackson State University. Now, it's become a medical hub. But, in the past, it's been a great gathering place for musicians. We had a label called Trumpet Records which many Blues musicians recorded in. We're known for country music. And there are some hip-hop artists that come from the region. And we also have always had a small jazz community.
Jo Reed: With your upbringing, your parents we were educators. Were they also musical?
Cassandra Wilson: Both of my parents were musical, but my father was actually a musician, studied music at Jackson College and he was supposed to teach music, but decided not to. And he performed in various bands in the region. That was the era of the big bands. So, there were a lot of big bands, smaller bands, combos-- that sort of thing. And there was a lot of music in Jackson, a lot of music, a lot of venues.
Jo Reed: What did he play?
Cassandra Wilson: He started off playing violin when he was younger, then he moved to the trumpet when he started to play in the Army band. And then he, finally, rested on the base and the guitar.
Jo Reed: Was he a jazz person? Did he love jazz?
Cassandra Wilson: Absolutely. He had a huge jazz collection and that's what I remember listening to when I was a little girl. I started listening to the same music that he listened to. I was very close to my father, both of my parents, and I remember hearing Miles Davis' "Sketches of Spain." That's one of the first albums that I remember hearing from his collection.
Jo Reed: Now, was it just assumed, Cassandra, that you would take music lessons or was that something you really expressed an interest in?
Cassandra Wilson: My parents say that when I was about five years old, they took me to visit a friend and that the friend had a piano. And they said that I just started to play on it and they noticed that I was very agile and that I was very happy whenever, you know, I was playing piano. So, it was then that my mother decided that we would get a piano. And that piano is actually still here. It's in this house.
Jo Reed: And how did guitar get in the mix?
Cassandra Wilson: The guitar was always in the background. My father had an archtop Gibson and, you know, the strings hang down at the end. My father tells me the story that I used to go and pull those strings and they would, of course, resonate with what we call harmonics. And the harmonic sounded angelic to me. It sounded like heavenly music. And that's when I started to notice the guitar more and more. So, after seven years of piano lessons, I asked my father if I could start playing the guitar.
Jo Reed: And how did singing get into the mix? When did you move towards singing, or was that always there?
Cassandra Wilson: Well, I think the singing thing was always there, but I never really thought that I had a voice. Everyone sings here. You know, Mississippians sing. You know, you can't live in Mississippi and not love singing. And, so, I never thought that it was anything extraordinary until I started to write my own music. When I was about 12- 13 years old, I was beginning to write music on the guitar. And that's when I thought, "Okay, well, maybe there's something else here that I should be doing with the voice."
Jo Reed: Who were you listening to at that time when you first started writing and playing the guitar?
Cassandra Wilson: Wow. I was listening to people like Joni Mitchell, James Taylor, Richie Havens, Odetta. That's the beginning of that whole singer-songwriter movement, I think, in America. The late 60s, the 70s, is when I start to really get involved in folk music and a little bit of Blues, but mostly folk music.
Jo Reed: When did you start playing out, playing publicly for people? And what did you play?
Cassandra Wilson: I started performing publicly when I was in college. I attended Millsaps College and I used to get an allowance. But, apparently, I abused that and my parents said, "Well, you need to get a job. This is it," you know. "You have to learn how to make your own living." And, since I was playing in the dormitory for kids, you know, friends of mine, I thought, well, why not try and perform at a local restaurant-bar which was called Poets. And that was my first live performance.
Jo Reed: What did that feel like? Do you remember?
Cassandra Wilson: It felt easy. It felt good. It felt wonderful, really, because, you know, you have to realize this is a time that there's this movement amongst people all over the country-- I say all over the world-- this this feeling of freedom, the need to express ourselves about everyday life, what we want for our lives, what we want for our children's lives, what we want for society. I love that idea of grabbing an instrument and expressing the times. I love that, always did.
Jo Reed: After college, you moved to New Orleans. Why New Orleans and what is it that you wanted to do there?
Cassandra Wilson: Well, I was married, which was what I was supposed to do. And, so, I moved to New Orleans, because I married a man who worked in New Orleans. And I got a job at WDSU-TV. And I did the things that a wife was supposed to do.
Jo Reed: But you also involved yourself in the music scene; you worked with some great musicians in New Orleans.
Cassandra Wilson: It was the time of my life. While I was working during the day and then, at night, I would go out and I would meet these amazing musicians in New Orleans, people like Ellis Marsalis, Earl Turbinton. I actually was on an album with one of the greatest drummers of all time, James Black. It was just one of the most exciting times in my life to be able to be in New Orleans and get an understanding and an education of the music that was different, a little bit different, from what I'd gotten in Jackson. We claim jazz here, too, as well. It's just that ours is mixed with a little more Blues. What they're doing down there, it's a similar thing, but it's a broader palette in terms of improvisation. So, that's when I began to really experiment with using the voice in an improvisational manner.
Jo Reed: And you were there for a year and you moved to New York City. Again, what informed that decision to go to New York?
Cassandra Wilson: My husband at the time, Anthony Wilson, was summoned by his uncle who had just become the mayor of East Orange. And, so, they were, you know, bringing various members of the family to East Orange in support of his uncle. So, that's why I moved there. I didn't move there because I just felt this, you know, draw. I moved there because my husband moved there.
Jo Reed: What was the music scene like in New York?
Cassandra Wilson: Wow, it was, once again, exciting! Once again, there's this feeling that there's something else beyond the kitchen and ironing the clothes, there's a feeling that "Maybe I don't fit so much inside of a political family. Maybe I actually fit with the jazz musicians." So, that's in the back of my head.
Jo Reed: How did you move into the music scene as a singer or songwriter in New York? What was that trajectory like?
Cassandra Wilson: Oh, exciting, exciting. I would take the PATH train over to New York and I would go and go to the jam sessions. And I met the elders, which is a very important part of growing inside of that community, is to sit at the feet of the elders.
Jo Reed: You worked with Henry Threadgill and New Air, and Henry comes out of AACM—the Association for the Advancement of Creative Musicians. And I'm just so curious about what his influence on you might have been musically.
Cassandra Wilson: That's a book. It's actually a novel that I plan on writing. No! Okay. I have to backtrack. Alvin Fielder was my mentor here in Jackson, Mississippi. Alvin Fielder was the one who really pulled me into jazz and he comes out of AACM. Also, Kidd Jordan, who is from New Orleans, is out of AACM. And this is, like, during the mid to late 70s, where it's just an explosion of improvisation, the jazz scene in Jackson. So, when I go up to New York and I meet Henry Threadgill, Alvin Fielder approves. He says, "You should listen to him. You should study him. You should find out how he writes, how he composes." And I learned a great deal from Henry Threadgill about composition and how to turn things upside down in music in order to inspire.
Jo Reed: You also worked quite a bit with Steve Coleman and you became one of the founding members of the M-Base Collective. What is the M-Base Collective? What was the M-Base Collective?
Cassandra Wilson: I met Steve Coleman in 1982, I believe. And he introduced me to his ideas at the time, which were creating an entirely new language in the music, connected to the old, but a new way of expressing your experiences through the music, connected to the tradition, but always pushing forward. So, M-Base, which is what we created at the time-- Steve was the leader of that movement, M-Base stands for "Macro Basic Array of Structured Extemporization," which just is a fancy way of saying, "I will interpret this through the lens of my experiences, not through the lens of someone else's experiences." So, you're gathering your life's experiences and you are expressing that musically.  It's creating your own voice, which is, ultimately, what jazz has always been about.
Jo Reed: And it's exactly what you do with your singing as well. So, M-Base, it really was a way of thinking about creating music it wasn't a style.
Jo Reed: Exactly. M-Base was a way of creating a consciousness around music, a way to approach music, a way to think about performance. And there was, also, the other side of the business. We learned a lot about creating your own publishing company, how to safeguard your copyrights, all these sorts of things we discussed and we really gathered together in support of one another.
Jo Reed: Your first album as a leader was with M-Base in 1986 called, I think, tellingly, "Point of View" and, of course, you know what this question is going to be? What was the point of view that you wanted to express?
Cassandra Wilson: "Point of View" was  a point of departure, a point of awakening. I think that's what I was saying, awakening a singular voice, awakening of a singular process. Because that was the very first time I recorded original material. So, "Point of View" acts as that. Yes, it's a point of departure. It's a way of looking at the music through what was beginning to be Cassandra Wilson.
Jo Reed: That's good, because I do want to talk about your songwriting. Process-wise, how do you write? Is it on the piano? Is it with your guitar? Does it shift back and forth? How does this work?
Cassandra Wilson: There is no rhyme or reason to it. The muse comes to you through pianos, guitars, drums, sticks, stones, trees. It will just come to you. Now, depending on what you're most comfortable with in terms of interpreting that, the piano sometimes worked, but it was mostly through the guitar.
Jo Reed: Are you somebody who re-works things a lot? Do you work on it, put it down, come back to it? What's that process?
Cassandra Wilson: I don't really work that hard. I don't. I don't. I believe when it comes to you initially, all you have to do is massage it. If you have to work too hard on it, then it's going to go into the bin of incomplete ideas. But it usually comes to you full force in a way that makes sense and is easy to develop. It shouldn't be a hard process for me.
Jo Reed: Okay, so, here's my question: Did you have to learn to do that, to let it come, to let it be easy for you?
Cassandra Wilson: That's a great question. Did I have to learn how to make the process easy?
Jo Reed: Yeah. Just let it be, so it would come.
Cassandra Wilson: Wow. That's who I've always been. I remember myself as a child being that way, believing in ease in life, having a peaceful way of communicating with creative energy, not a struggle, but a peaceful way of allowing it to come in and trusting my intuition enough and trusting my ears enough to know, "Okay, this is good. I like it. It feels good. It makes me feel good." So, I know that when I sing it, it's going to make other people feel good as well."
Jo Reed: I just want to briefly talk about your 1988 album "Blue Skies" with Terri Lyne Carrington on the drums. Billboard named it Album of the Year. How different was it from the music that you made with M-Base, even though you might have brought that same consciousness to this music?
Cassandra Wilson: I did "Blue Skies," because I felt I needed to show the people who were questioning me what my foundation was. And Steve Coleman actually criticized me for doing that. He felt that I was going backwards. And I said, "No, it's not going backwards. It's just showing my appreciation, also, for that era of music. I can swing, I love swinging, and I'm going to swing for you now." And, so, that's how "Blue Skies" happened. And it was one of the best recording sessions I've ever had. We did that album-- Terri Lyne Carrington, Lonnie Plaxico, Mulgrew Miller-- that was it. We did that album in one day rehearsal, one day recording, because we had a $5,000 budget to do "Blue Skies." Then you learned how to do things very quickly. Arrangements were done prior. So, I went to the rehearsal with the arrangements and, of course, such great musicians embellish. They embellished and magnificently.
Jo Reed: It's a great, great album.
Cassandra Wilson: Thank you.
Jo Reed: You're welcome. And then, in 1993, you signed with Blue Note, one of the most influential and respected labels. It had to have been exciting, first of all, I would imagine.
Cassandra Wilson: I thought that signing would with Blue Note would be an adventure into another world, because, as a jazz musician, you live inside of a certain milieu. It's not about money, it's not about having a huge audience. It's about always reinventing yourself or recreating yourself or doing something that is pushing the boundaries. So, when I signed with Blue Note, I realized that maybe I would have to compromise a little bit in order to do that. But what happened was really interesting. In deciding to make music that may be more palatable, I discovered that it was actually more palatable for me. That the sound of the voice floating over the instruments was actually much more comfortable for me. I didn't have to fight with horn players. I didn't have to fight with a drummer. It was a blending of elements that was actually more suitable for my style. So, I accidentally stumbled upon a formula that was not merely to appeal to a wider audience. It was to appeal to me.
Jo Reed: Your first album with Blue Note, "Blue Light Till Dawn" produced by Craig Street, how did you and Craig hook up?
Cassandra Wilson: Craig Street lived in the building that I lived in on Edgecombe Avenue. And he was actually doing construction work at the time, but I'd known him from hanging out with Black Rock Coalition, the Black Rock Coalition was a parallel movement to M-Base, similar type of approaches that they had to music and the business. So, I'd met him in those circles and I knew that he would be perfect for the project, because he wanted to know about the other side of me that I had not revealed. The guitar player, up until that point, it was a part of my personality that had remained hidden. He tapped into that.
Jo Reed: Yes, because "Blue Light Till Dawn," it was pretty much all acoustic arrangements. And, oh, my goodness, the different songs on that album: Joni Mitchell, Van Morrison, Robert Johnson, your own originals. Do you remember how that album came together and how you just decided, yes, I'm going to do all these different singers and my own work.
Cassandra Wilson: I have to credit Craig Street with pushing me to that point. He dared me. He dared me to be open, to be honest about my musical past and the influences. He's the one who pushed me into it.
Jo Reed: Did you tour behind the album?
Cassandra Wilson: Yes, that was the beginning of my foray into the world of pop touring.
Jo Reed: How was that world?
Cassandra Wilson: Oh, it's a little different. It's a little different. I had toured before as a jazz musician. And when you have an album that has that kind of success, then it moves you into a different category. And, so, you have to have a tour manager. There are people-- suddenly, there are more people and their entourage. And, so, I'm learning how that world operates with "Blue Light Till Dawn."
Jo Reed: Can you talk a bit about the difference between a studio recording and then taking that album that you recorded and performing it live in front of people?
Cassandra Wilson: The difference between a studio recording and performing live is night and day. Generally, when you are doing a recording in a studio, that's the beginning of the process. It's the beginning of you discovering the music. It's the beginning of you coming to know the songs that you are interpreting or that you've written. Once you go out on tour and you work it over and over again, and every night it's different. We're moving through a pop world, but we are still jazz musicians. So, that means every night somebody's got to come up with a solo that's going to blow you off the stage. That's how serious we were about the music. We could not repeat the same thing every night, because we are still jazz musicians. Regardless of how large the audiences get, we still have to maintain that kind of integrity. It's harder. I think, it's much harder when you're on the road like that. It's harder, but it's so wonderful at the same time.
Jo Reed: Cassandra, You have a gorgeous voice. It's a God-given talent, but, clearly, you have to have had to develop it and nurture it. And I'm curious how you did that? Did you get advice from other singers? How did you take care of yourself and continue to take care of yourself in that way?
Cassandra Wilson: I've never been a screamer. It's always about capturing tones subtly and to have an impact on the subtle body with the subtle tongues. So, it's never been a part of my toolbox to sing loudly. I'm not a loud singer. I love nuance. And I love digging inside of a lyric and turning it and twisting it, so that it has a certain effect on the listener and, also, an effect on me.
Jo Reed: I know Abbey Lincoln was a very influential figure for you.
Cassandra Wilson: Abbey Lincoln was perhaps the most important singer in my life in New York City. She took the time to teach me. One thing I recall and I'm constantly sharing with other singers and vocalists and musicians is that that it's important to tell the story of your times. She would always say that to me, "It's nice to do the standards, but you should always write music that is a reflection of your times." She said, "What about the woman who's falling out in a ditch," or you know, "she'd getting beat up by somebody. Sing about that. Sing about not only the good things that happen in your life, but sing about those things that make you uncomfortable."
Jo Reed: "Belly of the Sun 2002," Cassandra Wilson, I love your work but that album just spoke to my soul. So, I had to say that. But I'm curious what you wanted to say with this album.
Cassandra Wilson: "Belly of the Sun" is a place where you experience the sun at its zenith, which is Mississippi. Coming from Mississippi, I knew that I had to do an album here and I had to try to connect the feeling that I have in Mississippi with the feeling that I have in Brazil. There's all of that that's involved. And it also takes place in August, during the hottest month of the year in Mississippi. And we go to the delta, which is the hottest part of Mississippi. So, it's just wanting to almost torture myself and my friends, but in a joyful way. You know, experience that kind of heat, to experience it and make adjustments, and still have a good time, maybe even a better time.
Jo Reed: What did you want musically from Mississippi?
Cassandra Wilson: That is an amazing question. Okay, what did I want musically from Mississippi? A remembrance is what I wanted, a remembrance of the days of no air conditioning, a remembrance of the days of the smell of dirt, a remembrance of the sounds at night when there are no air conditioning units, only fans. I wanted to recapture that feeling of not having so much convenience, having to connect with people in a different way, without gadgets getting in the way.
Jo Reed: Somehow, I feel like this is all connected with the Blues as well.
Cassandra Wilson: Absolutely. But if you ask me, everything is connected with the Blues. If it's American music, it's connected with the Blues. And, so, it's not the first time that I decided to connect with the Blues, but it's the first time that it's obvious that we're going deep into Blues territory to have that feeling of being outdoors with a guitar and just this expanse of nature.
Jo Reed: Well, you brought some musicians with you, but you also had musicians from Mississippi.
Cassandra Wilson: Yes, yes. There were several musicians from Mississippi. All of the musicians involved I greatly admire. And I wanted to pay homage to not only the ancestral energies, but, also, those musicians who are still working here and are still alive here today, making music. And I wanted to have fellowship-- all of us to have fellowship together in that place.
Jo Reed: Well, one of the musicians was Boogaloo Ames, the pianist. And "Darkness on the Delta," you, him-- and it was perfect. It's amazingly gorgeous. You produced Belly of the Sun. This is not the first album that you've produced. You've produced quite a few. You're a singer, you're a songwriter, you're a musician. Why did you want to take on producing?
Cassandra Wilson: Well, I wanted to start to produce albums, because I couldn't always find a producer that I wanted. Craig Street became very popular. You know, he goes on to work with Norah Jones, K.D. Lang. And it's difficult to compete with, you know, those level of artists. So, I started to think, "Okay, well, I learned a lot from Craig Street, so why don't I try and do it on my own with the assistance of good engineers?" It's possible for you to have a vision and to work with someone who understands the mechanics and to get it done.
Jo Reed: How would you describe yourself as a producer?
Cassandra Wilson: I describe myself as a very laissez-faire producer. I believe that everything will work out in the end. You bring people together and you trust them to do what they do best. That's why you choose to work with them. It's the same feeling that I have when I lead a band. I don't tell my musicians what to play. I present them the framework, the architecture, and they fill in the blanks with their own personal expression. That's why I want them to come to the party: Bring your voice to the party. I'm the same way when I produce: Bring your voice to the party and we'll see how it works. And it works most of the time. But you have to be patient and you also have to believe in your choices that you've made.
Jo Reed: Right, because I know there are some brilliant musicians who are not necessarily the people who can work with a singer, because-- for whatever reason…. their sound, they don't give the singer room. It's a different skillset for musicians to work with a singer, wouldn't you say?
Cassandra Wilson: There is absolutely a different skillset involved when a musician works with the vocalist. There's a different kind of breathing that happens when you work with someone who's singing lyrics than with someone who is playing notes. So, it takes a different kind of sensibility and a different understanding of the shape of a voice. The voice is not the same as the instrument. The instrument is supposed to imitate the voice. That's why instruments began to be used, is to be like a voice. But the voice has so much-- so many more facets than an instrument has.
Jo Reed: How do you know whether you can make a song yours.
Cassandra Wilson: Oh, you'll know. You'll know whether or not you can make a song yours. You know instantly. You know by the way the musicians react to your rehearsal of it, you know by the way you feel after you've done it, you know whether or not you can grab it and take it and say, "This is mine." <singingly> "This is mine, you can't take it, oooh--" sorry.
Jo Reed: No, Go, go, go!
Cassandra Wilson: Yes, you know! Now, see? I can't take that song. There's no way I could do that. For once in my life. Maybe someday I'll be able to do that song. Some songs take time. Some songs, a young person will not really understand. There are some songs that I could do when I was younger, but there are some songs that I had to wait to understand in order to sing.
Jo Reed: When I think of your singing, I think of somebody who lets the song tell the story and is not afraid to take her time doing it. You're going to give that song all the time it needs.
Cassandra Wilson: Yes.
Jo Reed: You're going to give that note about the time it needs.
Cassandra Wilson: Well said, well said. I don't know if I could say it any better than you just said it. Give that note all of the time you need, that it needs. They used to have an expression-- when I started working in New York City up in Harlem, I worked at places like the Red Rooster. And you go up there and you start singing and when you are in a good space, someone in the audience will say, "Take your time, take your time with that," meaning, "we are enjoying what you are doing right now, don't rush it." It's very powerful when you have audiences like that, that are talking to you and giving you instruction on what you should be doing. That's a very important time of my musical life is having those sessions in Harlem.
Jo Reed: You mentor younger musicians now. What is it that you try to impart to them?
Cassandra Wilson: I've had younger musicians that I work with in my band and the most important thing that I try to share with them is be yourself, always. Always be true to yourself. Don't try to imitate the next player that seems to be getting all of the attention. That's not what you're here to do. You're here to maximize your potential, not someone else's. So, when you borrow someone else's language, then you're actually doing a great disservice to your own. That's what we're taught in jazz. Each individual has their own path. They have their own relationship with their Creator. Work on that, develop that, and everything else falls into place.
Jo Reed: There are a couple of projects you worked on that I'd like to talk about briefly. And one is "Blood on the Fields" by Winton Marsalis. You sang "Leona." What do you remember from that experience?
Cassandra Wilson: "Blood on the Fields" was probably one of the most exciting projects that I've worked on and I count it as among the highlights of my career, being surrounded by those musicians. Working with that large of a group of musicians was unimaginable. You know, it reminded me of a-- I remember junior high school band and I heard for the first time the sound of all of these instruments around me and it just went through my body and it made me have this otherworldly feeling. So, when you're inside of a group like that, it's kind of difficult to describe, but there's all kinds of vibration that's happening. It's human beings connecting through vibration and it will get you high.
Jo Reed: The other project I'd like you to talk about is the Mosaic Project. You were one of the wonderful musicians that Terri Lyne Carrington brought together. You're just creating with women. What was that like? That had to have been quite, well, special, I would think.
Cassandra Wilson: It's always very special when you gather with women, because there's a certain level of creativity that you get to that you may not be able to access in a different setting. And Terri Lyne is remarkable. She's always been a very special, creative force in my life. You know, we've all often exchanged ideas, talked about music, and she's come up through the music in such a way that gives her a perspective that is invaluable, absolutely invaluable. So, working with her under any circumstances, it's great, but the Mosaic Project I thought was outstanding.
Jo Reed: And, finally, you have been given many awards. And, now, you're named a 2022 NEA Jazz Master. What does that mean for you?
Cassandra Wilson: Oh, it's a wonderful feeling to be acknowledged for your life's work. There's no other feeling like it in the world. I feel as if, okay, I'm good now. I can, you know-- as the old Blues master says, "I have had my fun, if I don't get well no more." It's been a wonderful life. I've had such amazing connections with great musicians, great people, in the industry; audiences around the world; and this is my life's work. So, to become acknowledged as a Jazz Master by the National Endowment for the Arts, I don't think it can get any better than that.
Jo Reed: Cassandra, I think that's a good place to leave it. And so many congratulations, so well deserved. Thank you, thank you so much.
Cassandra Wilson: Thank you so much, namaste.
Jo Reed: That was singer, songwriter, musician, and 2022 NEA Jazz Master Cassandra Wilson. The National Endowment for the Arts will honor the 2022 NEA Jazz Masters and kick off a year-long celebration of the Jazz Master's 40th anniversary with a concert on Thursday, March 31, 2022, at 7:30 p.m. Pacific/10:30 p.m. eastern. Held in collaboration with SFJAZZ, the concert is free and open to the public and more importantly it will be available through a live webcast and radio broadcast. You can get all the details at arts.gov. You've been listening to Art Works, produced at the National Endowment for the Arts. Follow Art Works on Apple Podcasts or Google Play and leave us a rating. It helps people to find us. I'm Josephine Reed. Stay safe and thanks for listening.
Meet Cassandra Wilson—singer, songwriter, musician, and 2022 NEA Jazz Master Fellow. In this tuneful podcast, the Grammy Award winner takes us through her career in music, her influences, her approach to singing, how she works with other musicians, her ideas about songwriting, and the centrality of the blues and Mississippi's rich musical heritage to her work. Wilson is as insightful as she is talented as she discusses the trajectory of her long and rich career.