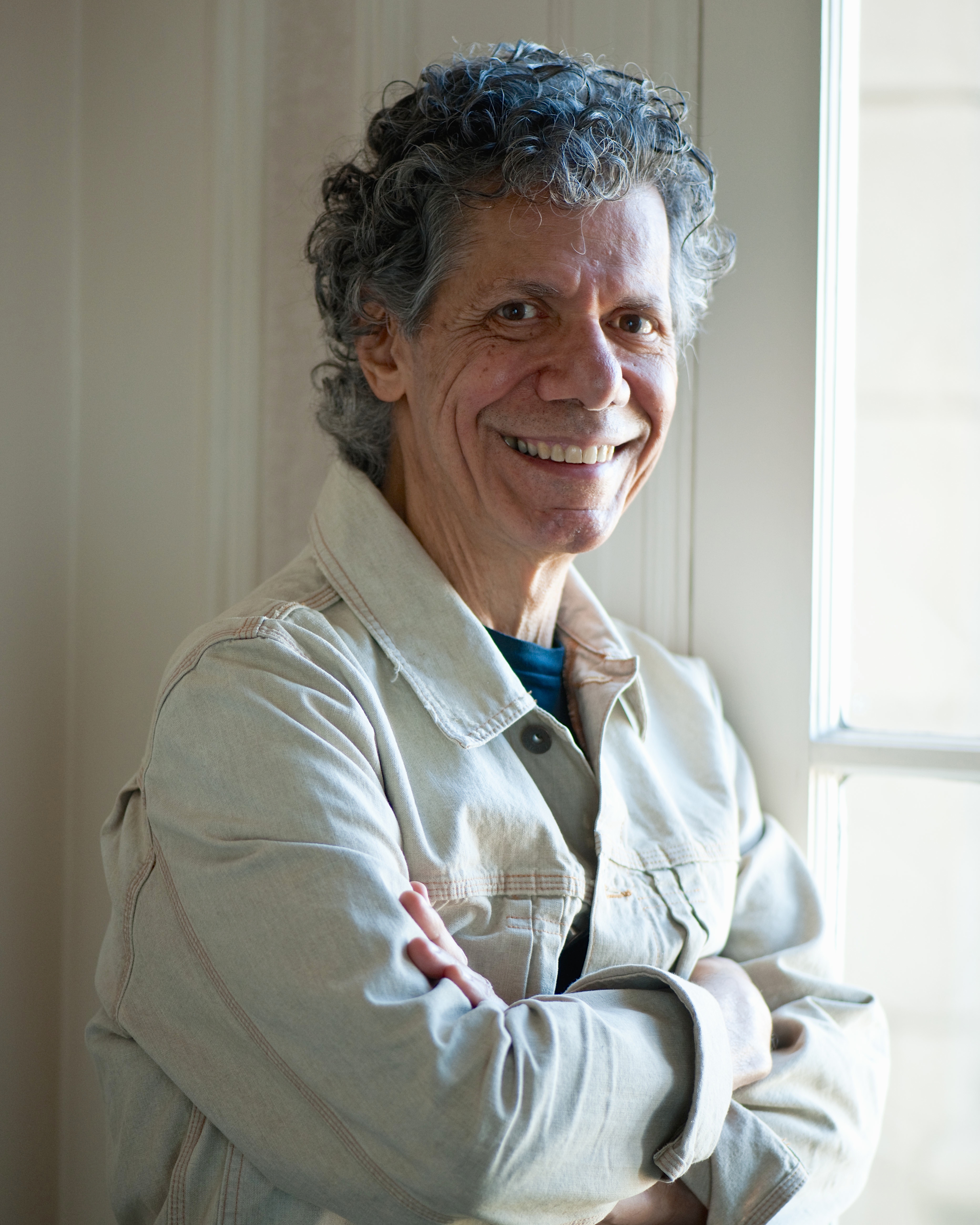 Jo Reed: You're listening to "Spain." It's performed and composed by 2006 NEA Jazz Master Chick Corea, and this is "Art Works," the weekly podcast produced at the National Endowment for the Arts. I'm Josephine Reed. Pianist and composer Chick Corea is a musical shapeshifter, moving fluidly among jazz, fusion and classical music throughout a five-decade career, winning national and international honors, including some 20 Grammy awards. His father was in a band, so Chick grew up in a house filled with music, from Bud Powell and Charlie Parker to Mozart and Beethoven. Chick's also played with a veritable who's-who in the world of jazz. He was a member in bands led by Mongo Santamaria, Herbie Mann, Stan Getz and Miles Davis. He's collaborated with artists ranging from Bobby McFerrin to Bela Fleck, from Gary Burton to Ruben Blades, and he's led a number of bands, including Return to Forever, the Electric Band, the Acoustic Band and, most recently, a trio with musicians Christian McBride and Brian Blade. He's an extraordinary pianist, equally at home in jazz or classical music, and he's a prolific composer, writing jazz standards like "Spain," "Windows" and "La Fiesta," as well as modern classical music, composing concerti for piano and orchestra and string quartets. Last December, I had a chance to talk with Chick in his studio in Florida about his longtime collaborator Bobby McFerrin. But, of course, I also wanted the chance to talk to Chick Corea about Chick Corea, and we did. We talked about his music and his influences and his many collaborations, but we began with his thoughts about 2020 NEA Jazz Master Bobby McFerrin.
Jo Reed: Bobby recalls meeting you backstage, and you patted him on the shoulder when he came off and said, "Good set," and then you went on and performed, and he said, "I felt like jumping up and down and screaming, 'Chick Corea liked my set. Chick Corea liked my set.'"
Chick Corea: That's amazing that Bobby was a fan of my band at some point, because my whole experience and memory of Bobby is just him being a touchstone of performance and creativity. I mean, ever since I can remember hearing him or meeting him or being with him. All the musicians that I work with have great quality in terms of their art and their music, and it's just a joy for me. Bobby has this special thing. He's got all of that in a very unique way, as well as this ability to communicate to audiences the way he does, which I think is really unique to him. So when I began working with him, I started calling him Point Man, because I began to learn about that by working with him.
Jo Reed: About communicating with audiences and what can happen?
Chick Corea: Yes, and keeping the quality high, communicating with audiences and keeping the quality so high, because, for instance, I don't know if you've seen performances of his where he comes out on stage all by himself, and he just begins. He just begins. There's no preamble. He just starts, and he's got the audience like that, and then it's high art to begin with, but then all of a sudden he's got a portion of the audience singing some phrase in a very beautiful way, and then another portion of the audience singing some phrase, and then he makes music with the audience, which I think-- no one else has done that like Bobby has done that, and it's almost an art form that he's created.
<pause in thought. Transcription resumes at 00:04:46>
Chick Corea: Bobby considers the audience as part of his band. He walks out there, and they're all there. His choir is right in front of him.
Jo Reed: You've performed with Bobby, and I'd like you to describe that experience. It's you, and it's Bobby, and you walk out on stage, and what unfolds?
Chick Corea: Well, when Bobby and I perform together as a duet, it's some of the ultimate high for me, because it's right where I like to live. We go out on stage with this intention to just create. We never make a plan. There's never a set list. It's a pure improvisation from beginning to end, and there're very few musicians I can do that with and feel comfortable and feel like the music is connecting and the audience is connecting, and it's a thrill and an adventure every time we do it, and these wild things happen. I find myself playing stuff. See, when I go out on the stage playing with Bobby, my first intention is to make whatever he does-- complement it musically. Accompany it, yes, but also just complement it musically. Then I experience he's doing that same thing with me. He's complementing what I'm doing, and then all of a sudden, who's leading who starts to become immaterial, and we get this flow going. I love our improvisations.
Jo Reed: The album you did with Bobby called "Play," first of all, I think it's very appropriately named, because it does sound like there's a lot of play that happens, which isn't to say you're not both serious about the work, but there's play.
Chick Corea: Well, the idea of playing, making music, is an interesting thing to discuss, because that's what we do. When you say, "What do you do?" I play the piano. I play the drums or whatever. You play, and what is play but creating something, because you're enjoying it and getting pleasure from it and having fun like kids. Kids play, and as we grow older, you kind of forget how to play. You get into work, and as soon as play becomes work, the play is gone out of work, and the work becomes a little bit heavier and a little bit more serious and maybe less valuable, too. I know the artists and musicians that I know that I really admire, all of them keep that playful element in their creation, and that's where Bobby and I connect, on that level. We both know that that's what's happening, and that's what we love to do and go out, and it's not serious, and it's just a lot of fun.
Jo Reed: A lot of joy.
Chick Corea: A lot of joy and a lot of fun.
Jo Reed: Well, the other thing you and Bobby share is that you're both classical musicians. He's a conductor, and of course you're a pianist, and you recorded "The Mozart Sessions" together, which is wonderful and quite different from the kind of improvisation you typically do with him.
Chick Corea: When we did "The Mozart Sessions" together, yeah, it was completely different, diametrically opposite to what we do as a duet, because we just improvise and play as a duet. Here, not only did we have the beautiful written notes of Mozart to work with. We did two of his concertos, but we had a 30-page chamber orchestra, St. Paul Chamber Orchestra, who were-- I wouldn't call them lighthearted. They were great musicians, a really great band, but there was a gravity to the performances and to the recording that was different than what we usually do. So it was another kind of a discipline, which I quiet enjoyed. I actually cut my teeth with that playing Mozart piano concertos. In fact, the way we got into it is that I would practice my Mozart piano concerto just as a piano practice with no intention to ever want to perform that, and when we were on-- when Bobby and I were on tour, he would hear me practicing in my dressing room, and he'd come in and listen for a minute, and he'd go, "Why are you continuing to play that so fast? Slow it down," and we'd talk about it, and he liked what I did, I think, and he and my wife, Gail, my beautiful sweetheart singer also, who Bobby also admires, we have mutual admiration together, she and Bobby kind of got together to start to try to convince me to come out and perform with him, and that went on for maybe a year, many months. I occasionally get a call from Bobby until one night I actually remember the moment. I was someplace on a gig, on my gig. Bobby wasn't there, and I was practicing, and Gail got him on the phone, and he called, and I happened to be in a moment where it was like, gee, I can play this piece. I love this piece, and he gave me a date. He said, "The San Francisco Symphony has invited me to do my show on a particular date. Come and play," and Gail said, "Yeah, come on and play," and they both were cheerleading, and I said, "Let's do it."
Chick Corea: Actually, it was a terrific night we had.
Jo Reed: You and Bobby and Jack DeJohnette were on tour together. Tell me about that.
Chick Corea: That was one of the wilder experiences. Yeah, Bobby and myself and Jack DeJohnette did a handful of concerts together. The memorable moment was the three of us met before the first show. We were in the back room sitting around a table kind of going, "What should we do?" This is just before the show. We knew we were going to improvise, but, "What do you want to play?" and Jack suggested a couple of tunes, and I said, "Well, what about this tune? We could do that," and that went around for a couple of minutes, and Bobby was quiet, and then when Jack and I ran out of ideas, we were kind of looking at him to say something. He said, "Why don't we just improvise? Why don't we just not play any songs at all and just improvise from beginning to end to the concert?" and me and Jack, being wild that we are and coming from that kind of spirit as well, said, "All right. Let's go," and then we went out, and we just freely improvised. I forget how many shows we played together and got into some pretty wild stuff.
Jo Reed: Thank you for sharing your thoughts about Bobby, Chick, and now I want to switch this up and turn the spotlight on you. I want to go all the way back to the beginning, when you were first starting to play jazz, and I know Bud Powell was a big influence on you, and I wonder what it is you heard when you listened to Bud Powell.
Chick Corea: Bud Powell, there's a subject. Bud Powell was one of the first pianists that I recognized on recordings. My dad had piles of 78 RPM when I was growing up, and I remember listening to those records when I was 5, 6, 7 years old. It was all jazz. I don't think he listened to classical music. It was jazz that he loved. He loved Miles. He loved Charlie Parker. There's something about Bud's whole thing captured me right away. He was my first model as a pianist, and I chased him for years, trying to work out what he does. I learned from him. I never met him. I saw him once in my life in 1965, a year before he passed away in New York. I saw him play at Birdland, but all during my life growing up, Bud was my first teacher. He didn't know he was my teacher, but he was a teacher for a lot of people. One thing I used to do with Bud after I moved to New York and I had a little room with my piano, I put my up my two stereo speakers. It was still LPs at that time, so I had my two stereo speakers in back of me here and my sitting at the piano. I would put on a particular track of Bud's that I wanted to learn. "Oblivion" was one of them, his solo work on "Oblivion." Then what I did was I put the track on and tuned the volume so that the volume of the piano and the volume of the recording were about the same. So I felt like I was in the record, and I tried to completely duplicate Bud's sound, and it was a practice that I did for a while. I mean, it's one thing to learn the notes, and it's another thing to get into how the notes are played and felt just through a recording, and it got me into certain physical things that I-- later, when I watched Bud on video or saw him play, I see that he did. Anyway, Bud Powell is a great innovator.
Jo Reed: Growing up in a musical family had to have deeply informed your relationship with music. I mean, it has to be in your bones.
Chick Corea: Well, the environment that one grows up in is everything to a young person to start out with, anyway. It's how you get formed. To me, another factor is not only the fact that there was a lot of music in my house because of my father's bands, and his musicians would come around, and my mother would cook for them, and it was a very friendly scene. But in addition to that, both my parents, my father, Armando, and my mother, Anna, they were just great people. They let me have my mind. They didn't try to force me into doing what I didn't want to do, and when they saw that I enjoyed doing music, they were nothing but encouraging, and my father never dictated what-- to me what he thought I should do or how I should do it. In fact, he started to try to send me to piano teachers, which wasn't ever too successful. But they were beautiful parents, and I think that's in addition to the fact that there was music around, because one thing every person needs but every artist needs is the certainty of his own judgment. You have to know what you like and be okay with it and be willing to communicate that, and that's what my folks gave me.
Jo Reed: I'm curious about when you're actually performing and the way you feel when you're playing the music, if it feels differently to you if you're playing Mozart as opposed to improvising with your trio, for example.
Chick Corea: Well, the thing that defines how it feels to do a performance for me is, first, the musicians I'm playing with, not so much what songs we play or what music we play. It's the musicians and how our rapport goes. I've experienced playing great written music in not such a great atmosphere, and then the great music is no longer great music. My musical partners really are the food for the experience, and then when that rapport is really great, the audience feel that. That's what we give to the audience.
Jo Reed: I'd like to talk about three things that you've done recently, and the first is with Bela Fleck, Bela Fleck II [ph?]. Talk about a joy: banjo, piano. Can you tell me how you came together, how that happened?
Chick Corea: Yeah. Bela Fleck is a dear friend and a great musician. I met him at the Grammys years and years ago. We were both nominated for something, and he introduced himself as a young fan. Then I became familiar with his music and never particularly was attracted to the banjo or didn't know much about bluegrass, but Bela's playing was very interesting to me as a creator, and I forget how it happened. He invited me to sit in with him, and I invited him to sit in with me, and finally I think he invited me to play on a recording of his, and we had a ball. I think Branford Marsalis was on that track, and so we decided to make a record and a tour, because I saw he was also really a gifted composer, and I love to write. Using e-mail and PDFs, we put our set together from a distance over a period of months and then went out on our first tour.
Chick Corea: We've been loving playing together ever since.
Jo Reed: We've been loving it at our end, too. It's just wonderful. The other thing is the Trilogy Trio with Christian McBride and Brian Blade. They both came from the Five-Piece Band. What made you decide to do a trio with the two of them?
Chick Corea: Well, Christian McBride and Brian Blade are two of my favorite players, bass and drums. They're incredible, and ever since I ever played with Christian or Brian, first individually we played together, there was a spark. So putting them together was kind of a natural thing. In fact, they had performed together quite a bit, I think, in the past. Interesting, because they're so many decades my juniors, but we live in the same musical love, the same kind of music system or-- I don't know what you want to call it, the same kind of musical agreements. The three of us really like the same kind of thing, and one of the things that they love like I do is kind of the adventure of finding new things in an improvisation, which is what I love about the trio. So every time we got together, it'd be like that, and so we kept doing tours. I'll tell you an interesting project that the trio has is we have a gig at a venue called Mupa in Budapest. It's a performing-arts complex, and the concert hall there is the Bela Bartok Concert Hall. So the people who run the event invited me to write a concerto-- well, they didn't say concerto. They invited me to write a piece for a trio in tribute to Bela Bartok, who is a favorite of mine. So I took that as a great invitation, and I've just finished writing for the trio a piece called Concerto for Trio, not modeled after, but I took the title sort of from Bartok's "Concerto for Orchestra," because usually the word "concerto" is associated with a solo instrument, piano or violin or whatever. So I wrote a concerto for trio as a tribute to Bela Bartok. It's got way more written notes than the three of us usually like to play, but we're going to see what happens.
Jo Reed: That'll be great. You also recorded with them "Now He Sings, Now He Sobs," which you haven't recorded in half a century.
Chick Corea: Yeah. "Now He Sings, Now He Sobs" was the first time that piece-- it was the first time I actually even played it with Christian and Brian.
Chick Corea: We got it into a nice rendition. We put it on the recent live record.
Jo Reed: It's beautiful. I'm really curious about Gary Burton and how that chemistry works with you, too.
Chick Corea: Yeah, Gary Burton is another wild one, an old, old friend. Gee, we go back to the '60s, because I replaced Gary in Stan Getz's quartet. Gary was a harmony man, the vibes, of course, in his case, for Stan, and then Gary went to form his own band, and I don't know if he recommended me. I think Steve Swallow may have recommended me for the group, but then I got to meet Gary, and after we played a duet together one time at a Munich concert, just like as an improvisation, it was another one of those clicking relationships, and at that time an unusual-- we're talking 1971. It was an unusual orchestration to put piano and vibes without bass and drums, just piano and vibes..
Chick Corea: … and it felt nice and loose and open and free, and we connected real good. So Manfred Eicher, having a good sense, heard us and invited us to do a recording, and now we have a lifetime of music together.
Jo Reed: Your most-recent album, "Antidote," which you did with the Spanish Heart Band and Ruben Blades, first of all, the strain of Latin music that goes through a lot of your career really goes back all the way to Mongo Santamaria, when you first started out. Can you tell me how you decided to choose to create this album?
Chick Corea: Well, the "Antidote" recording that I recently did is one experience in a lifetime of experiences with the Spanish-speaking cultural music, one way or the other, Latino music. Actually, there was one experience I had before I worked with Mongo Santamaria, and I worked with Mongo in 1961-- no, '60, 1960. But when I was still in Boston in high school, I worked with a small quartet. Phil Barboza was his name, and he played the trumpet, and he had timbales and conga, and it was my first time to try to do this. It was a gig. I didn't know much about Latin dance music, and the conga player, Bill Fitch, was the fellow that really took me under his wing. He was a great, great conguero, and he got his records out, and we listened to Tito Puente. We listened to Eddie Palmieri, who became my favorite, and I began to learn a little bit and love it, and the thing about this Latino strain of music, the music of the New York Latin bands, the music of Cuba, the music of Puerto Rico, the music of South America, and then later on in the '70s the music of flamenco in Spain-- all of that-- early on, what that did for me was extravert me from the relative seriousness of jazz and the relative introversion. Some of my heroes and guys that were my mentors were-- it's not dance music, and this Latin music-- the rhythms are just extraverting, and they're for dancing, and for me, it's what I needed at that point in my life, and I still love it.
Chick Corea: It's a joyous rhythm. So one way or another, I involved myself with that. "Antidote" was a great experience putting together.
Jo Reed: You're always involved in multiple projects, so tell me what you're working on now, and tell me what you're looking forward to.
Chick Corea: I began recently performing a concert program with several orchestras. I worked recently with the Seattle Symphony and the Portland Symphony orchestras. I worked with a Sardinian chamber orchestra last December. Then more recently I worked with a Spanish orchestra that was really, really wonderful, and we were playing this program of my piano concerto together with the second half being "Rhapsody in Blue." "Rhapsody in Blue" is kind of a discovery of mine, in a sense that I never really liked the orchestral version of it. I love Gershwin and his melodies, but when I worked with-- Lang Lang, the great pianist, invited me to perform with him at Carnegie Hall with the Philadelphia Orchestra a year and a half, two years ago. He invited me to play "Rhapsody in Blue" with him, and I didn't want to miss the chance of playing with Lang Lang. So I learned the piece as best as I could, and so when I started-- when I went to the score itself and stopped just listening to renditions of "Rhapsody in Blue," I got my connection back again with Gershwin, and so I developed a way of playing "Rhapsody in Blue." So I've been doing that with orchestras. In fact, I'm going to play "Rhapsody in Blue" with the Philadelphia Orchestra this December. I'll be in Philly doing that performance, and starting in September I have a residency with the New York Philharmonic that I'm going to fulfill doing their opening nights together in September and then culminating the whole residency with a trombone concerto that I'm writing for Joe Alessi. Joe Alessi is the principal trombonist of the New York Phil. for 35 years, and he's an amazing musician and trombonist, and he invited me to write the concerto. It was just right time for me, because I love to write more than play the piano. That's my passion is writing. So to write for this great orchestra and this great trombonist has been a big, bright moment. I've immersed myself in it. I'm studying orchestration. I'm looking into Stravinsky's music and Bartok's music and Mozart's music and Beethoven's music and-- for orchestration, to learn orchestration. So that's a big thrill for me to get into being able to compose a concerto for a musician and an orchestra so great.
Jo Reed: That we will all be looking forward to. That's wonderful. Chick, you've given us so much time, and I don't want to take advantage, so thank you so much. I really appreciate it.
Chick Corea: All right. Well, thanks for good preparation.
Jo Reed: Not at all, no. It was truly my pleasure.
Chick Corea: Yeah. Thank you, thank you. So how did I do, guys?
Jo Reed: You did great.
Jo Reed: That is pianist, composer and 2006 NEA Jazz Master Chick Corea. Obviously we spoke before all the COVID-19 shutdowns, but so far both New York and Philly still seem to be on the docket. You can keep up with Chick and his schedule at ChickCorea.com, where you'll find a blog, a podcast, videos and a schedule. That's ChickCorea.com. You've been listening to "Art Works," produced at the National Endowment for the Arts. Subscribe to "Art Works" wherever you get your podcasts, and then please leave us a rating on Apple, because it does help people to find us. For the National Endowment for the Arts, I'm Josephine Reed. Stay safe. Stay kind, and thanks for listening.
###
Pianist, composer, and 2006 NEA Jazz Master Chick Corea is a musical shape-shifter. Beginning a brilliant solo career in the mid-1960s, he has moved effortlessly from straight-up jazz to avant-garde, from bebop to fusion. In addition to his 23 Grammy Awards, Corea has also won 4 Latin Grammys. Aside from being a sensitive interpreter of Mozart, Corea has also composed contemporary classical music including concerti, string quartets and other symphonic works. Over his five-decade long career, his list of collaborators read like a veritable "Who's Who" in jazz. They include Stan Getz, Mile Davis, Anthony Braxton, Bobby McFerrin, Gary Burton, Béla Fleck, Christian McBride, and Rubén Blades. We spoke with Corea in December 2019 to ask him for his thoughts about his long-time collaborator, 2020 Jazz Master Bobby McFerrin—but of course, who would miss the opportunity to talk to Chick Corea about Chick Corea? In this music-filled podcast, Corea discusses his music, his many collaborations, his love of performing and composing classical music, and the importance of play when he takes the stage. He's deeply thoughtful—loaded with charm and generosity. Enjoy!