Funding available under each artistic discipline for inclusive projects

Deadline: February 16, 2017
Earliest Start Date: January 1, 2018

Deadline: July 13, 2017
Earliest Start Date: June 1, 2018

Funding opportunity for underserved populations, including people with disabilities

Deadline: April 12, 2018
Earliest Start Date: January 1, 2019
The NEA Office for Accessibility is the advocacy-technical assistance arm of the Arts Endowment to make the arts accessible for people with disabilities, older adults, veterans, and people living in institutions.
An online grant search is available to find information on NEA grants from 2000 to the present.
Lifetime Honors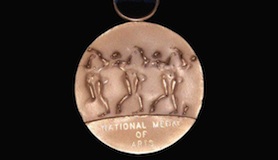 The National Medal of Arts is the highest award given to artists and arts patrons by the United States government and is awarded by the President of the United States.
Additional Resources
Resources for cultural administrators on how to achieve accessible and inclusive programming for everyone.