Making Sure No One Is Excluded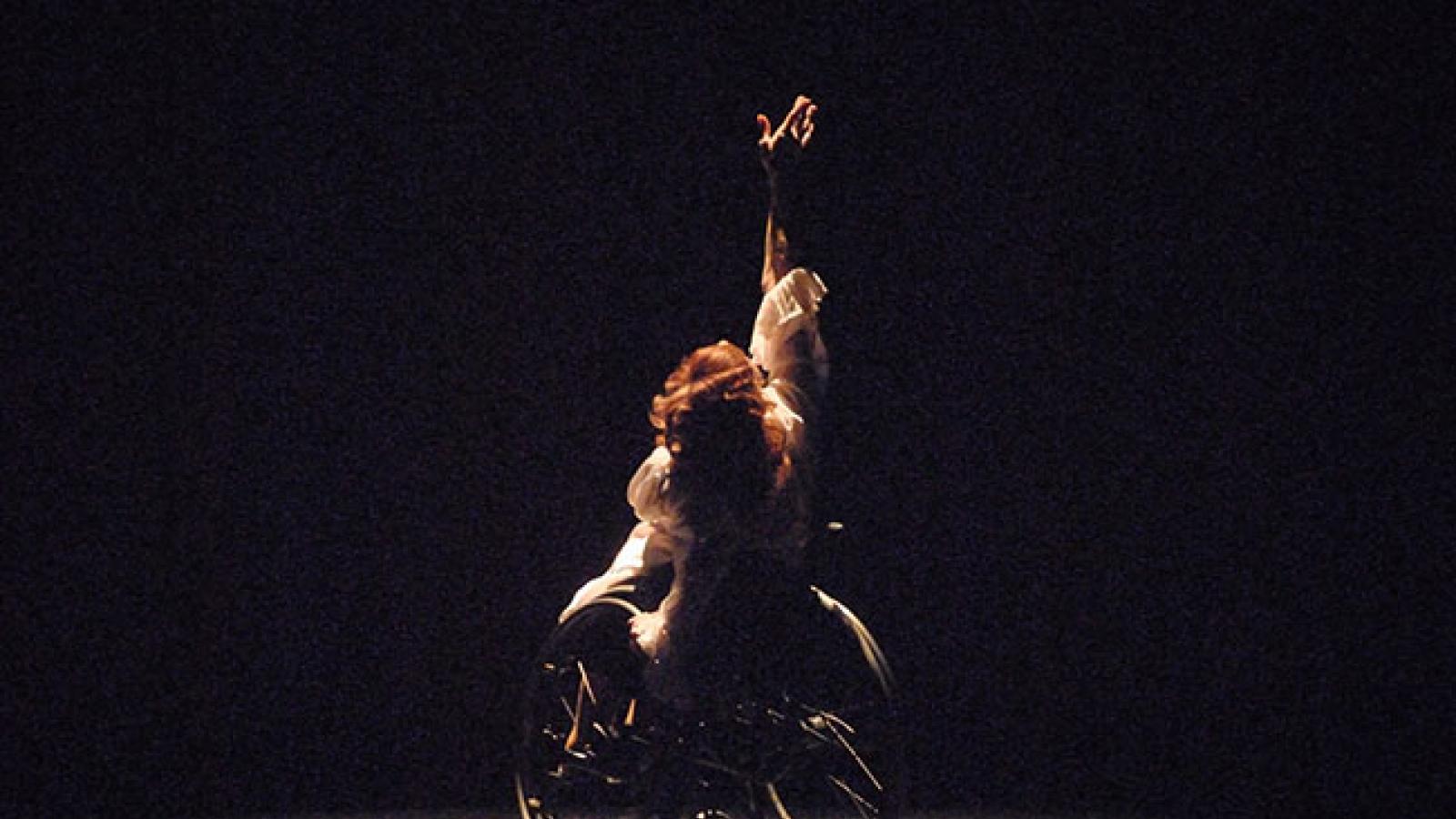 It was a history-making moment: on June 9, 2019, Ali Stroker became the first wheelchair user to win a Tony Award for her performance in Oklahoma!, a revival that received support from the National Endowment from the Arts. But the stage at Radio City Music Hall, which hosted the Tonys, was not wheelchair accessible. Stroker had to wait backstage while the Best Actress category was announced in case she won (which she did), and was unable to join her cast mates when they accepted the award for Best Revival of a Musical. It was symbolic of both how much progress has been made regarding accessibility in the arts, and how much work remains to be done. 
It's a familiar dichotomy for the National Endowment for the Arts, which works diligently to ensure that the progress outweighs the setbacks. "It's the goal of making sure that people with disabilities can access the arts with everyone else, that everyone can see it together, that no one is excluded," said Beth Bienvenu, the director of the Arts Endowment's Accessibility Office, which focuses on underserved populations such as people with disabilities, older adults, military veterans, and people living in institutions. Since the Accessibility Office's establishment in 1976, the agency has become a leader in the field, setting an example for state arts agencies and arts organizations across the country about the importance of making accessibility a priority. "Over the past 40 years, there's been a steady growth of expanding arts access for people with disabilities, and we've been a part of that," Bienvenu said.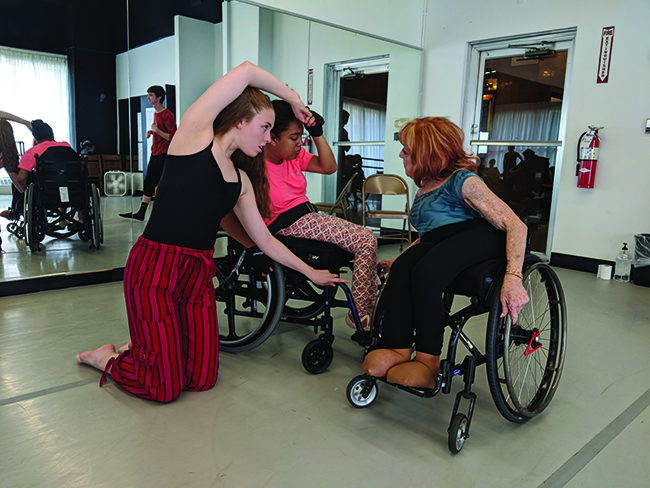 An estimated 55 million Americans have disabilities, which encompass an incredibly diverse range of conditions. The Arts Endowment has sought to expand access in equally diverse ways: by educating the field through publications and convenings, by offering technical assistance to organizations looking to become more inclusive, and through grants that support programs that allow people with disabilities to more fully experience the arts. This might mean audio descriptions of visual art exhibits for people with vision disabilities, offering American Sign Language (ASL) interpretation at live theater events, or sensory-friendly performances for children with cognitive or sensory-processing disabilities and their families. 
Another way the Arts Endowment has prompted organizations to rethink their inclusion efforts is by educating the arts field about accessibility requirements under Section 504 of the Rehabilitation Act of 1973. As the nation's first legislation protecting people with disabilities from discrimination, this law requires that all entities receiving federal funds (which includes all Arts Endowment grantees) must ensure their programming is fully accessible. 
The National Endowment for the Arts was one of the first federal agencies to develop regulations in response to this law. The agency continues to require that all grantees indicate how their project will be accessed by people with disabilities; grantees must also complete an accessibility self-evaluation. 
"Initially when people think about accessibility, they only think of physical access, but it goes beyond that," said Lauren Tuzzolino, an accessibility specialist with the Arts Endowment. She noted that part of her role involves helping grantees expand their notions of what it means to be accessible. "It's about finding creative solutions and resources, and encouraging more partnerships with organizations who already are serving people with disabilities."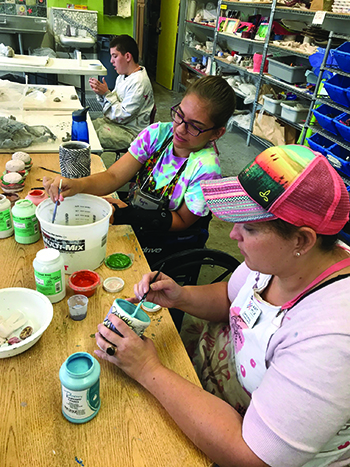 The agency also supports programs that allow people with disabilities to create art themselves, which Gayle Holtman, executive director of ArtMix, said is often neglected and yet is critically important. While many organizations that serve people with disabilities focus on healthcare or housing, "they either omit or they neglect the personal interests and the community connections that are what it means to be a human being," said Holtman. With longstanding support from the Arts Endowment, "We're helping people have an opportunity to express themselves, maybe for the first time, and helping them connect to other people." 
The Indianapolis-based ArtMix accomplishes this through adaptive arts classes for people with disabilities, as well as programs that use the arts as a way to build career skills. "For students where language may not be an option to express their understanding, there's music and there's movement and there's drama and there's image and creation," said Holtman. "Once they come here, they can see themselves as a creator and see themselves as capable. That is a completely different self-image than what is frequently put on them by our society," she said. 
Professional artists with disabilities also continue to face barriers, and the Arts Endowment has striven to ensure they too have equivalent opportunities as their peers. This includes regular support for organizations like the Cleveland-based Dancing Wheels, which dancer Mary Verdi-Fletcher founded in 1980 as the nation's first professional dance company to include dancers with and without disabilities. Arts Endowment grants have helped fund national tours, new commissions, the company's dance school, and a new international exchange for dancers with disabilities. 
"When I started dancing, there were no wheelchair dancers that I could emulate," said Verdi-Fletcher, who was born with spina bifida and uses a wheelchair. Thanks in large part to her pioneering efforts, "Today a child with a disability that wants to pursue [dance], whether it's for recreational purposes or for formal training, they know that it's possible," she said. "Setting an example of possibilities is really the key to opening people's minds and [allowing them to make] choices in their lives." 
For Verdi-Fletcher, dance is an ideal vehicle to change not just a dancer's sense of possibility, but audience members' as well, and to show the huge range of physical and emotional capabilities of a population too often defined in terms of limitations. "Movement crosses all boundaries of language," she said. "We love when audiences say, 'The disability disappears. We don't see the differences in people. You're all dancers.' Not that I want to hide my disability. By no means. But I don't lead with my disability. I'm a woman and I'm a dancer and I'm an artist. It just happens to be that I'm disabled."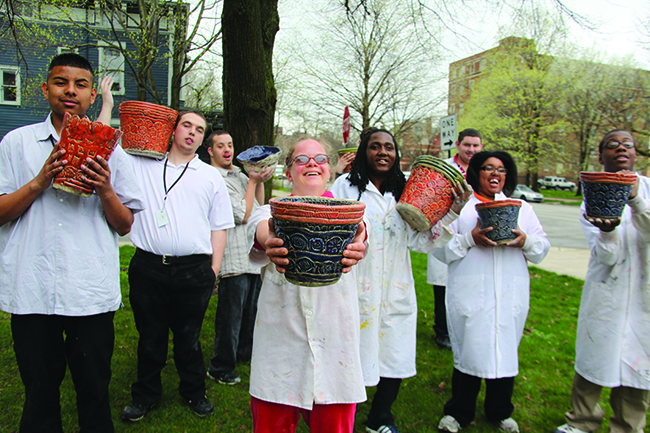 While she lauded how the athletic world has many competitions for athletes with disabilities, she said it's rare for a sports event to mix disabled and non-disabled together, as her own integrated dance company does. "In the arts, the beauty is that we're working together, we have different strengths, we have different talents, and it all melds together to make a statement, whether that be a critical statement about inclusion or disability or access, or just a statement of equitable performance onstage," she said. "You don't have to preach about access and inclusion when you can see it firsthand." 
Seeing and celebrating access through grantees like Dancing Wheels and ArtMix helps the Arts Endowment make the case for why accessibility is not only important, but obtainable. Although the passage of the Rehabilitation Act in 1973 and the Americans with Disabilities Act in 1990 removed many physical barriers for people with disabilities, there remain attitudinal barriers that can be difficult to hurdle. "A lot of the challenges that we see in the field are that organizations are just not making accessibility a priority," said Tuzzolino. "Organizations still need that leadership buy-in and flexibility to better understand the needs of their community." 
To accomplish this, the Accessibility Office continues to give arts organizations the tools needed to reframe their mindsets and practices so that they can better include the full scope of their communities—including those community members with disabilities. For example, in August, Bienvenu and Tuzzolino both led sessions at the Leadership Exchange in Arts and Disability Conference in Denver, Colorado, and in the coming months, a new online toolkit for artists with disabilities will be published on the Arts Endowment's website. 
With each presentation or online resource or phone call with a grantee, the agency is helping move the needle on what it means to access the arts in America. "We're making a difference, even if it's a small difference in some cases," said Bienvenu. "When we say that we want people to have access to the arts, this is one key way to do it." 
Rebecca Sutton is the editor of NEA Arts.