Abbey Lincoln
Vocalist, Composer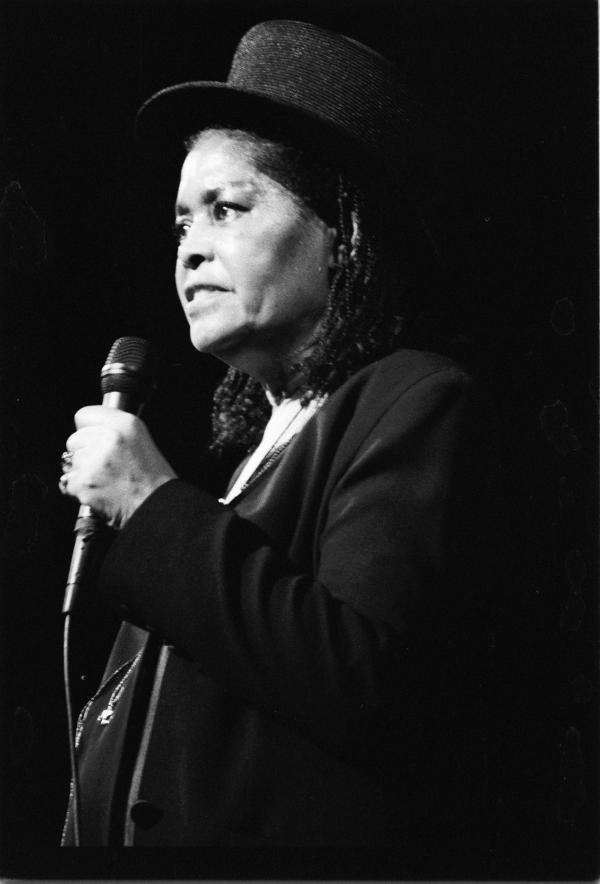 Bio
"The gift of music is the magic of the world. It is a discipline that increases understanding.  And expresses the spirit of the human being. I thank God and my ancestors for the music. And I thank the National Endowment for the Arts for their encouragement."
Strongly influenced by jazz icons Billie Holiday and Louis Armstrong, both of whom she met early in her career, Abbey Lincoln's distinctive vocal style, thought-provoking writing, and spirited personality secured her a place among the jazz luminaries.
Born in Chicago and raised in rural Michigan, Lincoln began performing while still in high school. In 1951, she moved to the West Coast, working under various names (Gaby Lee, Anna Marie, Gaby Wooldridge) before settling on Abbey Lincoln. She recorded her first album with jazz great Benny Carter in 1956 and appeared in the 1957 film, The Girl Can't Help It. Lincoln then recorded a series of albums for the Riverside label with drummer Max Roach, who had introduced her to the label's owner.
Lincoln's collaborations with Roach (to whom she was married from 1962-70) lasted more than a decade, and included the seminal recording, We Insist! Freedom Now Suite in 1960. This was the beginning of a more social and political activist approach to her music. Over the years, she has worked with some of the biggest names in jazz, including Sonny Rollins, Eric Dolphy, Coleman Hawkins, Miles Davis, Jackie McLean, Clark Terry, and Stan Getz.
In addition to her music, Lincoln also pursued acting, appearing in the films Nothing But A Man and For Love of Ivy and on television series, such as Mission: Impossible and the Flip Wilson Show. She also taught drama at the California State University. She did not record any albums as a leader from 1962-72, but made a grand return to jazz with her 1973 recording, People In Me, her first album of all original material.
Lincoln returned to her influences in 1987, recording two albums in tribute to Billie Holiday, and then a series of recordings for Verve throughout the 1990s and 2000s that showcased her writing prowess. Her emotionally honest, mature style was present in every song she sang.
Selected Discography
Max Roach, We Insist!, Freedom Now Suite, Candid, 1960
Straight Ahead, Candid, 1961
Abbey Sings Billie, Vol. 1 & 2, Enja, 1987
The World Is Falling Down, Verve, 1990
Abbey Sings Abbey, Verve, 2006