Clark Terry
Trumpeter, Flugelhornist, Vocalist, Educator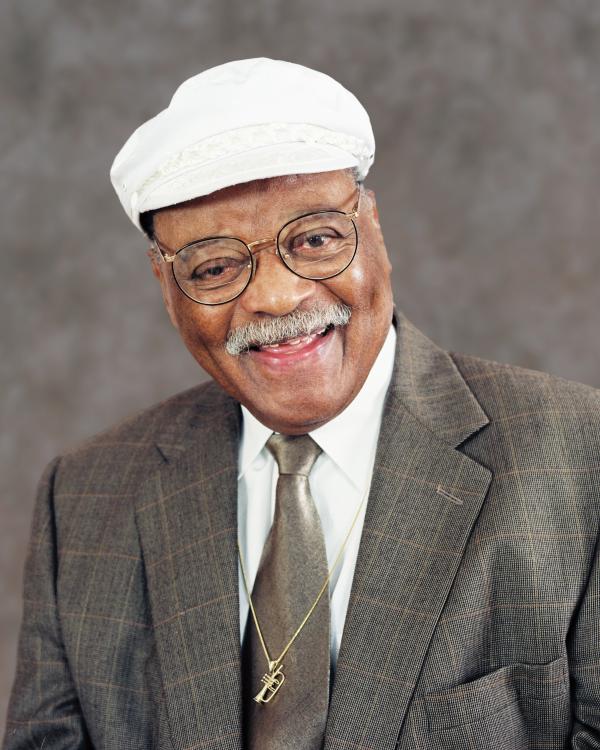 Bio
Clark Terry was the consummate musician, able to add a distinctive element to whatever band or jam session of which he was a part. His exuberant, swinging horn playing was an important contribution to two of the greatest big bands in jazz, Count Basie's and Duke Ellington's. In addition, his use of the flugelhorn influenced Art Farmer and Miles Davis, among others.
In high school, Terry took up the valve trombone, later playing the bugle with the Tom Powell Drum and Bugle Corps. Upon his discharge from the Navy in 1945, he found work with Lionel Hampton's band. He rounded out the 1940s playing with bands led by Charlie Barnet, Eddie "Cleanhead" Vinson, Charlie Ventura, and George Hudson. From 1948-51, Terry was a member of Basie's big band and octet.
Terry's reputation grew with Ellington's band, with whom he worked from 1951-59, often featured as a soloist on trumpet and flugelhorn. He also led his own recording dates during this time. After working with Quincy Jones in 1959-60, he found steady work as a freelance studio artist, eventually becoming a staff musician at NBC. As a member of the Tonight Show orchestra—one of the first African-American musicians employed in a television house band—he came to prominence through his popular "Mumbles" persona, his unique way of mumbling a scat vocal solo. He worked and recorded with artists such as J.J. Johnson, Oscar Peterson, and Ella Fitzgerald, then co-led a quintet with Bob Brookmeyer. Thereafter he led his own small and large bands, including his Big Bad Band, beginning in 1972. He also became part of Norman Granz's traveling all-stars, Jazz at the Philharmonic.
As a jazz educator he was one of the earliest active practitioners to take time off from the road to enter the classroom, conducting numerous clinics and jazz camps. This work culminated in his own music school at Teikyo Westmar University in Le Mars, Iowa. Terry was the subject of the 2014 documentary Keep on Keepin' on about his work mentoring blind piano prodigy, Justin Kauflin.
A distinctive stylist, he was also a engaging entertainer, often alternating trumpet and flugelhorn in a solo duel with himself in concerts. He recorded and performed in a wide variety of settings, such as the One-on-One recording of duets with 14 different pianists. Terry received numerous awards and honors, including a Grammy Award (and a Grammy Lifetime Achievement Award in 2010), the French Officier de L'Ordre des Arts et des Lettres, a knighthood in Germany, and a star on St. Louis' Walk of Fame.
Selected Discography
In Orbit, Original Jazz Classics, 1958
Color Changes, Candid, 1960
The Clark Terry Spacemen, Chiaroscuro, 1976
One-on-One, Chesky Jazz, 2000
Live at Marihans, Chiaroscuro, 2004