Dave Brubeck
Pianist, Composer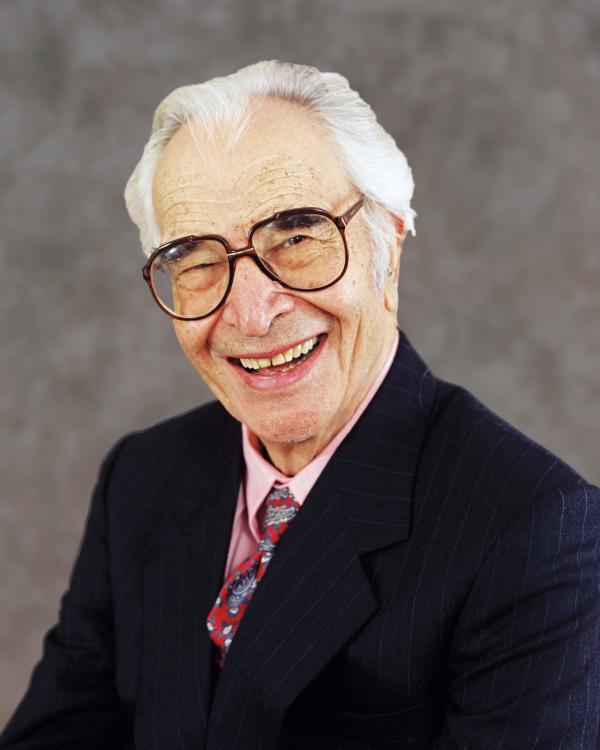 Bio
Dave Brubeck, declared a "Living Legend" by the Library of Congress, was one of the most active and popular jazz musicians in the world. His experiments with odd time signatures, improvised counterpoint, and a distinctive harmonic approach were the hallmarks of his unique musical style.
Born into a musically inclined family -- his two older brothers were professional musicians -- he began taking piano lessons from his mother, a classical pianist, at age four. After graduating from College of the Pacific in 1942, he enlisted in the Army, and while serving in Europe led an integrated G.I. jazz band.
At the end of World War II, he studied composition at Mills College with French classical composer Darius Milhaud, who encouraged him to introduce jazz elements into his classical compositions. This experimentation with mixed genres led to the formation of the Dave Brubeck Octet that included Paul Desmond, Bill Smith, and Cal Tjader. In 1949, Brubeck formed an award-winning trio with Cal Tjader and Ron Crotty, and in 1951 expanded the band to include Desmond. Brubeck became the first jazz artist to make the cover of Time magazine, in 1954, and in 1958 performed in Europe and the Middle East for the U.S. State Department, leading to the introduction of music from other cultures into his repertoire. In 1959, the Dave Brubeck Quartet recorded an experiment in time signatures, Time Out. The album sold more than a million copies, and Brubeck's "Blue Rondo a la Turk," based on a Turkish folk rhythm, and Desmond's "Take Five" appeared on jukeboxes throughout the world.
Throughout his career, Brubeck continued to experiment with integrating jazz and classical music. In 1959, he premiered and recorded his brother Howard's Dialogues for Jazz Combo and Orchestra with the New York Philharmonic under Leonard Bernstein. In 1960, he composed Points on Jazz for the American Ballet Theatre, and in later decades composed for and performed with the Murray Louis Dance Co. His musical theater piece, The Real Ambassadors starring Louis Armstrong and Carmen McRae, was also written and recorded in 1960 and performed to great acclaim at the 1962 Monterey Jazz Festival. The classic Dave Brubeck Quartet with Paul Desmond, Eugene Wright, and Joe Morello was dissolved in December 1967 and Brubeck's first of many oratorios, The Light in the Wilderness, premiered in 1968.
He received many honors in the U.S. and abroad for his contribution to jazz, including the National Medal of Arts, a Grammy Lifetime Achievement Award, the Kennedy Center Honors, and the Austrian Medal of the Arts. In 2008, Brubeck received the Benjamin Franklin Award for Public Diplomacy from the U.S. State Department for "introducing the language, the sounds, and the spirit of jazz to new generations around the world."
Selected Discography
Jazz at Oberlin, Original Jazz Classics, 1953
Time Out, Columbia, 1959
The Real Ambassadors, Columbia/Legacy, 1961
Classical Brubeck, Telarc, 2002
London Flat, London Sharp, Telarc, 2004
Interview by Dana Gioia
April 2006
Last summer, I visited legendary jazz musician Dave Brubeck at his home in Wilton, Connecticut, where we spoke about the importance of cultural diplomacy. Few people in the world know more firsthand about the subject than Brubeck.
In 1956, with the guiding support of Secretary of State John Foster Dulles, the U.S. Department of State sent the nation's finest jazz musicians abroad as goodwill representatives in a conscious effort to symbolize America's commitment to freedom. The Jazz Ambassadors program was launched at the bitterest point in the Cold War to bring the best of American culture to the rest of the world. The program not only focused on Iron Curtain nations but also the Third World where many developing countries were exploring Marxism as a possible political identity. The first Jazz Ambassador was trumpeter Dizzy Gillespie, and two years later Brubeck joined the ranks that would eventually include Louis Armstrong, Duke Ellington, Thelonious Monk, Benny Goodman, and Miles Davis. These musicians reached audiences in the millions, not only performing but also meeting with heads of state as well as thousands of everyday citizens through the international language of music. Meanwhile at home they helped push the Eisenhower, Kennedy, Johnson, and Nixon Administrations to expand civil rights.
One of the most famous moments of the Jazz Ambassadors program happened in the U.S. rather than abroad. At the 1962 Monterey Jazz Festival, Louis Armstrong performed selections from The Real Ambassadors, a musical written for him by Dave and Iola Brubeck. Based loosely on the Jazz Ambassadors program, the musical explores the delicate balance of promoting American ideals while simultaneously confronting government leaders about racial equality.
Pianist, band leader, and composer Dave Brubeck was born in California in 1920 and was raised on his family's cattle ranch near Sacramento. He served under General George Patton in World War II and studied music at Mills College with French composer Darius Milhaud on the G.I. Bill. By the early 1950s, Brubeck was the acknowledged master of West Coast jazz, often called "Cool Jazz" because of its understated but sophisticated style. In 1954, his musical talents and enormous popularity landed him on the cover of Time magazine. At this point he was drafted again - by the State Department for cultural diplomacy.
Brubeck's goodwill service didn't end with the Jazz Ambassadors program. He has performed for eight U.S. Presidents, Pope John Paul II, and dozens of heads of state. In 1988, he entertained world leaders at the Reagan- Gorbachev Summit in Moscow. Six years later, President Clinton recognized Brubeck's achievement and service with the National Medal of the Arts. As Chairman of the National Endowment for the Arts, I am proud that in 1999 Brubeck was named an NEA Jazz Master, the highest honor in the field of jazz.
GIOIA: The Jazz Ambassadors program was a model of what can be achieved through cultural diplomacy in a period of international tension. You are the last surviving band leader from this extremely influential program. Who were the Jazz Ambassadors?
BRUBECK: Well, the first group they sent out was Dizzy Gillespie's. They asked him to go to Greece. The next was Louis Armstrong. At that time, Louis was probably the most famous American in the world and had a tremendous following everyplace. President Eisenhower knew that it would be good to send him. He did a great job in Africa at bringing people together. We were sent to where there were going to be problems. We first went to Poland in 1958 and played 12 concerts there. At that time you would call that "behind the Iron Curtain." Then Turkey, both East and West Pakistan, Afghanistan, India, Ceylon (as it was then called), and then Iran and Iraq. It did some good because the intellectuals in the various countries were very interested in jazz, and we were very well accepted by their top musicians. This held true in every country. We were reaching the artistic people and the students.
GIOIA: How long did the tour last?
BRUBECK: We were out 120 days without a day off, and it was rough travel. The water wasn't fit to drink, but you got so thirsty, you drank it. The State Department didn't want us to come home. They wanted us to stay out. They cancelled our concerts here at home. Dulles would write ahead to the universities and say that we were going to be extended on this tour, that we were doing such a good job. Finally, a university in Texas said, "Look, we have a contract with Brubeck - he'd better be here." They didn't pay any attention to Dulles. He had his way up until then. And we came home by Iraq and Turkey - finally home. And went straight to Texas.
GIOIA: What was your reception like in the Islamic world?
BRUBECK: Turkey was very strong. In Afghanistan, mostly Russians were there, which ought to have been a big tip-off for us that they were there so strong. They were doing all the obvious things to be friendly with Afghanistan. Our government was doing just as much, but you couldn't see it. It was way out in the middle of a desert to dig some wells - where the Russians were paving their streets in Kabul and building silos for their grain. Now, also, at the concert, was a person that you may call a king, or leader of the country. He was very friendly to me and invited me to the palace and gave me a picture: "To Dave Brubeck from the Conqueror of Kabul."
GIOIA: What was your concert like in Iraq?
BRUBECK: That trip was not good, to be blunt. We discovered, "This is the first time we're in trouble. There's something going on." It was the beginning of Saddam Hussein's movement or somebody like him that he was working for. Right after we left, they killed everybody in our hotel. The Iraqi army came to rescue people out the back door of the hotel in trucks that were army trucks with the canvas over it. The lead truck stopped and they couldn't get it going again. Everybody in two trucks were pulled out and killed in the street. That I missed - by a few days.
GIOIA: What did your tours accomplish?
BRUBECK: What was important about this tour was the connection with the students, and the musicians, and the artists, and some politicians.
GIOIA: Were the Jazz Ambassadors personally sponsored by the Secretary of State?
BRUBECK: I would say yes. My wife wrote a song for Louis Armstrong to sing:
The State Department has discovered jazz
It reaches folks like nothing ever has.
When our neighbors called us vermin,
We sent out Woody Herman.
That's what they call cultural exchange.
I'll tell you a funny story. I was outside here in my vegetable garden, working on the tomatoes, and somebody said, "Dave, you've got a phone call, you'd better come in." I came in, and it was one of the assistants to President Johnson, saying, "Dave, will you come to Thailand - immediately?" And I said "Why?" "Well, we're in a little trouble here with the King." I asked, "Why?" "Well, even when President Johnson is seated, he's still taller than the King, and nobody is supposed to ever be above the King. Well, we worked out a way around that, but President Johnson crossed his leg and his shoe pointed at the King. There's nothing worse that he could have done. We know that the King likes jazz, and we thought maybe we could make up for it this way." [Laughing.] I said, "Well, I've got jobs here, I can't come." They said, "Well, can you think of somebody?" I said, "Well, I think Stan Getz is available." "Well," they said, "the King would like that." So Stan Getz went instead. What I'm trying to say is that there were people in the White House that knew certain situations where the way out might be jazz.
GIOIA: Was the Voice of America the only way your music circulated behind the Iron Curtain?
BRUBECK: Most of the people, when they spoke to you in English, sounded like Willis Conover from the Voice of America. His show came on every night worldwide. One of the most important things our government has ever done was to have the Voice of America go worldwide. And to this day - Willis has passed now - you can hear his voice. In Russia, people sound like Willis. If you listened to my recordings in the Soviet Union during the darkest days of the Cold War, you could be sent to Siberia or worse. They listened to my records, and they called it "Jazz in Bones." Using X-ray plates, they could record Willis Conover and get a fairly good recording. If you were caught with that, you were dead. But the doctors and the nurses and the students would very carefully listen to these recordings, and they had underground jazz meetings all the time. This is the power that we have with jazz, because it's the voice of freedom all over the world. Our government's talking about freedom. Jazz seemed to always work and express freedom. That's what we're all about. The way to get to the rest of the world is through cultural exchange.
GIOIA: How were the Jazz Ambassadors received in the Soviet Union during the Cold War?
BRUBECK: Benny Goodman went first. He was well received. I went much later. They wanted us to play in stadiums, and I said, and my manager said, "You know, we don't play in stadiums. We play in the best auditoriums or concert halls." And they said, "It will be so mobbed that there's no concert hall that's gonna hold us." Well, all 10 concerts sold out in two hours. That's what they thought of jazz.
GIOIA: How big were the audiences?
BRUBECK: Usually around 3,000 people, till we got to Leningrad, where we requested a 3,000-seat auditorium. After the second night, they said we have to move at least to 7,000. The people are demanding that we move to a larger hall. So we did move to a larger hall, and I said, "How are you going to advertise that we're moving tomorrow night?" He said, "Don't worry." It was full every night. How they found out, I don't know.
GIOIA: What do you recall from your tour of Poland?
BRUBECK: When we played in Poland in 1958, I had gone to Chopin's home, and I had seen the statue that the Nazis had almost broken. I had been in his home and seen his pianos. So that night on the train to the last concert in Poland, I composed in my head a song dedicated to Chopin and the Polish people. As an encore, we played it, and there was absolute silence in the auditorium. I thought, now I've ruined all 12 concerts. They're shocked that I would play in a Chopinesque kind of way. And then, the place went insane with applause. Mrs. Penderecki, the widow of Poland's greatest modern composer, wants us to come back to Warsaw in a few months and play that same piece. It's called "Dziekuje," which means "thank you" in Polish. Here it is 2005 - that was 1958 - and they still remember that piece.
GIOIA: Do you think cultural diplomacy still has a place in today's world?
BRUBECK: More so. Because, if we don't start understanding each other, there's not going to be a world. It's crucial. Martin Luther King said, "We must live together as brothers or die together as fools." Now, you can't say it much more directly than that. We've got to get an understanding, not just in music, but in religion, in every form of cultural exchange. We could do so much more. And maybe we will - if we're scared enough - do the right things. Because survival is a strong influence in all of us.
You know, I was in World War II. And I saw our generals almost as saints, and the great things that they did to bring peace to the world. The man in charge of me spoke the German language very well and took it upon himself to get food to the German people that were starving. Look at the Marshall Plan. That was from a general. Look at Omar Bradley. He said, "We know more about destruction than we know about the Sermon on the Mount." Omar Bradley was like a saint. We had the capability of bringing these saintly guys into the situation where they saved nations.
I wrote a choral work based on the 1854 Chief Seattle speech. In that speech, he emphasizes the brotherhood of man, and that we all worship the same Spirit. In almost every culture, if you dig deep enough, you're going to find a oneness of man. One of the reasons I believe in jazz that is the oneness of man can come through the rhythm of your heart. It's the same anyplace in the world, that heartbeat. It's the first thing you hear when you're born - or before you're born - and it's the last thing you hear.
-- First published in the Spring 2006 issue of The American Interest.