Gary Burton
Vibraphonist, Bandleader, Educator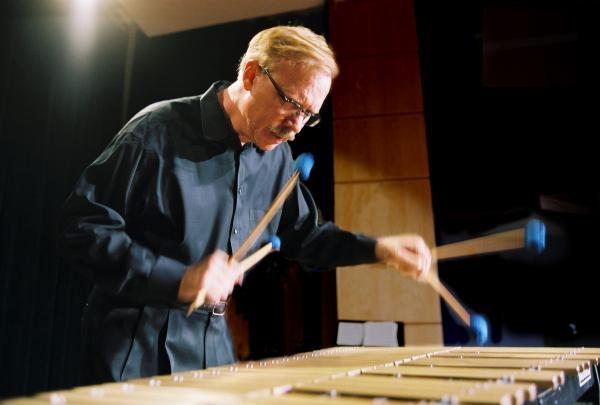 Bio
"In my early years, I was fortunate to have known and even play with some of jazz's pioneers. Now I am being recognized as an important figure in jazz history. It is a great honor to be included with the many great artists who have been named Jazz Masters."
Vibraphonist, bandleader, and educator Gary Burton's four-mallet technique on the vibraphone gave the instrument a new musical vocabulary in jazz and a fuller, more piano-like sound than the traditional two-mallet approach. He was one of the progenitors of jazz fusion in the late 1960s, and had a decades-long educational career at the Berklee College of Music.
Burton taught himself to play the vibraphone and, at the age 17, made his first recording in Nashville, Tennessee, with legendary guitarist Hank Garland. With the help of Chet Atkins, another leading Nashville guitarist, Burton secured a record deal with RCA and released his debut album, New Vibe Man in Town, in 1961 while studying at Berklee.
At 19, on a recommendation from Marian McPartland, Burton joined pianist George Shearing's group, and then worked from 1964 to 1966 with Stan Getz. As a member of Getz's quartet, Burton was recognized by DownBeat magazine as "Talent Deserving of Wider Recognition" (1965). In 1967, he formed a quartet featuring Larry Coryell, an electric guitarist, as one of the soloists. The quartet's first two albums in 1967—Duster and Lofty Fake Anagram—changed the jazz landscape by adding rock elements to the music. In 1968, he won DownBeat's "Jazzman of the Year" award.
During the late 1960s, 1970s, and 1980s, Burton continued to experiment with his sound, recording Carla Bley's album-long piece A Genuine Tong Funeral; performing in various configurations, such as solo, duos, quartets, and with chamber orchestras; and continuing to work in other genres such as country, rock, tango, and classical. At the same time, Burton continued to mentor notable guitarists in his bands, including Pat Metheny, John Scofield, Kurt Rosenwinkel, and Julian Lage.
In 1971, Burton embarked on an education career at the Berklee College of Music as a teacher of percussion and improvisation. In 1985, he became the institution's dean of curriculum. In 1989, he received an honorary doctorate of music from Berklee and, in 1996, he was appointed executive vice president, a position he held until his retirement in 2004.
After his retirement from Berklee, Burton formed several new bands and expanded his collaborations with Chick Corea, Pat Metheny, and other musicians. His Generations band in the early 2000s featured young musicians, and in 2012 he assembled the New Gary Burton Quartet (with Julian Lage, Antonio Sánchez, and Scott Colley) with which he records and performs. Burton has received 22 Grammy nominations and won seven Grammy Awards.
Selected Discography
In Concert, BMG International, 1968
Passengers, ECM, 1976
Like Minds, Concord Jazz, 1997
Chick Corea & Gary Burton, Hot House, Concord Jazz, 2012
Guided Tour, Mack Records, 2013