Pat Metheny
Guitarist, Composer, Educator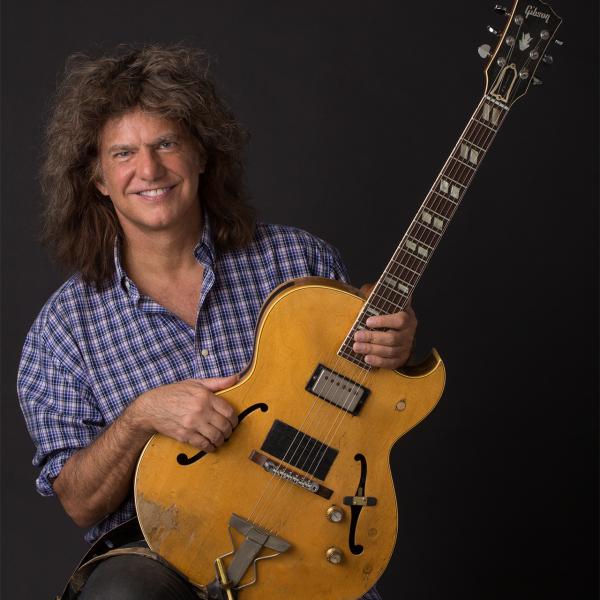 Bio
"It is a true honor to be selected as a recipient of the 2018 National Endowment for the Arts Jazz Master Fellowship Award. I am grateful and truly humbled to be included among the many musicians here who have personally inspired me and whose creativity has brought so much beauty and wisdom to the world. It is a deep and singular privilege to be part of the ongoing legacy that this music represents."
Pat Metheny reinvented the traditional sound of jazz guitar, bringing a fresh sonic potential to the instrument while offering a deep reservoir of improvisational insight and musicality. He is one of the few artists who has achieved crossover popularity (three of his recordings achieving gold record status with more than 20 million records sold worldwide) and critical acclaim. While his music resists any easy description, his compositions cover a wide range of settings, from modern jazz to rock to country to classical.
Metheny grew up in a musical family, starting on trumpet at the age of eight and switching to guitar a few years later. By age 15 he was mentored by and worked regularly with some of the best jazz musicians in Kansas City. Following his graduation from Lee's Summit High School, Metheny very briefly attended the University of Miami in Coral Gables, Florida, but he was quickly offered a teaching position instead. At age 18, he was the youngest teacher ever at that university.
He then encountered jazz vibraphonist Gary Burton, who enticed him to teach at the Berklee College of Music (where Burton was teaching as well) and join his band, which Metheny did from 1974 to 1977. Metheny's 1975 debut album Bright Size Life introduced his unique sound, reshaping how one approached jazz guitar for a new generation of players and fans alike. Throughout his career, Metheny has been innovative in using emerging technologies to expand the palette of his music. In addition to being on the cutting edge of electronics, he has also developed acoustic mechanical platforms in his Orchestrion projects as well as a wide array of custom guitars, such as his 42-string Pikasso model.
Having recorded scores of albums under his own name and as a sideman, Metheny performed with many diverse artists, such as David Bowie, Ornette Coleman, Charlie Haden, Jim Hall, Herbie Hancock, Roy Haynes, Milton Nacimiento, and Steve Reich. Metheny has also scored numerous movie soundtracks—the best-known work being The Falcon and the Snowman, on which he worked with Bowie. Metheny's body of work for acoustic and electric instruments includes compositions for a wide range of performers, including solo guitar, small groups, large orchestras, and ballet.
To date, Metheny has won 20 Grammy Awards, being the only artist to have won awards in ten different categories. He was inducted into the DownBeat Hall of Fame in 2013, joining the only other guitarists inducted: Wes Montgomery, Charlie Christian, and Django Reinhardt. He received an honorary doctorate from the Berklee College of Music in 1996. He continues to record and tour in the United States and worldwide.
Selected Discography:
American Garage ECM, 1979
Song X, Geffen, 1985
Question and Answer, Geffen 1989
Charlie Haden & Pat Metheny, Beyond the Missouri Sky (Short Stories), Universal, 1996
The Unity Sessions, Nonesuch, 2014