Kenny Clarke
Drummer, Bandleader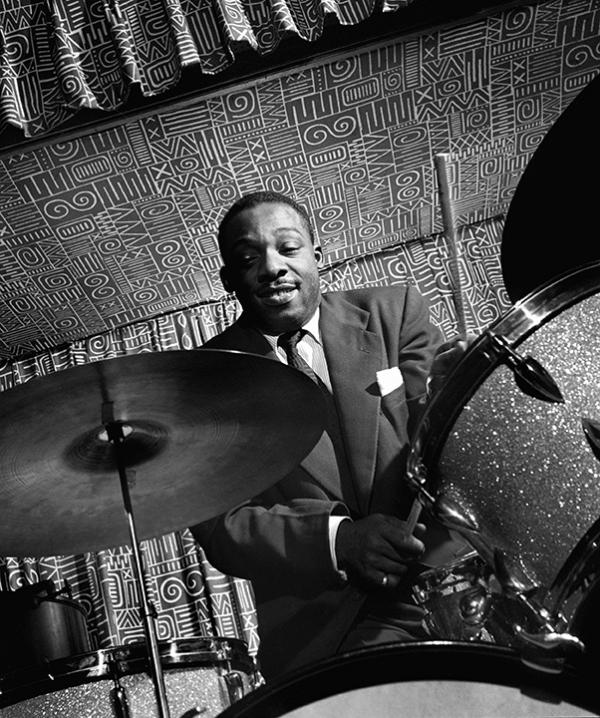 Bio
Kenny Clarke, known among musicians as "Klook" for one of his characteristic drum licks, is truly a jazz pioneer. He was a leader in the rhythmic advances that signaled the beginning of the modern jazz era, his drum style becoming the sound of bebop and influencing drummers such as Art Blakey and Max Roach.
Clarke studied music broadly while in high school, including piano, trombone, drums, vibraphone, and theory. Such versatility of knowledge would later serve him well as a bandleader. Clarke moved to New York in late 1935, where he first began developing his unique approach to the drums, one with a wider rhythmic palette than that of the swing band drummers. Instead of marking the count with the top cymbal, Clarke used counter-rhythms to accent the beat, what became known as "dropping of bombs."
He found a kindred spirit in Dizzy Gillespie when they hooked up in Teddy Hill's band in 1939. A key opportunity to further expand his drum language came in late 1940 when he landed a gig in the house band (with Thelonious Monk on piano, and Nick Fenton on bass) at Minton's Playhouse. It was this trio that welcomed such fellow travelers as guitarist Charlie Christian, Gillespie, and a host of others to its nightly jam sessions. These sessions became the primary laboratory for their brand of jazz, which came to be called bebop.
A stint in the Army from 1943-46 introduced him to pianist John Lewis. After their discharge he and Lewis joined Gillespie's bebop big band, which gave Clarke his first taste of Paris during a European tour. After returning to New York, he joined the Milt Jackson Quartet, which metamorphosed into the Modern Jazz Quartet in 1952. Though he and Lewis remained friends, Clarke chafed at what he felt was the too-staid atmosphere of the MJQ. In 1956, he migrated to Paris, which became his home for nearly 30 years, working with Jacques Helian's band and backing up visiting U.S. jazz artists.
During the years 1960-73, he co-led the major Europe-based jazz big band with Belgian pianist Francy Boland, the Clarke-Boland Big Band. The band featured the best of Europe's jazz soloists, including a number of exceptional U.S. expatriate musicians living in Europe. Among these were saxophonists Johnny Griffin and Sahib Shihab, and trumpeter Idrees Sulieman. After the disbanding of his big band, Clarke found numerous opportunities both on the bandstand and teaching in the classroom. He remained quite active as a freelancer, often working with visiting U.S. jazz musicians, until his death in 1985. In 1988, Clarke was inducted into the DownBeat Jazz Hall of Fame.
Selected Discography
Modern Jazz Quartet, The Artistryof the Modern Jazz Quartet, Prestige, 1952-55
Bohemia After Dark, Savoy, 1955
Discoveries, Savoy, 1955
Kenny Clarke Meets the Detroit Jazzmen, Savoy, 1956
Clarke-Boland Big Band, RTE, 1968