John Lewis
Pianist, Composer, Arranger, Educator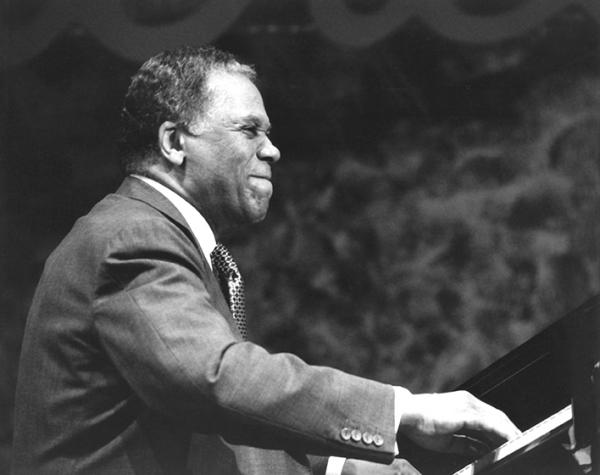 Bio
"This award from one of our government's highest forums for support of the arts was totally unexpected.  I am honored beyond words and would like to express my profound appreciation and gratitude for being chosen as one of the recipients of the American Jazz Masters Fellowship Award."
John Lewis' artistry flowered during his historic tenure as musical director of the longest continuing small ensemble in the annals of jazz, the Modern Jazz Quartet, with whom he was able to realize his unique vision of fusing blues, bebop, and classical music into an artful, elegant balance.
Lewis' mother was a primary musical influence during his younger years growing up in Albuquerque, New Mexico. After high school, Lewis joined the Army in 1942, where he met drummer Kenny Clarke and trumpeter/ bandleader Dizzy Gillespie.
In 1946, Lewis and Clarke joined the rhythm section of Gillespie's pioneer big band, which included vibraphonist Milt Jackson and bassist Ray Brown. The Gillespie band provided a convenient canvas for Lewis to write compositions and craft arrangements, utilizing the talents of some of the finest young musicians in jazz. Lewis' first extended composition for Gillespie was his 1947 "Toccata for Trumpet," which premiered at Carnegie Hall. Other early contributions to the Gillespie book included Lewis' arrangements of the tunes "Two Bass Hit" and "Emanon."
Coinciding with his work with the Gillespie band, Lewis continued his music studies at the Manhattan School of Music, eventually earning his master's degree in 1953. Lewis also worked with other jazz greats in between tours with Gillespie's band, including serving as pianist and arranger for the Miles Davis recording Birth of the Cool in 1950.
In 1951, the Gillespie band rhythm section of 1946 -- Lewis, Clarke, Jackson, and Brown -- reunited in the recording studio as the Milt Jackson Quartet, later becoming the Modern Jazz Quartet. By the time those recordings were issued, Percy Heath had replaced Brown. In 1954, the Modern Jazz Quartet began touring and Connie Kay replaced Clarke on drums the following year. During his more than 40 years with MJQ, Lewis honed his composing and arranging skills, experimenting with form and sound, while collaborating with guests ranging in diversity from Sonny Rollins to the Beaux Arts String Quartet to singer Diahann Carroll to full orchestras. Perhaps his most widely interpreted composition is "Django," which he wrote in honor of the legendary Gypsy guitarist Django Reinhardt.
Throughout his career, Lewis wrote for a vast number of musical configurations in a dizzying array of styles, from solo piano to symphonies, from ballets to film and television scores. Lewis was part of the first wave of what composer Gunther Schuller dubbed the Third Stream -- an effort at forging a third stream through the fusing of the two primary streams: jazz and European classical music.
As an educator, he served as director of faculty at the Lenox School of Jazz, where he first championed Ornette Coleman; on the trustee board of the Manhattan School of Music; and in faculty positions at Harvard University and City College of New York.
Selected Discography
Modern Jazz Quartet, Django, Original Jazz Classics, 1953-55
Grand Encounter, Blue Note, 1956
The Wonderful World of Jazz, Atlantic, 1960
Kansas City Breaks, DRG, 1982
Private Concert, EmArcy, 1990