Regina Carter
Violinist, Educator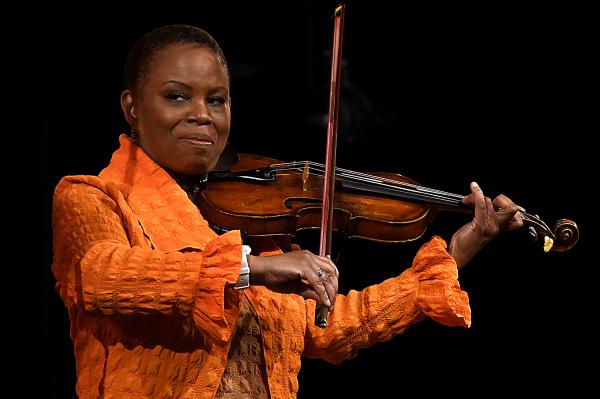 Bio
Regina Carter is renowned for her mastery of the violin and exploring the instrument's possibilities in jazz, as well as taking journeys in other genres of music. A recipient of a MacArthur "genius" grant and a Doris Duke Artist Award (as well as an individual NEA jazz grant in 1990), Carter also shares her knowledge and talent through teaching and workshops.
Growing up in Detroit, Michigan, Carter attended Cass Technical High School, then continued her training at the New England Conservatory of Music and at Oakland University in Michigan. She first gained attention in 1987 with Straight Ahead, an all-female jazz quintet. In 1991, she moved to New York City and began a solo career, releasing her first recordings on Atlantic Records while also working with the String Trio of New York. Switching labels to Verve, Carter released albums such as her tribute to her hometown, Motor City Moments and, Paganini: After a Dream, recorded in Genoa, Italy, where she made history as the first nonclassical violinist to play Niccolò Paganini's Il Cannone ("The Cannon"), the legendary violin built by Giuseppe Guarneri in 1743.
On her album, Reverse Thread, Carter explored her African ancestry, reimagining traditional African songs. Southern Comfort was the result of Regina tracing her father's roots in the American South.
Carter has held artist-in-residence positions at the Oakland University School of Music, Theatre, and Dance in Michigan, and at San Francisco Performances. She also served as resident artistic director for SFJAZZ in San Francisco, California. In 2018, she was named artistic director of the New Jersey Performing Arts Geri Allen Jazz Camp, a summer immersion program for aspiring women and nonbinary jazz professionals. She currently is on the faculty of the Manhattan School of Music in New York and New Jersey City University in Jersey City, New Jersey.
Carter has worked with world-renowned jazz artists such as Ray Brown, Arturo O'Farrill, and Eddie Palmieri as well as legendary artists from other genres such as Mary J. Blige, Joe Jackson, Billy Joel, Dolly Parton, and Omara Portuondo. She also has appeared as a guest artist with orchestras such as the Atlanta Symphony, the Chicago Symphony, the Detroit Symphony Orchestra, and the Orquestra Sinfônica do Estado de São Paulo in Brazil.
Selected Discography
Motor City Moments, Verve, 2000
Paganini: After A Dream, Verve, 2002
Reverse Thread, E1, 2010
Southern Comfort, Sony Masterworks, 2014
Ella: Accentuate the Positive, OKeh Records/Sony Masterworks, 2016
I cannot put into words how blown away I am, being named an NEA Jazz Master. It is an absolute honor and among the most significant events in my career. This prestigious award will serve as a great motivator. I thank those who have come before me for paving the way.