Sarah Vaughan
Vocalist, Pianist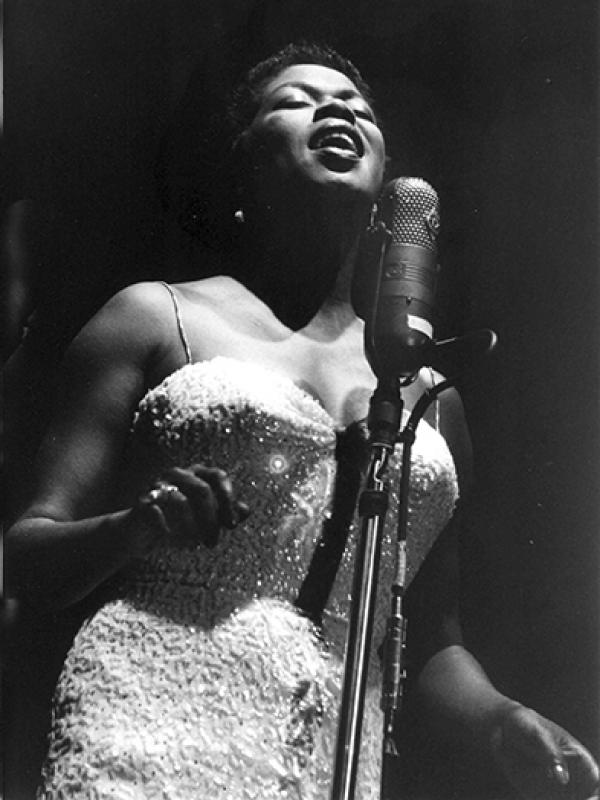 Bio
The power, range, and flexibility of her voice made Sarah Vaughan, known as "Sassy" or "The Divine One," one of the great singers in jazz. With her rich, controlled tone and vibrato, she could create astounding performances on jazz standards, often adding bop-oriented phrasing. Along with Billie Holiday and Ella Fitzgerald, Vaughan helped popularize the art of jazz singing, influencing generations of vocalists following her. Vaughan began singing at the Mt. Zion Baptist Church in her native Newark, and started extensive piano lessons at age seven. Winner of the amateur contest at the Apollo Theatre, Vaughan was hired by Earl Hines for his big band as a second pianist and singer on the recommendation of Billy Eckstine in 1943. She joined Eckstine's band in 1944, as well as making her first recording under her own name.
After leaving Eckstine, Sarah worked briefly in the John Kirby band, and thereafter was primarily a vocal soloist. Charlie Parker and Dizzy Gillespie often sang her praises, assisting her in gaining recognition, particularly in musicians' circles. They worked with her on a May 25, 1945, session as well, which was highlighted by her vocal version of Gillespie's "A Night in Tunisia," called "Interlude" on the album. Her first husband, trumpeter-bandleader George Treadwell, helped re-make her "look" and she began to work and record more regularly, starting in 1949 with Columbia Records. In the 1960s, Vaughan made records with bandleaders such as Count Basie, Benny Carter, Frank Foster, and Quincy Jones on the Mercury and Roulette labels among others. It was during this time that her level of international recognition began to grow as she toured widely, generally accompanied by a trio, and on occasion doing orchestra dates.
These large ensemble dates ranged from the Boston Pops to the Cleveland Orchestra as her voice became recognized as one of the most beautiful and versatile in all of jazz, blessed with a range that literally went from baritone to soprano. In the 1970s and 1980s, her voice darkened, providing a deeper and all the more alluring tone.
Selected Discography
1944-46, Classics, 1944-46
In Hi-Fi, Columbia/Legacy, 1949-53
The Complete Sarah Vaughan on Mercury, Vol. 1, Mercury, 1954-56
Sarah Vaughan with Clifford Brown, Verve, 1955
The Duke Ellington Songbook, Vol. 1, Pablo, 1979