Toward a Bright Future: A Look at the State of the Folk and Traditional Arts
By Cliff Murphy, NEA Director of Folk and Traditional Arts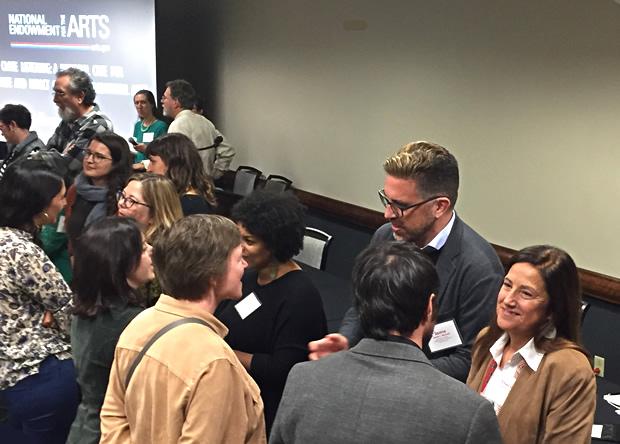 I don't know if there's a subgenre of writing where arts administrators gush about great meetings they've attended. But if there is, this will fit nicely into that category
You see, I'm excited because this October, we held our first-ever national convening of folk and traditional arts organizations, practitioners, and programs. I joked at the outset of the convening that it felt a little bit like a wedding—whether I had met people before or not, I now knew that we were all related. And it's a big family: we had about 120 attendees, from 44 states, two territories, and the District of Columbia packed into a room in Baltimore for three days as part of the National Assembly of State Arts Agencies (NASAA) pre-conference activities.
The folklorists in the room—about one-third of the attendees—knew one another through conferences, regional organizations, and the NASAA network of state folk arts coordinators. But most everybody else was meeting one another for the first time. On the face of it, the Indian Pueblo Cultural Center, Virginia's Crooked Road Heritage Trail, the Women of Color Quilters Network, San Jose Taiko, and the New York State Council on the Arts folk arts program may be very different organizations representing different cultures, artistic forms, or community functions, but the convening illuminated the fact that we are all engaged in a similar pursuit: carrying cultural knowledge forward into the future with relevance and respect.
The breadth and stunning array of work we do was on dazzling display. For those who think of traditional arts as musty, fusty, and fuddy-duddy, this is your antidote to that misperception. The projects we talked about ranged from anti-domestic violence initiatives in Philadelphia (run by Liberian civil war refugees), to an urban folklife museum program in Miami that collaborates with a profoundly multicultural community on establishing complex cultural narratives, to Utah's state folklife program that deftly navigates alliances with state and federal tourism initiatives, to a festival in Tucson that educates home cooks on how to bring their foodways to a commercial market, to the Rolling Rez Arts Bus that simultaneously brings Lakota traditional arts to a public market while also training artists to bank and manage their money, to state folklife apprenticeships that facilitate cultural sustainability work. These programs were anything but stuck in the past. They were instead innovative takes on deep traditions, acknowledging and amplifying their vibrance and vitality.
As a grantmaker, this was also an important opportunity for me to listen to the innovations, challenges, and priorities of the field as articulated by organizations large and small, as well as individual traditional artists. As National Heritage Fellow Carolyn Mazloomi stated in her presentation at the convening, "Democracy demands dialogue." The same is true for effective grantmaking: how does the National Endowment for the Arts—as an agency—support the ecological health of the field, while responding to and supporting the needs and priorities of constituents? And let's keep in mind these are constituents as grassroots as the Hmong Cultural Center in Minneapolis, as broadly engaged as the Western Folklife Center, and as internationally known as StoryCorps. The convening created an incredible forum for voices of our constituents to be heard, and for large and small to interact.
Indeed, much of the convening represented the fruits of 50 years of NEA support for outreach and fieldwork that serves the very real strategic purpose of connecting government arts resources to communities that are hard-to-reach for reasons including a lack of arts nonprofits, the omission of local art forms in presentations of the arts, and language, aesthetic, or other barriers.
In short, the creation of the Folk and Traditional Arts discipline at the NEA was an effort to democratize our work. When the NEA was founded in 1965, folk and traditional arts were part of the legislated language—and remain so today—behind its creation. But the trick there is that traditional artists, and the local cultures that produce them, are often located in these hard-to-reach communities. In 1974, the NEA launched a pilot program at the state arts agencies in Maryland and Tennessee, bringing about the first state folklife programs. These programs were tasked with going out into communities, building relationships, and connecting traditional artists—typically in rural, working-class, immigrant, mountain, maritime, and inner-city communities—to the grant programs of state arts agencies and the NEA. That work continues, and over 40 years later it has nurtured folklife programs at over 40 state arts agencies, as well as a large network of nonprofit programs who support traditional arts in dynamic ways. The convening helped us to take stock in that growth, to celebrate it, and to look toward a bright future.
(first appeared in artMatters newsletter, November 2018)