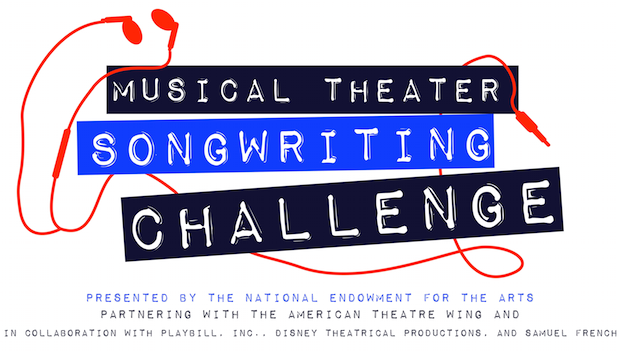 The Musical Theater Songwriting Challenge is a national competition for high school students who have a passion for writing songs that could be part of a musical theater production. Partnering with the National Endowment for the Arts is the American Theatre Wing and collaborators Playbill, Inc.; Disney Theatrical Productions, and Samuel French.
Launched in 2016 as a pilot program in three cities (Dallas, TX; Minneapolis, MN, Seattle, WA), the Songwriting Challenge became a national program in 2017, allowing students from across the country to enter the competition.
The Challenge offers six finalists a weekend of one-on-one mentoring with professional songwriters and musicians in New York City, a music publishing deal with Samuel French—the world's leading publisher and licensor of plays and musicals—and the chance to win a $25,000 scholarship courtesy of the National Music Publishers Association S.O.N.G.S. Foundation (Supporting Our Next Generation of Songwriters). The second place winner receives $10,000 contributed by BMI and the third place winner gets $5,000 courtesy of the Entertainment Industry Foundation.
The finalists— one duo and five individuals—were chosen by review panels of professional theater artists in a blind competition from almost 200 applications submitted by high school students in 36 states. Meet the 2018 finalists here and listen to their songs.
The mentorship weekend took place April 20-23. During that time, each finalist's song was transcribed for an ensemble and singers, shaped into a stage-ready composition, and performed before a panel of judges who selected the national champion. (This video shows the process)
The final competition was on April 23 and webcast live. You can see the full competition on the national competition page. Clips featuring performances of the finalists' songs are on the performances page.