2019 Winners and Final Recordings
It all came together on October 20 and 21 when the 2019 Songwriting Challenge winners, their mentors, and music directors were joined by New York City-based musicians and vocalists to give the winners' songs the Broadway treatment. Music directors deftly led each ensemble of artists, in consultation with the winners, to craft the best recording of the song.
The recording and release of the songs was the culminating phase of this year's Songwriting Challenge. What started in the spring with submissions of original songs followed by the July 18 announcement of the six regional winners, moved to intense weekend workshops in the students' hometowns, and concluded with their song given life by performers who have been part of Broadway, Off-Broadway, and touring Broadway productions.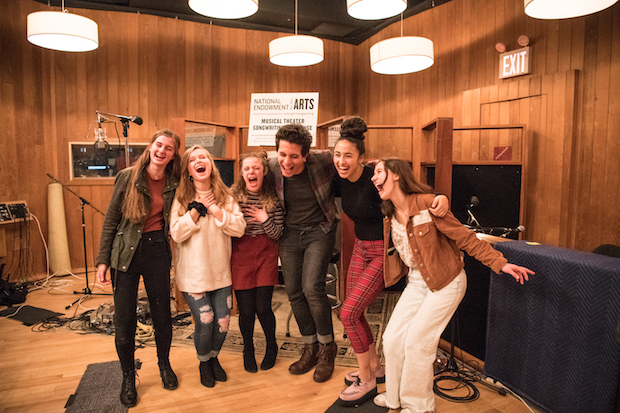 The winners share a good laugh. Photo by Natalie Powers.
To listen to the songs and for photos, lyrics, and information for each winner's recording session, visit their page.
Tessa Barcelo, sophomore at Andover High School in Andover, MA
Emalee Flatness, freshman at Missouri State University from Willard, MO
Makai Keur, freshman at Berklee School of Music and Julian Watson, freshman at Columbia College, both from Franklin, TN
Breezy Love, senior at Interlochen Arts Academy from Winnetka, IL
Sophia Schwaner, sophomore at Stuart Hall School in Staunton, VA
Akira Sky, junior at Los Angeles County High School for the Arts in Los Angeles, CA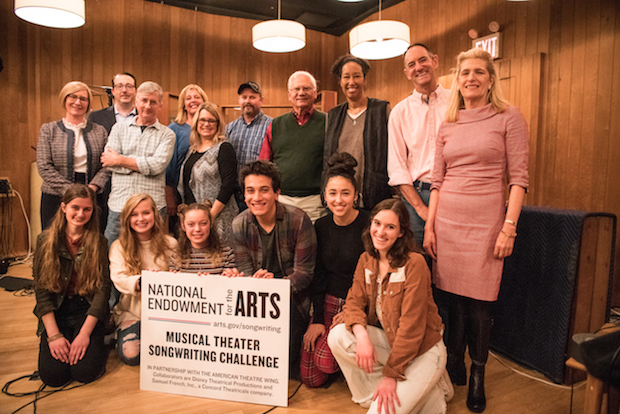 Winners, parents, and VIPs gather in the recording studio at Reservoir Studios. From left to right, top row: American Theatre Wing President and CEO Heather Hitchens, Concord Theatricals President Sean Flahaven; Jeff Schwaner; National Endowment for the Arts Chairman Mary Anne Carter; Renee Flatness; Rob Flatness, Brian Barcelo; Shelley Meals (mother of Akira Sky), Jerry Israelov (father of Breezy Love), Samuel French Vice-president for Client Relations and Community Engagement Abbie Van Nostrand. Seated: 2019 winners Sophia Schwaner, Emalee Flatness, Tessa Barcelo, Makai Keur, Akira Sky, Breezy Love. Photo by Natalie Powers. (Absent was Julian Watson, Makai Keur's songwriting partner.)