2021 Musical Theater Songwriting Challenge Winners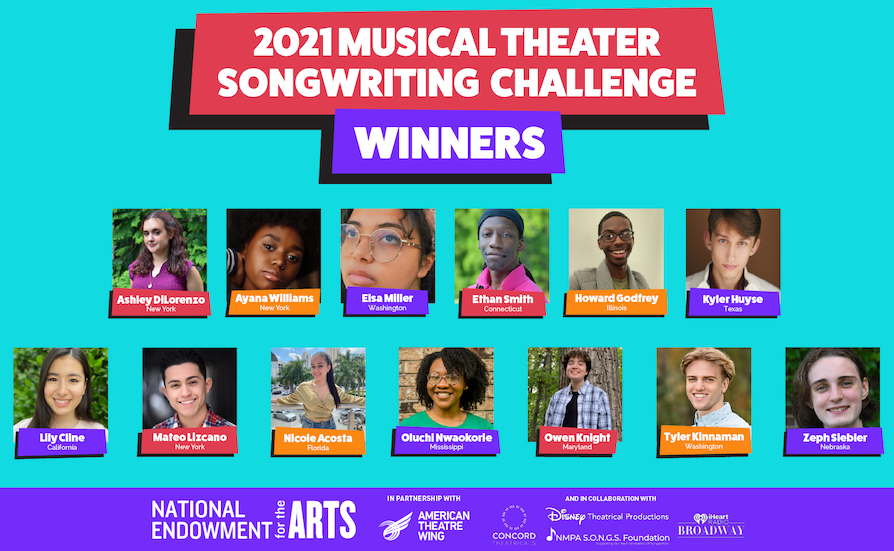 We are proud to present the 2021 class of Musical Theater Songwriting Challenge winners. As in 2020, the National Endowment for the Arts and the American Theatre Wing are able to offer this opportunity to 13 students: 12 individual songwriters and one, two-person songwriting team. Winners' hometowns range from Maple Valley, Washington to Bethel, Connecticut and from Lincoln, Nebraska to Jackson, Mississippi. Their songs are also very different; engaging mythic themes, contemporary issues, and stories from their experiences and perspectives. Read more in our announcement press release.
The Songwriting Challenge provided winners with a coaching team consisting of a mentor and music director (both musical theater professionals) to hone the students' original songs into a Broadway-ready compositions. These songs were recorded by Broadway musicians and vocalists in New York City. Final songs will premiere on iHeartRadio Broadway on April 23, and will then be distributed on streaming music platforms and compiled into a songbook created by Concord Theatricals. Read more in our press release.
Click on each winner's name below for more information, including bios, photos, song summaries, and final recordings (posted April 25).
Please note: The school grade and school name are taken from their applications submitted in spring 2021.
 2021 WINNERS