Four New Books Added to #NEABigRead Library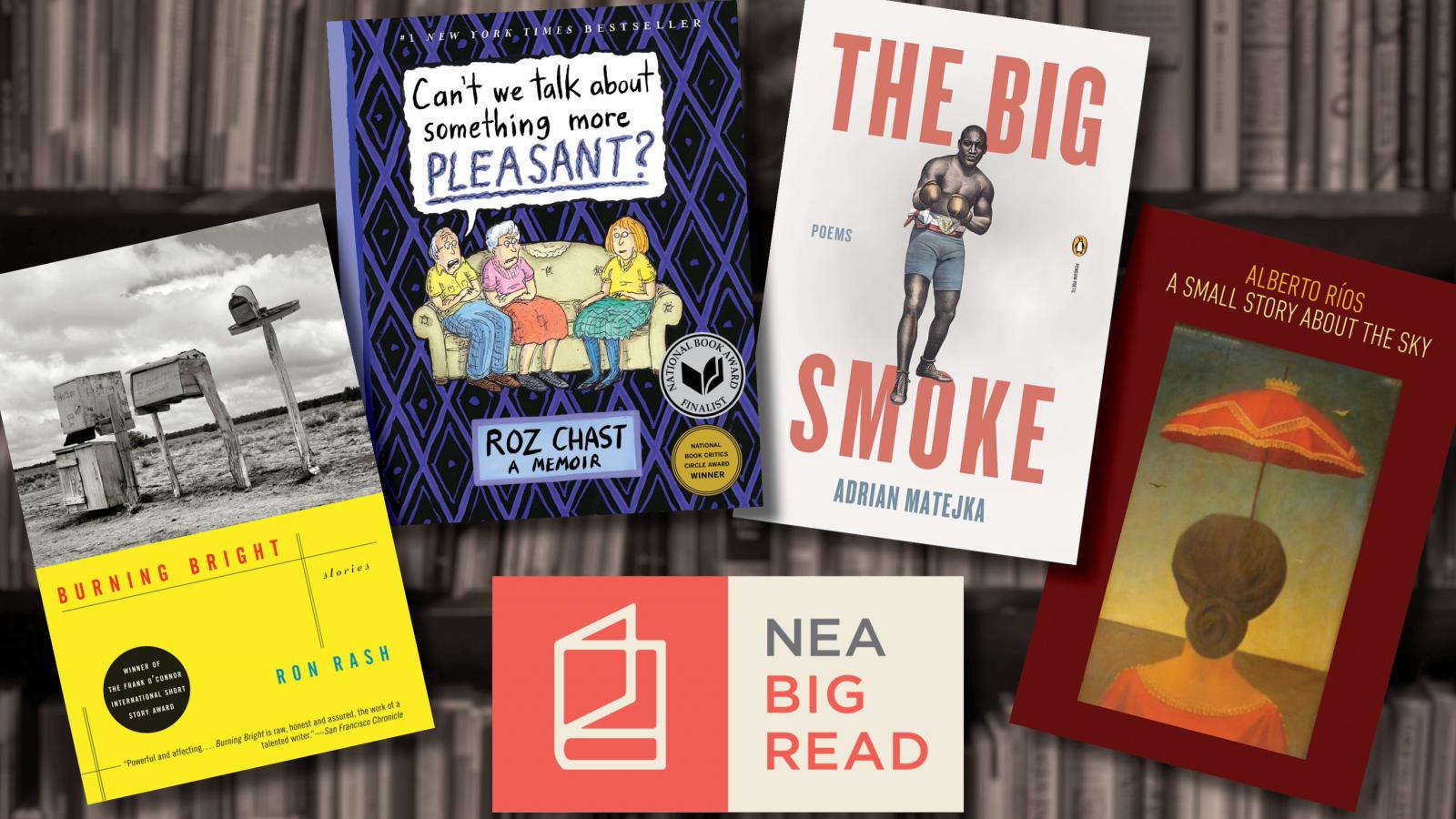 Washington, DC— Legendary prizefighter Jack Johnson, the people of Appalachia, the care of aging parents, and life in the desert landscape of the Southwest are the subjects of the latest additions to the National Endowment for the Arts' Big Read, providing communities around the nation with an increasingly diverse selection of contemporary works for exploration and discussion. These four new books will join 26 other titles available for organizations applying for an NEA Big Read grant for projects between September 2018 and June 2019.
The four new titles are:
Heart-wrenching and laugh-out-loud funny, Chast's collection of cartoons, sketches, found documents and narrative storytelling chronicles the conflicting emotions and practical challenges surrounding her parents' last years.
Matejka, an award-winning poet from Indiana, gives voice to the complex life and legacy of Jack Johnson, the first African American to claim the title of world heavyweight champion.
Twelve powerful stories spanning a wide swath of time from the Civil War to the present paint a portrait of life in the Appalachian mountains, a region Rash's family has called home since the 1700s.
Ríos's poems—many of them written for specific occasions during his role as Arizona's first poet laureate—are playful, nostalgic, magical and tender homages to his home and everyday life.
"We're excited to continue expanding the range of voices and themes on the NEA Big Read list," said NEA Director of Literature Amy Stolls. "It's important to us that the NEA Big Read present titles that are not only powerful examples of engaging storytelling, but also offer different perspectives and opportunities for dialogue."
This marks the first time a graphic memoir has been included in the program and also incorporates the work of two NEA Literature Fellows, Rash (1994, 2006) and Ríos (1979). Visit the NEA's newly revamped Big Read website for more information on the program, including book and author information, podcasts, videos, and—for many selections—community stories from past NEA Big Read grantees.
An initiative of the National Endowment for the Arts in partnership with Arts Midwest, the NEA Big Read broadens our understanding of our world, our communities, and ourselves through the joy of sharing a good book. The main feature of the initiative is a grants program, managed by Arts Midwest, which annually supports approximately 75 dynamic community reading programs, each designed around a single NEA Big Read selection. The application deadline for NEA Big Read programs taking place between September 2018 and June 2019 is Wednesday, January 24, 2018 at 4:00pm CST. Full details on eligibility and how to apply are available here. Advice on the application process is available here.
Eligible applicants include nonprofit organizations such as arts centers, arts councils, arts organizations, colleges and universities, community service organizations, environmental organizations, fairs and festivals, faith-based organizations, historical societies, housing authorities, humanities councils, libraries, literary centers, museums, school districts, trade associations, and tribal governments.
To select new books for the NEA Big Read library, the NEA collected suggestions from a variety of sources, including the public, NEA Big Read grantees, and past NEA Big Read panelists. The National Endowment for the Arts narrowed the list of suggestions based on the following criteria: the capacity to incite lively and deep discussion; the capacity to expand the range of voices, stories, and genres currently represented in the NEA Big Read library; the capacity to interest lapsed and reluctant readers and/or to challenge avid readers and introduce them to new voices; and the capacity to inspire innovative programming for communities. A committee of outside readers and community organizers reviewed the books and made the final recommendations. To suggest a book for the NEA Big Read library, visit arts.gov.
About the National Endowment for the Arts
Established by Congress in 1965, the NEA is the independent federal agency whose funding and support gives Americans the opportunity to participate in the arts, exercise their imaginations, and develop their creative capacities. Through partnerships with state arts agencies, local leaders, other federal agencies, and the philanthropic sector, the NEA supports arts learning, affirms and celebrates America's rich and diverse cultural heritage, and extends its work to promote equal access to the arts in every community across America. Visit arts.gov to learn more about NEA.
About Arts Midwest
Arts Midwest, a non-profit regional arts organization headquartered in Minneapolis, serves audiences, arts organizations and artists throughout the nine state region of Illinois, Indiana, Iowa, Michigan, Minnesota, North Dakota, Ohio, South Dakota, and Wisconsin. One of six non-profit regional arts organizations in the United States, Arts Midwest's history spans more than 30 years. Arts Midwest promotes creativity, nurtures cultural leadership, and engages people in meaningful arts experiences, bringing vitality to Midwest communities and enriching people's lives. Annually, cultural programs initiated by Arts Midwest reach close to a million people, enhancing the quality of life in hundreds of cities, towns, and rural areas. Arts Midwest's high-quality cultural activities, in a spectrum of artistic genres, reach school children, university students, families, and adults of all ages.
Contact
(media questions) Liz Auclair, auclaire@arts.gov, 202-682-5744
(application questions) Arts Midwest, neabigread@artsmidwest.org, 612-238-8010