National Endowment for the Arts Statement on the Death of National Heritage Fellow Chris Strachwitz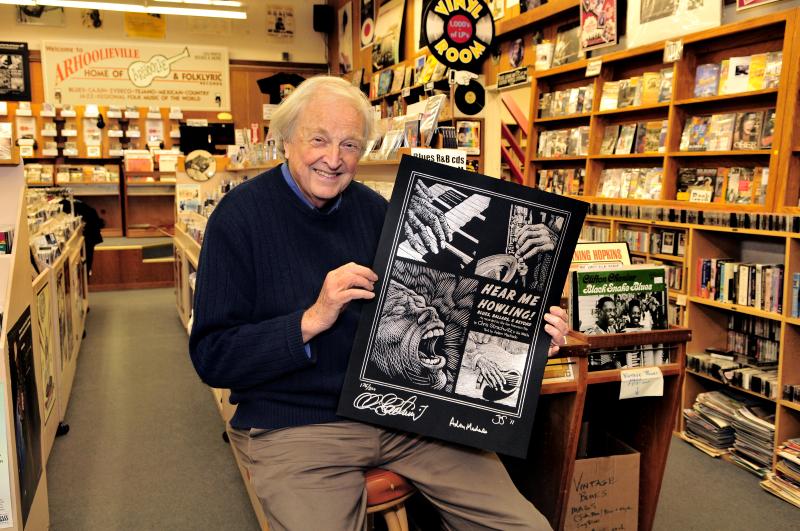 It is with great sadness that the National Endowment for the Arts acknowledges the death of record producer and label founder Chris Strachwitz, recipient of the first Bess Lomax Hawes National Heritage Fellowship in 2000. This award honors individuals who have made major contributions to the excellence, vitality, and public appreciation of the folk and traditional arts through teaching, advocacy, organizing, maintaining important repertoires, or increasing opportunities for and public visibility of traditional arts and artists. As the founder of Arhoolie Records, one of the foremost labels for American roots music, from blues to Cajun to Mexican folk and more, Strachwitz certainly lived up to the spirit of the Bess Lomax Hawes award.
Strachwitz's family moved to the United States from Germany after World War II, and he served in the U.S. Army from 1954-56, eventually settling in California. All this time, he pursued his interest in music. "I've always loved radio," he said. "In Germany, I listened to American and British Armed Forces Radio, and in California, XERB played hillbilly music all day long…." He met with noted musicologist Sam Charters and started a correspondence with British blues aficionado Paul Oliver.
In 1959, Charters sent Strachwitz a postcard saying that legendary bluesman Lightnin' Hopkins was living in Houston, Texas. Strachwitz went down to meet him and ended up meeting the blues singer Mance Lipscomb as well. He decided to record Lipscomb and to start his own record label called Arhoolie (named after a kind of field holler or work song).
As folklorist Jim Griffith (himself a Bess Lomax Hawes awardee) noted, "He met Mance Lipscomb, the great Texas songster and guitar picker, and produced an LP record of him. This was the beginning of Arhoolie Records…. Over the years, Chris has sought out and recorded a truly huge number of traditional musicians and singers, mostly from the United States, and issued their work on his Arhoolie label. Some, like Clifton Chenier, Lydia Mendoza, and Marc Savoy, were widely known within their own cultural communities. He brought these artists to a wider audience and helped their careers move a step further."
He was equally committed to reissuing vintage folk recordings from the early 20th century, including Mexican American border music; the earliest recordings of Mexican mariachi music; historic Greek, Polish, and Ukrainian music; and Cajun classics.
In addition to his recording activities, Strachwitz produced concerts, including the first Berkeley Blues Festival in 1966, that brought important folk musicians such as Lightnin' Hopkins and Fred McDowell to large audiences. He also produced music documentaries and wrote a book on the pioneering borderlands singer Lydia Mendoza.
In 1995, he founded the nonprofit Arhoolie Foundation—which documents, preserves, and raises awareness about roots music—and in 2016, Arhoolie Records was acquired by Smithsonian Folkways, all to ensure that the music he collected would be available for future generations.
"Over his 91 years, Chris captured the music that represents the best 'down home music' the world has to offer. He was at the forefront of nearly all the roots revivals over the last 60 years including blues, zydeco, Cajun, Norteño and Tejano music," the Arhoolie Foundation noted in a statement on Strachwitz's passing.
Contact
NEA Public Affairs, publicaffairs@arts.gov