Who Will Be the 2019 Poetry Out Loud National Champion?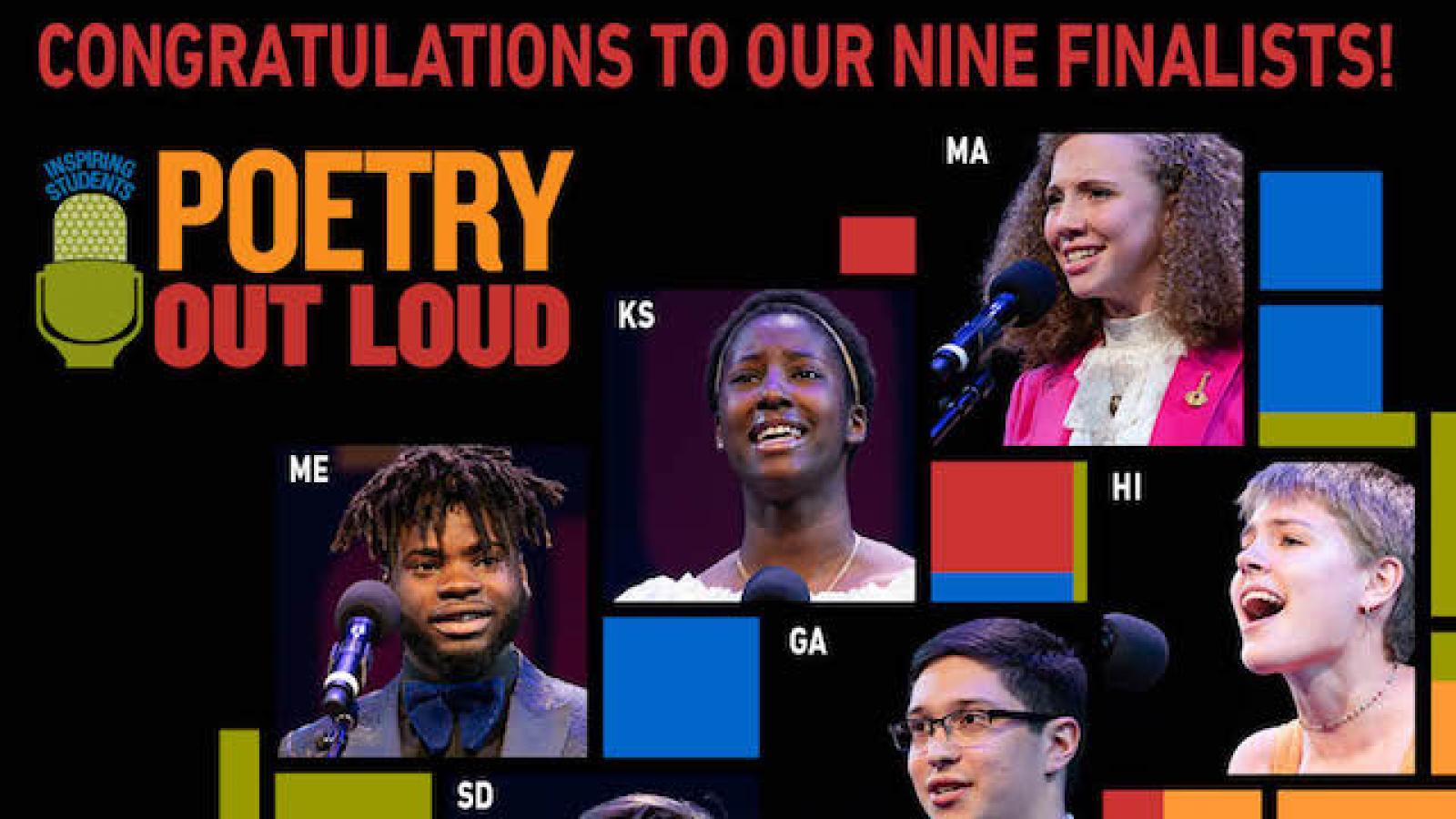 Nine student finalists representing high schools from Georgia, Hawaii, Illinois, Kansas, Maine, Massachusetts, Minnesota, South Dakota, and Vermont will battle it out tonight to see who will claim the title of 2019 Poetry Out Loud National Champion and a $20,000 award! Watch the competition tonight at 7:00 pm ET online at arts.gov or in person in Washington, DC at George Washington University's Lisner Auditorium.

The 2019 Poetry Out Loud national finalists are:

Georgia State Champion Alejandro J. Campo (Flowery Branch High School)

Hawaii State Champion Maggie Odom (Le Jardin Academy)

Illinois State Champion Scottlynn Ernestine Ballard (Edwardsville High School)

Kansas State Champion Khadija Ceesay (Olathe South High School)

Maine State Champion João Rodrigues Victor (Lewiston High School)

Massachusetts State Champion Rose E. Hansen (Norwell High School)

Minnesota State Champion Isabella Callery (Arcadia Charter School)

South Dakota State Champion Gage Gramlick (Lincoln High School)

Vermont State Champion Vera Escaja-Heiss (South Burlington High School)

The 2019 Poetry Out Loud National Finals are hosted by poet, author, and 2018 National Book Award recipient Elizabeth Acevedo.

Guest judges include poets Jericho Brown, Teri Ellen Cross Davis, Mary Rand Hess, and Hieu Minh Nguyen, and theater director Randy Reinholz.

The featured performance is by Kansas City-based mother/son duo Madisen Ward and the Mama Bear.

Poetry Out Loud is a partnership between the National Endowment for the Arts and the Poetry Foundation and is administered together with the state arts agencies in the 50 states plus the District of Columbia, Puerto Rico, and the U.S. Virgin Islands.The Poetry Foundation provides and administers all aspects of the monetary prizes awarded and travel arrangements for Poetry Out Loud.