ARP Grant Spotlight: Girls Write Nashville (Nashville, TN)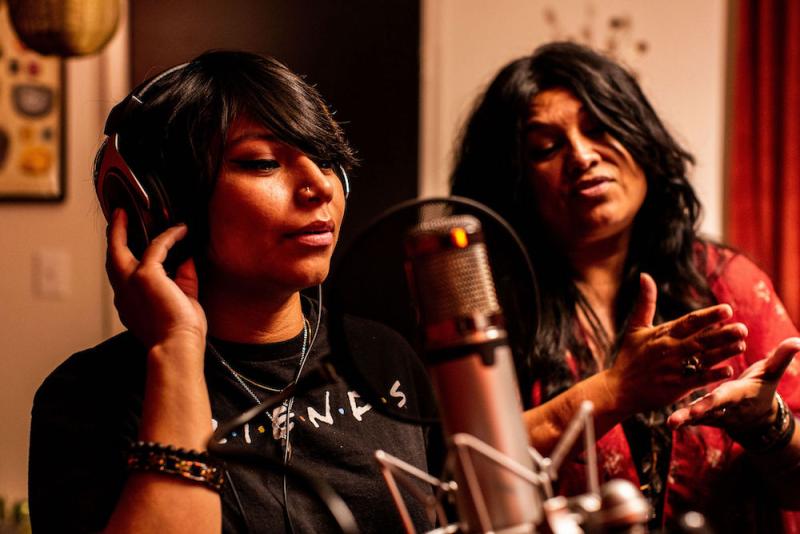 Nashville's youngest songwriters have carved out their own space in the music scene thanks to Girls Write Nashville, a program led by co-founder and executive director Jen Starsinic, that pairs girls aged 7-17 with professional female musician mentors.
At its root, Girls Write Nashville is a free songwriting mentorship program for young, female-identifying and nonbinary artists who attend Metro Nashville Title I public schools and face systemic barriers to participation. Starsinic first dreamed up Girls Write Nashville when she noticed a confidence gap among her female students once they reached adolescence. Starsinic then used her 15 years of teaching experience to develop a curriculum that aims to bridge the gap.
Students meet weekly over the course of several months in a writers guild to learn the basics of songwriting, discover their own creative processes, and express themselves. At the end of session, which runs the length of a school year, students have the opportunity to work with local artists to record their own song.
"I think a lot of songwriters will tell you about the power of virtual storytelling and how therapeutic it is. Not everyone is Beyoncé or Brahms, but most everyone enjoys music and can hum a tune or has a favorite song. If there's an interest to learn how to create it and an impulse to learn how to create it, there's no reason why you shouldn't be able to learn to," said Starsinic.
Starsinic notes that at the beginning of the program, the girls have to be coaxed into sharing their compositions, but it doesn't take long for students to readily share lyrics that initially scared them. In the past year, students recorded quarantine albums with original songs about their feelings, from songs about racial injustice in America to a screamo song about the pandemic.
Instead of asking how to get youth excited about arts and music education, Starsinic asks what young people need that they can get from or engage with in the arts. That mindset was made more difficult during the COVID-19 pandemic, but Girls Write Nashville pivoted to online programming, recognizing that a brave space to create was exactly what their students needed during the challenging time.
One element that helped the organization pull through the pandemic was an American Rescue Plan Grant from the NEA. Girls Write Nashville used the $100,000 grant to bring on their first full-time staff member, an investment that allowed the organization to find stability during a time of uncertainty.
"During the pandemic, it was a really difficult time for a lot of these kids—teachers told us some of their students weren't attending virtual school, but they were still showing up to Girls Write Nashville," said Starsinic. "Sometimes we don't pay attention to this whole idea of 'this is what a teenager is feeling in this really historical, consequential, crazy moment,' but I was really proud of the way we still found community together, virtually."
Girls Write Nashville also facilitates community by building trust and prioritizing participation over being the best. Some students are excited about learning an instrument, while others are more focused on singing and writing. Starsinic tries to make options available for each student without pressuring them that there is only one way to pursue music. 
For Starsinic, however; it is so much more than teaching students how to write songs. "By focusing on community-building, authenticity and the vulnerability of creative risk-taking, Girls Write Nashville participants not only receive a world-class music and songwriting education, but they also find their voice, building confidence, leadership, self-advocacy and social-emotional skills needed to truly thrive as human beings in any arena," she said.
Starsinic recognizes that the music industry is not always the friendliest to young, female musicians. From the #MeToo era to a global pandemic, Girls Write Nashville has worked hard to support their student writers in all situations, and thanks to virtual programming, their reach has expanded as well. During COVID-19, Girls Write Nashville hosted a virtual writers guild that included students from as far as Pennsylvania and Minnesota.
"I think people who didn't grow up with an iPhone would tend to look at today's generation of young people and think, 'Oh, they're so connected they must not every feel lonely,'" Starsinic said. But she thinks it's the opposite. "I think teenage girls are almost in their own mental health pandemic. There's a lot of ways in which we are like more connected, but there's a lot of ways, especially students, aren't very connected at all," she said.
While some students in Girls Write Nashville have found success in music, that's not the goal of the program. "The outcomes of Girls Write Nashville have surpassed our dreams, but at the end of the day it makes me happiest when I know our students have the confidence they need to pursue their lives while using creative outlets to express themselves more fully," Starsinic said.