ARP Grant Spotlight: Latino Arts (Milwaukee, WI)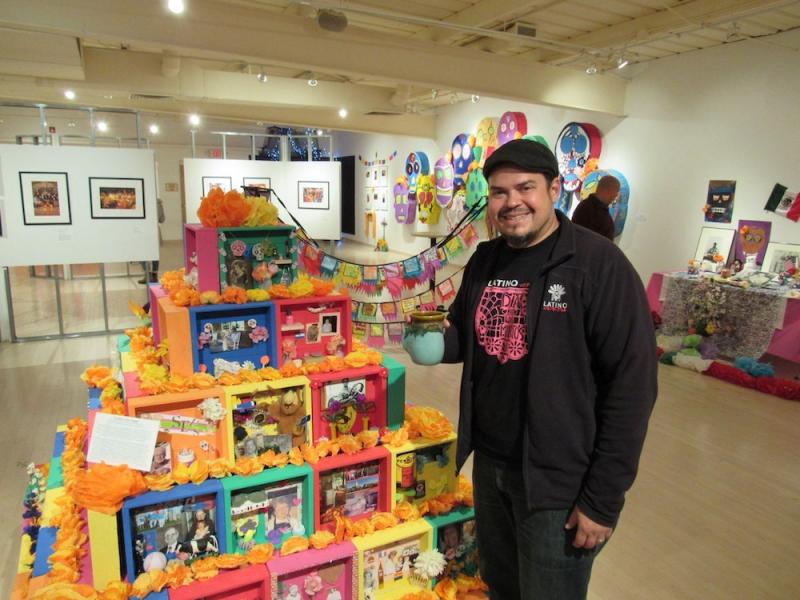 The Mexican Revolution, from 1910-1920, propelled over one million Mexicans to cross the U.S.-Mexico border fleeing violence. Their immigration coincided with the need for industrial workers in the urban Midwest, and many immigrants made Milwaukee their home. Today, Milwaukee's Hispanic and Latinx community makes up more than 19 percent of the population and contributes to a vibrant cultural landscape that includes historic restaurants, Instagram worthy murals, and annual festivals such as Mexican Fiesta, Puerto Rican Family Festival, and the Cuban Day Street Festival, some of the largest of their kind.
One of the organizations helping honor and raise awareness about the role of Hispanic and Latino artists in Wisconsin is Latino Arts, the only fine arts institution in the state dedicated to exclusively showcasing the works of Hispanic and Latinx artists. In January the organization received an American Rescue Plan grant from the NEA.
"We like to think about using cultural programming as a cultural bridge-builder to invite non-Hispanic folks to get to know our community through what we think is the best possible way, which is the arts," said Latino Arts Managing Artistic Director Jacobo Lovo.
Latino Arts has promoted Hispanic culture and creativity as part of the Milwaukee community for more than three decades. The gallery hosts five to six art exhibits a year, as well as dance and music performances, events, and classes.
Like many arts organizations, the pandemic greatly impacted Latino Arts' ability to serve their community. However, creative virtual programming and community partnerships helped keep the group operational. One development from the pandemic was the introduction of virtual lotería games. Lotería is a traditional Mexican board game, similar to Bingo, that Lovo facilitated virtually with groups across the country and around the world.
"When we host a virtual lotería session, I start with talking about Hispanic cultural heritage and where lotería comes from —it has very modest beginnings from centuries ago. And now we are playing lotería via digital platforms- something that our ancestors wouldn't even be able to conceive. It's amazing that this game is still giving us connection," said Lovo.
In addition to helping build community connection, the American Rescue Plan Act funding has made it possible for Latino Arts to retain staff and continue its normal programming. For example, this year, the arts organization celebrates 20 years of its award-winning Latino Arts Strings Program, a pre-college music program that serves 200 Latino students aged 5-18 in the Milwaukee area. The program provides them with instruments, music materials, individual lessons, small group, and mariachi ensemble lessons every week.
Lovo says that because the program has been ongoing for so long, some students who have graduated have returned to give back to younger students.
"Years ago, I sat in as an audience member for one of the students practicing for a solo competition. This young lady did a phenomenal solo, and I was just in awe of her little hands moving, and the sound that came out. Now, she's one of our mentors, and she's working to finish her college degree. And hopefully in the future, she'll be a full-time staff," said Lovo.
"We have been so excited to invite visitors back to our space. People want to get out, and they want go see something important and meaningful," said Lovo, "One of our mantras is that 'the more we get to know about another's cultural heritage, the more we realize we have something in common as human beings.'"
Latino Arts is also looking toward its annual Dia de los Muertos celebration and installing ofrendas (offerings) in its gallery space. Artists and individuals from the local community make altars and place ofrendas of food such as pan de muertos baked in shapes of skulls, candles, incense, yellow marigolds, and photos of the departed on top to celebrate the lives of those no longer living.
Reflecting on the 2021 celebration, Lovo says honoring and celebrating the lives of those lost to COVID was especially moving because the Hispanic community faced a lot of loss during the pandemic.
"This is a working-class community, and people weren't able to stay home or get access to personal protective equipment," said Lovo, "For us to be able to hold this space for the community to come and celebrate loved ones in a historic and important celebration reminded us why we're here, and why we do what we do, and why it is so important."