A Conversation with Sculptor Nilda Comas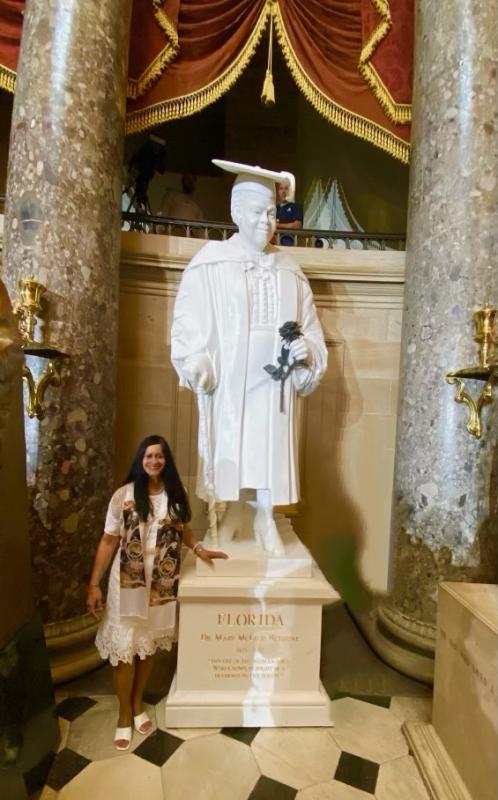 Growing up in San Juan, Puerto Rico, Nilda Comas knew from an early age that she was destined to be an artist. Encouraged by her father, who had a master's degree in fine arts, Comas would travel daily—with her French easel in hand— to a museum near her grandparents' home to study and copy oil paintings. One particular day, she copied a painting by Diego Velázquez and a passer-by asked if Comas' paintings were for sale. As Comas remembered, "She offered me $500 and that is when I told myself, 'I want to be a professional artist when I grow up.'"
Comas went on to earn a BFA from the University of Houston and an MFA from the New York Academy of Art. Dividing her time between studios in Fort Lauderdale, Florida, and Pietrasanta, Italy, Comas sculpts, paints, and teaches workshops. Her work has been exhibited nationally and in the United Kingdom and Italy, and she has received numerous grants and awards. In 2021, Fort Lauderdale, Florida, declared December 2nd as Nilda Comas Day. Among her many accolades, perhaps the most notable is her recent commission as the first artist of Puerto Rican descent to create a statue for the National Statuary Hall in Washington, DC, which includes two sculptures from each state commemorating notable citizens. The 11-foot sculpture commemorates Dr. Mary McLeod Bethune, a world-renowned educator, trailblazer, and activist.
We spoke with Comas about her sculpting process, the creative elements and inspiration that informed her approach to the Dr. Bethune sculpture, and what she hopes people take away from her work.
NEA: Can you describe the process of being commissioned to sculpt a likeness of Dr. Mary McLeod Bethune? When you applied, did you know that Florida's new statue would be of this notable woman?
NILDA COMAS: The governor of Florida decided that the sculpture representing Florida in the U.S. capitol would be changed. They made a call to artists and I was one of 1,600 who answered. The applicants were narrowed down to…ten finalists who had to make a presentation at the Florida State Capitol. I didn't know at the time who I was going to sculpt because the Florida Legislature had to decide who was going to be the "Great Floridian," as they call it. In 2018, the vote in the Florida House of Representatives for the statue of Dr. Bethune was 111-1—almost unanimous. And that captured my attention.
NEA: This is the first marble statue to enter the National Statuary Hall Collection since 2005. Why did you decide to work in marble?
COMAS: I had already envisioned that if I was going to do a sculpture for the U.S. Capitol, I would do it in marble, because, since the Greeks, that's the highest honor that has been given to a person. The light [in the National Statuary Hall] was designed for sculptures in marble and they stand out. When you do a sculpture in marble, you need three legs for weight balance. So, I added the books, which are, in the spines, written with what she left as her last will and testament.
Marble is also the most precious material there is. I was very lucky to get the marble from Michelangelo's Cave in Italy because that piece of marble had not been quarried for 35 years.
NEA: Can you describe your working process?
COMAS: I start the classical way, which is making a small model. The small model is about a foot. When a sculpture is bigger, it's harder to change because you have the problem of weight and the metal armature. For the Dr. Bethune sculpture, I made the one-foot model in my studio in Fort Lauderdale, Florida. I took that with me to my studio in Italy. I have an assistant who helps me and we went from the one-foot model to a two-foot model to a four-foot model, and then the eight-foot model that has a three-foot base [total of eleven feet]. With each model, you can add more details to it.
I went to [Dr. Bethune's] hometown of Mayesville, South Carolina, and met her family. I saw the two-bedroom log cabin where she was born and where 19 people lived. It was so impressive that she came from this background and she is like three people in one—she lived three lifetimes. She was the educator, the civil rights leader, and a friend and kind person to everyone that met her. These visits helped me learn more about her personality and her insight. I needed to learn more about people who met her and were witnesses of her life; not just by looking at photographs.
Drawing from my research, I wanted people to notice that Dr. Bethune is leaning on the cane that former President Franklin Roosevelt left for her. After he passed away, his wife Eleanor Roosevelt gave Dr. Bethune his cane and she always had it with her. In fact, the night before she passed away, she placed it beside her bed.
NEA: According to the official description of the sculpture on the Architect of the Capitol website, the black rose featured in Dr. Bethune's left hand symbolizes "loving thy neighbor" across all borders, ethnicities, and religions. As a Puerto Rican woman sculpting a Black woman, how did you connect to Dr. Bethune?
COMAS: I visited the Bethune-Cookman University and noticed that on Dr. Bethune's desk, her handwritten note had a stamp of a black rose. And then I saw black roses that were dried out. I was told that when she went to Bern, Switzerland, they gave her a rose and she delivered a beautiful speech about the "international garden of races." I was impressed and immediately felt close to her. Dr. Bethune was very comfortable and proud being African American and said, "When they see me, they know that the Negro is present." And I am very proud of my heritage, too. We both are women and have experienced racism, so I can relate to how she felt.
NEA: How does it feel to be the first artist of Puerto Rican descent commissioned to sculpt a statue for the National Statuary Hall Collection?
COMAS: I want Latinx/Hispanic communities to be proud. The biggest thing is that I hope it encourages all people to do their best, study more, and live their passions. And whether they're a doctor or a plumber, they do the job with love and goodness.
NEA: What do you hope people take away from viewing your sculptures?
COMAS: I want them to walk away with the essence of the reason for the sculpture. Why was it done? And I want every child that goes to the National Statuary Hall to see what all of these great Americans have done. With Dr. Bethune, she worked so hard for education, so I want people who see her sculpture to realize the importance of education. When people look at her, I hope they see that things can be possible if you work in the right direction and hear the needs of others.