The Artful Life Questionnaire: Jen Rouse
What we know for sure: We all have a story, and engaging with the arts helps all of us to tell our own stories on our own terms. We also know that there are ways to engage with the arts other than in formal cultural venues, and that sometimes is more about the process of art making than it is about the end product. We also know that living an artful life, which is to say, living a life in which the arts and arts engagement are a priority means different things to different people based on their own interests, their communities, and many other factors, including equitable access. The Artful Life Questionnaire celebrates the diversity of ways we can make the arts a part of our lives, and, hopefully, inspires and encourages us to live our own unique versions of an artful life. In today's edition of the questionnaire, we're speaking with poet and playwright Jen Rouse, director of the Center for Teaching and Learning at Cornell College.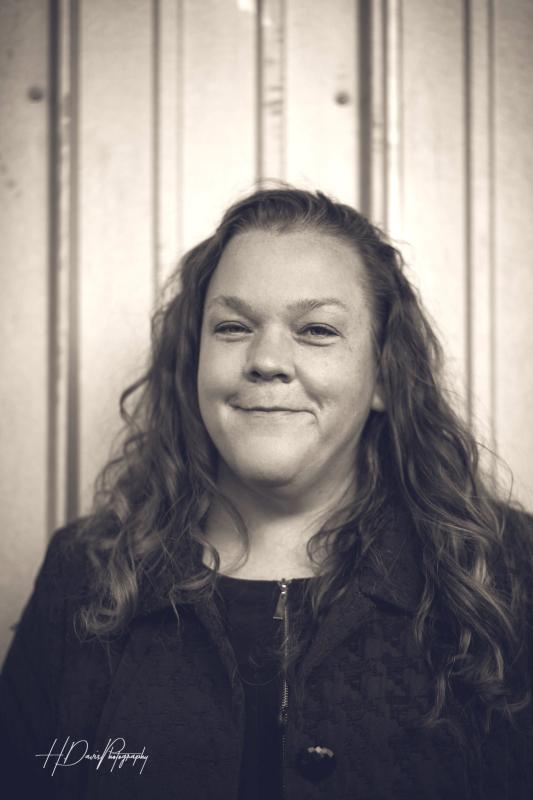 NEA: Please introduce yourself.
JEN ROUSE: Hello! I'm Jen Rouse, and I live in Coralville, Iowa, next door to Iowa City, and in the heart of Iowa's Creative Corridor. I am a poet and a playwright, as well as the director of the Center for Teaching and Learning at Cornell College, where I also work as a consulting librarian for the performing arts and humanities. I can't remember a time when I wasn't enamored with language, the emotion of color on a page, the way a guitar could tell an entire story. I grew up spending summers reading and painting at the lake with my grandmother—reading everything: gothic romances, horror, Anne of Green Gables, Tolkien. You name it, I consumed it. I also grew up with a father who is now in the Iowa Rock-n-Roll Hall of Fame, so, as one might imagine, musicians have always been present in my life. Under the guidance and care of committed high school teachers at Washington High School in Sioux Falls, South Dakota, I began reading and writing poetry—writing for our literary magazine and the school newspaper. I think this is truly when writing as community really took hold in my heart. And, most certainly, it was when poetry became my passion. Eventually, I met my partner in our MFA program at American University, and we moved back to Iowa. Now we have an almost 18-year-old daughter who plays guitar and sings with gusto and two wild and wonderful wheaten terriers.
NEA: Do you have a current art practice or a way of regularly engaging with the arts?
ROUSE: My current art practice is one of quiet observation. I am in a kind of meditative time in my life, where I'm listening for the voice of the next project. This means I'm keeping an open note space on my phone and a small unintimidating journal for collecting and gathering things that strike me. Kind of in a commonplace book style. For many years I've been very ambitious about writing, about making sure I had work out in the world as often as possible. Now I'm not so quick to jump to execute every idea. But, really, what I'm describing here is what many of us go through—the pace of breathing through art.
NEA: What are five words that come to mind when you think about living an artful life?
ROUSE: Curiosity, care, connection, collaboration, and commitment
NEA: Pick just one of those words and expand on how you see it as part of living an artful life.
ROUSE: I can't imagine living an artful life without a sense of curiosity. Curiosity leads to discovery and discovery allows for the creation of something new. And this process, no matter what I'm doing—writing, teaching, parenting—is so rooted in my being. The promise that lies in asking a question is really a poem in itself. Most of my writing takes hold around a question and the research that follows. That research might take me to a Frida Kahlo exhibit or the gallery of Lesley Dill, to a local theater or my daughter's choir performance. Other artists teach me more about art. It is also this focus on a question that shapes my work, keeps the work focused and centered and driven around the chosen subject. Thus, I tend to work in shorter forms, creating chapbooks and plays from poems.
NEA: What are some of the ways that your community tells its story through the arts or through creative expression?
ROUSE: What I love about living in Iowa's Creative Corridor and near a UNESCO City of Literature is that there is a real pride and commitment to bringing everyone to the arts. Though Iowa City is known for the Iowa's Writer's Workshop and has a constant hum of activity, there is no lack of access to community engagement in the arts in Iowa City and the surrounding areas. Our story is one of living art, an art that is all-encompassing, open, and constantly evolving. The Iowa City Poetry organization alone facilitates high school spoken word nights at the Englert Theatre, invites poets to participate in front porch readings all across town for Iowa City Poetry Alfresco, and maintains a poetry lending library in a new and thriving arts space, PS1 Close House, where artists go for a wide range of opportunities, especially those in printing and the book arts. These are spaces where we are all invited in—no matter ability level, age, experience, identity, or income.
There is a real sense of learning as a community here of which I am truly fond. I never expected to be a playwright, but because of the full force of and devotion to community theater in the corridor I was encouraged to take a risk and think outside of what I considered myself to be. I turned long poems into plays and submitted them to the Underground Play Festival at Theatre Cedar Rapids. Limitless opportunities abound in the area to incubate and showcase new work here. Those smaller plays became a larger piece which went on to be produced in a workshop format by SPT Theatre Co. and then again produced and performed at Emory and Henry College in Emory, Virginia. Through the process of creating just one play, I had the privilege of meeting and working with numerous artists and community members. What could be better than that?
NEA: How do you think that living an artful life can improve the well-being of your community?
ROUSE: Let me just tell you that I live in a land that loves festivals and fairs and food. Midwesterners kiss the last snow goodbye—hopefully by April—and they are ready to party. Street dances abound. Friday night music EVERYWHERE. Theater at the farmers market. Yes! So many Taste of Iowa events I don't think we could begin to keep track. Not to mention all of the ways we trot out our time-honored traditions—quilting shows, maple syrup festivals, butter cows, and backyard concerts. Mission Creek Festival rolls us into spring with a true diversity of entertainers, speakers, writers, and of course, a book fair. Local markets showcase our community crafts and delicacies. By the end of summer, IPR's Talk of Iowa host Charity Nebbe's play-by-play coverage of the Iowa State Fair is a tradition and a treasure not to be missed. Last year I even placed a few times in the jam and jellies category at the fair—something I never would've even considered except it looked so fun watching friends livestream their adventures doing this on Facebook. All of this to say, we are better because of each other, because we share our art everywhere.
NEA: Is there a particular place in your neighborhood that is a creative touchstone for you?
ROUSE: The Iowa River winds through Coralville and Iowa City, and I often find myself out near it—moon-gazing, pelican-watching (I love pelicans!), and when my daughter was younger we would go to the banks and build creations out of rocks, driftwood, and clam shells. One of the first poems I published locally was for the city's Poetry in Public project (poems chosen for display on kiosks, busses, benches, etc.)—it featured the river and my daughter. Even when we don't realize it directly, our sense of place is constantly with us, a kind of pulsing river in our veins.
NEA: What's your favorite informal way or space in which to engage with arts and culture?
ROUSE: I'm not sure if this counts as informal, but libraries! Iowa libraries are fantastic community partners. There is always an art exhibit in our gallery space at Cornell. It's formal in a sense, but it's also something to happen upon, to discover and enjoy just simply because you were wandering through that day. Our Coralville public library is constantly engaged in conversation with its community. Right now there is a drop-in Chat'n Chai opportunity for folks to stop by and talk with Community Resource Navigator, Samira Abdalla. Sharing information about art and culture often happens in our libraries—where one might happen upon a seed library, a knitting group, a poet laureate playing guitar. You just never know, and there's a beauty in that for sure.
NEA: You're known as a poet and as a playwright. Is there a form of creative expression that's really important to you that we don't know about?
ROUSE: I grew up believing I would be a visual artist because I couldn't imagine my life without drawing and painting, and after a lot of diversions in my path (in high school I had taken the only art course offered and in college they said I would never be an art teacher), I started writing. And I realized I could make those paintings in my head come alive through language. Not once, however, did I stop making visual art. It's healthy in my mind to move between or combine practices. When I am not getting to where I think I should be in a poem, I might go work on a painting. Even in some of my finished pieces, the visual finds its way in—projections of paintings in a play, the linocut print on the cover of a chapbook. Eventually, our creative impulses find their way forward.
NEA: If you hadn't become an artist, do you think the arts would still be a part of your life?
ROUSE: The most treasured moments of my life are the ones in which I watched my daughter create her world through play—and isn't play the most magnificent form of art? Learning to carve a pumpkin taught my daughter her first lessons in disappointment and patience. At 17 she taught herself every guitar chord progression and scale she could wrap her fingers around. There's no question that art teaches us, whether we are aware of its lessons or not. So even if I hadn't become an artist, I can't imagine teaching or parenting that doesn't include creating.
NEA: Can you share an arts experience or moment of arts engagement that has had an identifiable impact on your life?
ROUSE: Being the first featured speaker at the University of Iowa's Queeration festival was really important to me for a number of reasons. It was one of the first multimedia presentations I did in which I spoke openly about my identity. Entitled "Dark and Delightful: The Stories We Shape & What We Choose to Tell," I threaded poetry with personal narrative and visual art, sharing my identity as a lesbian poet who had found ways to thrive through mental health challenges. More important, however, was getting to share this opportunity with students. They performed their own writing and experiences, and then as a community we created a multi-canvas collage which they displayed at the Pride Alliance Center. There is such a powerful group dynamic when students come together and create art. Their creative energy knows no bounds. That's where it's at for me—raising up our youth to know their own worth through the arts.