The Artful Life Questionnaire: Melanie Cervantes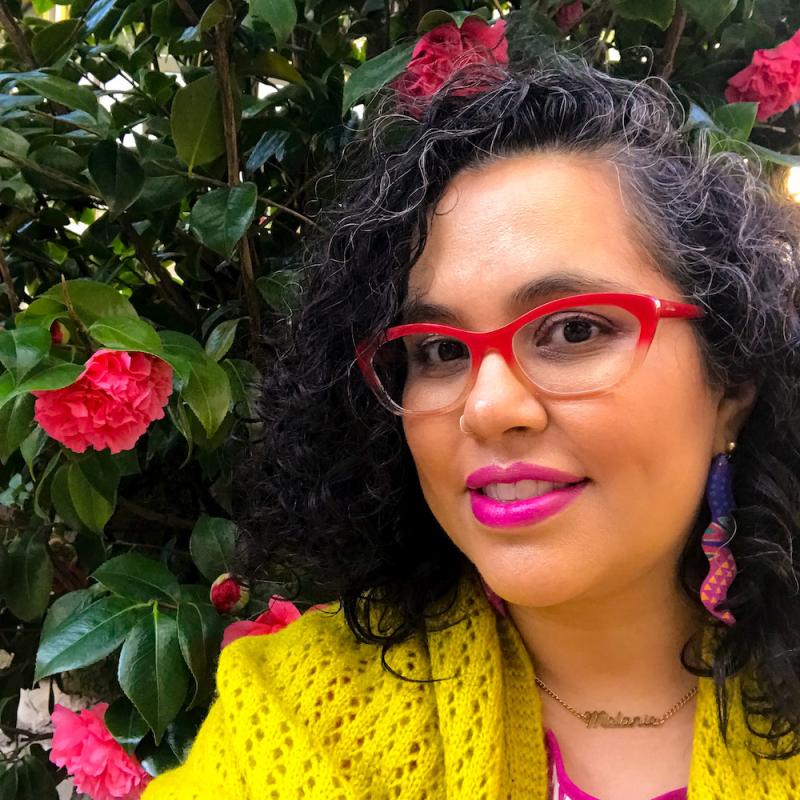 What we know for sure: We all have a story, and engaging with the arts helps all of us to tell our own stories on our own terms. We also know that there are ways to engage with the arts other than in formal cultural venues, and that sometimes it is more about the process of art making than it is about the end product. We also know that living an artful life, which is to say, living a life in which the arts and arts engagement are a priority means different things to different people based on their own interests, their communities, and many other factors, including equitable access. The Artful Life Questionnaire celebrates the diversity of ways we can make the arts a part of our lives, and, hopefully, inspires and encourages us to live our own unique versions of an artful life. In today's edition of the questionnaire, we're speaking with Melanie Cervantes, a multidisciplinary artist and co-founder of the creative collaborative space Dignidad Rebelde.
NEA: Please introduce yourself.
MELANIE CERVANTES: My name is Melanie Cervantes, I am a Xicanx cultural worker based in Halchis, the ancestral and unceded territory of the Jalquin Chochenyo Ohlone or as it is now known San Leandro, California. I am a first-generation daughter born away from what is now known as Guanajuato, Mexico My formative years were spent in Southern California. Growing up in a small town called Lawndale and leaving in the mid-Aughts to study at UC Berkeley, I have never been far from the California coast.
NEA: Do you have a current art practice or a way of regularly engaging with the arts?
CERVANTES: In 2007 I co-founded the creative collaborative space known as Dignidad Rebelde with my partner Jesus Barraza. We are grounded in Third World and indigenous movements that build people's power to transform the conditions of fragmentation, displacement, and loss of culture that result from histories of colonialism, patriarchy, genocide, and exploitation. Dignidad Rebelde's purpose is to illustrate stories of struggle, resistance, and triumph into artwork that can be put back into the hands of the communities who inspire it.
Though best known for my printmaking I utilize a robust multidisciplinary process that includes painting, textile work, photography, digital and graphic design, sculpture, mixed media installation, new media, and technology. I refine my skills and expand the forms I engage as necessary to best aid my efforts to unearth and visually chronicle stories buried under the weight of dominant narratives.
As a cultural worker I use a social practice approach that values the experience of collective sharing and making as much as the finished piece(s). I use an art-based community building approach and employ a pedagogy which shapes the taller [workshop] as a space for a horizontal knowledge exchange. In these workshops I demystify the art marking process by sharing skills, tools, and the means of production.
NEA: What are five words that come to mind when you think about the idea of living an artful life?
CERVANTES: Catharsis, community, empathy, spirit, and power
NEA: Pick just one of those words and expand on how you see it as part of living an artful life.
CERVANTES: As I emerged into my art practice, I found a powerful process to express not just my voice but that could serve to amplify a cacophony of voices from my communities. An artful life, to me, is a combination of the relationships and trust built in collective space and through the creative process we are able to form art works that reflect our vision for a better world.
NEA: What are some of the ways that your community tells its story through the arts or through creative expression?
CERVANTES: I've called the San Francisco Bay Area home for 20 years now. The Bay Area's cultural vibrance and richness feed me in ways that bring me alive every single day. From the phenomenal traditional muralism and street art to the historically prolific printmaking a la gig posters for concerts to social serigraphy there is something very special about how folks are able to creatively share their narratives.
NEA: How do you think that living an artful life can improve the well-being of your community?
CERVANTES: When moving together collectively we make space to share our stories, to be in dialogue and to be vulnerable with one another in order to make meaning of the wounds and trauma we have suffered as oppressed people. Together we open ourselves up to transfigure our collective pain and anger into power. Collective cultural expression acts as a salve and opens up a space for healing.
NEA: Is there a particular place in your neighborhood that is a creative touchstone for you?
CERVANTES: Taking walks in my neighborhood always provides unexpected inspiration because it allows for a spontaneous engagement with my neighbors, the built environment, and the natural world. For example, a visit with the tamale vendor whose street vending allows me to taste food that tastes like home and my mother's cooking reminds me of how much of our culture lives in our kitchens and is sustained over generations.
NEA: What's your favorite informal way or space to engage with arts and culture?
CERVANTES: Dancing! Though I consider it quite distanced from the core of my arts practice I've always loved the way my whole body can express histories, emotions, and act as a release for everything inside me.
NEA: You're known as a visual artist. Is there a form of creative expression that's really important to you that we don't know about?
CERVANTES: In college, sewing was the first medium that I used to create artwork. My maestra suggested started with something we were familiar with and sewing was passed down by the women in my family, as a practice, through several generations. I only made a few pieces for a college course, twenty years ago, but moved on to painting and printmaking. Over the last few months I have been thinking about bringing my sewing into my art practice again. Merging practices and coming full circle with the little girl who hand-sewed garments for my dolls.
NEA: If you hadn't become an artist, do you think the arts would still be a part of your life? In what ways?
CERVANTES: I came to my art practice at 25, and I was quite reticent about identifying as an artist. In my community everyone around me was creative and much of my experience with the arts was collective. After lots of encouragement from my maestra, Celia Herrera Rodriguez, I came to embrace my future as an artist and cultural worker. If I hadn't crossed paths with Celia I think I would have remained a great follower of the arts but not a participant.
NEA: Can you share an arts experience or moment of arts engagement that has had an identifiable impact on your life?
CERVANTES: When I was first taught about the traditions of Dia de los Muertos from elders in our community I came to understand the importance of collective artmaking, grief, and intergenerational healing. The elders mentored young adults, and the young adults planned the event and taught children while our extended families and community came to share in the day of remembering our ancestors. It was a turning point in my life because I was able to experience the power of a community engaging in cultural practices that were rooted in the histories of our people. It was the day I understood real power.