The Artful Life Questionnaire: Tamika Shingler
What we know for sure: We all have a story, and engaging with the arts helps all of us to tell our own stories on our own terms. We also know that there are ways to engage with the arts other than in formal cultural venues, and that sometimes is more about the process of art making than it is about the end product. We also know that living an artful life, which is to say, living a life in which the arts and arts engagement are a priority means different things to different people based on their own interests, their communities, and many other factors, including equitable access. The Artful Life Questionnaire celebrates the diversity of ways we can make the arts a part of our lives, and, hopefully, inspires and encourages us to live our own unique versions of an artful life. In today's edition of the questionnaire, we're speaking with Tamika Shingler, a museum and visual arts specialist at the National Endowment for the Arts.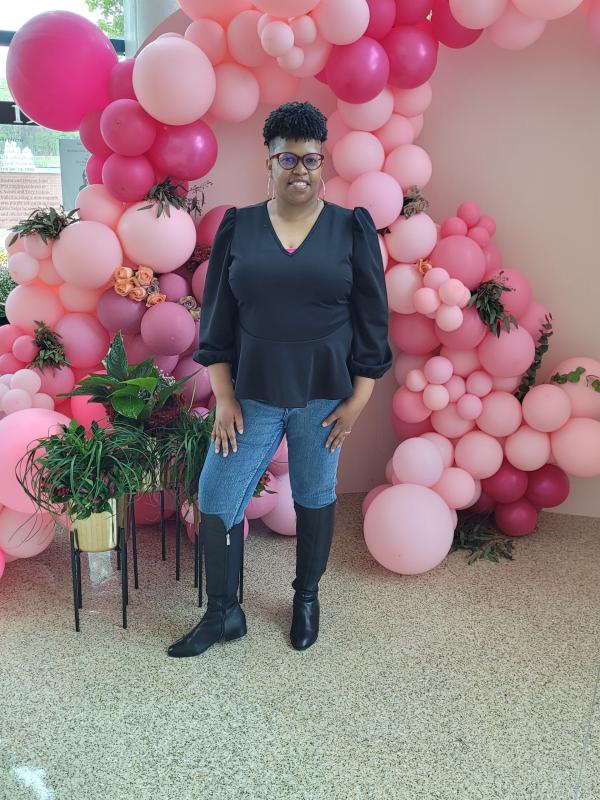 NEA: Please introduce yourself.
TAMIKA SHINGLER: Hello, I'm Tamika Shingler and serve as the museums and visual arts specialist at the Arts Endowment. I've been at the NEA for almost 17 years, but in various capacities within the agency including research and arts education. I am a proud resident of Prince George's County, Maryland, where I was born and raised. I am a wife and mother of a third grader.
When I was young I attended the New Macedonia Baptist Church where my foundation of choral music began with [my participation in] the Hallelujah Chorus. In addition, I attended Prince George's County public schools that helped catapult me into my love for the arts, especially vocal music. I went to Morgan State University and studied vocal music and education. While at Morgan, in addition to private study, I had the honor of being part of the Morgan State University Choir. The choir afforded me the opportunity to travel to various states including California, Georgia, New York, Tennessee, and more. In addition to nationwide travel, we also traveled to places such as Bermuda and the Czech Republic.
NEA: Do you have a current art practice or a way of regularly engaging with the arts?
SHINGLER: Returning to my roots once I graduated from Morgan State and American University, I became more active in the Music and Arts Department at my church, First Baptist Church of Glenarden. It was there that I joined the Youth and Youth Adult Praise Team and Combined Choir. I did that for about nine years. Most recently, through the connections made from talented musician friends, I have had the opportunity to perform choral music with the Carter Legacy Singers and the Jeremy Winston Chorale.
As a museums and visual arts specialist, I have a newfound love and passion for the visual arts and museum world. I have the opportunity to preview art that is taking place nationwide through applicants. So many organizations are leading arts education initiatives in visual arts and engaging underserved communities. The creativity of the artists in addition to the meaning behind the art is inspiring.  I visit various museums and galleries in the DMV (District of Columbia, Maryland, and Virginia) as well as when I am out of town.
In addition, I recognize the privilege that I have had in being on the stage for much of my life. It's not every day that you can tell someone you've performed at Carnegie Hall, Lincoln Center, and the Kennedy Center multiple times to the point where you know the backstage layout. When I'm not performing I really enjoy live theater productions and musicals. In particular, I enjoy supporting Black theater and arts programming and engagement in communities of color. 
NEA: What are five words that come to mind when you think about living an artful life?
SHINGLER: Joy, peace, respect, community, escape.
NEA: Pick just one of those words and expand on how you see it as part of living an artful life.
SHINGLER: Peace. As a performer, there is self-discipline and skill that is needed in order to execute well. Despite the blood, sweat, and tears that can take at times, it's getting up on stage and allowing myself to become the piece of music in order for the audience to feel the feels behind the words, expressions, inflections and all that comes with having the attention of a captive audience that you want to have an experience. At that moment, I'm in my element and not thinking of anything else but my connection to the music that I want to connect to the audience.
As an audience member, it's the ability to cast aside the weight of the world and enjoy those few hours of connection that create peace for me. A vocal performance, dance performance, theater performance, I want to feel the feels of what is being presented for those few hours, making a connection that I can walk away with and hold onto for a couple more hours or days and years to come.
NEA: Where do you currently live, and what are some of the ways that your community tells its story through the arts or through creative expression?
SHINGLER: Living in the DMV, there's no lack of opportunities to experience the arts or use art through creative expression. I am big on community. Since the pandemic, I haven't gotten back into the swing of going to the theater as often as I'd like, but I do find my way to community events that incorporate the arts. I have a dynamic music and creative arts department at my church that includes theatrical productions, a dance team, art ministry, banner ministry, and puppet ministry.
Most recently my family attended an event at my church, Artism. Young people with special needs engaged in an art session led by arts ministry leaders and participants. The Artism event was a showcase of their work. It was a beautiful event.
I am a big supporter of the low-cost opportunities provided by the M-NCPPC's Department of Parks and Recreation in Prince George's County. If I find that my daughter has an interest in a sport/activity, we register for a beginner-level course through PG Parks and Planning. She has taken classes in ballet, tap, and now swimming. I think these cost-effective opportunities are excellent as a foundation when children are young and exploring their interests.
For me, I'm attending a line-dance event in May. I am always on the dance floor at weddings when there's a song for line dancing, like the Cupid Shuffle. "To the left, to the left, to the left, to the left, now kick…!
NEA: How do you think that living an artful life can improve the well-being of your community?
SHINGLER: One of the most incredible things that I've seen in my life is being overseas singing to an audience where English was not their first language. The response of the audience was felt by each of my choirmates. That is what happens when communities come together through art. No matter the upbringing, economic status, educational status, or employment status, when everyone comes together to share and create, the response is one of support, love and unity.
NEA: What's your favorite informal way or space to engage with arts and culture?
SHINGLER: During the pandemic many folks found a way to celebrate loved ones and friends during special moments such as a birthday. After our first birthday drive-by and seeing people in the caravan with posters and banners, I knew I needed to step my game up. I decided to start making my signs. Painting helped me escape into my world of creativity. In no way would I call myself a visual artist, but I've always gotten lost in the moment when doing arts and crafts. The initial piece just keeps getting bigger and bigger as the ideas come to mind of what can make it "look pretty."
NEA: Can you share an arts experience or moment of arts engagement that has had an identifiable impact on your life?
SHINGLER: I have been singing since I was four or five years old. I remember being in a holiday performance in first grade. I had to sing "Frosty the Snowman" and I can remember one of the teachers nearby saying, "She can really sing." By the time I was in fifth grade, there was an opportunity to audition for Prince George's County Honors Chorus. First, you had to audition with the music teacher and if you made it, the teacher sent you on to audition with the Honors Chorus committee. I made it!!!! That was huge for me.
That experience was an opportunity to forge a path that was specifically for me. It's from there that I am able to be who I am today.