A Cultural Bridge Across a Desert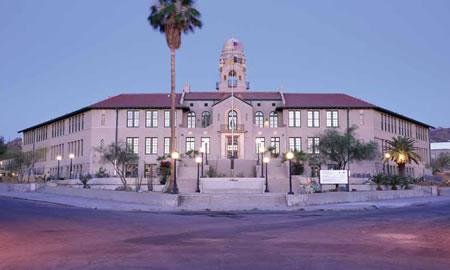 When the New Cornelia copper mine shut in 1985, the tiny town of Ajo, Arizona, became even tinier. Located 40 miles north of Mexico in the heart of the Sonoran Desert, Ajo's population registered a scant 2,919 people in the 1990 census, a drop of roughly 40 percent from a decade prior. Employment options were scarce, poverty was rampant, and the town plaza's beautiful Spanish revival architecture had largely fallen into disrepair. The Curley School, once a glittering jewel of public education, was headed for the wrecking ball. It was a sad case of boom to bust, but one that the International Sonoran Desert Alliance (ISDA) saw as ripe with possibility.
Formed in 1993, ISDA represents the Anglo-American, Mexican, and indigenous O'odham communities living in the Sonoran Desert. Born out of concerns that environmental preservation efforts disregarded the people they affected, the organization operates under the belief that economy, environment, and the arts are all interconnected and critical to community well-being. Ajo seemed like the ideal place to headquarter the organization's efforts.
"I suppose some people would look at [Ajo] and see a decaying town," said Tracy Taft, executive director of ISDA. "We saw tremendous opportunity to restore a beautiful cultural history."
The historic town plaza, a product of the City Beautiful movement, was constructed from 1917 through 1947. A remarkable architectural outpost amid a vast expanse of desert, the plaza captured ISDA's imagination, and ultimately provided the framework for Ajo's reinvention.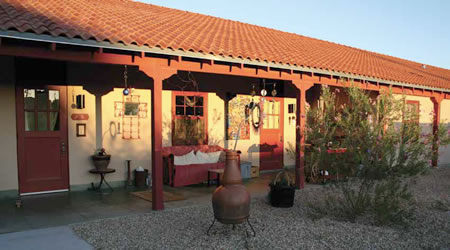 The grand experiment was to see if the organization could lead, in a rural area, the type of artist-led revitalizations that has occurred in so many urban centers. New York's SoHo neighborhood is perhaps the best-known example, where artists, attracted by cheap loft spaces, stimulated the neighborhood's gentrification in the 1980s and '90s.
"The arts offer so many opportunities to develop your own little businesses, especially with the Internet and Internet sales," Taft said. "It helps that because we're in the heart of this incredible Sonoran Desert, we also have nearly one million cars a year coming through town…. They're on their way to the seacoast in Mexico and they're on their way to Organ Pipe Cactus National Monument. We reasoned [that] if you could build arts opportunities here and then work on stopping the tourists that are already traveling through, all of that could fit together into a revitalized economy in town. That was the big idea."
ISDA ended up purchasing the Curley School, converting the main building into 30 affordable artist residences and live-work spaces. It was a major real estate undertaking that Taft acknowledges was much bigger than anyone had anticipated. "Had I known how hard it would be," she said, "we probably wouldn't have done it." ISDA staff had little experience with managing an architect. The builder had to pull out months before construction. Initially there were also problems with community support.
"This is a place where if you've only been here ten years, you just got here," said Taft. "It felt to some people like newcomers were coming in and taking over their building and their tradition. Some people were afraid that dope-smoking hippies were going to move into the school and paint it purple. That was one of the rumors." Community tensions eased after a public meeting was held and specific plans -- none of which involved purple paint -- were laid out. Eventually, the right architect was found, a new builder was hired, and the Curley School was born anew in 2007 as a haven of culture and creation. The restoration retained the school's original high ceilings and eight-foot windows, creating spacious, light-filled spaces for the artists who moved in.
"When we completed [the school], the whole town was now in support of this kind of work," said Taft, noting the dissolution of initial skepticism. "Their treasure, the place where everybody had all these memories, was saved and saved beautifully."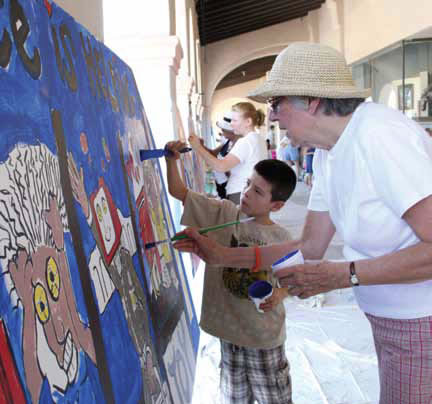 With this initial project completed, ISDA had the track record needed to move on to the remaining seven buildings of the Curley School campus. The cafeteria was converted into a gallery and community business and printing center. Another building was transformed into a clay studio and woodworking shop. Construction is currently underway on a commercial kitchen, which will be used by Ajo Cooks, an ISDA-sponsored program that encourages culinary micro-enterprise among Hispanic and Native-American women. As the final piece of the Curley campus, the former elementary school courtyard will eventually house a conference center and international artist-in-residency program, a project that Taft estimates will be completed in two years.
For those who live on the Curley campus, the complex is an artist's dream of quietude, creative community, and scenic inspiration. Mari Kaestle, a former puppet and doll designer, moved to the Curley School four years ago to forge a new path as a multimedia artist. "Here I am with a very affordable rent, built-in friends, a community which is diverse and welcoming and has a great deal to offer, and an art gallery with new shows every month," she said. "It's just fabulous." Although Curley apartments come with no formal obligations regarding community engagement, both Taft and Kaestle said that most of the artists volunteer within the community and have fully integrated into Ajo life.
Although the school is ISDA's centerpiece, it is only one part of the organization's programming. ISDA purchased the entire town plaza when it came on the market in 2008, and its buildings, like the school, are now on the National Historic Register. With 90,000 square feet of commercial space, the plaza offers enormous potential for new businesses and economic growth: a restaurant, café, and gift shop have already opened on its premises. Taft hopes that at least some of the space will house businesses spun off from the work of local artists, such as pottery shops or handcrafted jewelry stores. To this end, ISDA recently was awarded an NEA Our Town grant of $100,000 for the adaptive reuse of multiple buildings and outdoor spaces in the plaza.
Beyond real estate projects, there are festivals, after-school art initiatives, environmental preservation projects, and the Las Artes GED program, which develops art skills in conjunction with academic training. Prior to Las Artes, locals had to go to Phoenix or Tucson to enroll in a GED program; both cities are more than two hours away.
Though these projects are diverse, the common thread in nearly all of them is art. Taft considers the arts to be "the perfect driver" for creating economic activity and sparking enthusiasm within the community. "They inspire, they create energy, they open minds and they bring people together across cultures and generations so powerfully." Later, she elaborated, saying, "What we've been doing since about 2000 is intentionally using the arts as a cultural bridge. We see the arts as having an incredible disarming power…. Defenses go away, people connect, people bond."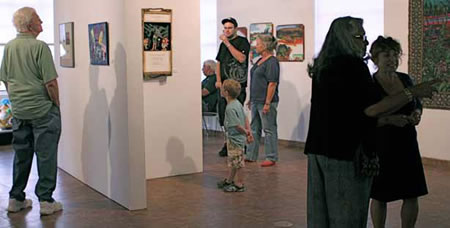 Because ISDA operates in Arizona, Mexico's northern Sonora state, and the Tohono O'odham reservation, the need to bridge cultures is more than just lip service. "Our board of directors is comprised of those three cultures and nations and has been from the very beginning," said Taft. "If you zero in, Ajo itself was originally three separate, segregated towns: Indian Village, Mexican Town, and the Ajo-Anglo town site."
ISDA has come up with a slew of creative ways to showcase these three nations. International Peace Day, the organization's largest festival, takes place every September 21st in Ajo's town plaza. Contingents from the Tohono O'odham Nation and Sonoyta, Mexico, join with locals as giant dove puppets are flown in a parade. Then there is the Organ Pipe Cactus Fruit Harvest Tour, led by a Hia C-ed O'odham elder within the national monument. A 50-foot mural depicting harvest traditions graces the Curley School offices, painted by Tohono O'odham artist Michael Chiago.
As the town begins its new lease on life, residents are hopeful that things are changing. "I think in ten years, Ajo will be the place to be instead of the place you drive through," said Kaestle, who has no plans to move from the Curley School anytime soon. "There's something about the quality of this place, the quality of Ajo, the incredible environment of the Sonoran Desert. I hate to use the word magical, but in a sense, I think there is almost a magic about the way so many positive things have come together here."