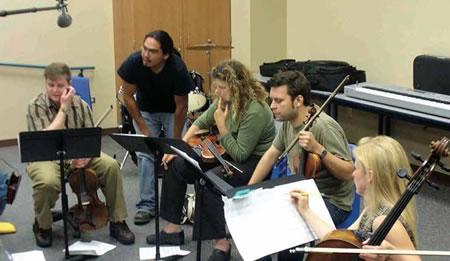 "When I was a teenager, I felt stuck on the reservation," says Michael Begay, a 28-year-old composer of Navajo heritage who grew up in Arizona. "It felt like I was ten years behind the whole world. I had no idea what to do with my life and I wanted to quit school. I could feel this whole void opening on top of me."
Begay's bleak perspective changed dramatically, though, when the librarian at his high school, Greyhills Academy in Tuba City, turned him on to a new opportunity -- the Native American Composer Apprentice Project (NACAP).
Started in 2000 as an outreach initiative from the Grand Canyon Music Festival, NACAP seeks to bring musical inspiration and education to rural Native communities, many of which don't have the resources to offer strong arts programs for their students.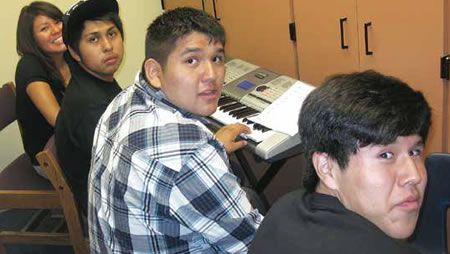 As part of NACAP, world-class string quartets like ETHEL and the Catalyst Quartet perform for schools on Navajo and Hopi reservations and serve as resident artists. Students from those same schools collaborate with resident NACAP composers, embarking on a rigorous three-week program that gives them the theoretical and practical tools with which to compose their own music. Selected students' works are then performed for the public as part of the annual Grand Canyon Music Festival season.
Begay participated in NACAP for multiple years, and has become the first alumnus to return as a composer-in-residence. However, his transformative experience with the program is far from unique. Native-American students across Arizona and Utah have benefitted immensely from the program's musical apprenticeships, not only gaining musical knowledge and creative confidence, but also giving new voice to their cultural heritage.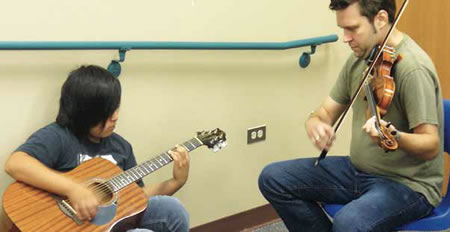 Russell Goodluck, 20, first discovered NACAP in 2006 as a freshman at Chinle High School in Arizona. ETHEL performed at a school assembly and the young man was, in his own words, "hooked. I had never composed music before seeing ETHEL. I didn't know anything about bass clef, viola clef, or how a string quartet worked. I was totally clueless. But after seeing ETHEL perform, I knew that I wanted to dedicate myself to being a musician."
Kevin Mitchell, also a former student at Chinle, recalls a similar experience. "When I saw them playing at the school, I wondered, 'Who are these guys? What are they doing here?' When I saw other students introduce themselves and tell us that they had written music for the quartet, it blew my mind. How did I not know about this?"
Clare Hoffman, artistic director for the Grand Canyon Music Festival, has been thrilled to see the enthusiasm and growth of NACAP students like Mitchell and Goodluck. "Reservation communities can be incredibly isolated, and the students that we work with have no frame of reference when it comes to writing music for a format like string quartet," she said. "What we've tried to do is solve this tremendous problem of access, to make music composition not this thing in an ivory tower that you can't do, but something that's accessible, achievable, and real."
Teaching high school students to compose music in a mere three weeks may sound like a daunting task, but in NACAP's 13 years of existence, both students and resident composers have continuously risen to the occasion. As the program's teachers guide their young apprentices through the basics of music, students' own creativity is allowed to flourish. "[The teachers] helped us edit our music and make sure that everything would be playable by world-class musicians, down to the last pitch and rhythm, but the ideas were ours," said Mitchell. "In one week we learned everything from treble clef and time signatures down to sharps and flats, dynamics, and articulations. That was a big lesson," he added laughing.
Although NACAP focuses on teaching the fundamentals of Western classical music, Native roots are never far from the program's work. Many students benefit by learning from fellow Native Americans, such as composers-in-residence like Begay, head composer Raven Chacon, and Brent Michael Davids, a co-founder of the program. The students' own heritage also plays a key role in the creative process. "The integration happens automatically and subconsciously," described Begay. "The students may not even realize it, but the rhythmic structures that they use can sound like a Round Dance. One student who came from a ranch had his horses' hoof-beats in his piece. Some students use tones or melodies from corn-grinding songs in their pieces.
"Some of these pieces come across like ancestral voices speaking, but without any conscious thought on the part of the composer. It's not like they're trying to make their music sound 'Native,'" he continued. "It just seems to come naturally."
Native-American instruments have also become part of NACAP's creative alchemy, at times melding with the traditional string quartet to create a different flavor of cross-cultural work. "Last year, I played as a guest artist with ETHEL on Native-American flute," said Goodluck. "We performed an improvised song here in Tempe, Arizona. That's also what I'm working on right now," he continued. "I'm trying to write music for my flute and possibly a string orchestra or symphony orchestra."
NACAP's success has earned the program national attention, including an Arizona Governor's Arts Award for Arts in Education, support from the National Endowment for the Arts, and a 2011 National Arts and Humanities Youth Program Award, presented by First Lady Michelle Obama. But on a local level, the program continues to give back to its participants, benefitting them long after their official apprenticeships draw to a close.
Begay, for example, credits his NACAP experience not just with teaching him about music, but also instilling him with a sense of discipline, both in his creative work and in his everyday life. In addition to his work with NACAP, he studies at Diné College and is vice president of his campus student body. Once he earns his degree, he plans to attend another Arizona university to further study music composition.
Similarly, Goodluck plans to pursue a master's degree or PhD in music education while concurrently learning about music composition and music therapy. He was also recently invited to participate in the Moab Music Festival in Utah as a guest artist and attributes his aspirations and successes to his experience with NACAP. "It's a really, really good program and I'm honored to be part of it," he said. "It brings such enlightenment to many Navajos and other reservation kids. I could see myself coming back as a composer-in-residence someday."
For Mitchell, one of the greatest benefits of his experience was a fundamental shift in self-perception. "It was amazing to know that I wrote a music piece for a world-class string quartet, and to see my music played by them was so inspirational, encouraging, and profound," said Mitchell. "It was mostly just profound to know that a random kid like me from a small reservation town could get an opportunity to experience something like that. It was the greatest opportunity I've ever had in my life."
Michael Gallant is a composer, musician, and writer living in New York City. He is the founder and CEO of Gallant Music.