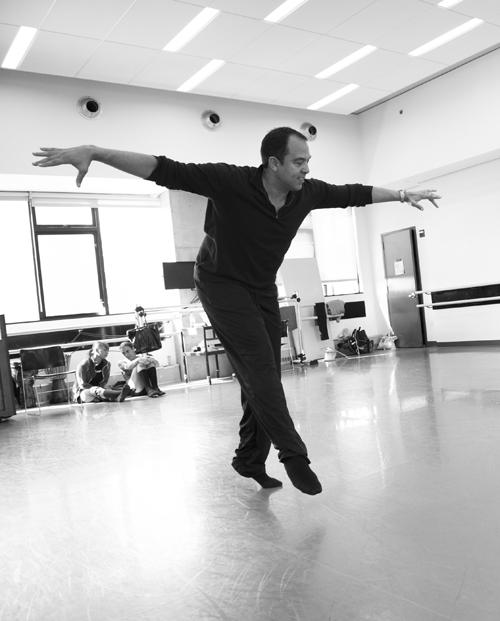 In 1970, dancer, choreographer, and future National Medal of the Arts honoree Tina Ramirez founded Ballet Hispanico. As current artistic director Eduardo Vilaro explained, Ramirez created the company "in order to give voice to the Hispanic artist at a time when Hispanics were typecast and struggling to find their place in the arts." More than 40 years later, even with a rising number of Latino arts leaders, Ballet Hispanico's mission remains critical. Through programs such as in-school residencies, a professional choreographic institute, community social dance events, and many others, the company nurtures and celebrates a diverse number of Latino dance traditions while fostering engagement with and understanding of those traditions with Latino and non-Latino audiences alike in New York City, as well as in 46 states, Puerto Rico, the Virgin Islands, Latin America, and Europe. We spoke with Vilaro by e-mail, and in his own words, here's his take on what community engagement looks like for Ballet Hispanico at home and across the country.
Ballet Hispanico and Its Community
Many of the communities in our New York residency programs are schools that are interested in the arts because they understand it is a necessity for their students' learning and development. Often there are few arts educators working in those schools, and no art classes that form part of the school's curriculum. We help bridge a gap for those communities.
The communities that we reach on tour vary, and most are in need of cultural expansion and exposure. As our society gets more global, arts organizations continue to be an important source of cross-cultural education, dialogue, and exposure. But even in small rural areas throughout our nation, there is still a huge need for quality arts education. Teaching the value of the empowerment that the arts can give our young people and how it can change lives is a value we bring to communities on tour.
We define community engagement as the aorta of our organization and a direct link to the mission of Ballet Hispanico. It pumps energy, possibilities, and new perspectives to our vision. It is the vehicle by which we connect to the vision of sharing and exploring Latino identity and artistic creativity. Culture is not static and our community engagement keeps us connected to the realities of our communities and steers us away from being inaccessible. Touring fits into our community engagement strategy by allowing us to intersect with multiple communities and learn.
In our planning, we value the needs and experiences of the community we are serving. It is imperative for us to build a platform where artist and community share responsibility for the art created and experienced. Sometimes it takes a while for the school or arts center to wake up from the sleepiness of the day or the daily routine; Ballet Hispanico needs to shake things up by inviting our community partner to see things differently and with a new sense of possibility by joining voices in the decision-making and experience-building process. In order for the experience to be transformative on the micro and macro level, the interaction must engage these qualities from all involved.
Creating a Safe Place to Experience Culture
The diversity of learners that exists in classrooms, including special-needs students, across the country challenges us to reconsider and reimagine how we reach learners and engage them long-term.... Ballet Hispanico presents the past and reimagines the future of the Latino story through dance. With the diverse engagement of choreographers from all over the world, the diversity of experience and stories we share provides the opportunity for people to engage with challenging or difficult topics in a new manner.
Our programs also function as an opportunity for community building; Ballet Hispanico's presence in a school brings people together, and school perception by families is different—and better—than before. Through exposure to professional teaching artists, Ballet Hispanico provides students with another example of "possibility" for their futures. For communities oppressed by social and economic circumstances, experiencing the company also provides a reprieve, a safe space to experience their culture, history, and celebration of their personal and cultural identity.
Our artists also gain a great deal from our community-focused activities. Ballet Hispanico artists have spent most of their lives honing their craft and performing. As teaching artists, they have the opportunity to share their knowledge of dance, choreography, creativity, and performance with students, which requires the cultivation of a different set of skills and outcomes.
Building Lasting Connections
Ballet Hispanico's education and outreach programming plays a significant role in the organization's reach. The organization engages increasingly with communities where we tour, through the establishment of permanent residencies, new partnerships, workshops for children to seniors, and mentoring initiatives.
When you go into a community and make them a part of your journey, inevitably you connect on a very human level. But the most surprising thing is the community's response. We have experienced the pride the community feels in their hearts as they connect and respond to a reflection of themselves. We have had incredible moments of sharing, in which the community demonstrates their arts and passion, not just artist to audience but person to person. And best of all, we have had a community adopt us, feed us, and become family.