A Community Built on Healing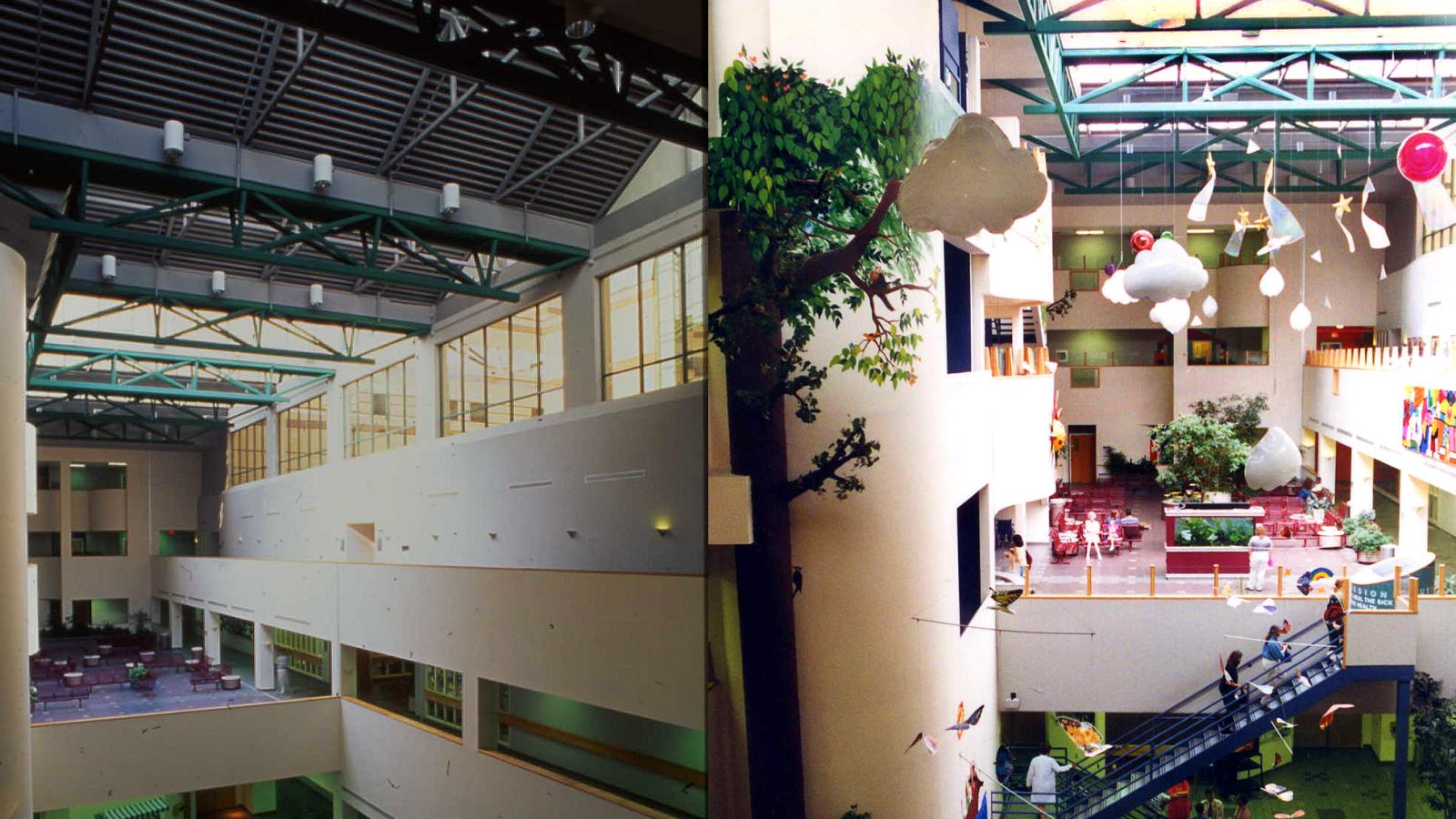 When St. Christopher's Hospital for Children moved from its historic home in Philadelphia to a former industrial site almost two miles away, the hospital faced two challenges: how to make a white, sterile environment appealing for children, and how to re-engage the community it had served for more than 100 years.
St. Christopher's eventually reached out to the local nonprofit organization COSACOSA art at large, Inc., a longtime NEA grantee. Founded in 1990, COSACOSA develops community-made public art projects designed to initiate positive social change. Working primarily with children from high-poverty neighborhoods, the organization guides participants as they plan and create multidisciplinary works, with the aim of bringing people together and promoting dialogue.
Although the organization had never operated within a hospital setting before, founder and Director Kimberly Niemela agreed to help St. Christopher's create artwork for a colorful, engaging wayfinding system—or directional landmarks—for the hospital's different floors. Wayfinding, while helpful in any scenario, can prove especially important for hospitals, where straightforward directions can alleviate anxiety by helping families literally navigate a stressful situation. The resulting project, made between 1995 and 1997, was called Journey, a play on the idea of journeying through this new facility. Neighborhood children worked with pediatric patients as they transformed different areas of the hospital into various types of voyages. Now as patients made their way through hallways—and their illness—they could take an African safari, a shuttle through space, or a journey around a Native-American medicine wheel. By the end of the project, St. Christopher's looked more like a playroom than a medical center, and the hospital was beginning to settle back into its familiar community role.
"Journey empowered the patients to take ownership of the facility, to be able to frame permanent pieces of themselves in the artwork," said Niemela, noting that it added an element of control for patients and families in uncontrollable circumstances. But this sense of ownership spread beyond those who filled the beds: by integrating children who weren't necessarily patients, the entire neighborhood left pieces of themselves throughout the institution. "It brought the community back into the hospital," said Niemela. In the process, the cheerful designs made a potentially terrifying hospital experience less frightening for future patients.
The project was ultimately so successful that COSACOSA established its Healing Art Project, which will celebrate its 20th anniversary in 2015. Working in healthcare facilities, schools, and community organizations, the program promotes physical and emotional healing for those suffering from illness, physical or developmental disabilities, and poverty. Art-making has been found to lower acute stress symptoms in hospitalized children, and can lower cortisol levels, a hormone that triggers stress, in children living in poverty. It can also help children express and process traumatic experiences, whether physical or emotional. Through the years, COSACOSA's program has planted healing gardens, created large-scale mosaics, murals, and sculptures, and given children too sick to leave their beds an opportunity to create a piece of art.
With every project, building and healing the community remains the central guiding force. Many times, said Niemela, children will find themselves working side-by-side with peers from different cultural backgrounds, or with different mental or physical abilities. For a few hours, "differences that in another place—on the street or in the waiting room—might seem very great disappear because you're working on this art project," said Niemela.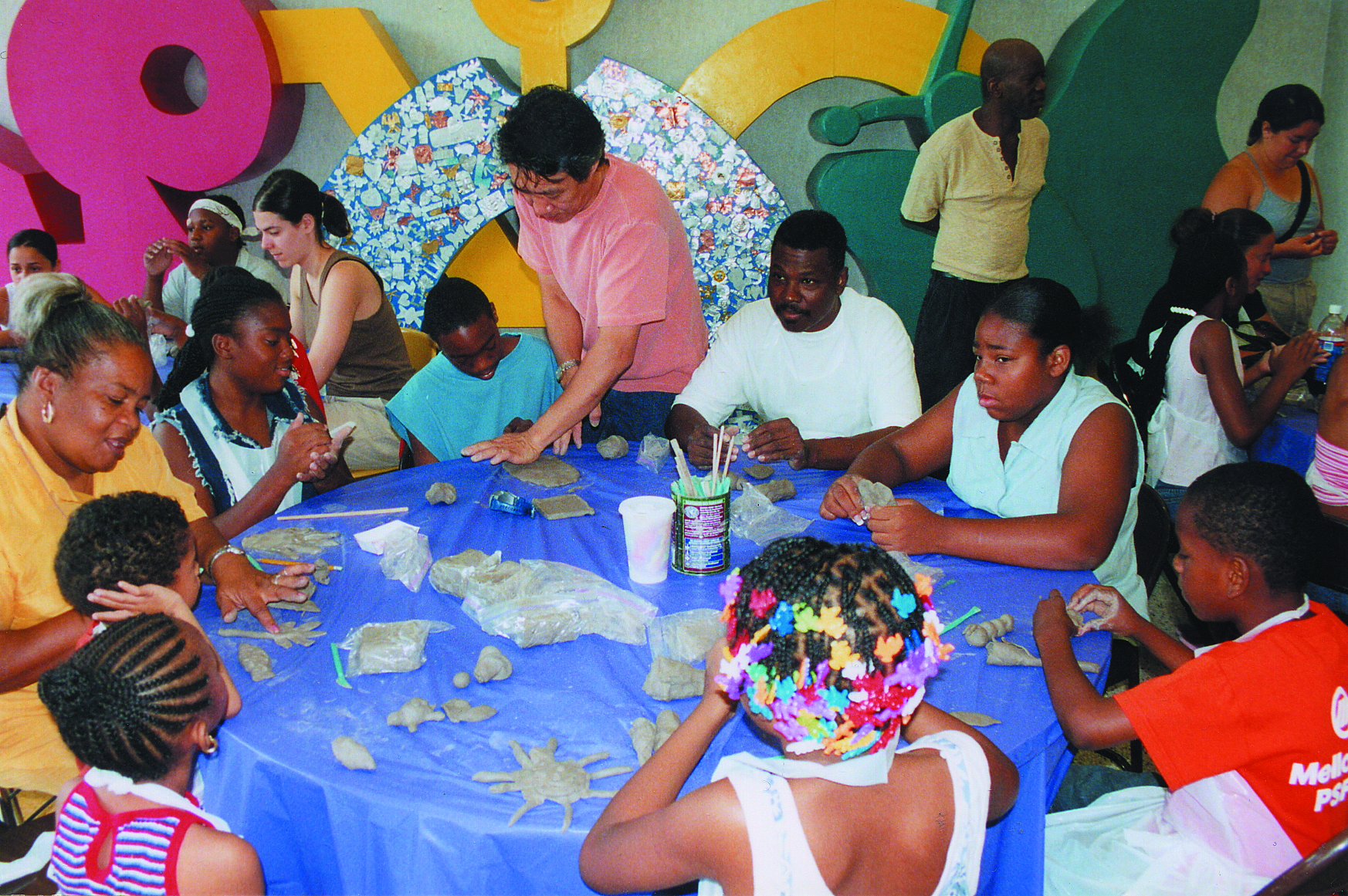 She remembers one project a few years ago where "a fellow who was newly paralyzed created collaborative art with a shy six-year-old who had just arrived in the country for treatment of brittle bone disease. The young child shaped and held clay pieces for an older youth to paint. The teen, learning that the child dreamed of becoming a scientist, shared the story of Stephen Hawking—illustrating that his dream was not an impossibility," said Niemela. "It's inspiring to see how people can come out of their shell and really gain that interpersonal and intercultural kind of competence."
For children facing challenges, this sense of belonging and camaraderie can be a rare and precious gift, especially at an age when peers are quick to point out when someone is too small, too frail, too ill, or too slow. Fully utilizing art's ability as social equalizer, COSACOSA projects are designed "so that everybody's individual little piece is necessary to complete the whole of the project," said Niemela. This process also ensures that every contribution, no matter how small, can fuel a sense of pride.
"That sense of empowerment, that sense that, 'I can do this, I thought this through, I designed this, I created it' is enormous," said Niemela. "And how they take that sense of can-do attitude back into other aspects of their life is really amazing."
COSACOSA projects can even help heal the smallest, but most essential units of community: families. This is particularly true in hospital settings. Working on a piece of art offers families a chance to come together and re-create the usual equilibrium between patients, anxious parents, and siblings who might feel overlooked in the face of a brother or sister's illness. "Working together to design and create a beautiful piece of artwork I think normalizes, as much as one can, family life at that moment," said Niemela.
Since the Healing Art Project began, COSACOSA has initiated a number of projects that have brought together its many partners—hospitals, schools, community centers—to work on a single piece. But Niemela remembers the first project that did so as a particularly special collaboration. The piece was created for the Philadelphia International Airport, where it would connect two adjoining terminals. Children across the city made over 1,200 small ceramic sculptures, which represented ideas, desires, or needs that they felt were shared by people globally, and in turn, connected them with one another. The final piece, called Connection, measured 80-feet-by-5-feet long, and portrayed these objects flowing from a pair of hands entwined to form the shape of a bird.
Betsy Leschinsky, a teacher and artist who worked on Connection, remembers how relieved children at St. Christopher's seemed to be when she'd come by, offering them an opportunity to break from their routine of bed rest, needles, testing, and television. Learning that their work would be on display at the airport also offered a glimmer of what lay ahead after discharge. "It lifted their spirits; it was such a hopeful moment for them," said Leschinsky. "Just having that carrot, that 'Once I get out of here, maybe I'll be able to see this.'"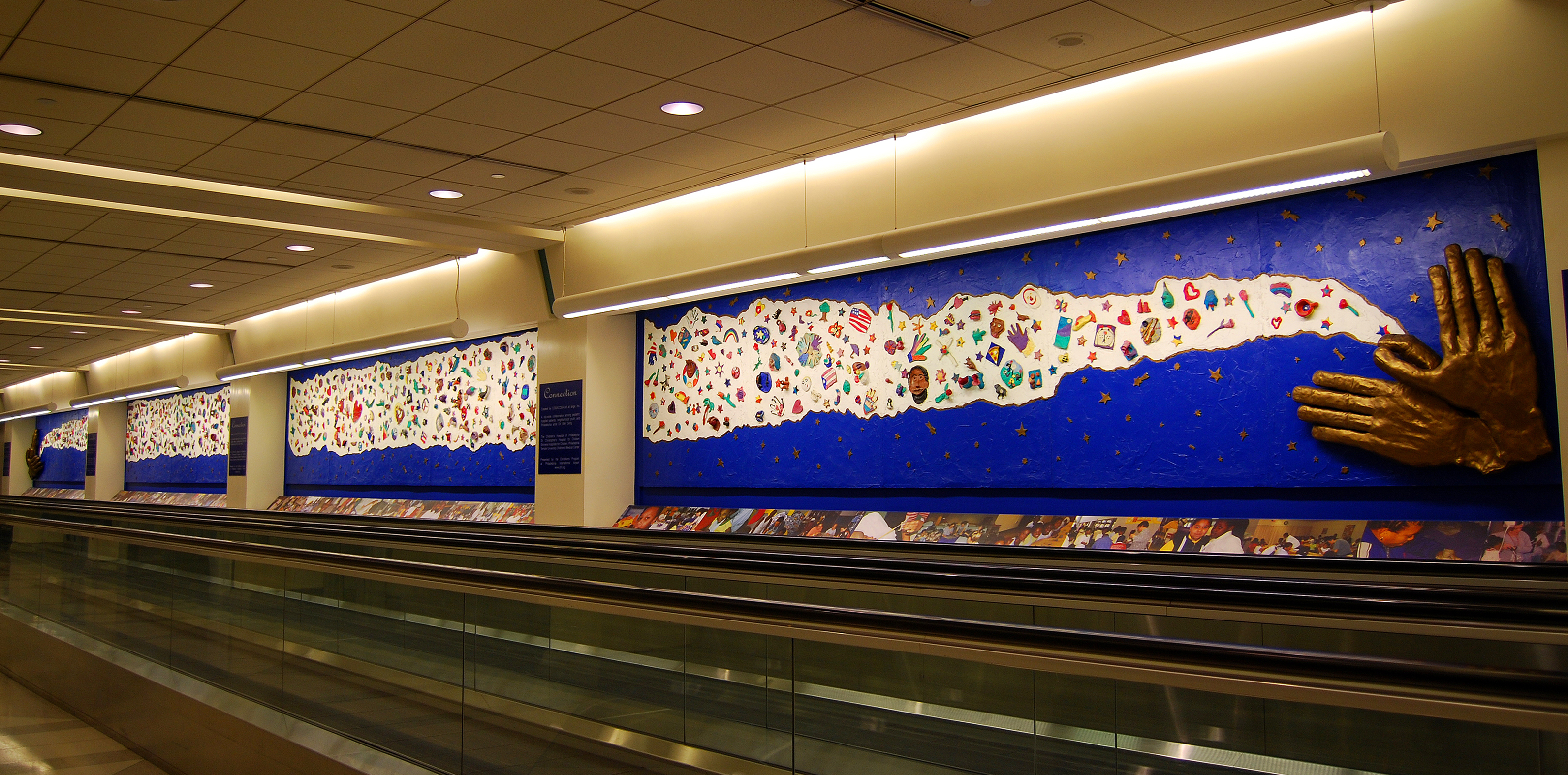 In time, the piece was seen by millions. Connection hung between the two terminals for 11 years as part of the airport's exhibition program. The hope was that travelers, whether arriving, departing, or sprinting to make a connection themselves, would pause for a moment to consider their own role within the community, and to remind them that regardless of which place or culture they had flown in from, that we are all still connected through a shared human experience. Relocated earlier this year, the piece is being refurbished with new sculptures, created by both children and seniors at two of COSACOSA's partner organizations in North Philadelphia.
"We like to think of ourselves as reclaiming the original role of the arts, which was to empower people and bring them together," said Niemela. "If the process is therapeutic that's great, but, ultimately, it's about building community wherever we find ourselves."
Photos courtesy of COSACOSA art at large, Inc.