Taking Care of the Artistic Soul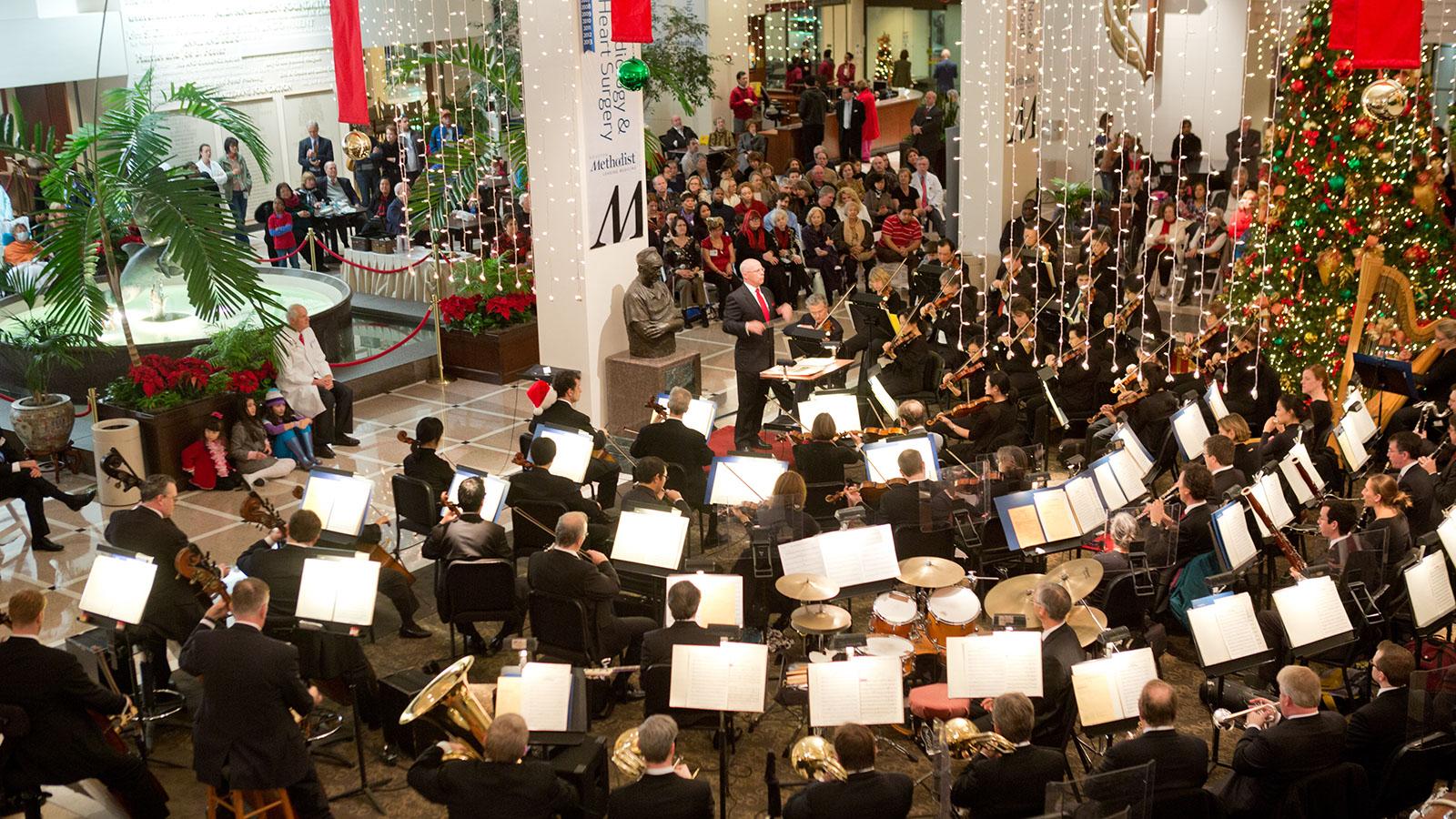 When composer and Director of the Center for Performing Arts Medicine at the Houston Methodist Hospital Jefferson Todd Frazier tells people that he works for a center for arts and medicine, he says he receives some odd looks. Arts and medicine are two things that most people would rarely combine, and yet the Center for Performing Arts Medicine, or CPAM, has been doing just that successfully for 25 years. It was founded by a doctor known for treating opera performers, Dr. C. Richard Stasney, after he received a phone call from a performer in need of specialized care.
"They assume if you're the opera doctor, then you can take care of the symphony or the ballet," said Stasney. "And so I got a call 25 years ago from the symphony that they had a concert pianist with a thrombosed hemorrhoid who couldn't sit down, and he was due onstage tomorrow night, and could I help him. And I said, well, I'm ENT [ears, nose, throat], I don't go to that part of the body, but I'll find someone who can. And that was kind of the genesis of figuring out that there are 2,200 doctors here at Houston Methodist Hospital, in every specialty you can imagine, and so why don't we just get the ones that are really interested in the arts, and let them take care of these folks?"
Since that initial phone call, CPAM now has 150 doctors to help artists in whatever area of the body is ailing—from internal medicine to physical therapy, artists from all over the world can find specialists to help them get back to performing shape. Although it is one of only a few such centers in the U.S., CPAM hopes to create a model that can be replicated across the country.
With the extraordinary number of artists working in Houston comes a lot of artist injuries, making CPAM's location ideal. It is one of the few United States cities with permanent, professional resident companies in all of the main areas of the performing arts. The city boasts the Houston Grand Opera, the Houston Ballet, the Houston Symphony Orchestra, and the Alley Theatre, as well as a number of universities and high schools with young performers in training. "The arts really are the soul of Houston," said Stasney. "Since I have zero talent, but I love the arts, I felt an obligation to help take care of the Houston soul."
Many people might wonder why artists need specialized medical care. Frazier explains that the concept is just the same as an athlete going to sports medicine.
"If a tennis player hurts their wrist, and they need to get back into performing shape, and they come to Methodist, they go to Sports Medicine, where they have a lot of experience with athletes. But if a violinist hurts their wrist, they've got to get back to playing, and if they come to Methodist, they go to Performing Arts Medicine. And when you really look at it medically, they are—performing artists and athletes—really all athletes, but the athletes in the performing arts do things that are very unique to that particular art form."
Artists from every discipline face a large number of injuries specific to their art. Ballerinas and ballet dancers, for example, can suffer an extraordinary amount of injuries throughout their career. Ballet creates such a grueling demand on the body that most ballerinas are retired by age 28. Aside from the obvious injuries like sprained ankles and torn muscles, ballerinas also suffer from injuries and problems due to the industry standards for weight. Many ballerinas go to extreme lengths to look the part, and suffer from bulimia, anorexia, and amenorrhea, or the absence of a menstrual period. Ballerinas who don't eat properly can experience greenstick fractures, which happen when a bone bends and cracks, instead of breaking into separate pieces. A serious injury has the potential to end a ballet dancer's career, so seeing specialized doctors who understand the urgency of the situation is a must for any dancer.
While it may be more obvious what kinds of injuries dancers can have, it is less apparent for singers and musicians. Singers can suffer from a wide variety of voice disorders, which are caused by the strain put on their vocal cords. Some common voice disorders are nodules, or calluses on the vocal fold, and polyps, or benign lesions of the larynx. They can cause a singer to sound raspy, hoarse, or breathy, and can be a huge problem that may require surgery to fix.
Musicians also experience a number of injuries or health problems from the hours spent practicing, playing, and performing. They suffer especially from repetitive motion injuries, tendinitis and carpal tunnel syndrome, and back problems from hours of sitting in performance or rehearsal. One of the worst things that can happen to a wind musician is called Satchmo Syndrome, named after jazz trumpeter Louis Armstrong. It is the tearing of the lip muscle, the embouchure, which helps wind musicians shape their lips to the mouthpiece of their instruments. When Armstrong's muscle tore, he couldn't play for two years. "Had he gone to a specialist—and we have one here—that really understands the embouchure," said Stasney, "they could have diagnosed where the muscle was ruptured, made a small incision, sewed it up, closed everything up, and he'd be playing again in six weeks."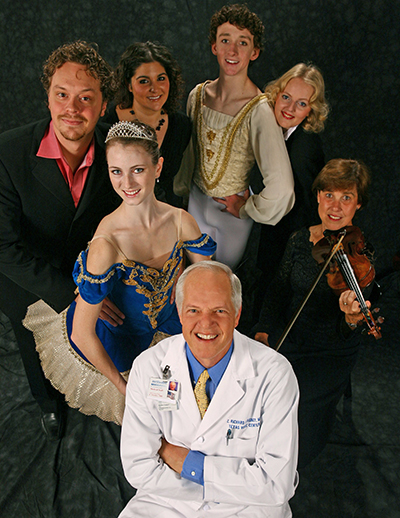 Of course, artists are also capable of receiving injuries outside of their profession. "We've had a couple people that were on bicycles, and they fall off their bike, or a car runs into them, and they break their wrist," said Stasney. For any other person, a broken wrist is not the end of the world, but for a pianist, it very well could be. Even the simplest of ailments, like a cold, have the power to ruin a singer's performance. Having a doctor who understands that a cold in a singer is not the same as a cold in anyone else can save performances, as well as careers. This is why CPAM is such an important organization, not only for artists but for everyone who enjoys the performing arts.
Artists often need more than just technical medical care, and CPAM is also thoroughly equipped with psychiatrists, psychologists, and spiritual counselors to handle any psychological or tension issues in artists. From performance anxiety to tension between artists and directors or conductors, there are a variety of reasons artists might need more holistic medical care. "About 15 years ago, my phone goes off," recalled Stasney, "and I have to go to the opera, because the soprano won't come out of her dressing room after the first act. So I go down there, and they said, 'She says she's having a lot of trouble with her voice.' But the real story is the mezzo is out-singing the soprano! So you have to help with psycho-social situations as well."
While treating artists with medicine, CPAM also treats patients throughout Houston Methodist with the arts. CPAM manages the hospital's arts therapy program, and recently hired a full-time music therapist whose work includes using the fundamentals of music, such as rhythm and melody, to help with speech therapy. Music therapy can also be instrumental in helping patients improve from movement disorders like Parkinson's and multiple sclerosis, as well as helping patients who have suffered a stroke regain a steady walking gait. Frazier calls this therapist's work "almost like magic," and CPAM is considering hiring another music therapist. They have also used retired ballerinas to teach the tango to patients with movement disorders, which is a fun and engaging way to improve their ability to move.
In the 25 years it has existed, CPAM has helped an incredible number of artists. According to Houston Methodist Public Relations Manager David Bricker, Stasney's office "looks a bit like an NYC deli—except instead of actors' framed portraits lining the walls, it's portraits of opera and chamber music singers." If the arts are the soul of Houston, as Stasney likes to say, then the Center for Performing Arts Medicine is keeping that soul alive and well.
Photos courtesy of Houston Methodist