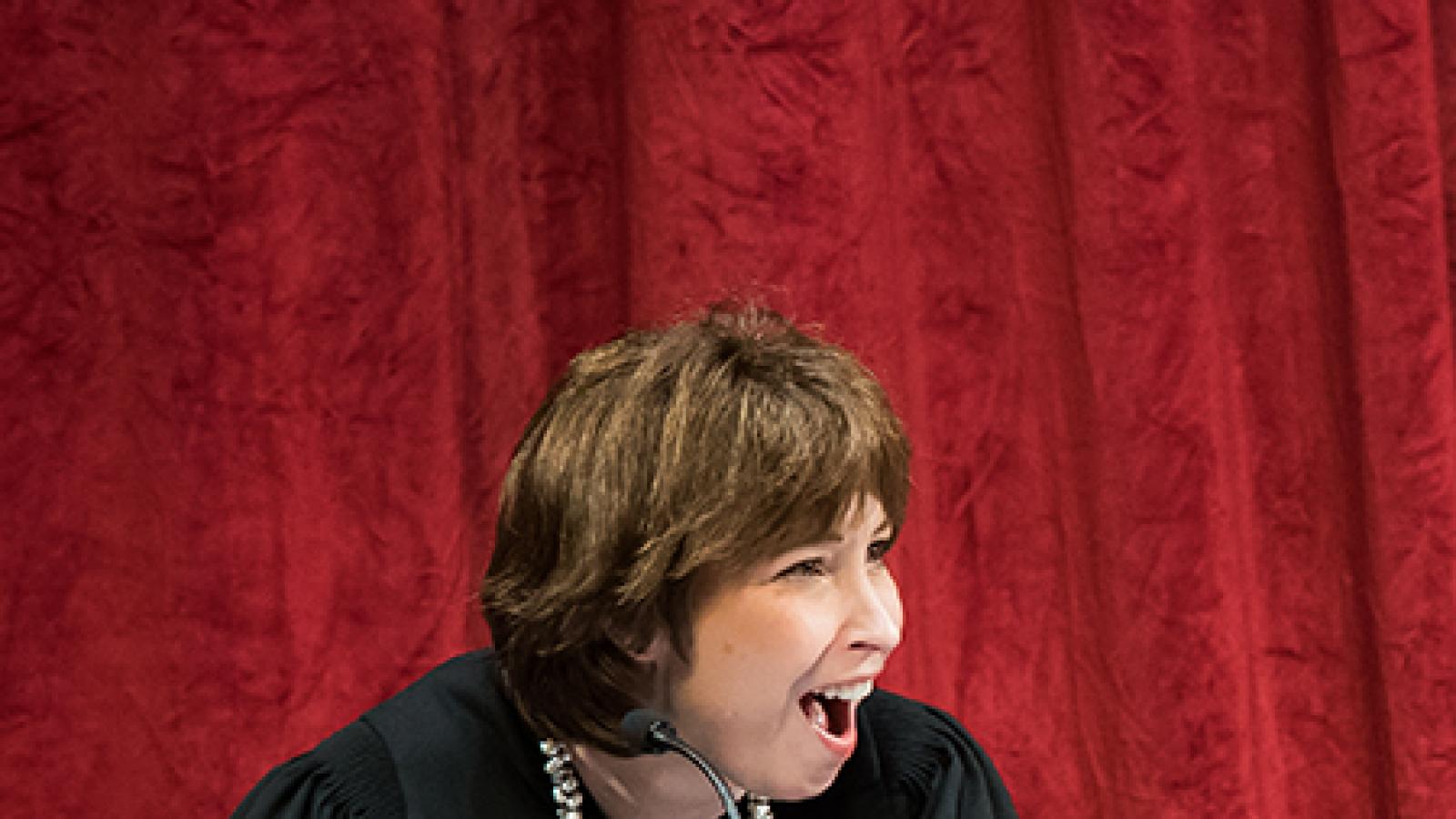 The errant knight and dreamer of dreams, Don Quixote de la Mancha, was at the center of a trial last year. Supreme Court Justice Ruth Bader Ginsburg presided along with Judge Patricia A. Millett of the United States Court of Appeals for the DC Circuit. They and other judges had gathered to review an earlier court decision declaring Don Quixote mentally incompetent and to have his niece, Antonia, declared his guardian.
If this sounds as fanciful as tilting at windmills, it is, but it is also one of the Shakespeare Theatre Company's (STC) Mock Trials. Since 1994, STC has presented these fictional court cases based on a legal question related to one of its mainstage plays. As STC Artistic Director Michael Kahn noted, "This is what Mock Trial does so stunningly—it uses these classic stories as lenses to look at seemingly old issues and bring them to our modern, and legal, world."
We talked with Judge Millett about her Mock Trial experiences, and she shared her thoughts on the intersection of theater and law as well as art and healing.
THREADS OF CONTINUITY
I was certainly familiar with the Shakespeare Theatre Company's Mock Trial program before I became an active participant. After I came off the bench, I got a call, inviting me to serve as a judge, and I immediately accepted.
Shakespeare Theatre Company always finds classic plays that capture the struggles common to humans today. The plays capture eternal questions about human relationships, government-to-citizen relationships, the role of religion in human relationships, and the like. Being in the theater is interactive to me in the sense of how what we're seeing also often relates to what's happening today. So, the Mock Trial program is a way of making authors like Shakespeare very relatable to contemporary audiences by connecting centuries-old works to modern struggles and debates. It's important to think about these threads of continuity.
Also, theater is uniquely adept at capturing the complexity of human nature and telling people's stories. That always keeps me conscious of the fact that, in our legal cases, real people are involved. There is a story behind each side that brought them to the court and has caused them to entrust the resolution of their problem to this forum.
At the same time, theater can help make law relatable. Our legal system, whatever its flaws, is the best way of peacefully and fairly resolving difficult problems. Looking back in plays at how some conflicts were resolved in Shakespeare's time or in his plays, you'll be reminded that our legal system can deal with disagreements in a much better way where people don't hurt each other and where people have rights to fair and evenhanded treatment.
LANGUAGE
One thing I love about Shakespeare is the power of his language. His facility with language is incredible. I am always amazed at how he conveys complicated ideas through very pithy and memorable expressions, in some cases with powerful irony.
I treasure that facility with language because our ability to explain with credibility and integrity how we came to a decision within the framework of legal rules is the coin of the realm for us. If we do not do that well, it can be hard for people to accept our dispositions. And if people don't accept judicial rulings, then I worry that they will want to find another undemocratic way of solving their problems.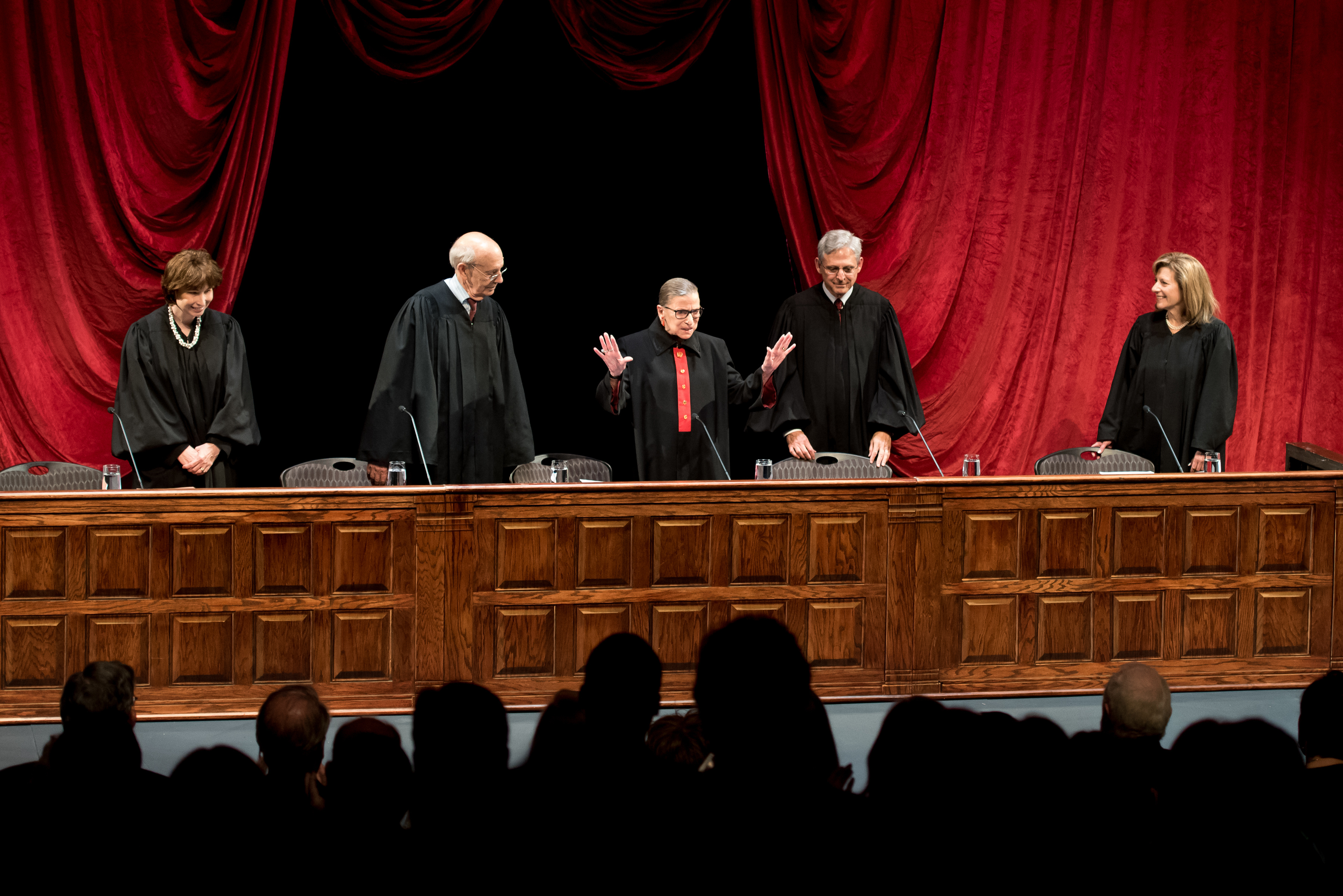 We [judges] must appreciate how different words can communicate an idea more or less clearly, more or less simply, and more or less effectively as we labor to explain the legal principles that have endured in our Constitution for more than 200 years. Sometimes, I will use references or common sayings from outside the law to draw a reference point to a legal rule and to make it more understandable. Sometimes a line from a poem or a saying from a proverb will pop into my head that encapsulates a principle. Or I may use a maxim or a phrase that can help paint a picture in someone's mind and engage strongly felt emotions about the answer to which the law has led us.
[Former Associate Supreme Court Justice] Robert Jackson was a brilliant writer and had an incredible capacity to use language outside the legal context to explain vital legal principles in a decision. For example, he once said: "If there is any fixed star in our constitutional constellation, it is that no official, high or petty, can prescribe what shall be orthodox in politics, nationalism, religion, or other matters of opinion, or force citizens to confess by word or act." Thinking about how theater can be so effective in communication reminds me to be a better communicator.
ART AND HEALING
My special interest in art these days is in the use of art in therapies for children who have endured violence or lost a parent, or for people with Alzheimer's and other memory impairments. Art seems to have an inherent ability to help people reach back to recall old memories, and to allow the release and expression of deeply buried emotions that may be too scary or hard to confront directly (especially for children). The power of art to do that shows how deeply implanted art is in people's minds and souls.
Sometimes people think of art as this thing that I go to, or that I watch or learn. But I've seen the effect that singing "Amazing Grace" or a well-known song can have on people with, for example, severe dementia. Art in the form of music, images, poetic rhythms, etc. seems to weave itself into our inner beings and it can be retrieved and used for expression when other things about our lives can't be retrieved. We all experience that in our own lives: you hear a song and it'll suddenly bring tears to your eyes or suddenly take you back 30 years with a flood of vivid memories and sounds. I am intrigued by how the heart, brain, and soul connect to art, and I am fascinated when I hear how science is corroborating some understanding of how this works.
When you hear about people taking children who've lived with gun violence, or have lost a parent in service of our nation, and helping them to use art to express their emotions and to transform pain into powerful expression, that underscores the forceful role of art in our inner beings. The ability of art to heal, to help people remember, to connect, to soothe, to comfort is incredible.