Betty Carter
Vocalist, Bandleader, Educator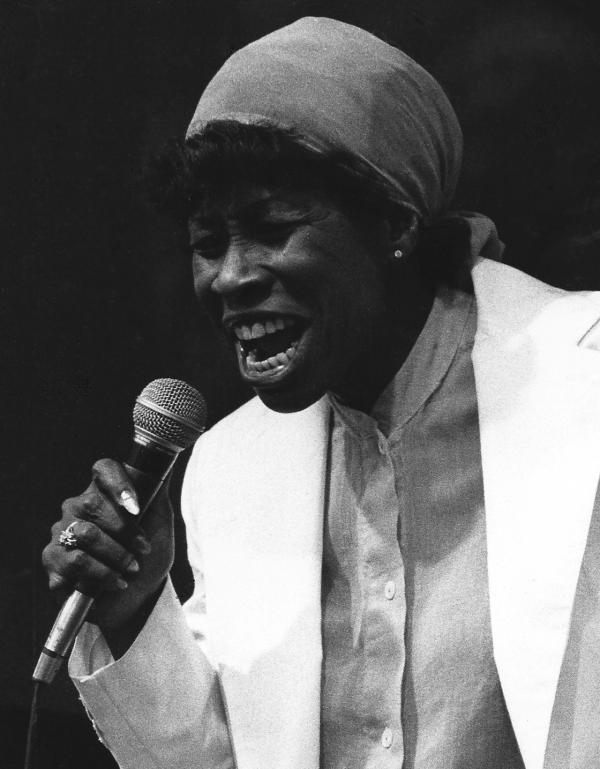 Bio
Betty Carter developed a legendary reputation, along with Art Blakey, as one of the great mentors for young jazz musicians. Equally legendary was her singing prowess, creating a distinctive style of improvisation that could transcend any song.
Carter studied piano at the Detroit Conservatory, a skill that served her well later in her career in writing original songs. Growing up in Detroit, she was exposed to numerous jazz greats who passed through town, even getting a golden opportunity as a teenager to sit in with Charlie Parker. Carter's big break came in 1948, when she was asked to join the Lionel Hampton band. Developing her vocal improvisations during the three years with the band led to her singular singing style. Hampton, impressed with her saxophone-like improvisatory vocals, dubbed her "Betty Bebop." After leaving Hampton's band, she worked variously with such greats as Miles Davis, Ray Charles, and Sonny Rollins before creating her own band.
Although she recorded for major record labels early in her career, Carter became increasingly frustrated with record company dealings and disparities and formed her own label Bet-Car in 1971, one of the first jazz artists to do so. Selling her own recordings through various distributors, she was able to sustain her performing career. Carter was uncomfortable with studio recordings, but live recordings, like The Audience with Betty Carter, demonstrate her remarkably inventive singing and her ability to drive the band.
Carter's bands served a dual purpose: to create her own great music and to help young musicians develop their craft. Many of the musicians who passed through her groups went on to lead their own groups, such as Geri Allen, Stephen Scott, Don Braden, and Christian McBride. She also developed a mentoring program called Betty Carter's Jazz Ahead through links with organizations like the International Association for Jazz Education, 651 Arts, and the Kennedy Center. The program was a one- to two-week teaching seminar where nationally selected promising young jazz musicians learned from Carter and other seasoned musicians, culminating in a final concert of instructors and students together. Jazz Ahead was one of Carter's proudest achievements, and she worked with the program up until her death. She received the National Medal of Arts in 1997.
Selected Discography
I Can't Help It, Impulse!, 1958-60
At the Village Vanguard, Verve, 1970
The Audience with Betty Carter, Verve, 1979
Look What I Got, Verve, 1988
Feed the Fire, Verve, 1993