Lionel Hampton
Vibist, Drummer, Pianist, Vocalist, Bandleader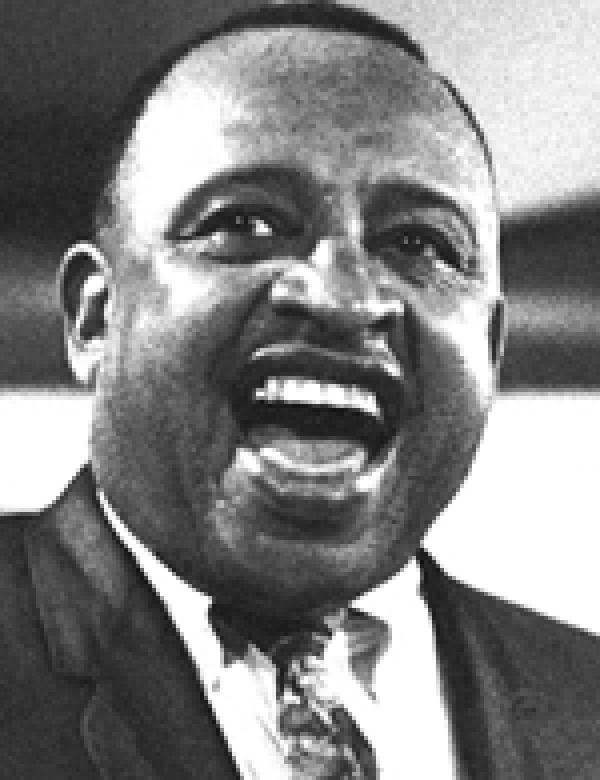 Bio
Featuring outstanding sidemen and soloists, as well as his own swinging vibe playing, Lionel Hampton's bands during the 1940s and 1950s were among the most popular and most exciting in jazz. Hampton was raised in the Midwest, primarily in Kenosha, Wisconsin, where he received his first musical training. His career began behind the drums, taking his first music job in a newsboys' band sponsored by the Chicago Defender.
In 1928, Hampton moved west to California, landing first in the Paul Howard Orchestra, later working with bandleaders Eddie Barefield and Les Hite. In 1929 he took up the vibraphone with the Hite band, which at the time was led by Louis Armstrong, becoming a pioneering figure in the use of vibes in a jazz band.
Hampton made his recorded debut on an Armstrong version of "Memories of You" in 1930. By 1934, Hampton had become leader of his own band, performing at Sebastian's Cotton Club in Los Angeles. Benny Goodman saw Hampton perform at one of his gigs and recruited him to augment his trio, with Teddy Wilson and Gene Krupa, for a 1936 recording date. Hampton remained in Goodman's band through 1940, occasionally replacing Krupa on the drums. Hampton became well known with the Goodman band, and started his own big band, achieving his biggest recorded hit with "Flying Home" in May 1942, driven by Illinois Jacquet's unforgettable tenor saxophone solo.
Hampton's popular big band boasted such potent musicians as Dexter Gordon, Clifford Brown, Fats Navarro, Johnny Griffin, Charles Mingus, Art Farmer, Clark Terry, Cat Anderson, Wes Montgomery, and singers Dinah Washington, Joe Williams, Betty Carter, and Aretha Franklin. He toured the globe and continued to nurture young talent, often providing some of the earliest band experiences to musicians who went on to become leaders in their own right. His band became the longest established orchestra in jazz history.
Lionel Hampton received numerous awards of merit, including several honorary doctoral degrees, the National Medal of Arts, and the Kennedy Center Honors. His diligent work with the jazz festival at the University of Idaho in Moscow led to it being renamed the Lionel Hampton International Jazz Festival in 1985. The university's music department shortly followed suit and became the Lionel Hampton School of Music. Winner of numerous polls, Hampton had been an honored soloist into the 1990s, performing in numerous festivals as part of all-star assemblages. In 2001, he donated his vibraphone to the Smithsonian Institution.
Selected Discography
The Complete Lionel Hampton, Bluebird, 1937-39
Hamp: The Legendary, Decca Recordings, Decca, 1942-63
Hamp and Getz, Verve, 1956
Reunion at Newport, Bluebird, 1967
Made in Japan, Timeless, 1982