Buddy DeFranco
Clarinetist, Educator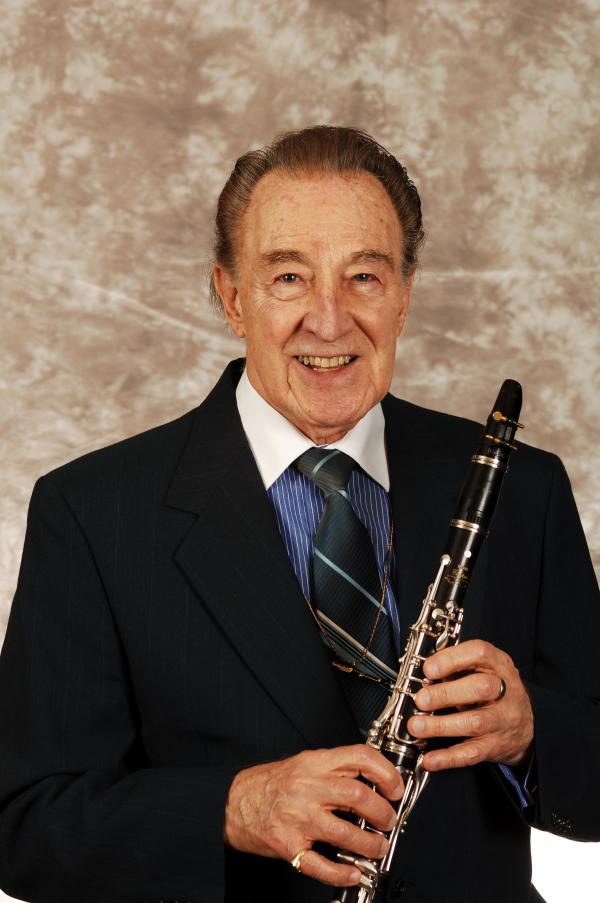 Bio
"When I think of all the excellent musicians there are in this world, to be chosen as a recipient of this great award is indeed an honor."
A brilliant improviser and prodigious technician who bridged the swing and bebop eras, Buddy DeFranco was born in Camden, New Jersey, and raised in South Philadelphia. He began playing the clarinet at age nine; at 14, he won a national Tommy Dorsey Swing Contest and appeared on the Saturday Night Swing Club with Gene Krupa. Johnny "Scat" Davis soon tapped him for his big band, inaugurating DeFranco's road career in 1939. DeFranco subsequently played in the bands of Gene Krupa (1941) and Charlie Barnet (1942-43) and in 1944 became a featured soloist with Tommy Dorsey. Meanwhile, the modern jazz revolution was in progress, led by Charlie Parker and Dizzy Gillespie. Excited by the improvisatory freedom of their music, DeFranco became the first jazz clarinetist to make his mark in the new idiom of bebop.
In 1950, DeFranco joined the famous Count Basie Septet. He toured Europe with Billie Holiday in 1954, led a quartet for three years with Art Blakey, Kenny Drew, and Eugene Wright, and then joined with Tommy Gumina in a quartet that explored polytonal music, further solidifying his reputation as a "musician's musician." His other notable concert and recording appearances have included dates with Art Tatum, Nat King Cole, Charlie Parker, Dizzy Gillespie, Stan Getz, Lenny Tristano, Billy Eckstine, Barney Kessel, Herb Ellis, Ray Brown, Mel Torme, Louie Bellson, Oscar Peterson, and the John Pizzarelli Trio, as well as several Metronome All-Star sessions. He was a featured artist in numerous Jazz at the Philharmonic tours of Europe, Australia, and East Asia. In 1966, he became the leader of the Glenn Miller Orchestra, a post he maintained until 1974.
Since the mid-1970s, DeFranco combined a busy teaching career with extensive touring and recording. His numerous television performances included appearances on The Tonight Show with both Steve Allen and Johnny Carson. He was a featured soloist on Stars of Jazz; had his own program on public television, The Buddy DeFranco Jazz Forum; and with his long-time musical colleague, vibraphonist Terry Gibbs, shared the spotlight on a segment of the PBS series Club Date. DeFranco played at concerts and festivals throughout the United States, Europe, Australia, New Zealand, South Africa, Brazil, and Argentina. He recorded more than 160 albums, and won the DownBeat All Stars award 20 times and the Metronome poll 12 times. The University of Montana, Missoula, now hosts the Buddy DeFranco Jazz Festival each April.
Selected Discography
Cooking the Blues, Verve, 1955
Blues Bag, Affinity, 1964
Hark, Pablo/OJC, 1985
Cookin' the Books, Arbors Jazz, 2003
Charlie Cat 2, Arbors Jazz, 2006
Interview by Molly Murphy for the NEA
January 11, 2007
Edited by Don Ball, NEA
CHOOSING THE CLARINET
Q: What was your first instrument?
Buddy DeFranco: I started playing the clarinet. I wanted to play saxophone but my father, who was a blind man and had played amateur guitar, he had some very good friends that were good musicians and they suggested I play clarinet first. In those days you played both in the big bands, you played alto or played saxophone and clarinet. You doubled. Sometimes you played flute. He got a teacher for me and I started playing the clarinet instead of the saxophone and I liked it. It seemed to be natural for me.
Q: Why did you like the clarinet?
Buddy DeFranco: Because the clarinet's more difficult to play and it would be easier to transfer to playing the saxophone. The clarinet is much more difficult so it was better to play the clarinet first.
I did play alto saxophone as well. But I liked the clarinet, felt more comfortable with that. Of course there's the mysterious thing that you really never accomplish what you want to accomplish because your brain is always so far ahead of what you really can do at any given time. I played those days what they called "legitimate" -- it was symphonic music studied legitimately, so to speak. Then I heard Tommy Dorsey's band at the Earl Theater in Philadelphia. My brother and I used to go to the theater sometimes on a Saturday and we'd stay all day, just sit there and watch all the shows. They did four and five shows, sometimes six shows a day.
If my memory serves me correctly, it was the Tommy Dorsey band and he featured a clarinet player by the name of Johnny Mince. I was really taken by the way Johnny Mince played his solos, which kind of made me decide that that's what I wanted to do, play jazz on the clarinet.
Q: What was it about the way he played his solos?
Buddy DeFranco: He was so fluent, he had a nice sound and he was so expressive when he played. You could hear it and you could feel what he was doing with the instrument. And of course later on I heard Benny Goodman and that was the icing on the cake. And then Artie Shaw, who later became my favorite clarinetist. In fact he might still be -- Artie would probably be my favorite clarinet player of all time. But that was one incident where I remember I decided I wanted to play jazz clarinet. Of course my teacher thought that was okay, but my school teacher where I played in the orchestra, he didn't like the idea of playing jazz -- in fact, it was almost outlawed in those days -- but I'm glad I did. When I was about 14, I won a Tommy Dorsey Swing Contest in Philadelphia and that was that.
My teacher played sax and clarinet in the pit at the Earl Theater and when I made the finals there were four contestants. He said "You're going to win, you're going to win because you're going to wear knickers," which I didn't want to do because I had just graduated to wearing long pants. "Wear knickers," he says. "You're going to wear knickers and you're going to play 'Honeysuckle Rose' because everybody knows that song." I didn't like that song, but he said "That's what you're going to play." And then he said, "Toward the end of your solo, you're going to hold the clarinet with one hand and play one note and bark out that one note in tempo and hold your right hand out so the audience will see you're playing the clarinet with one hand." Real show business. So we got to the show. It was being broadcast nationally.
Q: Were you nervous?
Buddy DeFranco: Oh yeah. I was petrified. I mean they tell you you're going to be playing to millions of people, and it was like wow, oh my gosh, that's something. But I got through it and I played the solo. My teacher was in the pit kind of giving me directions and I played the one-note business and the one hand went out and the people, well, they broke up, it tore them up. They thought that was fantastic and the other the guys had no chance, no chance whatever. So I won that.
And Tommy Dorsey right after that says, "Stick around kid, you're going to play in my band someday," and the audience went crazy again.
A few weeks after, I happened to hear an acetate recording of that broadcast and my solo. One of my neighbors played it off the radio . They used to have acetate record players. It was one of the worst solos I think I ever heard, so embarrassing. But I won anyway.
That was kind of the beginning of, you know, the focal point of my new career in jazz.
TOMMY DORSEY
Q: And, of course, you did end up in Tommy Dorsey's band.
Buddy DeFranco: I did end up in Tommy Dorsey's band, yes.
Q: I bet you have a lot of stories about him as a band leader.
Buddy DeFranco: He was interesting, an amazing person. A great trombonist, maybe the best, I don't know. He was this marvelous player. There again there was a tremendous influence -- Tommy Dorsey influenced my playing as well as many other people, singers especially. But he was a combination of different personalities. He was strange, very strange. We never knew from one day to the next what he was going to be like. Zoot Sims once said that Tommy Dorsey is a great bunch of guys, which is about right because he could be very benevolent, very nice, very charming, and at times he could be fierce. Sometimes his idea of settling an argument was to go outside, you know. That was typical of Tommy. In fact, when I auditioned, I had already played with Johnny "Scat" Davis, Gene Krupa, and Charlie Barnett and then I still had to audition for his band even though I had this background. I auditioned at the Brill Building up here in New York where he had his offices. He came into the room where they had saxophone chairs set up in a rhythm section and Gene Krupa was on drums at the time. (Now there's another interesting story. Gene Krupa has just gotten out of jail and it was sad because Gene was one of the nicest people I ever met. But he was jailed, they trumped up all the charges about him being a dope fiend and all that. It was nonsense.) But he was on drums and the rest of the saxes filed in and then Cy Oliver came in and had me sit at the second alto chair with all the clarinet solos. Then Tommy Dorsey came in and, I swear, I heard a fanfare before he came in. It's just incredible, this big guy came in and he looked at me and he said, "I told you you were going to play in my band someday, didn't I?" And I said, "Yeah." He said, "But don't think ya got it made, because if you can't cut the music you're outta here." I won't use his language but it's kind of a guy he was. He cleared the air.
Q: I remember that you once said that in some ways you felt kind of limited in the band as far as the ability to improvise.
Buddy DeFranco: Not so much, no. The first recording I did with Tommy Dorsey was "Opus One" and I had two solos. In those days you had to take the complete track, you couldn't piece tape together. He took the one track my two solos were on, but I didn't like them at all. But he thought they were good and that the overall band performance was good. Later on, it caught on a little bit and Tommy came to me and he says, "'Opus One' is getting a little warm so therefore you will play the same solo as on the record." That was devastating to me because I not only didn't like the solo, but I didn't like to keep playing the same thing because you had to play that five times a day, and in the night programs you had to play it two or three times over and over again. It was boring and not creative. That's exactly what I told Tommy one time. I said, "It's not creative to play the same solo." And he said, "Well, you can be creative on somebody else's band. You're through." And he fired me, just for that. Of course the good part of that is that it taught me a lesson and I did go back to his band a few months later and we came to a compromise. I played that solo, but on every other solo that I had I played what I wanted to play. He gave me that freedom.
Q: So in hindsight, if you had been in his position, was the right call to make? Or would you have made a different call?
Buddy DeFranco: It was the right call commercially, maybe the wrong call as far as being creative and that sort of thing. The thing is that he did compromise, he let me play whatever I wanted on other things and that was okay. And I realized when you think of a band leader at that time who would pack those places -- we'd play tobacco warehouses, we played ballrooms, we played theaters -- and his take was 60 percent of the gate, so you can imagine the money that he took in every night. Running the band the way he did it was really a far cry from what I would have in mine. I probably would have had a disaster on my hands if I had charge at that time, so it was the right call.
THE CHALLENGE OF THE CLARINET
Q: Tell me a little bit more about the clarinet as an instrument. Why is it so challenging?
Buddy DeFranco: It's probably as challenging as, say, the French horn or violin or oboe or bassoon. Bassoon is an impossible instrument. Clarinet is in that league. You're dealing with three or four different registers of the instrument: the lower register, the middle register -- the central part of the clarinet register -- and then the upper. Each register requires a kind of different fingering system, as opposed to an octave instrument like a flute or the saxophone. If, for instance, you play an A on the lower staff of the saxophone, you press the octave key and you get an A above, eight notes, an octave above. Well, that key in the back on the clarinet is called the register key, not an octave key. You don't get eight notes, you get 12 notes, which complicates the whole thing right there. So you have to deal with different fingerings for each section, each area of the clarinet. Plus the fact you have these six open holes that you cover and if you miss one of those holes while you're playing you're going to get a squeak or the note won't come out right or will sound funny. So you're dealing with a precarious situation which makes it very difficult. In that way it inhibits you as far as playing jazz because jazz is really freedom of expression and many times -- especially in the beginning of playing jazz -- if you go for a certain phrase on the clarinet, you're going to miss one of those holes or you're going to press the wrong register or play the wrong register and it's going to be wrong. And immediately, if it's wrong, that's the end of the solo. You're going to be a failure. It's like walking a tight rope on the instrument. You've got to know how far to go too far with the clarinet to maintain that equilibrium, but also still have the freedom to play what comes into your brain. It's treacherous.
Q: So you decided to play bebop?
Buddy DeFranco: Which is doubly treacherous. When I heard Charlie Parker I knew that that was going to be the new wave, the new way to play jazz, and so I got as many recordings at that time as I could.
Q: When did you first hear him?
Buddy DeFranco: I believe it was at Minton's up in Harlem with Charlie Shavers, a fine trumpet player in those days. He was with Dorsey's band while I was in the band. I ran into Charlie one time, and he said, "I heard this guy playing strange new jazz music on the alto. I don't know what it is but it's fantastic. You got to go and hear it." And I did and from that point on I was sold with it, the idea of bebop. But that presented another problem with the clarinet, because there again it was much more difficult to play. It was treacherous in many ways as far as fingering and articulation. In fact, even to this day I can't explain the articulation of bebop, even though I do it. It's a question of the melding between your brain, your tonguing, your phrasing, your breathing, and your fingering -- it has to work all together and there's no way to describe it. It's like trying to describe Count Basie's band, the total band sound, because they used to say the ensemble of the band plays behind the beat and the rhythm stays right where it is. True up to a point -- there's that fine line between playing right behind the beat to make it feel right or playing too far behind the beat and it drags, and if you play directly on the beat in that kind of an ensemble it doesn't swing. It's so hard to put into words. Articulating bebop is really doubly hard to put into words.
Q: Since bebop is a big part of your sound, I'm wondering can you describe what you aspire to in creating your own sound?
Buddy DeFranco: At that time bebop was a new language in music. It's difficult to describe because it's a question of that correlation between your thought, the brain, and all the musical elements that go into it -- plus the physical components. So difficult and complex, and yet it has to sound simple. But it's not simple at all. So you have that marriage between the complexity of the music of playing and articulating and the end result it comes out where the listener can just absorb it simply. That's really very, very difficult.
ARTIE SHAW AND ART TATUM
Q: You mentioned Artie Shaw earlier. Why is he your favorite clarinetist?
Buddy DeFranco: At that time Artie Shaw was way ahead of most clarinetists and most jazz players. Harmonically he was more advanced and he had a way of playing that overcame that difficulty and that treacherous area. In the final analysis, when you finally would hear him play, it was very easy to listen to, it sounded like he just rattled it off like he was speaking. Also his sound was much different, he had a different quality that was very appealing and still was a jazz instrument. I notice even now, when I listen to Artie's records, when he played with his band, the whole band seemed to change its complexion, he influenced it that much. That's not to belittle Benny Goodman, who was at the same time playing great jazz, great swing music. But Artie had just that little edge and he was that much more advanced and developed in terms harmonic development and execution. He had a tremendous way of executing those notes so that they came out simply, even though it was difficult.
Q: Do you listen to recordings very often?
Buddy DeFranco: Oh yeah, quite a few. I tend to not listen to too many of the current guys but I do listen to Joe Lovano or Michael Brecker or Benny Green. I always listen to Art Tatum -- he's probably my favorite jazz performer of all time.
I did a recording with Art Tatum. He was a genius. Art Tatum couldn't help but playing great, it was like breathing to him. Just incredible. And there again he overcame all of the technical difficulties of playing and made it sound completely natural, no worries.
A lot of the current guys and many of the young fellas now are playing excellent jazz. The biggest problem today I think with jazz is that you tend to hear a lot of the young jazz players now playing the same notes, the same phrases, the same things.
If you listen to a lot of the young players, they're all good and technically they're excellent. But they're saying the same thing over and over that the other guy is saying. The same notes, the same phrasing, and even with the young pianists who are brilliant as far as their technique is concerned. But they also are playing pretty much the same things. Whereas Art Tatum was not the same thing as anybody else and Bill Evans was not the same as anyone else. Benny Goodman and Artie Shaw were not the same as all the other clarinet players that were playing at the time. That'll change. There will be some jazz player in the future who is going to turn the tide again.
Q: When you played those sessions with Tatum, didn't you do a whole bunch of stuff in one take?
Buddy DeFranco: Oh yeah, quite a few in one take. It was all extemporaneous, no arrangements.
Q: Was it intimidating?
Buddy DeFranco: Yes. But, there again, when you're playing jazz you have to somehow overcome that feeling of being intimidated because your aim is to portray that freedom in what you're playing. The only way you can do it is live with the intimidation and live with your nervousness and make it work for you. Another thing about recording, of course, is when you record you know you're going to live with it so you become almost afraid to play because you're afraid to make mistakes. You have to overcome that, too. Compound that with the technical difficulty in playing the clarinet, that's why there are so few really good clarinet players.
STORYTELLING
Q: As you said, you have to be a person who is courageous enough to express yourself yet humble enough to work within a group. Those are life lessons all right there within the music.
Buddy DeFranco: That's true. The thing about the whole idea about jazz is to be able to express yourself, tell your story musically the way you would tell a story if you were a story teller. It has to come out and it has to flow and so you have to overcome the nervousness, you have to overcome the technical aspects and you know your brain is always way ahead of your actual ability at any given time, you're always looking for the next phase, the next thing that you're trying to accomplish, so you're trying to play catch up with your thoughts. But there again you make it work for you and that makes it interesting. If you had it down pat and did the same things over and over again without trying something else, something further, it would soon be stagnant. It wouldn't sound fresh, it wouldn't sound live.
Q: How would you describe yourself as an ensemble player? I imagine that there are some musicians who drive the exchange more than other musicians. Could you talk about that within the context of you and Terry Gibbs?
Buddy DeFranco: Nobody drives Terry Gibbs. He's a driver. But it was a good combination because we complemented each other pretty much and we both loved Charlie Parker and both played bebop on our instruments and we were both technically able to execute what we wanted to. I'm a pretty good ensemble player as well and with the strength of my playing and my stubbornness, I can lead the parade when I'm playing with a group. If you're a good soloist, that's what you do. You more or less take charge of the story.
Q: Do you have any sort of aspiration about how you would like to be regarded by your peers?
Buddy DeFranco: No, not really. It's so difficult to say what you feel about your place in the world and your place in jazz music and the arts. I'd like to be known as someone who did something a little different, to be recognized as an individual. As for my stature -- Charlie Parker and Art Tatum to me were genius and I'm right below that. I'm highly talented but not that genius factor. But I did in my own way do something different on the instrument and that's the way I'd like to be remembered.
Q: Any future endeavors? What's on the agenda?
Buddy DeFranco: Finally to try to play what I was thinking about last year, trying to accomplish more and try to do something else. We all have this like a language, you have patterns that you use when you play, but it's the way you use them and how you would adjust each pattern and mold a story out of it that makes a difference. I always feel like out of every session that I do, whether it's a record session or even a concert, I like to think that there was something in there that I didn't do before. That's my goal.
Q: Do you still practice every day?
Buddy DeFranco: Yes. I practice every day. With the clarinet, especially, after a few days off it's miserable to get back again. I do it -- I force myself. You'll lose that edge and I hate to lose that edge. It requires discipline, a lot of discipline.