David Baker
Trombonist, Cellist, Composer, Arranger, Educator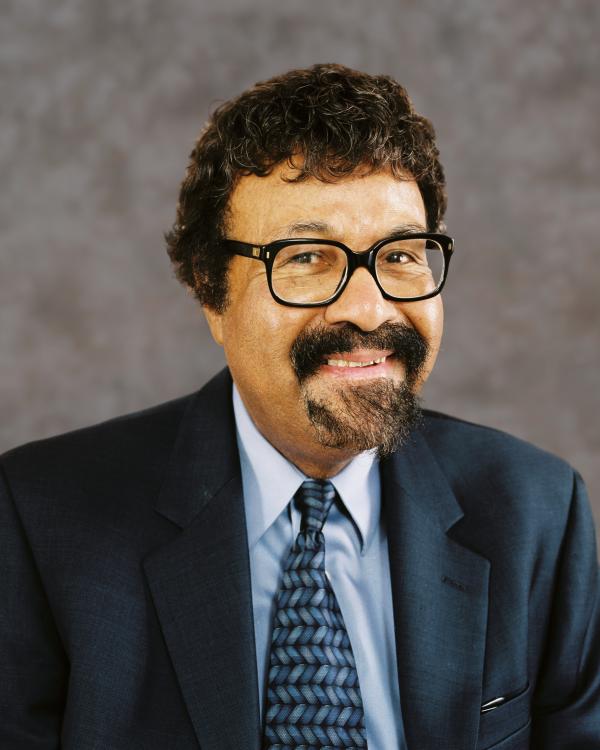 Bio
A true jazz renaissance man, David Baker was active in the jazz community as musician, composer, educator, conductor, and author. Of all the NEA Jazz Masters, he was one of the most active as a college and university educator.
Baker's music career began on the trombone in the early 1950s as he worked with local groups, as well as Lionel Hampton, while working on his doctorate at Indiana University. He lived in California in 1956-57, playing in the bands of Stan Kenton and Maynard Ferguson, and returned to Indiana in 1958, leading his own big band for two years. He then attended the School of Jazz in Lenox, Massachusetts, in 1959- 60, joining a stellar class of musicians that included members of the Ornette Coleman Quartet. Shortly thereafter he worked with the George Russell band, playing on some of his influential early albums. In Russell's band, Baker's trombone playing displayed exceptional technique, utilizing avant-garde effects to enhance the songs.
An accident to his jaw eventually forced Baker to abandon his promising career as a trombonist. He switched to the cello in 1962. As a composer he contributed a broad range of works, from small ensemble to orchestral, often straddling the fence between jazz and chamber music. He also worked on purely chamber and orchestral works. By the early 1970s, he returned to the trombone—playing on Bill Evans' 1972 album Living Time, with George Russell arranging—while continuing to play the cello as well. Although a strong player on both instruments, he was most renowned for his compositions.
Baker became a distinguished professor of music at Indiana University and chairman of the Jazz Department in 1966. He published in numerous scholarly journals and wrote several musical treatises as well as having more than 2,000 compositions, 500 commissions, 65 recordings, and 70 books on jazz and African-American music to his credit. Baker was the artistic and musical director of the acclaimed Smithsonian Jazz Masterworks Orchestra from 1990 to 2012.
He received numerous awards and citations, including being nominated for a Pulitzer Prize in 1973 for his composition Levels, a concerto for bass, jazz band, woodwinds, and strings; and receiving an Emmy Award for his musical score of the PBS documentary For Gold and Glory. He served as a member of the NEA's National Council on the Arts, was founding president of the National Jazz Service Organization, and was former president of the International Association for Jazz Education.
Selected Discography
George Russell, Stratusphunk, Original Jazz Classics,1960
The Harlem Pipes, Liscio, 1985–86, 2003
Smithsonian Jazz Masterworks Orchestra, Tribute to a Generation, Smithsonian Folkways, 1992–1998,
Steppin' Out, Liscio, 1998
Buselli /Wallarab Jazz Orchestra, Basically Baker, GM recordings, 2004
Interview by Molly Murphy for the NEA
January 13, 2007
Edited by Don Ball
SURROUNDED BY MUSIC
NEA: So many musicians seem to have a pivotal experience that occurred in their youth where they either heard a recording, or they heard a live performance or something that made an impression on them.
David Baker: I don't think I've really had an epiphany in that sense. I was surrounded by music. Nobody in my family played music, but I went to an all-black high school in Indianapolis called Crispus Attucks High School. It's the school out of which J.J. Johnson came, Wes Montgomery, and Slide Hampton and all the teachers of the great music department. And all the teachers there were protective of us. They made sure that we stayed out of trouble and they exposed us to good music, and so Russell Brown, who was the band teacher there played "Body and Soul" for us. And we had a group called the Rhythm Rockets. It was dreadful. I mean we couldn't play, but he wanted us to play and he played music for us.
NEA: Did you know you couldn't play?
David Baker: I was reminded frequently. But it was also a time when, on my own, I would listen to a radio station that came from Gallatin, Tennessee. I have no notion why they had this much power, to reach that far, but it was something called Randy's Record Shop. And so I heard Louis Jordan. I heard Illinois Jacquet. I heard Jimmie Lunceford. I heard Count Basie. To tell you how antediluvian this was, the products that they sold -- because it was a station obviously aimed at Afro-Americans -- their products were Nadinola skin whitener and the other was a kind of hair pomade that was supposed to make us look like Nat King Cole, if we had it on our hair. So that kind of tells you what they were promoting, but the music was great. And then, of course, I met the Hampton family. Slide and I were, you know, pretty much the same age. And it was like I was kind of adopted by that family, which was one of the great musical families. And so I guess I attribute a lot of what I do to Slide and the Hampton family. If I were to pick [something] beyond that, it would be two things; meeting George Russell at the Lenox School of Jazz and the second one was becoming a good friend of Quincy Jones.
STARTING ON THE TROMBONE
NEA: How did you begin to play trombone, and was it something that you chose?
David Baker: It was in the 7th grade and they handed me a trombone, and this was at a time when it would cost 50 cents to rent an instrument for a year. The teacher sent the 50 cents back to my mother saying I had no talent and they took the trombone back. I'm told, later on, that it was the first time that it ever happened. So I didn't get to start until a year later, and at that time, I started on tuba, because that was all they had left then. So I finally switched to trombone by the time I was probably a senior in high school.
NEA: Why a trombone?
David Baker: Well trombone is one of the more difficult instruments to play because there are no valves which can pinpoint exactly what should happen with the instrument. It's hard to hear on the instrument. It became increasingly difficult because first of all, you had to grow into it, unless your arm was long enough to reach seventh position. If you couldn't reach that, then you really couldn't play the instrument. Then secondly, because there is no definite place on the slide where you play. I mean, where the instrument is lined up the way if you put a valve down, there's no arguing about what valve that is, but there is argument about how much leeway there is between notes -- trying to make a solo or a scale in which two notes are an inch apart, and then the next two notes are the length of your arm apart, and yet they're the same length note on a piece of paper. So that was kind of different, you know, to do that -- just the sheer energy that it takes to play when you're moving your whole body all the time when you play, rather than just your fingers.
INFLUENCES
NEA: Who did you listen to when you were trying to develop a sound?
David Baker: Well I got to hear J.J. Johnson very early because he went to the same high school I did. He was born in 1924, so he would have graduated around 1942 from Crispus Attucks High School. And I didn't get to Crispus Attucks High School till probably 1944 or '45. But I could go down the halls and see his picture on the graduating classes, and by that time, I had discovered him on recordings, even though I hadn't met him at the time.
There were two things about him. First of all, he was probably one of the first of the modern trombonists in the sense that he played the instrument without regard to technical limitations. For instance, on the trumpet or the saxophone, you push the keys. It's easy to develop skill, because it's small muscles. But on trombone, that's not a small muscle, and so consequently, fast notes are very difficult to play. Up until J.J., I think there was a kind of consensus that trombone didn't belong to the bebop era, which would be the era in which I came along.
I also have to say that Slide was a tremendous influence on me, because he was much more advanced than I was. And we would talk and we were and are good friends, and consequently, I could ask him questions. Later on I could level a lot of those questions at J.J., you know, once I got to know him and got to meet him. And my first experiences of studying with him were at the Lenox School of Music.
LENOX SCHOOL OF MUSIC
NEA: Tell me about the Lenox School of Music. You went there in 1959?
David Baker: 1959. John Lewis and Gunther Schuller were the people giving us scholarships to come. It's a wonderful resort area. They were around their buddies and things, so you had the Modern Jazz Quartet in residence, you had J.J. Johnson, you had Bob Brookmeyer, you had Jimmy Giuffre, Gunther Schuller, Dizzy Gillespie, Sonny Rollins. You know, no school could replicate that. The fact is, this was such an honor, because we went on scholarship. And I had the Dizzy Gillespie scholarship, you know.
NEA: How did you get it?
David Baker: Well I don't know. I didn't know Dizzy, but I'm sure that probably what happened is Gunther Schuller, who had invited me and several members of the big band that I had at the college to come there, I'm sure he went to Dizzy and said, "Will you give us a scholarship?" and to John Lewis and to, you know, whoever else, and so those scholarships became available to us. And then it was the first experience I ever had, and perhaps, one of the most meaningful in the sense that it was wall-to-wall jazz for those weeks that we were there. We had theory with Bill Russo. We had history with Marshall Stearns, who was probably the first major historian in jazz. We had that with Gunther Schuller also. You studied with your respective teachers, whether it was Jimmy Giuffre, or Dizzy, or Kenny Dorham. You listened to music every night by the faculty. You played every night with your students. I came there the same year Ornette Coleman did, and so that was a wide open time.
NEA: How many students were there, do you think?
David Baker: I would say there must have been 75 or maybe 100, because we rehearsed in tents, and then there were concerts every night. It may not have been that large, you know. It's like when you go back to your school. It looks much smaller than it was when you were there. But it was a wonderful, wonderful experience and I think for me, it launched my career, because I met George Russell, with whom I made most of my early records. I met Gunther Schuller, who taught me composition, and also was somebody who used me on a recording date as a result of this, an album called The Golden Striker [by John Lewis]. And so in a lot of ways, if there were one single year or period in my life that was pivotal in my becoming a musician and staying committed to the music, it would probably be that period, 1959-1960.
TURNING TO THE CELLO
NEA: The accident that affected your jaw also affected your trombone playing -- when did that happen?
David Baker: It happened in 1953; however, it did not manifest itself as a problem for six or seven years, because what happened is I had dislocated my jaw and I didn't know that's what it was. So physically, what happens is one side hypertrophies -- that is, gains in strength -- and the other one atrophies. And all of a sudden, by 1960, I was beginning to feel the things where I couldn't keep the horn on my face. The jaws would tremble. It was painful and so I started playing with an acrylic brace, which would allow me to hold my jaw in place. But then ultimately, my face acclimated to that and then it began to break through those things, because it didn't want to do that, and then I spent a lot of time in hospitals.
Fortunately, when the doctors were going to try to sever the buccinator muscles, which are the muscles you use to open and close your mouth, one doctor said, "No, we're not going to do anything that's irreversible." So basically, I managed to keep playing, but in retrospect, God works in mysterious ways. I probably never would have been heavy into teaching. I'm not sure that I would have been a composer. I'm not sure that I would have settled at a university and helped to establish a program there, if it hadn't happened to me. I didn't feel like that at the time, because I spent a lot of time "why me-ing," until it occurred to me that I never said "why me" once when I was playing and things were going well.
NEA: Why did you choose to turn to cello?
David Baker: Absolute insanity. No, actually, I tried several things. I tried piano first, because I had some rudimentary skills from having to learn how to count. And it should have been apparent to me after the first day, but it was a year before I was really aware of the fact that I was never going to be able to play piano. Then I tried bass. I bought a bass and it was coming very, very well. And my band teacher, Russell Brown from Crispus Attucks said to me, "David, that instrument's not going to challenge you." So he went to a pawn shop and bought a $15 cello and put it back together and said, "Now here, this is something that will give you the challenge." And I asked him, even up to his death at 85, I said, "Mr. Brown, how could you do that to me, when you said I was one of your favorite students and to hand me an instrument which, according to most authorities on string instruments, they say if you're not playing that instrument by the time you're seven or eight years old, you'll never make it as a professional on that instrument." But because I was ignorant of that statistic, it did not deter me, because I knew I needed to play something. I knew I needed to have an outlet, something, a voice for being able to play the music that I loved.
NEA: And that was jazz.
David Baker: And that was jazz, yes. There's a large number of people now who are playing the jazz string instruments. And it's been inspired by the Turtle Island Quartet, the Uptown String Quartet.
NEA: But back then, not.
David Baker: Yeah, exactly. But it turned out to be kind of a blessing, too, because basically, there was nobody for me to imitate, so what I did was take what I knew about trombone, how I played trombone and that became my model. I tried to do that on cello, simply because the instruments are remarkably alike in the sense of the register that they're in. One of the main differences, of course, you've got probably five octaves on one instrument and probably two-and-a-half or three workable octaves on the other one, that is, the trombone.
NEA: Why were you able to return to trombone later? Did your jaw eventually heal?
David Baker: No. What had happened, I think, because of not using those muscles, there was a kind of a false illusion that things were repairing themselves. And so in 1970 or '71, inexplicably, I could play again.
NEA: Had you tried up to that point?
David Baker: Yeah, from time to time I'd pick it up, and it was such a dreadful sound, I wouldn't stay with it very long. But for some reason, it came back and I made the album Living Time [by Bill Evans with arrangements and compositions by George Russell]. And I very foolishly thought that I was going to be able to play it again. And then it started to break down, and this time, the people who were treating me said, "Look, you need to let it alone, because it's not going to come back. And what's going to happen, your normal functions like being able to eat normally, being able to talk normally, are going to be affected by this." And I guess that was enough to spur me to really stay with the instrument that I had chosen, which was cello. And by that time, of course, I was writing, and composing, and arranging, and teaching.
THE IMPORTANCE OF GEORGE RUSSELL
NEA: Why did George Russell make such an impression?
David Baker: Well he was, for all intents and purposes, the first theoretician, the first person in jazz to come up with a theory which was comprehensive. Not only did it chronicle what had been and what was, but it also was able to point to things that were going to happen. For instance, he was one of the first persons to really recognize the importance of Ornette Coleman. He was one of those persons who had codified this information in such a way that it was transmittable, even though I've got to say, that the degree of complexity, I'm not sure how many people could have really absorbed that music without studying with George or one of his acolytes. So George opened that door for me. And I was a stubborn -- I mean just stubborn as an ox, because when he told me that Ornette Coleman was going to be the next major figure, I argued with him every day at the class.
And I think he got tired of arguing with me, so when he put his sextet together, he says, "Why don't you play in my sextet?" -- I think he was intrigued by the fact that I was questioning, that I wanted to know why. I mean it wasn't enough to tell me, "Do this." I needed to have somebody say, "Here's how it works." And when he was able to justify all of those things to me, then it was easy for me to put myself in his hands as a student. And all the people in that sextet who studied with George -- Chuck Israels, Joe Hunt, David Young, Al Kiger, and later on Eric Dolphy and Don Ellis -- we were all really disciples of George. And that was very, very reassuring, because he was also a taskmaster. We rehearsed every day and we played every night. And given that, I think George was able to point in a lot of directions, or kind of a reconciliation between bebop and the borders that Ornette was attacking. And that was kind of rapprochement that went on that, I think, stood me in good stead, because when I had to begin teaching, I had something on which to base a teaching method. Because I had to come in the hard way, by learning to do this, I had some insights about how you teach somebody to do this. If I had come to this, you know, full-blown, the way somebody like Charlie Parker did, it probably would have been very difficult for me then to put myself in the position of realizing how difficult it is to make that information available with clarity and with some kind of definition.
NEA: How did most of the students regard Ornette?
David Baker: I'm not sure that I can quantify that. I do know that there was a definite split at the camp of people who believed that Ornette was going to open new portals, and people who didn't like him. I can remember one gentleman, who will remain nameless, on the faculty who left the faculty, who went back to Boston. He said, "I don't have to listen to this crap." And there were others like Jimmy Giuffre, and John Lewis and George Russell and Max Roach who really believed that this was a fresh new voice. And I was one of those people who was dead set [against him]. You know, I couldn't imagine this at all, because I couldn't figure what this was. But I think in retrospect, what was happening for me, I had not even arrived yet and found myself old-fashioned. And so consequently, I'm sure I was not very objective. And I came to love and know Ornette very well, and Don Cherry and the other people who were a part of doing the music he was writing.
NEA: You came to know him well there?
David Baker: Yeah, I got to know him. You know we were all in the same classes. We lived in the same dorm and we played together in the big band, and so it was a growing up occasion for me.
THE DEMOCRACY OF JAZZ
NEA: Is jazz still relevant?
David Baker: People will always try to adhere to whatever the mythology is that seems to exist at the time, and when somebody tells them that jazz is not flourishing, then they attach themselves to that. But what they don't see is the fact that there are thousands of youngsters in high school, junior high -- I'm one of the judges for the DownBeat [Student Music] Awards, and I can't tell you how many high schools of performing arts, high schools, colleges, magnet schools, how many people are enjoying this. And we're not creating, I believe, just a system that's going to produce performers. What we're doing is creating an audience, too. That's why it's been so dynamic watching Dana Gioia, who has such a passion, and more importantly, a methodology, a vision, a way of looking at what's important and what's not important. And anybody that can put Shakespeare in the places he put Shakespeare, then I'd have a great confidence that he can do this with jazz.
And I think that for a while, there was a kind of polarity. There were the people who didn't believe you could teach jazz. Some of it was self-preservation, but a lot of it was well-meaning, until they realized that the only difference is the level of mentorship. Charlie Parker learned from Lester Young. Charlie Parker taught other people. He didn't say, "I'm teaching you." What he did was play something and they'd say, "Well how do you do that?" James Moody is a wonderful example of this. Moody was lamenting one day to Dizzy, "Man, why didn't we come along when they had all these teachers to help us, blah, blah, blah?" And he said Dizzy put his hand on Moody's chest and said to him, "Moody, you ain't dead." And I thought that's an object lesson I think that all of us need to learn at one time or another. I happen to be in the camp that believes that what we are doing is creating a lot of people with options about what kind of music they want to play -- and that can be as different as Ornette, it can be as different as the Turtle Island Quartet, it can be as different as Norah Jones -- but giving them the skills to make intelligent decisions about what they want to do without circumscribing what they should do. Give them the tools and let them do it. You know, you say when you teach people to play those things and they're playing those same scales, then everybody starts to sound alike. Hell, Shakespeare had the same vocabulary that his contemporaries did, but they didn't write Twelfth Night. They didn't write The Taming of the Shrew. So I think there's simply now an attitude that we're trying to give people the tools to make music that they like.
NEA: I hear people lament the fact that with all these talented young students, they're just not hearing the Charlie Parker or these individual voices.
David Baker: Yeah. Well you know I have a strong feeling about this, because I think that often what happens when people make those statements, they look at Charlie Parker in maturation, and then they hear a kid who just came out of Berklee or Indiana University, and he's 18 and he makes his records (because now it's possible to do that, because these people gobble you up and bring these young people out and record one record and they're dead). So they're comparing a student entering the field with a mature student and saying, "Why doesn't he have an original voice?" Dizzy didn't have an original voice when he started. Dizzy sounds just like Roy Eldridge. I can tell you a number of students who sounded like Lester Young before they became Stan Getz, before they became Bill Holman, before they became Gene Ammons. And so I think sometimes, what happens, it's like with words. I think wars come about so many times because people use the same words, but they don't mean the same thing with them. And I really think that what happens, it's your perspective.
NEA: So what do you tell people who ask, "Why listen to jazz?"
David Baker: Well I think there are a lot of reasons. First of all, I think it's one of the true American art forms that has influenced the world. We did a program called "Jazz at the White House: A Metaphor for Democracy" at the White House. We did this with Wynton [Marsalis], and with Marian McPartland and Billy Taylor. And one of the things that struck me was the continuing line that kept coming from everybody, that jazz is the best kind of democracy. It has freedom on the one hand, if you're an improvising soloist, but it also tells you that you have to exist as a team. And so when a jazz person is playing, say, in a quintet, he becomes the leader of the group at the time he's soloing. But everybody is trying to work with him or her. And then he melds back into the group and becomes a side man. He becomes like a part of the thing.
I saw just a little bit of a reference to this on the History Channel the other day, how Hitler and his henchmen were so deathly afraid of the swing kids, the kids who were looking to jazz, because when they found jazz, they also found out that they can have an individual voice, as well as be a part of the collective. And this was the thing that all tyrants hate. This is the kind of thing I think that people who are close-minded hate. They want everything to be monolithic. And in jazz, that's the worst curse you could have is to never find your own voice. And it doesn't have to be absolutely. I don't think there's anybody who's absolutely original. It would be incomprehensible to other people if you were absolutely original. But to find something that is so distinctive that you can be like a Clark Terry. I can hear one note by Clark Terry and I can tell you that's Clark Terry. I can hear one note by Miles Davis, one note by most of my favorite players, or one phrase. People don't even know that they know all of these things.