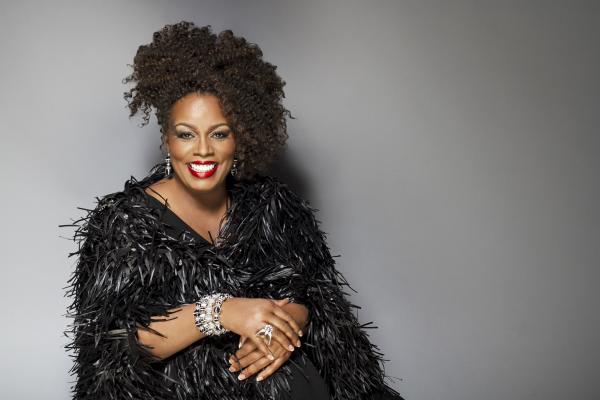 Bio
"In the beginning of my career, I had the good fortune to attend 'living' schools of jazz; I was able to learn directly from, and be mentored by, the masters—the first being Clark Terry. It was the most fertile soil any young aspiring artist could hope for. That was 45 years ago, and the lessons I learned—which still resonate with me daily—made this day possible. I am humbled and honored to be a recipient of the NEA's Jazz Master award, and to be seated in proximity to so many extraordinary, historic artists who have elevated the music to the station of greatness it now occupies…with untold greatness awaiting."
Dianne Reeves can effortlessly sing in whatever style she wants with her far-reaching range, whether it's rhythm-and-blues, gospel, Latin or pop. But jazz always was—and continues to be—her musical foundation.
Born in Detroit and raised in Denver, Colorado, Reeves became interested in music as a result of her family's rich musical atmosphere and growing up in an era where musical boundaries were less rigid than they are today. She was introduced to jazz through her uncle, Charles Burrell, a classical and jazz bassist, who gave her lots of records, including those by an early influence, Sarah Vaughan. She began singing and playing piano at age 12 under the mentorship of her choir teacher, Bennie Williams, and became a member of her high school jazz band. Upon winning a national competition, the band traveled to Chicago in 1973 to perform at the National Association of Jazz Educators Conference, and she came to the attention of Clark Terry, who hired her to sing with him later that year.
In 1977, Reeves moved to Los Angeles to pursue a musical career. Founding members of Earth, Wind of Fire and fellow Denver denizens, Philip Bailey and Larry Dunn, coaxed Reeves to come to LA where she immediately found a great deal of session work waiting for her. She was featured in the band Caldera with Eduardo del Barrio, co-founded the fusion group Night Flight with Billy Childs, and toured extensively with Sergio Mendes.
In 1981, she recorded her first album for Palo Alto Records. In 1983 Reeves moved to New York after she was invited to tour as the featured principal voice with Harry Belafonte, who presented Reeves to the world. In 1987, she was signed to Blue Note Records, whereupon she had her cousin, keyboard pioneer and jazz great George Duke, produce the first of many of her albums.
Stretching across genres, she performed with Chicago Symphony Orchestra under the baton of Daniel Barenboim as well as with the Berlin Philharmonic conducted by Sir Simon Rattle. She has also recorded and performed as featured soloist with Wynton Marsalis and the Jazz at Lincoln Center Orchestra. In 2002, she became the first creative chair for jazz for the Los Angeles Philharmonic, a position designed to build the organization's jazz presence in the community—in which it has greatly succeeded. Reeves was also featured in George Clooney's acclaimed 2005 film Good Night, and Good Luck, whose soundtrack provided Reeves with the Grammy Award for Best Jazz Vocal Performance. Reeves has won five Grammys to date, including the award for Best Jazz Vocal Performance for three consecutive recordings. She is the recipient of honorary doctorates from the Berklee College of Music and the Juilliard School.
 
Selected Discography
Dianne Reeves, Blue Note, 1987
Bridges, Blue Note, 1999
In the Moment, Blue Note, 2000
The Calling: Celebrating Sarah Vaughan, Blue Note, 2000
Good Night and Good Luck, Concord, 2005