The Marsalis Family (Ellis, Wynton, Delfeayo, Jason, Branford)
Various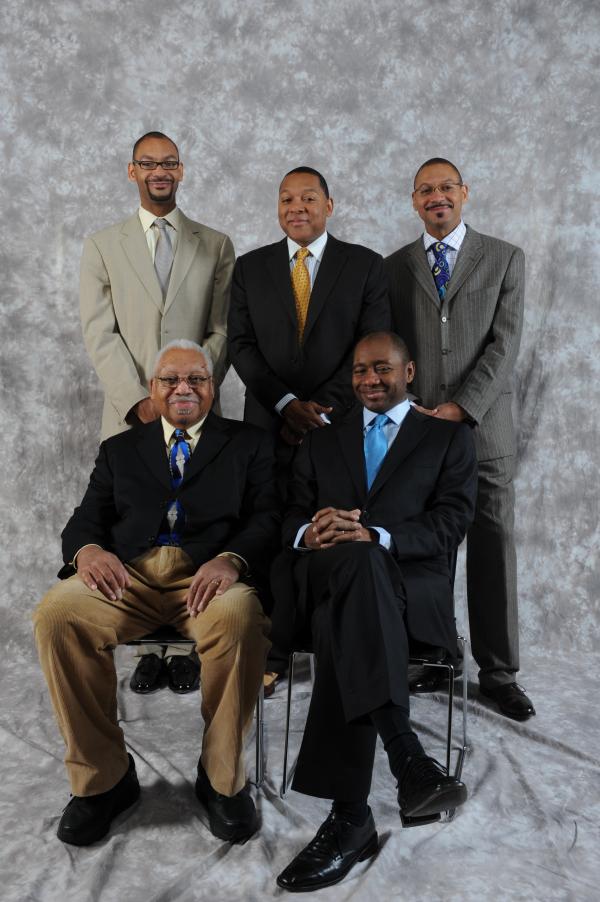 Bio
"It is with great pride and humility that I accept this award on behalf of the Marsalis family. The NEA Jazz Masters Fellowship Award has special meaning to me as I was a member of the jazz panel at the inception of this award and had the opportunity to cast subsequent votes for many of the surviving jazz giants during my tenure. At that time I had no idea that we would be so honored by the NEA and placed in the company of such an esteemed group of individuals.
"I hope my sons and I continue to exemplify the quality of excellence in the work that is expected from the recipient of such an honor. I wish to thank all of those panel members who consider our family worthy of this award and assure them we will not disappoint them in the future." - Ellis Marsalis for the Marsalis Family
It is not a surprise that the first group award of the NEA Jazz Masters has gone to the formidable Marsalis family—never before in jazz (or most any other art form) has a family produced so many masters of the form. The Adderleys, the Jones, even today's Clayton Brothers, all produced a few family members that excelled on their instruments—but five?
The story starts in New Orleans, with the birth of Ellis Marsalis, Jr. in 1934. Although the city was noted for Dixieland and rhythm-and-blues, Ellis was more interested in the bebop sounds coming from Charlie Parker and Dizzy Gillespie. His first recording was modern jazz music performed with fellow New Orleans musicians Ed Blackwell (who eventually ended up drumming for Ornette Coleman), clarinetist Alvin Batiste, bassist Richard Payne, and saxophonist Harold Battiste as the American Jazz Quintet.
After earning a BA in music education from Dillard University in 1955, Ellis continued to play modern jazz with his local colleagues until enlisting in the Marine Corps the following year. He soon became a member of the Corps Four, a Marines jazz quartet that performed on television and radio to boost recruiting efforts.
After the Marines and a brief teaching stint in Breaux Bridge, Lousiania, he returned to New Orleans with his wife Dolores and four children to work in his father's motel business while freelancing at gigs around town, such as recording with the Adderley Brothers. From 1967-70, Ellis performed with trumpeter Al Hirt. 
In the 1970s, he studied music education at Loyola University, eventually earning a master's degree. In 1974, he became the director of jazz studies at the New Orleans Center for Creative Arts high school, mentoring such contemporary artists as Reginald Veal, Terence Blanchard, and Harry Connick, Jr. (Branford, Wynton, Delfeayo, and Jason attended the center as well.) After three years teaching at the Virginia Commonwealth University in Richmond, he joined the University of New Orleans, where he spent 12 years heading the jazz studies department. To celebrate his retirement in 2001, the entire Marsalis family performed, captured on the release The Marsalis Family: A Jazz Celebration. In 2008, Ellis was inducted into the Louisiana Music Hall of Fame.
The eldest son, Branford, followed in his father's jazz footsteps, gaining initial acclaim through his work with Art Blakey's Jazz Messengers in 1980 while still a student at Berklee College of Music. He then joined his brother Wynton's quintet in the early 1980s before forming his own ensemble. Branford released his first recording as a leader in 1984, Scenes in the City, an impressive start to his career.
Known for his broad musical scope, the three-time Grammy winner is equally at home on the stages of the world's greatest clubs and concert halls. In recent years, Branford has been a featured classical soloist with such acclaimed orchestras as the New York Philharmonic and the Australian Symphony. He also spent two years touring and recording with Sting, and has collaborated with the Grateful Dead and Bruce Hornsby. For two years during the 1990s, he was the musical director of The Tonight Show with Jay Leno.
Branford is also dedicated to changing the future of jazz in the classroom. He has shared his knowledge at such universities as Michigan State, San Francisco State, Stanford and North Carolina Central.  In 2002, Branford founded his own record label, Marsalis Music, allowing him to produce both his own projects and those of the jazz world's most promising new and established artists.
After Hurricane Katrina devastated New Orleans in 2005, Branford teamed with Harry Connick, Jr. and Habitat for Humanity to create Musicians' Village in the city's Upper Ninth Ward, a new neighborhood built around a music center—named the Ellis Marsalis Center for Music—where musicians can teach and perform to keep New Orleans culture alive.
Second son Wynton would eventually become the best-known Marsalis, and a staunch advocate for the music. He received his first trumpet from Al Hirt at age six, and by 14 was winning competitions playing with the New Orleans Philharmonic.  Splitting his time between jazz and classical, he eventually was admitted to Tanglewood's Berkshire Music Center at age 17, the youngest musician ever. In 1979, he moved to New York to study at the Juilliard School.
In 1981, Wynton joined Art Blakey and the Jazz Messengers and in the summer of that year released his first album as a leader. Three years later, he released his first classical album to major acclaim—he would continue to release classical recordings occasionally, in addition to his jazz works. His ability to excel in both fields—the only performer to win Grammy Awards for both jazz and classical releases in the same year (nine Grammy Awards altogether)—made him a major name in music.
In 1996, Wynton co-founded Jazz at Lincoln Center (JALC), the world's first institution solely dedicated to jazz education and performance, becoming its artistic director and music director of the JALC Orchestra. JALC, under Wynton's leadership, has a strong focus on education, developing and administering 20 jazz education programs. Wynton also was a major presence in Ken Burns' documentary series, Jazz, in 2001. Like Branford, he too emerged as a New Orleans champion after the hurricane, organizing a benefit at JALC called Higher Ground, and participating in Spike Lee's documentary about the hurricane, When the Levees Broke: A Requiem in Four Acts.
In 1997, he became the first jazz artist to be awarded the Pulitzer Prize for Music for his work Blood on the Fields. In addition to numerous awards and honorary doctorates he received, Wynton was also awarded the National Medal of Arts in 2005.
The next son to take up the mantle of jazz was Delfeayo, who from an early age showed an interest in the recording technology required for preserving the acoustic jazz sound. He began playing trombone at age 13 and produced his first recording at age 17 for father Ellis.   Delfeayo attended Berklee College of Music, majoring in both performance and audio production.  His insistence upon recording without usage of the "dreaded bass direct" for Branford in the 1980s was the key element to the change in jazz recording techniques over the past 20 years.  His production work has garnered a Grammy Award and a 3M Visionary Award.
As a trombonist, Delfeayo has toured internationally with Ray Charles, Abdullah Ibrahim, Slide Hampton, Max Roach and Elvin Jones.  He has released four albums as a leader—all of which feature at least one family member.  He earned a master's degree in jazz performance from the University of Louisville and was conferred an honorary doctorate from New England College in 2009.
Committed to educating youth, Delfeayo founded the Uptown Music Theatre in 2000 as a means of preserving New Orleans' great cultural traditions.  To date, UMT programming has staged 12 of Delfeayo's musicals and impacted more than 2,500 New Orleans youth.  His Swinging with the Cool School, an introduction to jazz for parents and their children, premiered at Children's Hospital as an experimental music therapy program in 2006.
Jason, the youngest of the Marsalis sons, took up drumming at age six, taking lessons with legendary New Orleans drummer James Black. He began sitting in with his father's band at age seven and made his recording debut at age 13 on Delfeayo's Pontius Pilate's Decision. During his final year at the New Orleans Center for the Creative Arts high school, Jason joined Marcus Roberts' group and took to the road. At the same time, he continued his studies at Loyola University in New Orleans.
While he made appearances with jazz greats like Joe Henderson and Lionel Hampton, he stuck close to New Orleans, becoming a major force on the music scene there. He joined the band Los Hombres Calientes with Irvin Mayfield and Bill Summers in 1998, playing on their first two albums. At the same time, he began releasing albums under his own name, starting with Year of the Drummer (1998). Jason's interest in Latin music—in particular Brazilian—has permeated his recordings, and he has worked with local Brazilian dance group Casa Samba as well. In the 2000s, he began focusing on playing the vibes at the local jazz performances he hosted, and then used vibes on his third recording, Music Update.
The Marsalis family, together and individually, have made significant contributions to the preservation of jazz, the furthering of the art form, and the education of students of the music, leaving an important and distinctive mark on the world of jazz and this nation's culture.
Selected Discography:
Ellis Marsalis, The Classic Ellis Marsalis, Boplicity, 1963
Wynton & Ellis Marsalis, Joe Cool's Blues, Columbia, 1994
Ellis & Branford Marsalis, Loved Ones, Columbia, 1995
Wynton Marsalis, Blood on the Fields, Columbia, 1995
The Marsalis Family: A Jazz Celebration, Marsalis Music, 2001
Ellis Marsalis, An Open Letter to Thelonious, Elm Records, 2007
Branford Marsalis, Metamorphosen, Marsalis Music, 2008
Jason Marsalis, Music Update, Elm Records, 2009
Delfeayo Marsalis, Sweet Thunder (Duke & Shak), Troubadour Jass, 2009
Music Redeems, Marsalis Music, 2009