Frank Wess
Flutist, Saxophonist, Composer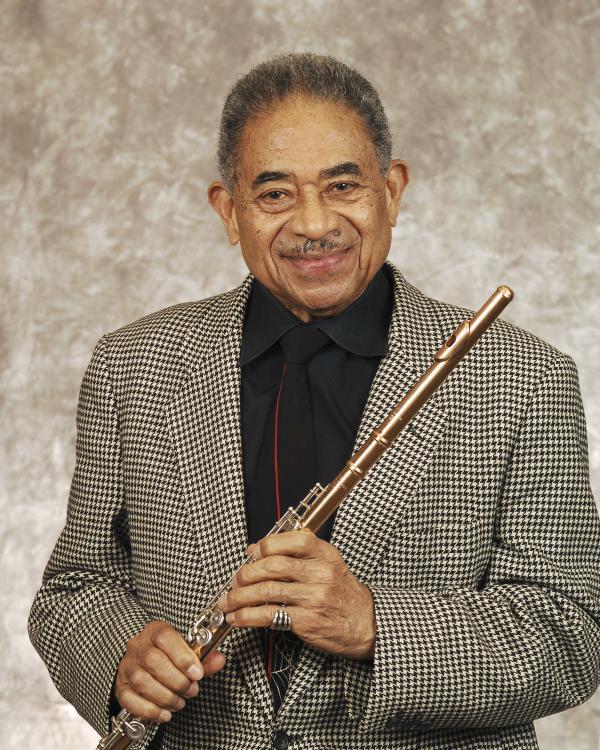 Bio
"I was excited, honored and grateful to be considered for this award."
A multi-instrumentalist whose inspired solos have kept big band jazz fresh and vital into the present, Frank Wess was revered as a smoothly swinging tenor saxophone player in the Lester Young tradition, as an expert alto saxophonist, and as one of the most influential, instantly recognizable flutists in jazz history.
Born in Kansas City, Missouri, Wess first studied classical music and played with the Kansas All-State High School Orchestra. After moving to Washington, DC as a teenager in 1935, he began to play jazz in lunchtime jam sessions with fellow students, including Billy Taylor. An early touring career was interrupted by military service -- he played in a 17-piece band during World War II -- and then resumed when Wess came out of the Army and joined an outstanding lineup in the Billy Eckstine Orchestra. It was at this time that he took up the flute, studying at the Modern School of Music in Washington.
All this time, Count Basie had been calling. Wess finally joined his big band in 1953, helping it to evolve during its so-called "New Testament" phase and remaining with it until 1964. Wess's flute playing, set off by Neal Hefti's arrangements, contributed strongly to the Basie Orchestra's new sound, while his tenor saxophone playing served as a counterpoint to the more fiery sound of Frank Foster.
Wess played since the 1960s in countless settings: with Clark Terry's big band, the New York Quartet with Roland Hanna, Dameronia (1981-85), and Toshiko Akiyoshi's Jazz Orchestra. During this period, he also bridged the worlds of jazz and popular show business. Wess performed as a staff musician for ABC Television, both for the Dick Cavett Show and for the David Frost Show (with the Billy Taylor Orchestra). In Broadway pit bands, he played for shows such as Golden Boy (starring Sammy Davis), Irene (with Debbie Reynolds), and Sugar Babies (with Mickey Rooney). For ten years, he played first-chair tenor saxophonist in the Carnegie Hall Jazz Band.
He also led his own big bands on world tours, and played in the Dizzy Gillespie Alumni Big Band. Widely recorded on many labels, both as a leader and a sideman, Wess was a perennial favorite in DownBeat polls.
Selected Discography
Count Basie, Verve Jazz Masters, Verve, 1954-65
I Hear Ya Talkin', Savoy, 1959
Flute Juice, Progressive, 1981
Going Wess, Town Crier, 1993
Once is Not Enough, Labeth, 2009
Interview by Molly Murphy for the NEA
January 11, 2007
Edited by Don Ball, NEA
EARLY INFLUENCE
Q: Did you have a pivotal childhood experience with music that influenced your career as a musician?
Frank Wess: I've always liked music, you know. And my mother liked music. So she always made sure I heard everything that was going on around, you know. She always let me listen to music. Then when I was young, she took me to hear Roland Hayes and see Ida Cox. She always took me around to see different performers.
I didn't find out until I had been on the road, oh, almost '48, when I visited my father in Oklahoma (he was a principal of a school out there), and we were talking about me playing music and being on the road, and he said, "Your mother always wanted you to be a musician." Well, that's the first I heard of that, you know. So I guess she was steering me that way anyway. I had other interests before. I wanted to be a cabinetmaker. Then I wanted to be a dentist, but I'm glad I forgot about that.
LEARNING THE SAXOPHONE
Q: How did you pick saxophone?
Frank Wess: Oh, well, I always liked saxophone. And like everything else with me, it seemed my life started when I was ten years old. If I'd said, "I want a saxophone," my mother said, "Wait till you're ten years old." "I want a bicycle." "Wait till you're ten years old." If I wanted some skates -- "Wait till you're ten years old." So when I was ten years old, my life started. I got my saxophone, my bicycle, my skates, everything, you know.
Q: Can you talk a little bit about the saxophone, in particular, and what some of the challenges are inherent in the instrument and what some of the just great things are about saxophone?
Frank Wess: Well, saxophone is a instrument that's closely related to the human voice. The sound of it, you know. Some people hear different pitches. Some people hear the alto better, tenor better, the baritone better, different pitches, you know. It's easy to learn to play, but it's not easy to master. Because if you can play it, it sounds good, you know. Lots of instruments, you put a whole lot into it and it still doesn't sound too good
Q: You moved to Washington, DC when you were 13?
Frank Wess: Yeah, yeah, right. At that time, you had to learn in the street. So you had to know the musicians who were playing when you're learning. Because you couldn't go to school and learn. So there were a lot of musicians that helped me. There were lots of good musicians in Washington who couldn't even read, but they could really play, you know.
Q: When you were learning to play saxophone, do you remember a particular turning point?
Frank Wess: I had a summer in Baltimore playing at a little club in 1938. I started the pit band with the Hardy Brothers, and we went onstage. I was featured, and I stopped the show twice that week with the opening number. So that gave me a lot of confidence. And then the next week, we went to Baltimore and the Royal Theater. I did the same thing. I was 17 years old, and that gave me a lot of confidence.
Q: Can you talk a little bit about your sound and how you sort of shaped your sound as you were coming up, whether you had specific ideas in mind?
Frank Wess: I'm influenced by the sound of the horn, you know, but I don't know. Maybe my sense of tone might've come from my mother, too. She used to sing to me all the time. When I was a kid, she always sang.
Q: When you play, are you watching how you're impacting the audience? Are you aware of them?
Frank Wess: You have to be. I think you can play anything you want to as long as you take the audience along with you. You can't run off and leave them, you know. Lots of times you hear people playing. And when they end up, they're right where they started. They haven't gone anywhere.
And when you are performing and you've reached your climax, you've said what you had to say, you quit while you're winning. You don't keep on playing until it's over. You're communicating. You're trying to communicate. So you have to be aware of those things. Basie was very aware of that, you know. He always had his eye on the audience.
COUNT BASIE AND SWING
Q: Can you describe how Basie led his band? I know he sat back and let you guys do a lot.
Frank Wess: Yeah, well, he was always aware of everything. And he kept his eye on everything. He knew things happening in your personal life. He knew where everybody was, and everybody knew where he was. So it was good. We worked hard, you know. The music wasn't the most demanding technically. But it was good music.
It had good caliber musicians. Once you let people get to know each other, they stay there for long enough, they get to be brothers. You got a family. Everybody's happy, and, you know, the music shows it.
Q: Do you think that's harder today?
Frank Wess: Oh, yeah, much harder. The music that's popular is the music that people dance to. So if there was more dancing to jazz, you know, there would be better audiences. But people just sit down and look, and lots of the bands are not swinging at all. They going into a whole lot of concert stuff, trying to be spectacular, and the people can't pat their feet. It's a waste of time and energy really.
Q: Everybody talks about that special brand of Kansas City swing and the Basie band's ability to swing. But for someone who doesn't really know a whole lot about jazz, what does that mean? How do you swing?
Frank Wess: Well, you can't interrupt the pulse. No matter what you play, how much, how little, you play, you can't interrupt the pulse. The pulse just has to be constant. People have to play together. You have to hear, listen to everything, and play together. And that's when you can pat your foot. You know what I mean? So you see a lot of bands now, they think they're swinging. And you look up there, and every foot is hitting the floor at a different time. It's like a bunch of horses walking down the street.
Q: But if it's too rigid and perfectly in time, then a lot of people would say that wouldn't be swinging.
Frank Wess: Rhythm is rhythm, and people are known all over the world for their sense of rhythm. Latin people are known for their sense of rhythm, black people, white people. It's got rhythm, and it's got to be there in all music.
Q: Okay. So if you have a symphony orchestra playing classical music and they're right in time, are they swinging?
Frank Wess: They are in a way, yes. It's not jazz though. Jazz is like a language and actually, it's folk music. That's what it is, really, when you get right down to it -- it's one of the many forms of black folk music. So, you can't be understood if you're trying to speak English using Russian vowel pronunciation, or trying to speak French using English vowel pronunciations. I mean, nobody's going to know what you're talking about. Well, it's the same thing playing jazz. You try to use some other language playing jazz and not playing rhythm, you know, you wasting your time. You should think about driving a cab.