George Benson
Vocalist and Solo Instrumentalist (Guitar)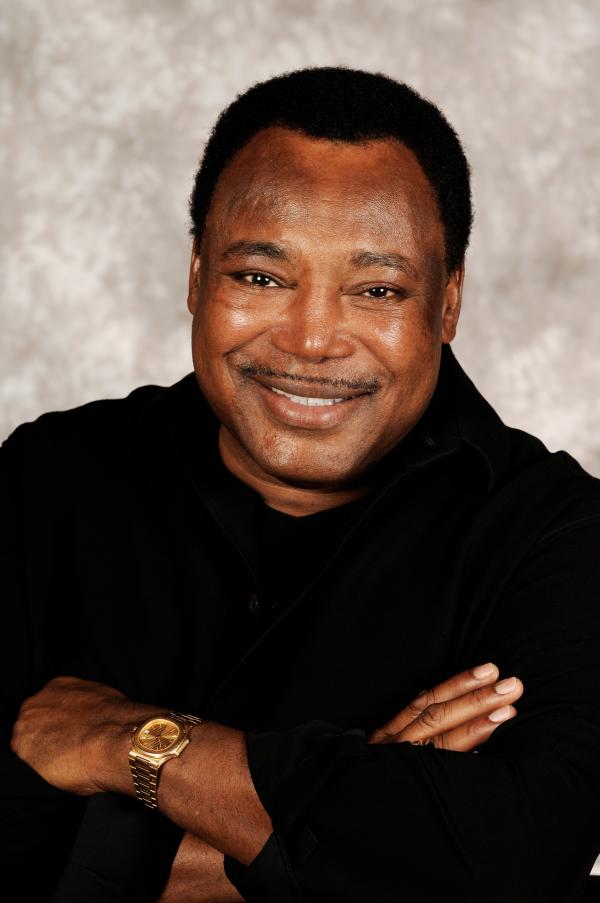 Bio
"Just to be mentioned in the same breath with the most incredible musicians of our time is an honor in itself.  Many of these greats are my personal friends and inspired me to become the musician I always hoped to be.  I am truly honored to be recognized as an NEA Jazz Master as well."
Appreciated as both a musician and performer, George Benson plays the dual role of expert improviser and vibrant entertainer. Rounding out his singular approach with a strong sense of swing, he is considered one of the greatest guitarists in jazz.
Benson began his career as a guitarist working the corner pubs of his native Pittsburgh. Legendary jazz guitarist Wes Montgomery came across Benson early on, complimenting him and urging him to continue his already impressive work. In the early 1960s, Benson apprenticed with organist Brother Jack McDuff; he found the organist's gritty swing a fertile ground for the sly, confident, and adventurous guitar lines that earned him an early reputation as a master.
By the time legendary talent scout John Hammond signed Benson to Columbia, the guitarist's name was becoming known throughout the industry. In the late 1960s he sat in on Miles Davis' Miles in the Sky sessions, and also put a personal spin on the tunes from the Beatles' Abbey Road. Joining the CTI label in 1970, Benson was united with many of jazz's finest instrumentalists -- including Stanley Turrentine, Ron Carter, and Freddie Hubbard -- and released classic albums, such as Beyond the Blue Horizon.
Despite his success, Benson's desire to combine his singing and guitar playing was blocked until he worked with music producer Tommy LiPuma. The result was Breezin', the first jazz record to attain platinum sales. The 1976 blockbuster, his first in a long association with Warner Brothers Records, brought Benson to the attention of the general public with such hits as his soulful rendition of Leon Russell's "This Masquerade," which featured the guitarist scatting along with his solo break. He followed up with many pop hits, including a sultry version of "On Broadway" and the irresistible "Give Me the Night" (produced by Quincy Jones).
In the mid-1990s Benson followed LiPuma to the GRP label where they released three well-received albums highlighting Benson's vocal and guitar prowess. In 2006, Benson and vocalist/songwriter Al Jarreau released Givin' It Up with Benson's current label, Concord Music Group.
Benson has won ten Grammy Awards, thrilling many crowds around the world with his performances, including recent appearances at Malaysia's 50th Merdeka celebration and the Mawazine Festival in Morocco.
Selected Discography
The New Boss Guitar of George Benson, Prestige/OJC, 1964
The Other Side of Abbey Road, A&M, 1969
Weekend in L.A., Warner Brothers, 1977
Tenderly, Warner Brothers, 1989
Absolute Benson, GRP, 1999
Interview by Molly Murphy for the NEA
August 2008
Edited by Don Ball
TURNING PROFESSIONAL EARLY
Q: How did your career get started?
George Benson: That was many years ago, and I turned professional so early in life it's ridiculous. In my understanding, professional means making money at what you do.
I was sitting on the stoop of my house and I was playing my ukulele for my girlfriends in the neighborhood, and I was waiting for seven o'clock because it was going to be my first day selling newspapers. Seven years old was the minimum; you had to be seven to sell papers. But I looked at the clock, which I could see from my doorstep, and it said five minutes to seven. I didn't have enough time to take the ukulele upstairs so I took it with me to the newspaper stand, which was about four or five blocks from the house. And when I got there I asked the man if he could keep the ukulele under the newspaper stand until I got back, and he gave me my initial five newspapers. Newcomers, that was all they were allotted. So I went out to sell newspapers in the neighborhood. I went in the local bars. Now remember, I'm only seven years old. I'm only four feet and change. And my voice was so small, and the noise was so ridiculous. The jukebox was blaring. And you can imagine, they couldn't even hear this little boy or see him. And I was very distraught. I came outside of the bar and it started getting late because I only had until eight o'clock. I had to get home. And I was almost in tears and a guy came up to me and said, "Hey, give me one of those papers." I said, "Oh, oh. This is it. I'm selling my first newspaper." And I gave him a newspaper, which costs five cents. He gave me a quarter and I didn't have change, so I started almost into tears. He said, "That's all right. Keep the change." And I said, "What? You mean all of it?" Which was 20 cents. I mean, if I had sold all five newspapers, I would have only made seven cents, and so now I had the one penny I made for selling that paper and a 20 cent tip. So I was happy.
I took those four newspapers back to the stand, and I got my one cent for selling the one newspaper. And I went into the drugstore which was right near the stand -- iit was a confectionary drugstore; it had a candy counter -- and I was looking at the counter, and I had my ukulele in my hand. And all of a sudden, a guy taps me on my shoulder and says, "Hey, can you play that thing?" I said, "What, you mean this?" And I jumped into one of those crazy songs that I had been singing to one of my girlfriends. And all of a sudden a crowd came around, and I was singing and playing. And my cousin walked in and saw all these people, and they were going in their pockets because they all wanted to give me some money, but I was busy playing. So he took his baseball cap off and went around the audience and collected money. And boy, did I have some money that night. That was the beginning.
Q: You must have an entrepreneurial spirit or vibe.
George Benson: Well, my cousin, he's the one who did the money thing, so I have to give him credit for being creative.
Q: Did you also then work in any clubs or any professional musical venues?
George Benson: As a result of what happened that day, I went out every weekend and took my ukulele down the street. Because all I had to do was walk around with it in my hand, and someone would stop me and ask me to play and they would give me money. So I did that all summer, and my mother didn't even know it. One day she woke me up for school and she saw all this money under my pillow. I made more money in one night than she made in two weeks working at the hospital. And so one day a guy heard me play ukulele on the corner and he said, "Little Georgie, take me home and introduce me to your people, to your mother." And I took him to the house and he asked her if I could work in his nightclub. And she said, "Absolutely not. He's just a kid. He's got to go to school." And he said, "Well, he could work on Fridays and Saturdays. There's not school the next day." And then he made her an offer she couldn't refuse. He offered us more money than she was making in two weeks every night. And so we started working at a club called Little Paris. The problem was Little Paris was an after-hour joint. It didn't even open up until like midnight.
But one day, after doing that for a few weeks on the weekends, the police came and chopped the place up. They had a raid. And they took everybody to jail, and my folks were in a whole lot of trouble. So it ended that part of my career then. We could no longer do clubs and stuff. They threatened to take me from my parents and put me in a foster home.
But that was the beginning of Little Georgie Benson. Now for the next couple of summers I went back to the street corners, and now I had switched to a guitar.
Q: Why did you start on the ukulele?
George Benson: Well, my hands were too small to play a guitar. My stepfather, who had just met my mother then, when I was seven, he was a guitar player. My hands were too small for a guitar, so he found a ukulele in the trash can. It was all broken up. And he glued it back together and bought some strings, and that was my first instrument. And a year and a half later or two, I was nine years old and my hands were large enough to play a guitar, so I got my first guitar for Christmas -- a $14 instrument, which I was very proud of. I learned to play real quick. I took it on the street corners and started making money again.
Now I had a guy ask me where my folks lived again, and he became my manager. His name was Harry Tepper and he worked at a sandwich joint. And it was a little far from my house so I had to get permission to walk that far from my house. And I went up and he said, "You must be Little Georgie Benson." And I said, "Yeah, that's me. Are you Mr. Harry Tepper?" And he said, "Yes." And he said, "I want to meet your folks, and I think I can get you a recording contract." And at ten years old, he finally did. He got me a recording contract. He introduced me to a man who became very, very famous in music history in the United States, but at that time he was only a kid. He was 19 years old. I was only 10, but he became my agent. So Harry Tepper was my manager. Eugene Landy was my agent [later the controversial manager and therapist for Brian Wilson].
And they took me to New York and finally got me a recording contract. At 10 years old, I was recording for the biggest record company in the world, RCA Victor.
Q: Playing guitar?
George Benson: No, I was a singer. The guitar was never in front. I was not a guitar player yet. I strummed the guitar behind my singing. I was not a guitar player until much later in life. I was forced to play later.
I recorded for RCA Victor in 1953. [It] was a rewritten version of "It Should Have Been Me," which was a hit record [Ray Charles] had out. And since I was a little boy I couldn't sing his lyrics because they were very racy and mature. So a guy named Curtis Ousley, who became known as King Curtis later, he wrote the new lyrics and he was in the band when I recorded it. I had a seven-piece band that was directed and arranged by a man named Leroy Kirkland.
It's called "It Should Have Been Me," and "She Makes Me Mad." It was only a two-sider. I did four sides for them. They only put out one recording, and it had two sides.
EARLY INFLUENCES
Q: As you started to play guitar, who were some of the people that you were listening to?
George Benson: Remember I told you that my stepfather met my mother when I was seven years old, and the first thing electric we ever had in our house was an electric guitar. He went to the pawn shop. We moved from a house that had no electricity to one that did, and before we even had light bulbs -- because the people who were in it before took all the light bulbs with them -- so before we had light bulbs, it was turning dusk and it started to get a little dark. It was twilight. And he had just got his guitar out of the pawn shop and his amplifier, and he plugged it in and magic. I heard something that I just thought was too crazy to be true. The sound went from a wire hooked to his guitar to a box on the other side of the room, and then got loud. You can imagine for a kid seven years old how big that was -- who never even saw an electric light in his house. So I put my head against that speaker, where the sound was coming from, and that was the most fascinating sound I had ever heard. So I was already hooked on the guitar.
And the other factor was that he got his record player out of the pawn shop too, and he played nothing but Benny Goodman records and George Shearing records day in and day out. So I had a very good beginning as far as quality was concerned. From the very beginning I heard Charlie Christian play with the Benny Goodman Sextet and George Shearing. So those were my beginnings, right there.
I always loved the sound of the guitar, and I liked it by anybody. So wherever somebody was playing a guitar, I went. I went just to hear them play. I never imagined that I would be a guitar player.
I remember there was a guy who had a barbershop. Barbershop Bill, I called him. And he used to have this guitar. He couldn't play anything at all but he was like me, he loved the sound of the guitar. So while he was cutting hair I would go by his shop, and he said, "Go on, Little Georgie. Plug it in. Go on and play." And so I would tinkle with the guitar in his barbershop until I got tired. It would probably be about a half an hour. But it was a great blessing to go there and to plug into an electric guitar and play. Now remember at that time I was like maybe 11 years old. But the thing that got me into guitar was the guitar started getting very popular when rock and roll music was coming about. That's the mid-'50s. And then also another great factor was the organ trios got popular -- Jimmy Smith, Johnny "Hammond" Smith, Jack McDuff, and people like that. They featured guitar as a solo instrument. And in my hometown there were very, very few guitar players -- and don't forget singing groups also had guitar players on their records.
When I was 15 my cousin and I formed a singing group, and we actually hired a guitar player because I had to sing and dance. So no way I'm going to play guitar, sing, and dance at the same time, so we hired a guitar player. The problem was I could probably play better than he could. The guys in my group knew that and they said, "George, why don't you just play the guitar?" Because I was busy telling him what chord to play all the time. So I said, "Well, let me try to see if I can play, sing, and dance at the same time." And I did. I got into the groove of it. And we had one of the most successful singing groups in my hometown. As a matter of fact, they said we were number one. We were called the Altiers. And there are photos of us, with the guitar that my stepfather made for me because I didn't own an electric guitar.
We were very poor. And my stepfather, after hearing me cry about owning an electric guitar and I saw one in a pawn shop, he said, "Well, let's go down and take a look at it." It cost $55, which was light years beyond anything we could afford -- we'd have to save six months to get $55. And he saw it in the pawn shop window. He said, "Man, you know, I could make that." And sure enough, we went home that night. I drew it on a brown piece of paper. He traced it onto my mother's hope chest, where you used to keep the blankets at the foot of the bed. And it took him a whole day to carve it out. We bought some coping saws. And he broke a lot of them but he got the shape of the guitar, which I drew. And about three days later, we had an electric guitar. It cost us $23 worth of parts.
BROTHER JACK MCDUFF
Q: How did you hook up with Brother Jack McDuff?
George Benson: It was a very crucial time in my history. I had just got married. I was 18 years old. My wife was a kid. She was 16. And we had a kid; he was just born. And my car broke down that winter. It was a severe winter. I didn't know anything about antifreeze. I was just so happy to have a car. When this severe winter hit, it destroyed my engine. The ice got in there and cracked the engine in half. So for the first time I had to do something I swore I would never do -- take a gig out of town, leave Pittsburgh. People had been telling me to do that for years. "Little Georgie, get out of this town. You ain't gonna never be nothing as long as you're here. Go to New York." And I never wanted to do that, but this winter forced me to go on the road with a man. His name was Willie Love, and he had a wonderful five-piece group. And he took me to Montreal. The problem was, when I got there I had bad news. My son got spinal meningitis.
And I had to get back from Canada real fast because they said, "He won't be here tomorrow morning so unless you get here tonight, you probably won't see him again, Mr. Benson." So I had to take a plane ride, spend the few dollars I had, and I skipped planes all over the East Coast to get from Montreal that evening to Pittsburgh. And when I got there, I got there just in time to save his life. I signed the piece of paper. And I asked them, I said, "Why didn't you get my wife to sign the paper?" They said, "Well, Mr. Benson, nobody has been here." So naturally I got mad. I got into an argument with my wife; we got into a fight. And the judge set up a court hearing date, and I knew I was going to the penitentiary because this judge hated men who fought their wives. And so I figured I'm going to jail.
But the night before, I was in the club, the local R&B house, and a fellow whom I knew, I heard his group. And he told me about Jack McDuff, who happened to be on the other side of town. And he said, "George, why don't you try out for the Jack McDuff group?" I said, "Oh, man, I can't play that well. I'm not good enough to play in his group." He says, "Yes, you are." I said, "No. Well, then another thing, I can't get there anyway because I ain't got no money." I had spent my money coming from Canada to get there in time to save my son's life. And the next day I had this hearing coming up, which I figured I was going to the penitentiary. And so my father, my natural father, heard me talking to him, and he went out and hustled up 50 cents and he said, "Now you can go out there and try for that gig." And I said, "Good, dad, let's go. We'll go on the streetcar. That's 25 cents apiece." He said, "No, you've got to have 25 cents to get back with." I went by myself. I got there just in time to sit in and play one song with them. And he said, "Man, I sure like the way you play," he said, "but I want to hear more of you. Can you come down to the hotel tomorrow morning?" And so I did. And I brought my guitar with me, and he had this little thing that looked like a keyboard. And he started playing, and I started playing. He said, "Wait a minute. Hold it just a minute." And he got on the phone and he called his manager in New York. He said, "Man, I've found this kid and he's only," he asked me, he said, "How old are you?" I said, "Nineteen." He said, "He's only 19 years old. I'm bringing him to New York." And I said, "Wait a minute, Mr. McDuff. I've got to tell you, I'm going to jail today."
And he said, "What are you talking about?" And I told him the story. And he said, "Will money do you any good?" And I said, "I don't know." So he gave me $35. Well, the cost of that was $26 or $28, and that's what got me out of that case. The judge let me pay the cost of the court, because I told him I had a job offered to me and it would take me out of town and he would never see me again. He liked that. So he gave me a break and let me pay the cost of the court. And there I had my gig with Jack McDuff.
Who, by the way, fired me the same night.
Q: Why'd he fire you?
George Benson: I wasn't what he thought I was when he heard me playing behind him. As a soloist, I wasn't ready yet. But the good thing was that he had to get me back to New York before he could get anybody to replace me, which was two weeks away. By the time I got to New York, I knew all of his songs and his manager heard me. He said, "You can't fire this kid." He said, "Why not?" This man just said, "Your group sounds so much better than it did when you left." He said, "I suggest we go into the studio and make a record." And we did and it became a small hit. So that was the beginning of my career as a guitar player.
Q: So how did you improve your soloing?
George Benson: Well, I was always interested in jazz. When I was 17 years old, I always looked for other guitar players. And there were some local guys who didn't have gigs but they could play. And there was an older guy -- and when I say older, he was in his mid-20s; I was 17, so we called those old guys -- and he had a little session he would give on Saturday mornings at his house. So I went to one of his sessions. And he had money to buy records, and we would listen to records at his house. He introduced us to all the new guys -- Wes Montgomery, Kenny Burrell, Grant Green, Tal Farlow, people like that. And then, if they played something that was real interesting, he would try to analyze it and show us how it was played. And he wasn't really that good, but he was better than us. So that was the beginning, and I caught on very fast. And pretty soon I started trying to show up at jam sessions, which nobody liked because in my hometown I was known as Little Georgie Benson, the singer, because all the women wanted to hear me sing and the guys hated that. They just wanted to play their instruments, you know? When I came in it's, "Oh, Little Georgie. Sing something, sing." So they kind of hated that. But I still got a chance to play a little at those jam sessions, and I learned a lot.
PLAYING WITH MILES
Q: Jimmy Cobb talked a lot about Miles and his approach to a band. It sounds like he was rather hands-off with the band and let a musician sort of develop his own presence in the ensemble. Was that your experience with him?
George Benson: Yeah, pretty much. And I was looking for someone to tell me what to play. And Miles wouldn't let them do that.
I was making a record, maybe a few weeks earlier, with Ron Carter and Herbie Hancock, and Ron Carter and Herbie Hancock called Miles. They said, "Man, you've got to hear this kid George Benson play." And he called me up and said, "Hey, we're making a record. Can you come down and show up?" And I was knocked out by that fact, that Miles Davis called me -- the greatest jazz musician in the world.
And so I showed up at the session. He had this weird song that was written by the great saxophonist Wayne Shorter. Wayne always wrote these very sophisticated songs and I didn't know where it began or ended, so it was all by ear. And Tony Williams tried to help me out. He said, "George, you know the harmony here starts on this-" and Miles said, "Shut up." He said, "Play your drums, man. Don't tell nobody how to play."
And it finally helped me to understand why Miles' musicians were just open guys who had personalities -- their own personality -- because he didn't want to infect them with his thoughts. He wanted them to express themselves, and that's what he let me do on those sessions.
Q: Can you talk about doing your own version of Miles Davis' song "So What"?
George Benson: I never liked to do anything that I figured that anybody else could do. I don't see the value of that. I wanted to do something that people never think of or don't do every day, and then show the public my way of doing that particular thing, or a new way. So when I started doing that song I heard it as a little swing, a little funk, a little half-time. And I did that.
I bumped into Miles down at a car muffler place and he hollered out from across the street -- his car was already up on the rack and I was waiting for mine to get up on the rack. He was running across the street and he said, "Hey, George." And I said, "Uh-oh. He's going to knock me out because I destroyed his song." And he came over and he said, "Man, I sure liked what you did to my song." Now, I'm dumbfounded. Now I'm really knocked out by the fact that he loved what I did. Which is better than the knock-out I expected. So it was really something else.
And, by the way, he had already asked me to join his band and my managers wouldn't let me. They said, "George, the record company feels you're going to be a gigantic artist yourself." And I said, "Man, what's wrong with these people? They've got to be crazy. This is Miles Davis asking me to join his band." I said, "Man, you don't get better than Miles." They said, "The record company says you're going to be bigger than Miles." I said, "Man, what kind of people are these?"
But I didn't join his band because they were so adamant about the fact that I should keep my own career.
Q: Are you glad you followed their advice?
George Benson: Not really, because I thought that playing with Miles would have given me a scope and would have allowed me to breathe like I've never breathed before. In other words, take every situation and make it my own in the jazz world. Because I was not a jazz star at the time, and I was not accepted as a traditional jazz artist at the time because I played too many R&B houses, and too much of the very commercial-style music, the half-in-between kind of thing. So Miles had a solid jazz image that was respected all over the planet Earth, and I would have gained some really great ground and learned many wonderful things. So it was one of those things that I kind of regret that I didn't take advantage of.
Q: You seem to have filled things in on the way.
George Benson: I had a manager with a lot of savvy. He really could see what I could not see. He kept telling me that I was somebody important in the guitar world, but I could only see Little Georgie Benson struggling, trying to be whatever I could be in this world. And he saw me as a guitar player. And one day he called me the world's greatest guitar player, and that really knocked my socks off. I said, "Wait a minute, man." I said, "Man, don't tell nobody else that. Don't say that to anybody else." He said, "Why not? It's the truth." And it really helped my esteem, just that he thought that. Not that I believed it, but the fact that he thought it was that way. And he always talked about me and sold me in that light and I think that helped my career more than anything.
Q: It's interesting talking about Miles who, of course, was such an open-minded musician in many ways and listened to so many different kinds of music. And of course you are one of the most versatile musicians out there; you've played so many different types of music.
George Benson: Miles was a guy who had probably the greatest insight of any of the musicians in modern time. He could see in people a potential light-years beyond what we could imagine ourselves to be. And the things that he said -- one thing sticks out big in my mind. One day he said, "George, let me tell you what I told Jimi Hendrix." You know how he used to talk. And I said, "Oh, man." To myself I was saying, "Man, Miles is getting ready to give me the secret to success." I said, "Man, I can't wait to hear this." And he said, "Play loud." When he said that I laughed. And then I thought about what he said. He's right. Because Jimi Hendrix was a blues guitar player. You put fuzz on top of that, a distortion device, and you turn it up, you are a rock guitar player. And the thing with black musicians, they never had any money to buy any big equipment, you know, expensive equipment, so they had to play with small amplifiers and they were not loud. But one good thing about them is they were fuzzy, because we always had them overemphasizing, the sound was too loud for the box. And I think Chuck Berry's playing was a good example of what I'm saying. But that is the formula that made the difference between Jimi Hendrix, the blues guitar player, and Jimi Hendrix, the rock guitar player.
So I finally got that message. In other words, give them what they want. That's what he was saying. And after that we became good friends. I didn't see him a lot, but every time I ran into him, I learned something. He was known for his frankness. He would tell it like it is, even though I couldn't hang out with him because he was too bizarre for me when he was stretching out on his own. But I certainly enjoyed listening to him express himself about music because he was always serious when he talked about music.
CROSSING OVER
Q: In the 1970s, when you started having all this pop success, did going in that new direction for you affect your jazz audience?
George Benson: I don't think I had a big jazz audience. I had an audience for the new kinds of music I was playing because I was already establishing an audience through the things I had recorded with CTI Records, which was not necessarily a jazz image. It was a new kind of approach where we took R&B things and played jazz licks over top of them, so it was very creative. One guy, he said something to me that describes it better than anything to me. He called it progressive R&B. So the things I had learned in my jazz years, I adapted them to the kinds of music that was starting to get popular on the radio. But concerning your question about the pop image, yes, that was very disconcerting to people who had learned to accept me as a guitar player and had raised me up in their minds, and were praising what I did.
Remember, I was embarking on a career that I thought had passed me by because I was no longer Little Georgie Benson anymore, a kid from Pittsburgh in his teens or early 20s. I was now in my 30s, and I figured that I had done everything you could do. I had already been voted as the number one jazz guitar player in the world. So I figured I was past all of that. Especially my singing career, I figured, was over. So when this happened with "This Masquerade" and everybody thought it was a fluke, I tried it again. The producer believed in me. And then we had another hit record with a vocal. And then someone asked me to sing the theme to Muhammad Ali's movie, which was "The Greatest Love of All," and that became an anthem which sparked the career of Whitney Houston. And then Quincy Jones and I hooked up, and he gave me "Give Me the Night." And so all of a sudden I had this string of pop hits. And then they started calling me a singer, which the jazz world didn't want to do because I didn't sing like Nat Cole or Billy Eckstine or the great singers of the '40s and '50s. They didn't think of me in that light. But I had a career as an R&B and pop vocalist that I never imagined. So I wanted to see how far I could go with it, and it went very, very far. I think to date we've sold somewhere between 60 and 70 million records. So it turned out not to be so small.
And what I thought was that it would give other guitar players and other people who were like me a chance to explore themselves to see how far they might want to go in their careers and not to be saddled down with a title that says you ain't going to never be nothing else but this because this is what I want you to be instead of you selecting the career you want. So there was a lot to it.
Q: So I assume that that success probably tempered any criticism you were hearing from the so called jazz police?
George Benson: I think it's important to have jazz police. As a matter of fact, people like Wynton Marsalis -- he was not an official jazz police but he was a policeman in a way -- he would tell me, "Well, you know, people are calling what you're playing jazz, but I know it's not jazz." And I'd say, "I do, too." And someone tried to shut him up one day. "Man, who are you to talk about George Benson?" And I said, "Man, don't do that." I said, "Jazz needs people like Wynton Marsalis. If they don't have people like Wynton Marsalis who tout what they do and believe in jazz, jazz will fade away." I said, "Jazz doesn't depend on what I do. If I decide not to play jazz, the jazz world ain't going to fall apart. But if you don't have people like Wynton Marsalis, it will. So let him speak. Leave him alone."
We've been friends. So one day he made a statement that knocked me out. He said -- and he didn't say it to me, he said to the media -- he said, "Man, the only musician that I accept outside of the jazz world is George Benson. He's the only cat I know versatile enough to come back and play jazz and play all that other stuff." And boy that was quite a statement for him to make because he never made those kinds of statements.
Q: So what's a George Benson concert like today? How much do you balance jazz and pop?
George Benson: You know, after going on the road with greats like McCoy Tyner and the Count Basie Orchestra…I mean, I've done so many incredible things. I've performed with Ella Fitzgerald. I substituted for Ella Fitzgerald with the Count Basie Orchestra twice. And I've been on stage with Sarah Vaughan, Nancy Wilson, and one of my favorites of all time, Nina Simone, and all kinds of wonderful people. Al Jarreau. I've done everything. But I find that when I leave out those songs that made me internationally popular, I'm doing myself a disservice. After all, they're paying their hard-earned money to come see me. I owe it to them to give them what they came to hear. So my audience might be 5 to 10 percent jazz people, and 90 percent pop and R&B people or dance people, who love to have fun, or women who love the ballads that we do, because we've had some incredible ballads with "This Masquerade," "In Your Eyes," "Nothing's Going To Change My Love For You," "I Just Want to Hang Around You," "The Greatest Love of All." We owe them. I found out that they're not going to accept anything less because every time I tried to do jazz only, I got criticism like you wouldn't believe and no audience. So the world tells us who we are. They're the ones who make the decision on who's big and who's not. And so that George Benson is a guy who does a little bit of everything, and so that's what I have in my show, a variety of wonderful things.
Q: Do you have any preference between some of your more popular things versus jazz things?
George Benson: I've always told my audiences everywhere in the world and from the very beginning, even when my pop career started getting off the ground, my favorite music's always been jazz music because it challenges me more than any other music. You know, I can't play the same thing I did yesterday because then it's not jazz any more. So it keeps me sharp and keeps me searching for new ways of doing things. And that challenge is what keeps music alive in me. It keeps me on my toes. It keeps music interesting to me, so that I feel good. When I pick up my instrument, I'm searching for something new, a new way to get in and out of different harmonies and different situations. So yeah, jazz music is and probably always will be my favorite music because of that. And think about all of those people that I've had the pleasure of rubbing shoulders with over the years -- John Coltrane, Wes Montgomery, Dizzy Gillespie, Miles Davis, Freddie Hubbard, Stanley Turrentine, Herbie Hancock.
Q: Well, I just wanted to ask one more thing, which is about how you relate to audiences. When you're performing live, are you feeling a connection to your audience?
George Benson: That is the most important thing. There are many things I can do and all of them work to a certain degree, but when you can feel what that audience is ready for, then you have a great advantage. And remember, I'm relating back to Little Georgie Benson. Remember I told you I worked that little nightclub called Little Paris. Well, in Little Paris I not only sang and played the ukulele but I also danced. So I'm used to the entertainment aspect of the music world. The difference is, the shift is that I have learned to play my guitar and have become a better singer, I think. The only differences between Little Georgie Benson and the George Benson that exists today is he's a little more mature and he has an identity in the world and a pretty good footprint, I should say, as a guitar player. So I think that's the difference between then and now.
I can tell you this as a last thing. One of the proudest moments of my life is what's about to happen to me. The NEA Jazz Masters award is going to be something that will put a crown on my career, because it says that my association with jazz music is not over. And I don't think you should ever believe that it is because there's more stuff on these fingers, you know, some stuff you have not heard yet, but you will. So it's a very proud moment for me, and I'm very thankful that there are enough people alive to recognize through all of the things that have happened to me that my love still leans towards jazz music.