Gil Evans
Pianist, Composer, Arranger, Bandleader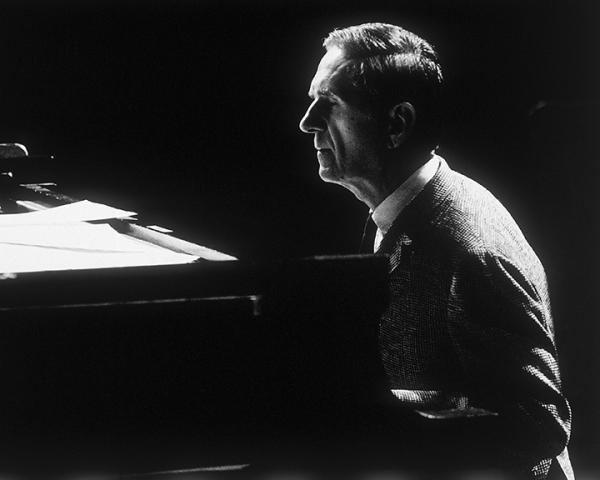 Bio
As an arranger, Gil Evans has few peers in jazz history. His style is instantly recognizable, often using unusual brass colorations for jazz, such as combinations of tuba and French horn. Arranging started early for Evans, leading his own band when he was 16 and taking piano gigs at local hotels. In junior college, he and Ned Briggs joined forces to lead a 10-piece band modeled after the popular Casa Loma Orchestra. The band was in residence as the house band at the Rendezvous Ballroom in Balboa Beach, California, for two years.
In 1937, singer Skinny Ennis took over leadership of the band, retaining Evans as pianist and arranger as they moved to Hollywood, where they were regularly featured on the Bob Hope radio show. In 1941, Claude Thornhill, who had been associated with the Hope show, hired Evans as an arranger for his first orchestra, which lasted for seven years. Evans was influenced by Thornhill's unusual voicings, particularly for brass and woodwinds.
Evans settled permanently in New York in 1947 and his unusual arrangements for Thornhill began to attract the attention of some of the nascent beboppers of the time, including Miles Davis, John Lewis, and Gerry Mulligan. It was around this time that Evans' apartment became a meeting ground for these and other musicians conversational exchanges led to the recording of Miles Davis' Birth of the Cool session for Capitol Records. That album was marked by cooler, less bustling tempos than were characteristic of bebop, the modern jazz of the day. Several Evans arrangements stood out, especially "Moondreams" and "Boplicity."
Evans spent much of the 1950s as a freelance arranger, until 1957 when he began working with Davis on the first of their four collaborations, Miles Ahead, featuring Davis on flugelhorn as the only soloist, an unusual arrangement in jazz at the time. Over the next few years, Evans and Davis worked together on Porgy and Bess, Sketches of Spain, and Quiet Nights.
In the 1960s, Evans began making his own recordings, displaying his unusual voicings and distinctive settings for some of the best soloists of the time, such as Steve Lacy, Wayne Shorter, and Eric Dolphy. In the 1970s, Evans began exploring the music of Jimi Hendrix and taking on some of the accoutrements usually associated with rock music, including guitars, synthesizers, and electric bass. In the 1980s, Evans would have occasional weekly shows at New York clubs such as the Village Vanguard and Sweet Basil, and wrote music for the movie soundtracks of Absolute Beginners and The Color of Money.
Selected Discography
Out of the Cool, Impulse!, 1960
The Individualism of Gil Evans, Verve, 1963-64
Svengali, Atlantic, 1973
Gil Evans Orchestra Plays the Music of Jimi Hendrix, Bluebird, 1974-75
Bud and Bird, Evidence, 1986