Dexter Gordon
Saxophonist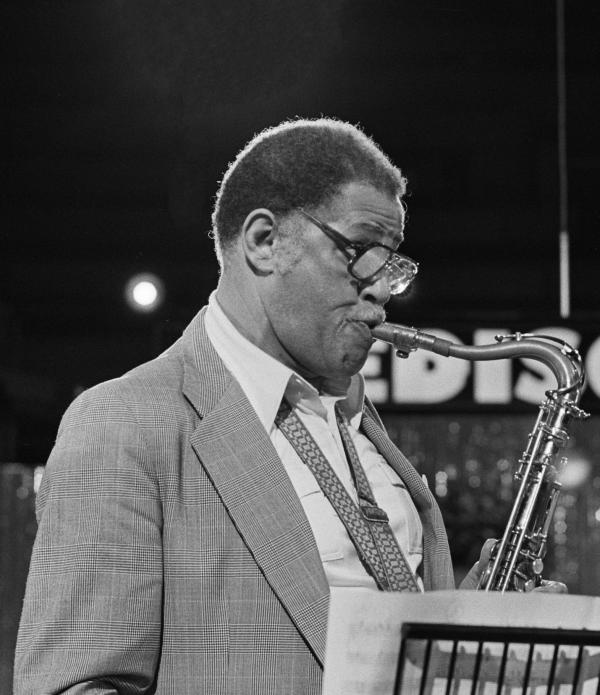 Bio
Dexter Gordon was one of the leading bebop tenor saxophonists, with his near-vibratoless sound and prodigious ability to improvise. He was a strong influence on the tenor saxophonists who came after bebop, especially Sonny Rollins and John Coltrane.
Gordon took up the clarinet at age 13, switching to the saxophone at 15. His first formal teacher was Lloyd Reese, who had other notable students, including Charles Mingus and Buddy Collette. Gordon left school in 1940 and joined a local band before taking a position with the Lionel Hampton band from 1940-43, cutting his first recordings with the band in 1942. Back home in Los Angeles, Gordon played with Lee Young (brother of Lester) and Jesse Price, and made a subsequent record with Nat "King" Cole at the piano.
Gordon began to garner attention when he moved to New York in 1944 to join the Billy Eckstine Orchestra. He recorded with Eckstine and made his own recordings for the Savoy label. Through the remainder of the 1940s, he played and recorded with the major figures in bebop, such as Charlie Parker, Dizzy Gillespie, and Tadd Dameron. Between 1947 and 1952, he locked horns with fellow tenor saxophonist Wardell Gray for a series of classic two-tenor duels, including their classic recording of "The Chase." Continuing to freelance throughout the 1950s, he began touring Europe as a soloist in the early 1960s to acclaim, eventually settling in Copenhagen in 1962.
Gordon continued to play in Europe as a soloist, making a series of recordings for the Danish label Steeplechase. He added the soprano sax to his arsenal in the early 1970s. During a trip back to the States in 1976, he took a gig at the Village Vanguard and the response to his playing was overwhelming. He found willing partners in several musicians of a younger generation, including trumpeter Woody Shaw. The response prompted him to return permanently to the U.S., where he made a series of well-received records for the Columbia label. Included was a notable return to his two-tenor battle days, this time with fellow expatriate Johnny Griffin. In 1980, he was inducted into the DownBeat Jazz Hall of Fame.
The culmination of the decade-long renewal of interest in Gordon was his starring role in the film Round Midnight, which garnered an Oscar nomination. Thereafter, until felled by ill health, he continued to tour with his own potent quartets and returned to his former record label, Blue Note, for a brief time following his film success. His last major concert appearance was with the New York Philharmonic, along with Ron Carter and Tommy Flanagan, performing Ellingtones, a concerto written for Gordon by David Baker.
Selected Discography
Dexter Gordon on Dial: The Complete Sessions, Spotlite, 1947
Doin' Alright, Blue Note, 1961
Go!, Blue Note, 1962
Something Different, Steeplechase, 1975
Great Encounters, Columbia, 1978