National Endowment for the Arts Announces 2018 Class of NEA Jazz Masters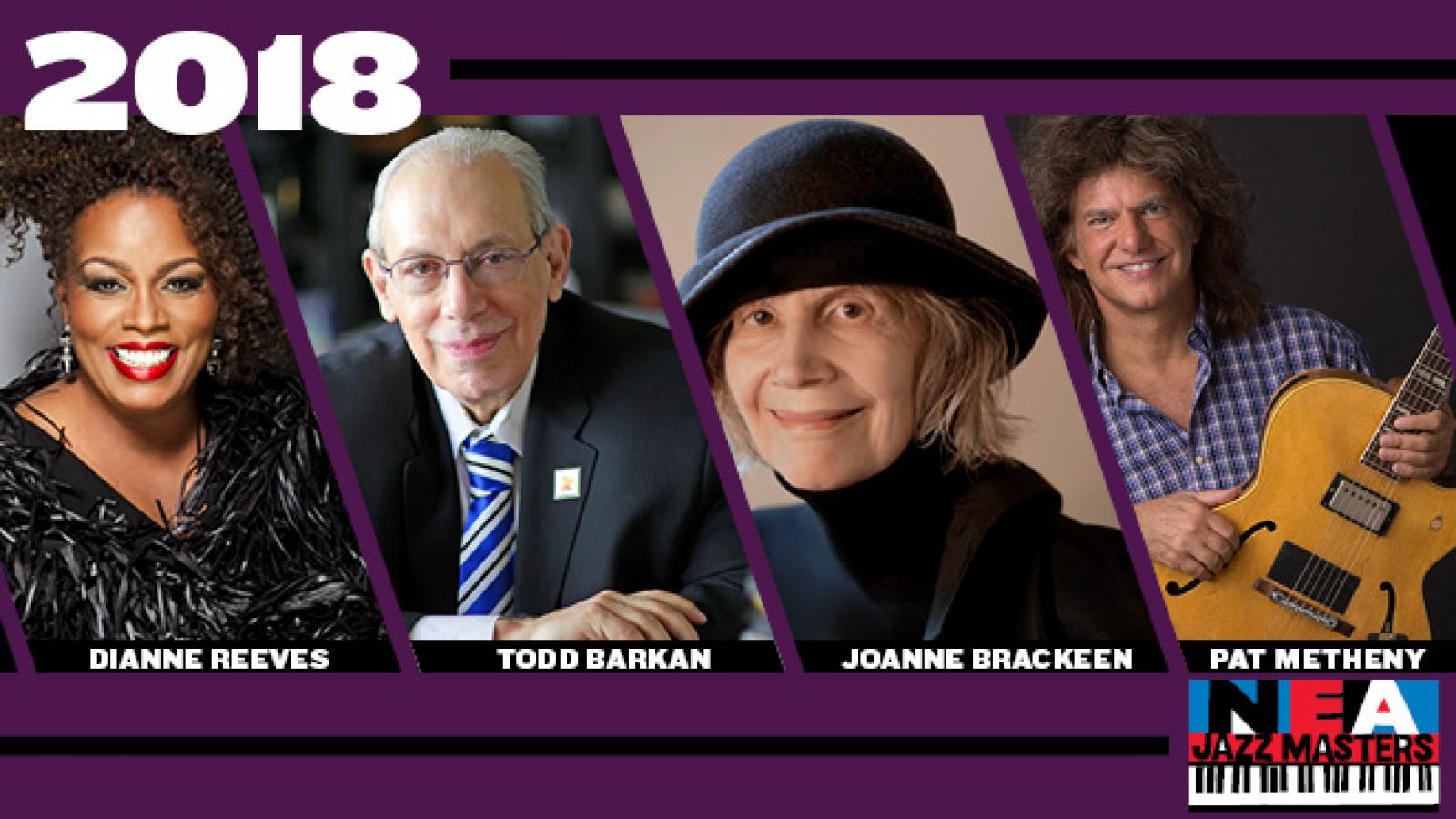 Washington, DC—Joanne Brackeen, Pat Metheny, Dianne Reeves, and Todd Barkan now join the ranks of the nation's highest honor in jazz, the NEA Jazz Masters. The 2018 NEA Jazz Master recipients were announced this evening at a DC Jazz Festival concert at the John F. Kennedy Center for the Performing Arts in Washington, DC, where Metheny also performed. The NEA Jazz Masters are receiving this honor for their lifetime achievements and exceptional contributions to the advancement of jazz. Each will receive a $25,000 award and be honored at a tribute concert on Monday, April 16, 2018, in Washington, DC.
"The NEA Jazz Masters represent the very pinnacle of talent, creativity, innovation, and vision," said NEA Chairman Jane Chu. "We look forward to celebrating these four new Jazz Masters and their many contributions to jazz."
The 2018 NEA Jazz Masters are:
Whatever the musical setting, whether solo, duo, trio, quartet or quintet, pianist Brackeen's unique style of playing commands attention. In addition to her captivating and complex improvisations, she has written intricate, rhythmically daring compositions in a wide stylistic range.
Metheny reinvented the traditional sound of jazz guitar, bringing a fresh sonic potential to the instrument while offering a deep reservoir of improvisational insight and musicality. While his music resists any easy description, his compositions cover a wide range of settings, from modern jazz to rock to country to classical.
Reeves can effortlessly sing in whatever style she wants with her far-reaching range, whether it's rhythm-and-blues, gospel, Latin or pop. But jazz always was—and continues to be—her musical foundation.
Barkan is the recipient of the 2018 A.B. Spellman NEA Jazz Masters Fellowship for Jazz Advocacy, which is bestowed upon an individual who has contributed significantly to the appreciation, knowledge, and advancement of the art form of jazz. Barkan's name is inextricably associated with the Keystone Korner, a San Francisco venue he had opened in 1972 and then managed for more than a decade. He also worked as a record producer and for Jazz at Lincoln Center.
The 2018 NEA Jazz Masters Tribute Concert – produced in collaboration with the Kennedy Center, whose artistic director for jazz is Jason Moran – will take place on Monday, April 16, 2018 at 8:00 p.m. at the Kennedy Center's Concert Hall and also streamed live. This concert will be free and open to the public; more information on how to obtain tickets will be available in early 2018. An archive of the 2017 NEA Jazz Masters Tribute Concert, which also took place at the Kennedy Center and included a performance by Dianne Reeves, is available here.
About the NEA Jazz Masters
Since 1982, the National Endowment for the Arts has awarded 149 fellowships to great figures in jazz, including Ella Fitzgerald, Sonny Rollins, and Chick Corea. The full list of NEA Jazz Masters and materials about them – including videos, podcasts, NEA Jazz Moments, and more – are available at arts.gov. NEA Jazz Master Fellowships are bestowed on living individuals on the basis of nominations from the public including the jazz community. The NEA encourages nominations of a broad range of men and women who have been significant to the field of jazz, through vocals, instrumental performance, creative leadership, and education. More information about the NEA Jazz Masters and how to submit a nomination for the 2019 NEA Jazz Masters is available here.
The NEA also supports the Smithsonian Jazz Oral History Program, an effort to document the lives and careers of NEA Jazz Masters. In addition to transcriptions of the comprehensive interviews, the website also includes audio clips with interview excerpts. This project has transcribed the oral histories of nearly 100 NEA Jazz Masters.
About the National Endowment for the Arts
Established by Congress in 1965, the NEA is the independent federal agency whose funding and support gives Americans the opportunity to participate in the arts, exercise their imaginations, and develop their creative capacities. Through partnerships with state arts agencies, local leaders, other federal agencies, and the philanthropic sector, the NEA supports arts learning, affirms and celebrates America's rich and diverse cultural heritage, and extends its work to promote equal access to the arts in every community across America. Visit arts.gov to learn more about NEA.
About Kennedy Center Jazz
Kennedy Center Jazz, under the leadership of Artistic Director Jason Moran, presents legendary artists who have helped shape the art form, artists who are emerging on the jazz scene, and innovative multidisciplinary projects in hundreds of performances a year. The KC Jazz Club, launched in 2002 and dubbed "the future of the jazz nightclub" by JazzTimes, hosts many of these artists in an intimate setting; while the Crossroads Club, launched in 2012, is a nightclub dance venue. Annual Kennedy Center jazz events include the professional development residency program for young artists, Betty Carter's Jazz Ahead; NPR's A Jazz Piano Christmas, the Kennedy Center holiday tradition shared by millions around the country via broadcast on NPR; and the Mary Lou Williams Jazz Festival, created in 1996 by the late Dr. Billy Taylor (Kennedy Center Artistic Director for Jazz, 1994–2010). The Center's jazz concerts are frequently recorded for future broadcast on NPR.
Contact
Liz Auclair (NEA), auclaire@arts.gov, 202-682-5744
Brendan Padgett (Kennedy Center), bepadgett@kennedy-Center.org, 202-416-8004