Arts and the Military: A Creative Partnership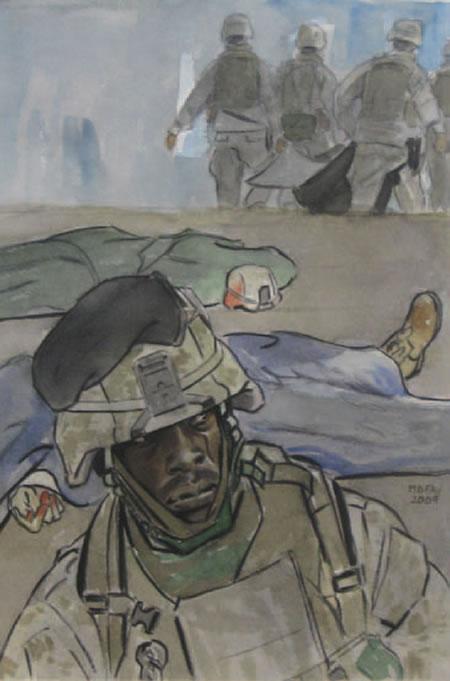 "At first glance, the arts and the military might seem to have very little in common. But in truth, the two disciplines have a long history together. From the Greek playwright Aeschylus who took the ancient Persian-Greek wars as his subject circa 472 BC, to Walt Whitman who not only wrote expansively about the U.S. Civil War but served as a wartime nurse, to the numerous military scenes captured in the visual arts, such as August Saint-Gauden's Civil War memorial sculpture of Robert Gould Shaw and the all-black 54th Regiment, there has always been an overlap between conflict and creativity.
Today, however, the relationship between artist and service member goes much deeper. For one thing, all of the armed services contain artist occupations—from members of military bands to graphic artists to writers to photographers. The arts have also become part of the protocol of military health care as health professionals integrate diverse disciplines—music, visual arts, creative writing—into the ongoing care of troops recovering from a range of physical and mental injuries."
The paragraphs above appear in the intro to the 2012 NEA Arts magazine issue, The Soul of America, which looked at the various ways that the arts intersect with military service. Since then, the National Endowment for the Arts has expanded its support for arts therapy as a crucial part of military health care through the Creative Forces: NEA Military Healing Arts Network and we've also recently celebrated the 10th anniversary of Blue Star Museums, a collaboration with Blue Star Families, the Department of Defense, and more than 2,000 museums across the U.S. that offers free admission to service members and their families each summer. The Arts Endowment also continues to offer grant support to numerous nonprofits across the country that expressly serve veterans and active-duty personnel through arts programs. Here's a brief look at just a few of the creative partnerships between the arts and the military that we've helped to foster. We encourage you to browse the Art Works blog and visit the Art Works podcast library for even more stories of these types of fruitful collaborations.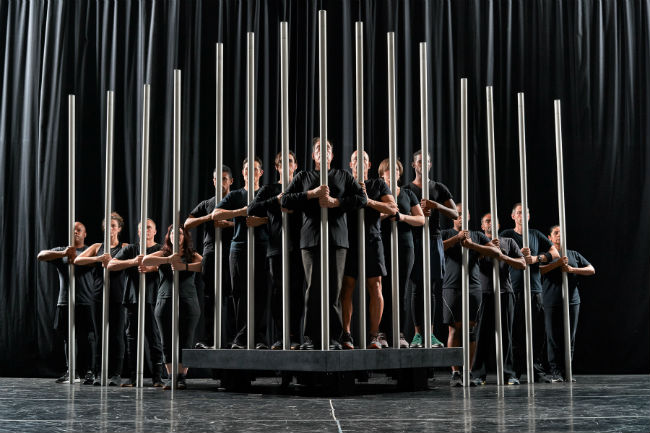 Moving Veterans Toward a Place of Healing
As the founder and artistic director of the Los Angeles-based DIAVOLO | Architecture in Motion, Jacques Heim is frequently on tour, making airport encounters with military personnel and veterans a common occurrence. "I don't just say, 'I thank you for your service,'" Heim said of these encounters. "The question I ask them is, first of all, 'How are you doing? Do you need anything? How can I help you?' And I start to have this conversation."
In 2015, Heim made this conversation a central part of DIAVOLO's mission when he launched the company's Veterans Project. Through the project, area veterans are invited to participate in monthly movement workshops, where they move alongside civilian dancers including DIAVOLO company members. The goal, said Heim, is ultimately "restoration": restoration of confidence, restoration of strength, and restoration of who veterans might have been physically, mentally, and emotionally before experiencing the trauma of war. Workshops culminate in public performances and Q and A sessions, which have been held at venues such as the Kennedy Center in Washington, DC, and the American Legion Post 43 in Hollywood. MORE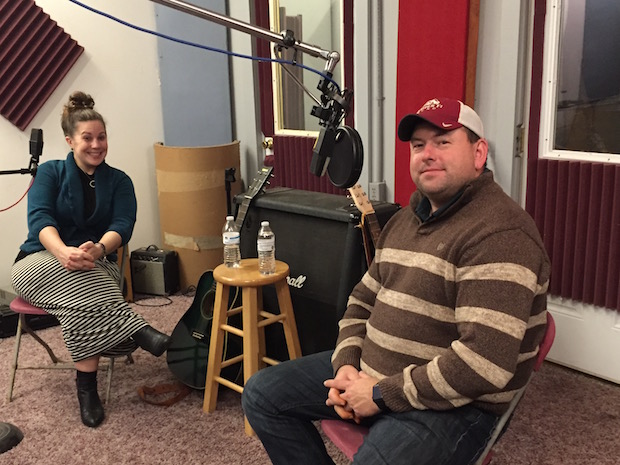 Music Saved My Life: How Arts Therapy Helped a Master Sergeant Recover from the Wounds of War
Two years ago Creative Forces Music Therapist Rebecca Vaudreuil met Master Sergeant Michael Schneider at Walter Reed Medical Center. Newly retired from military service, Schneider was still in treatment for injuries he had suffered during deployment, including traumatic brain injury and PTSD. In this conversation between Schneider and Vaudreuil, he shares how engaging in music therapy allowed him to finally "bypass injuries," and how he came to understand the true purpose of his healing: "… to put me back into society to help everybody around me, and to be a better person for my family." MORE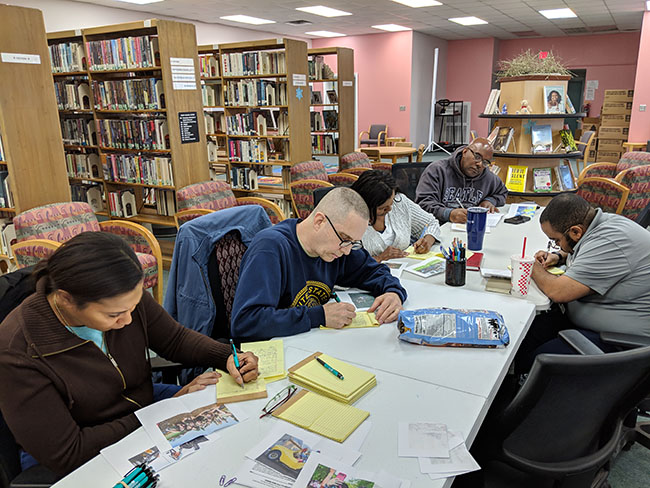 How a Norfolk Writing Center is Helping Members of the Military Find Their Muse
Home to Navy, Air Force, Army, Marine Corps, and Coast Guard facilities, Virginia's Hampton Roads area boasts one of the largest military communities in the nation. This was evident at The Muse Writers Center in Norfolk, where Executive Director Michael Khandelwal estimates that at least a third of the center's students come from military backgrounds. Some are active duty service members or veterans, while others are married to a service member or were raised by someone in the military. "This is who our community is," said Khandelwal. "We needed to be responsive to that."
And responsive they have been. With support from the National Endowment for the Arts, The Muse has created a new military component of its Write Where You Are initiative, which also holds free workshops for older adults living in senior facilities and at-risk youth. Write Where You Are invites service members and veterans to participate in one-day writing seminars and six-week workshops, the latter of which culminate in public readings where participants can share their work. All activities are free-of-charge, and are offered at the writing center itself, as well as at military installations to help eliminate barriers to participation. MORE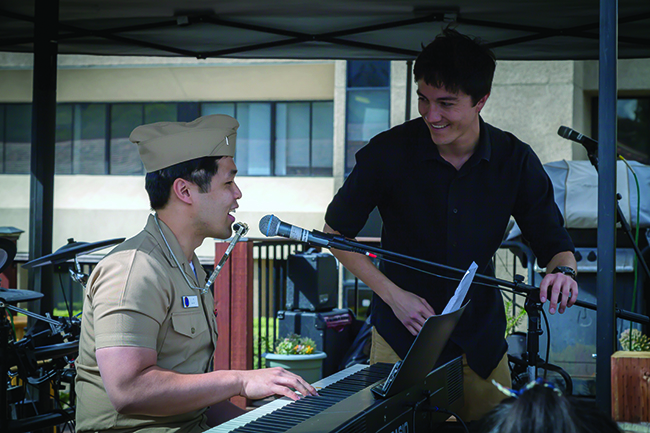 Options for Healing: A Look at Creative Forces' Community Connections Projects
When retired Navy corpsman Jason Danley finished his tours of Iraq and Afghanistan, "It was really hard to find where I fit because it was almost like I didn't relate to anybody anymore," he remembered. "It made it very, very isolating. I just kind of combusted into myself." Diagnosed with post-traumatic stress disorder (PTSD) and traumatic brain injury (TBI), he participated in music therapy as part of his treatment at Naval Medical Center San Diego, which not only helped him begin to process his painful experiences and rebuild his relationships, but revived a love of music that had become buried beneath the demands of military service, fatherhood, and marriage.
Like most medical appointments, his therapy slots were held during working 9-5 hours. "But what happens from five to midnight when people are left to sit with what they're dealing with?" asked his wife Christina, who also served as a Navy corpsman. "That's where I think a lot of people fall apart. It opens these avenues for not good habits." The consequences of those habits can be devastating: more than 20 percent of veterans with PTSD have been diagnosed with substance abuse disorder, and both PTSD and TBI are considered major risk factors for suicide, which kills an estimated 20 veterans every day. MORE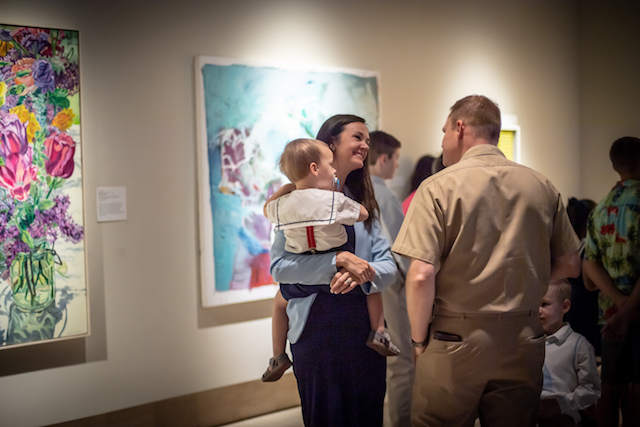 How Blue Star Museums is Making A Difference: One Military Family's Story
In the Cummer Museum of Art & Gardens in Jacksonville, Florida, Rachel Snyder and her children wander around the Stein Gallery taking in the artwork. She and her family have been here before, but this time they are helping to celebrate the 10th summer of the National Endowment for the Arts' Blue Star Museums national initiative. Rachel's husband, Lieutenant Commander Joe Snyder, currently stationed at Naval Air Station Jacksonville, has come to the museum event, too. As an active-duty military family, the Snyders are very familiar with changing stations, having moved five times since 2005. They are also familiar with Blue Star Museums, having visited the Chrysler Museum when they lived in Norfolk, Virginia, and the Saint Augustine Lighthouse in Jacksonville. With a move next year to Whidbey Island, Washington, Rachel Snyder has already scouted out the Blue Star Museums in Seattle. We spoke with her about how the program has fit into and impacted her family. MORE